IAAF World U20 Championships Tampere 2018
U20s Day 3 Recap: Briana Williams' Best Race Of 2018
U20s Day 3 Recap: Briana Williams' Best Race Of 2018
U20s Day 3 Recap: Briana Williams' Best Race Of 2018
Jul 13, 2018
by Cory Mull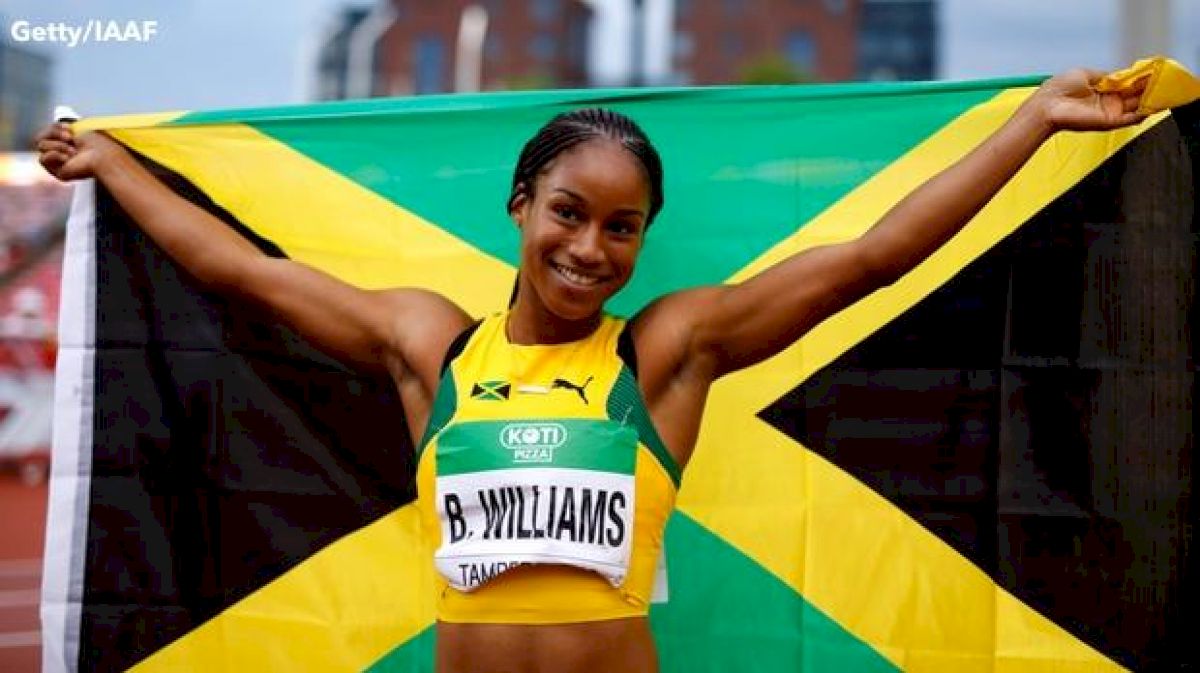 Briana Williams knew she wasn't favored to win the 100m on Thursday at the World U20 Championships in Tampere, Finland.
The Oakland Park Northeast (FL) High School sophomore had run well over her spring season, even picking up a World Age Group record for 15-year-olds in the 100m with a time of 11.13 seconds in March, but much of her run at the distance had come early in the year, before times began to drop for most high school athletes. She was ranked No. 6 at the distance in the U20 category, and was the third fastest junior in 2018, heading into the competition.
Williams steadied--maybe even plateaued--before finally making progress in June at the Great Southwest Classic, going 11.25 seconds. But the 16-year-old still entered the World Junior Championships as the underdog, with older and more experienced racers like Twanisha Terry--a third-place finisher at NCAAs for the University of Southern California who owned the world lead at U20--seeding the race.
Well, Williams silenced any doubters in the finale.
Prodigious Jamaican Briana Williams, who just turned 16, shot out of the blocks to steal a march on world U20 leader Terry, helding on to the in 11.16.

Report of the women's 100m final https://t.co/VfZxPmXAOo pic.twitter.com/ntVMruynZB

-- IAAF (@iaaforg) July 12, 2018
The Jamaican youth international won in an exhilarating 11.16 seconds (+0.0), beating USA's Terry, Great Britain's Kristal Awuah and Germany's Keshia Beverly Kwadwo.
Like always, the young athlete coached by Olympian Ato Boldon--whose perfected drive phase has often given her major leads--powered out of the blocks and truly set an unprecedented tone. >
Terry struggled from the start, but found an acceleration late and even made a push to win. But it was Terry just a shade behind Williams at the line.
The Trojan crossed in 11.19 seconds. Awuah (11.37) and Kwadwo (11.41) weren't really close.
While the race was certainly validation for the March time--and proved it wasn't a fluke--it also gave Williams another sterling on her resume at the international level. In April, she also scored three golds for Jamaica at the CARIFTA Games in April.
Williams will also run in the 200m and 4x100 for Jamaica to finish out the championships.
WATCH - The final of the women's 100m

Briana Williams of Jamaica strikes gold#IAAFworlds pic.twitter.com/AxW0BKgTZO

-- IAAF (@iaaforg) July 12, 2018
Morning Session
Women's Hammer: Americans Jillian Shippee and Alyssa Wilson both advanced to the finals of the event with qualifying marks on Thursday. Wilson, however, found herself fighting to keep up with a stellar section that saw three women throw marks over 61 meters. Wilson, a freshman at UCLA, grabbed the final qualifier with a toss of 58.71 meters (192-7), while Shippee was fourth in her section with a mark of 58.34 (191-5). The top toss from the morning session came from Belarus's Tatsiana Ramanovich, who authored a mark of 62.84.
Men's 3K Steeple: While Team USA's long contestant, Hunter Boyer, found himself out of the pack early--and finished section 2 in 9:13.74--Ethiopia's Getnet Wale took top honors with a time of 8:39.15.
Women's Long Jump: The prohibitive favorite of the event, University of Georgia freshman Tara Davis, set the tone of the competition on her second attempt, marking a top jump of 6.40 meters (21-0), which was nearly two-tenths farther than the next closest in her section. Texan Jasmine Moore, a junior at Mansfield Lake Ridge, managed to move forward to the finals as well, pitting a top mark of 6.11 (20-0.5) in the first section.
Men's 400mH: University of Florida freshman Cory Poole came out strong in the first section and won in 52.12 seconds, moving confidently to the next round. His teammate, the University of Houston's Quivell Jordan, also moved through in an especially fast Heat 3, going 51.75. But the next section proved to be the fastest, with Kenya's Moitalel Mpoke Naadokila securing the best mark in the preliminaries with a time of 50.87.
Men's 200m: The finale may come down to a fight between Team USA and Great Britain. The tandem of Khance Meyers (Hinds Community College) and Eric Harrison (Ohio State) led the prelims for American's squad with two of the seven efforts under 21 seconds. Meyers was the fastest overall for Team USA, with an effort of 20.70 seconds, while Harrison wasn't far behind in 20.73. Great Britain, meanwhile, had two of their own go under 21, though both tied for the fastest time overall. Jona Efoloko and Charles Dobson both clocked a final time of 20.65 seconds.
Women's Heptathlon: Through two events, Colorado native and Valor Christian junior Anna Hall finds herself in third place with 1,976 points, while recent Marietta (GA) graduate Sterling Lester is in ninth with 1,858. Both athletes had stellar outings in two events, with Hall striking an overall career best in the high jump with a mark of 6-feet--she picked up 1,016 points as a result. Lester, meanwhile, once again was strong in the sprints, hitting 13.65 on the clock in the 100mH, gathering 1,028 points.
Afternoon Session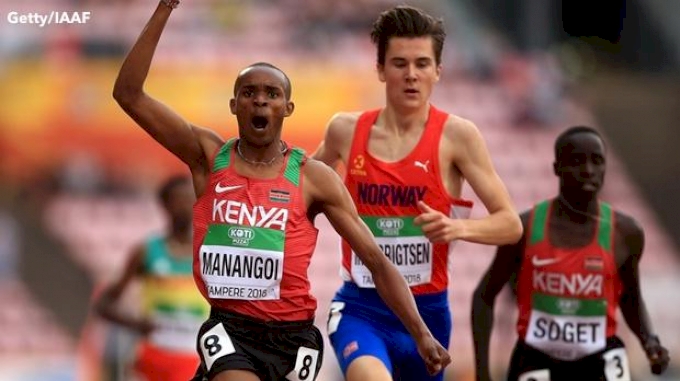 In what may have been a humbling loss--and maybe the best race of the U20 Championships thus far--Norway's Jakob Ingebrigtsen couldn't keep up with Kenya's George Meitamei Manangoi in the final 50 meters on Thursday in a tough, strategic 1500m race finale at the U20 Championships.
After Ingebrigtsen passed Kenya's Justus Soget just past the 100m mark, he failed to capture the move of Manangoi, who zoomed past the young international star in the final moments to take the race in 3:41.71.
Ingebrigtsen was second in 3:41.89, while Soget was third in 3:42.14.
Just two days earlier, the Norway youth international had given Manangoi an informal hand gesture as he was nearing the finish line in the preliminaries--perhaps drawing the ire of the Kenyan.
University of Oregon's Cooper Teare was 10th in the final, clocking a time of 3:46.47.
Women's 400 Final: Closing her impressive outing at U20s, the University of Florida freshman Taylor Manson finished third overall in 52.28 seconds, just behind winner Hima Das of India, who closed in 51.46 seconds--becoming the first Indian athlete win gold at the U20 Championships--and Romania's Andrew Miklos, who was second in 52.07.
World record holder Damion Thomas lives up to the expectations and wins gold in Tampere#IAAFworlds pic.twitter.com/b9SsJhZlnG

-- IAAF (@iaaforg) July 12, 2018
Men's 110mH Final: LSU freshman and Jamaican national Damion Thomas closed out his run in the 110mH, winning in a dominant 13.16 seconds beside his compatriot Orlando Bennett, who was second in 13.33 seconds. Cory Poole, who managed through the rounds to qualify for the final for Team USA, was sixth overall in 13.74 seconds--though the University of Florida freshman isn't finished; his best event is right around the corner in the 400mH.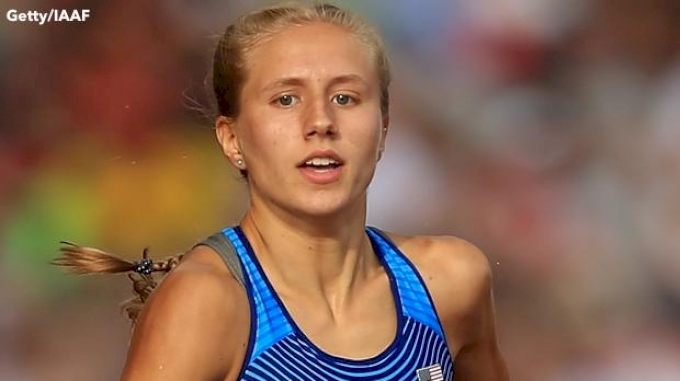 Women's 400mH Semifinals: The Wisconsin high schooler is in the finals. And Brooke Jaworski, with just a few races under her career belt, continues to impress at 400 meters. The Wausau West (WI) junior qualified out of section three, hitting a personal best 57.57 seconds to make her first international final. LSU's Jurnee Woodward, meanwhile, exited in section two after splitting 58.20 seconds.
Men's High Jump: LSU freshman JuVaughn Blake wasn't able to qualify for the men's final in the long jump, but he made sure to put his best foot forward in his preferred event. The high-riser qualified through to the finals with a height of 2.15 meters (7-0.5). He cleared all four of his attempts at 2.00, 2.05, 2.09 and 2.15, tying a handful of others who also cleared the same height. In total, 10 athletes cleared 2.15 meters. Blake's teammate, Daniel Claxton, exited with a top clearance of 2.05 meters.
Men's 400m: Baylor freshman Howard Fields will vie for a U20 title after qualifying through to the finals in section three with a time of 46.53 seconds. His teammate, Umajesty Williams, wasn't so lucky, however, exiting with a fourth-place finish in section two--just outside qualifying. Fields is in good company for a run in the finals, though he'll likely have to dig deep. The overall leader of the semi-finals was Belgium's Jonathan Sacoor, who went 45.72 seconds--he was one of two athletes in the semis to drop a sub-46.
Women's Discus: UCLA freshman Alyssa Wilson finished in 10th-place with a mark of 46.77 meters (153-5), which completed her second event of the U20 Championships--a day ago, Wilson stunned onlookers when she failed to medal in the shot put. However, Wilson has one more final to go in the hammer. Moldova's Alexandra Emilianov won the event with a mark of 57.89 meters.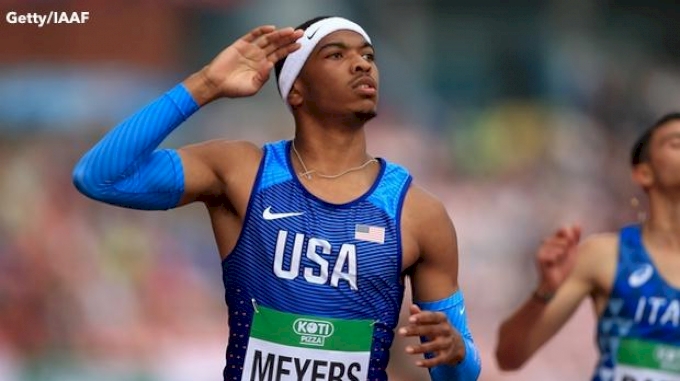 Men's 200m Semifinals: Like the prelims, the semifinals remained an interesting battle between the Americans and the English. Hinds Community College first-year Khance Meyers took section two in 20.79 seconds, while Great Britain's Charles Dobson ran the fastest overall time in 20.53 seconds. Ohio State's Eric Harrison and Great Britain's Jona Efoloko went toe-to-toe in the final heat, splitting 20.86 and 20.74 seconds, respectively. Get ready for a crazy final.
Women's Pole Vault: Minnesota native and Mounds View high schooler Julia Fixsen was the highest placing member of Team USA with a seventh-place finish in 4.20 meters (13-9.25). Virginia Tech's Rachel Baxter had a poor run at 4.10 meters and fell to 11th-place.
Women's Heptathlon: Hall fell to seventh with 3,471 points after tough outings in the shot put and 200m, though Lester held firm and moved up to ninth with 3,428 after splitting 23.87 seconds in the 200m--the fastest overall time in the event.
Related Links: