IAAF World U20 Championships Tampere 2018
U20s Day 4 Recap: Americans Lead Medal Count
U20s Day 4 Recap: Americans Lead Medal Count
While the U.S. continues to struggle picking up gold, they have proven one thing: there aren't many nations that can match their depth.
Jul 13, 2018
by Cory Mull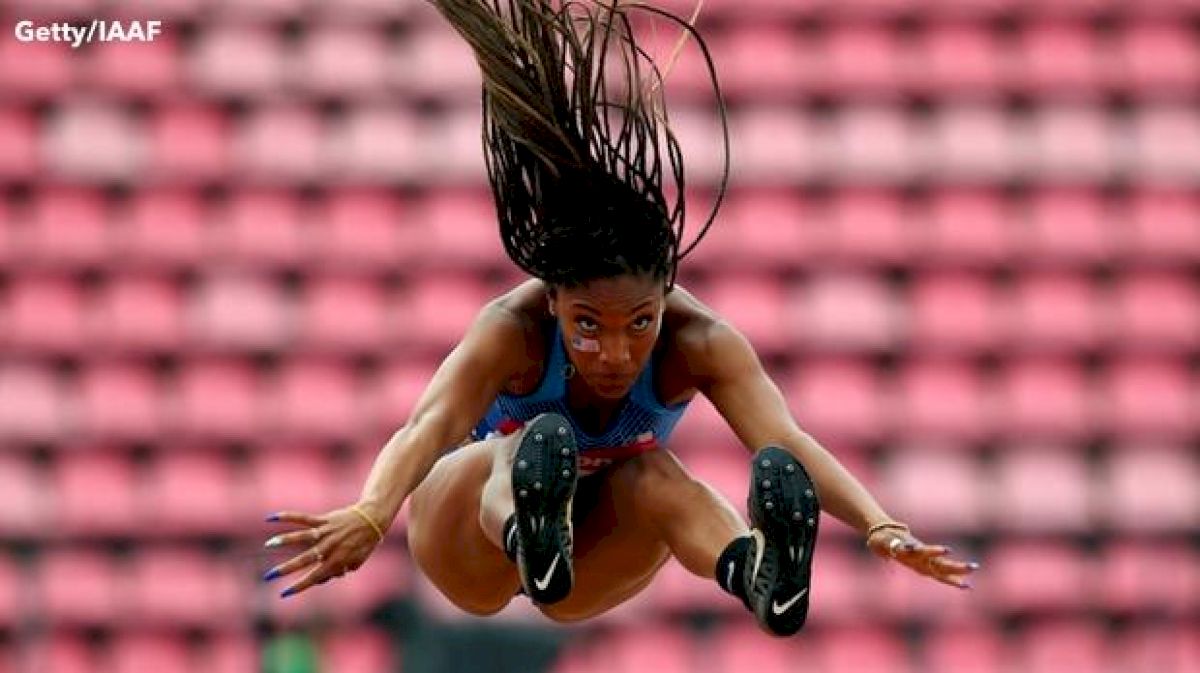 While Team USA continues to struggle picking up gold at the World U20 Championships in Tampere, Finland, the Americans have proven one thing.
Worldwide, there aren't many nations that can match their depth.
On Friday, the Americans picked up two more bronze medals, their seventh and eighth across competition, with Ohio State University sprinter Eric Harrison and University of Georgia leaper Tara Davis both earning bronze for their performances in the finals.
But that may be a little bittersweet for Davis, the world U20 leader in 2018 who owned four marks inside the top 5. She was projected to win the Junior long jump after a solid performance on Thursday in the qualifier (6.40 meters).
But the USA leaper, who finished fifth at the NCAA Championships, never quite got ahold of a big attempt over her six-jump series and only managed her best attempt on her last run.
Davis finished with a final mark of 6.36 meters (20-10.5), which was well below her best of 6.71 meters from USA Juniors and was just her eighth best mark of her career.
Harrison, meanwhile, finished third in the 200m behind Great Britain's duo of Jona Efoloko (20.48) and Charles Dobson (20.57).
Harrison finished third in 20.79, while his teammate Khance Meyers, who looked strong in both of his preliminary races, was sixth in 20.87 seconds.
Women's 200m: Jamaica's Briana Williams was back on the track for the first time after taking gold in 100m on Thursday. This time, however, the 16-year-old was tackling the 200m semifinals with a goal of advancing to Saturday's final. As expected, Williams controlled her heat and took the victory in 23.41, ahead of the American Jayla Kirkland, who ran 23.54 to earn the second automatic qualifying spot.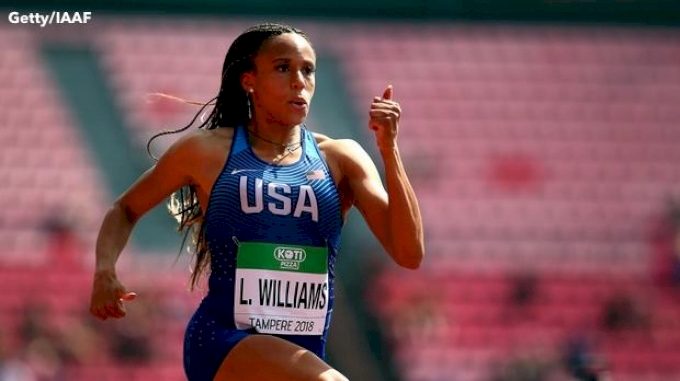 Kirkland's teammate, Oregon freshman Lauren Rain Williams, won the second heat in 23.15, the fastest time from all the semifinals. -Kevin Sully
Women's 4x100m: Disaster struck for the Americans. With a comfortable lead heading into the final exchange, Oregon freshman Jasmin Reed wasn't able to complete a clean pass to Pennsylvania high schooler Thelma Davies. The baton fell to the track, ending Team USA's hopes of advancing.
In their absence, Germany led all qualifiers with a time of 43.80. Jamaica, who was running without the newly-crowned 100m champion Briana Williams, also finished outside of qualifying position and was later disqualified.
Men's 4x100m: The USA men fared better, placing second and earning an automatic qualifying berth to the final with a time of 39.49. Neither Anthony Schwartz or Eric Harrison--the silver and bronze medalists from the individual 100m--competed in this opening round, but should make an appearance in the final. Germany and Japan turned in the fastest times, clocking 39.13 and 39.18 to win their respective heats.
Women's Heptathlon: Jessica Ennis-Hill, Katarina Johnson-Thompson, Morgan Lake and now, Niamh Emerson. The 19-year-old added her name to the long list of British multi-event stars who have won global gold medals.
Entering the final event in the heptathlon, Emerson's lead over Austria's Sarah Lagger was only two points. But Emerson won the 800m in 2:09.53, almost two seconds clear of Lugger. That performance clinched the victory and secured a personal best of 6,253 points for Emerson.
Lagger held for second place with 6,225 points, while Poland's Adrianna Sulek rounded out the medals, scoring 5,939 points.
Americans Anna Hall and Sterling Lester placed ninth and 16th, respectively. Hall scored 5,655 points, with top marks coming in the high jump (1,016 points) and 100m hurdles (960). In June, Hall set the national high school record in the event when she racked up 5,798 points at the Great Southwest Classic.
Men's 800m: Josh Hoey easily advanced in the opening rounds of the men's 800m. The University of Oregon signee won his heat in 1:48.86. Fellow American Rey Rivera placed third in heat four to advance to Saturday's semifinal. Kenya's Solomon Lekuta ran the fastest time of day, winning heat three in 1:48.19.
- - -
No doubt the best performance from Team USA on Friday came in the air.
Parkview Baptist (LA) graduate Tzuriel Pedigo launched the No. 9 best mark in the prep javelin all-time, finishing third with a throw of 73.25 (240-4) over qualifying during the morning session. He produced the throw on his second attempt.
It marked the Pedigo's second best performance following his 239-4 outing at the JenJavelin Festival in Germany earlier in July.
Pedigo's senior season has been a historic one. He now holds the No. 9, 12, 13, 16 and 20 best throws of all-time.
3000m Steeple Women: One of the world's best, Kenya's Celliphine Chepteek Chespol, took the stage in the final and delivered a performance befitting of her reputation.
The 19-year-old previously had orchestrated the second fastest time in the world of 8:58.78 at the 2017 Prefontaine Classic and owned up to that fitness early on. As the race began to move, she made her way to the front but it wasn't until the final three laps when when we began to see the junior athlete take over and win in 9:12.78.
Michigan's Alice Hill and Furman's Kristlin Gear would place seventh and tenth, respectively. Hill ran a new personal best of 9:57.04 while Gear clocked a 10:00.99.
400mH Women's Final: Brooke Jaworski, the rising senior from Wausau West (WI), clocked a 58.43, which is just off her PR of 57.63 from a day ago to place seventh. Taking the win was Zenéy Van Der Walt of South Africa, who ran 55.34.
400m Men's Final: A shocking upset, to say the least. Belgium's Jonathan Sacoor took over in the final 80 meter stretch, zooming past Jamaican favorite Christopher Taylor. Sacoor crossed the line in 45.03, which became a new Belgium National U20 record.
Taylor placed second in 45.38, while teammate Chantz Sawyers, the University of Florida freshman, was third. Sacoor was part of the Belgium 4x400m team that won bronze and set a Belgium national record of 3:02.51 at the 2018 IAAF World Indoor Championships in March. Team USA's Howard Fields, a Manvel (TX) graduate and Baylor University freshman, finished in fifth in 46.53.
*FloTrack's Kevin Sully and MileSplit's Bryan Deibel contributed to this report