IAAF World U20 Championships Tampere 2018
U20s Day 5 Recap: Team USA Finally Lands Gold
U20s Day 5 Recap: Team USA Finally Lands Gold
The IAAF World U20 Championships have, at times, been a frustrating experience for Team USA.
Jul 14, 2018
by Cory Mull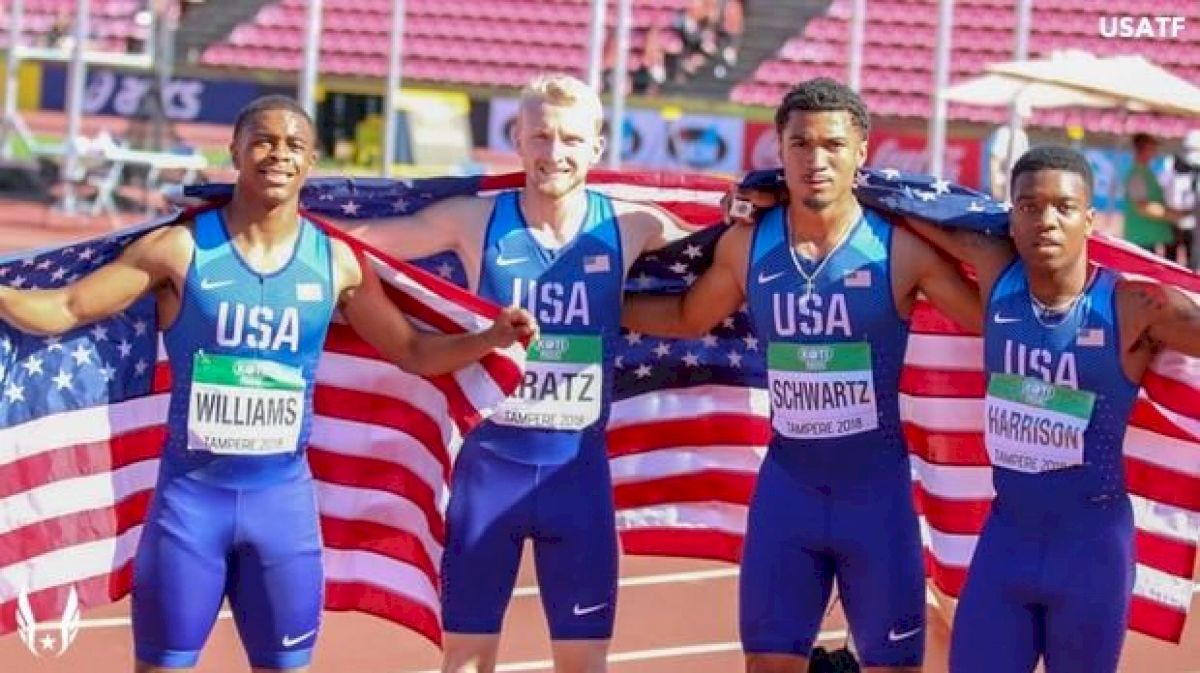 The IAAF World U20 Championships have, at times, been a frustrating experience for Team USA.
Some of the Americans' clearest favorites have lost--and at least one baton has been dropped--which meant that the pressure of winning only amplified through Saturday, when the typically dominant country had yet to earn a single gold medal.
With a few more silvers and bronze, that fact remained with one event to go. USA was dominating in medal count (13), but had zero first-place honors to its name.
Then came the 4x100 relay. The Americans hadn't lost at this event since Bydgszcz, Poland, a decade ago.
But Team USA wasn't going to let this slip away.
The squad planned smartly to make sure it would yield its best outcome, which meant that Ohio State University freshman Eric Harrison, an experienced sprinter closing out a superb season, would start for the squad.
American Heritage graduate Anthony Schwartz, who shockingly finished second in the 100m earlier in the week, would get the baton on the backstretch before handing it off for curve-runner Austin Kratz, who performed well in the preliminaries.
In the end, Micah Williams, a junior from Portland Benson (OR), closed for Team USA, holding off Jamaica's Michael Stephens. The squad closed in a new world U20 lead of 38.88 seconds, earning its first gold medal of the games and beating an impressive Jamaican squad that was an impressive second in 38.96 seconds.
Germany was third in 39.22, while Japan was fourth in 39.23.
Morning Session
Men's Discus: University of Washington freshman Elijah Mason will move on to the finals after his qualifying mark of 56.86 meters (186-6) on Saturday, which landed him fourth overall in the first section. Texas A & M freshman Gabriel Oladipo didn't quite find a higher rhythm in what turned out to be a competitive second section led by Bulgaria's Yauheni Bahutski, who marked a top throw of 61.72 meters. Oladipo tossed a best of 56.53 (185-5) on his first attempt.
Women's 10K Racewalk Final: Beavercreek (OH) sophomore Taylor Ewert scored a 10th-place finish in 45.57.81, shattering her previous best and American junior record of 49:07.52 from the USA Junior Championships.
Women's Triple Jump: Mansfield Lake Ridge (TX) junior Jasmine Moore is on to the finals after a fourth-place run in qualifying. But it was close. The Texan didn't get ahold of anything big until her last attempt, and was on the cusp of failing to move forward after so-so attempts in her first two series. But on her final run, she met her typical high standard as she marked 13.08 meters (42-11, +0.6). Bulgaria's Aleksandra Nacheva led all leapers with a mark of 13.68 in qualifying.
Men's High Jump: LSU freshman JuVaughn Blake pulled in another bronze medal for Team USA with his final clearance of 2.23 meters (7-3.75). Had Blake cleared the height on his first attempt he would have won gold based on his unblemished series. Greece's Antonios Merlos had a cleaner record to win in 2.23 meters, beating Mexico's Roberto Vilches.
Women's 4x400: If the Americans want to close U20s with a thundering slam, they'll do well to execute in this race. In the preliminaries Team USA certainly didn't pull any punches, finishing with the fastest time overall in 3:33.11, which was a new U20 world lead.
Men's 4x400: Great Britain started off the first section with a new world U20 lead in 3:07.17, and then the Americans came right back in the third heat to do the same, putting down a best of 3:05.57. Team USA will finish off the World Junior Championships going head-to-head with Great Britain.
Evening Session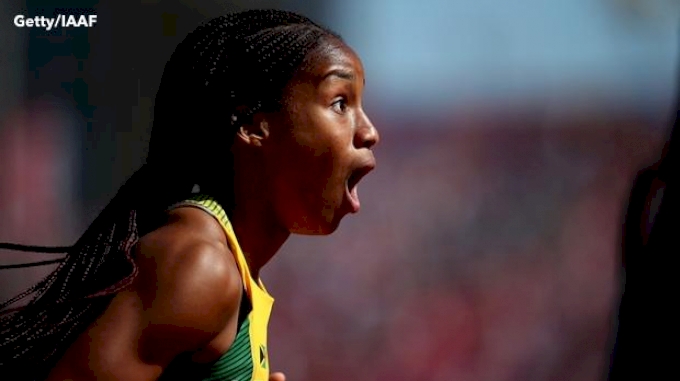 After a monumental win in the 100m two days earlier, Briana Williams was operating on the kind of euphoria that lasts long after a big race.
But unlike the 100m, where Williams wasn't the natural favorite to win, there was likely a feeling that anything could happen in the 200m on Saturday in Tampere, Finland.
Once again, Williams didn't have the fastest time on record, but the Jamaican youth international did what she does best.
The 16-year-old exploded out of the blocks, built up a massive lead--that couldn't be closed on--and never let off the gas to win in a new career best of 22.50 seconds, securing the third fastest U20 time in 2018.
She closed her U20 Championship experience with the much lauded double.
It was Williams' first march under 23 seconds at the distance and just a shade off the U18 lead of 22.48, which is owned by Florida's Tamari Davis.
And much like the 100m, Williams was in pure shock afterward. She dropped emotionally to the track, knowing full well she had one of the best races of her young career.
Women's Hammer Final: After two less than ideal performances in the finals of the shot put and discus--she shockingly didn't place in the shot put and was 10th in discus--Alyssa Wilson finally made a statement in the hammer. The UCLA freshman bombed the fourth best mark of her career, taking silver with a throw of 64.45 (211-5). Canada's Camryn Rogers won with a heave of 64.90.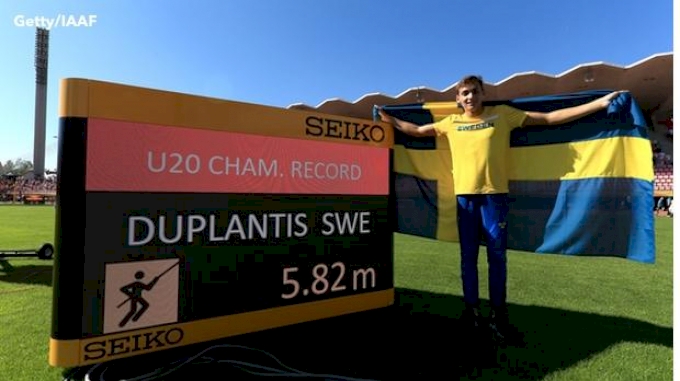 Men's Pole Vault Final: Adding to his impeccable junior resume, Sweden international and recent Lafayette High School (LA) graduate Mondo Duplantis won in a new U20 championship record of 5.82 meters (19-1). That wasn't much of a question, considering Duplantis, who owns the top eight U20 marks in 2018 and the No. 3 and No. 4 highest clearances in the senior category, was coming off a handful of European performances against the world's best. The better question was who would finish second.
That ultimately became Bloomington High School junior (IL) Zachary Bradford, who marked his second straight clearance of 5.55 meters (18-2.5) after doing the same at USA Juniors. Of note, Norway U20 Sondre Guttormsen, who spent his senior year at Davis Senior High School (CA), was sixth with a mark of 5.40 (17-8.5), while Arizona State's Cole Riddle was seventh with an effort of 5.30.
Women's 100mH: The Americans look strong heading into the finals. With the top two times in the semifinals, both Walton (GA) High School junior Tia Jones (13.06) and Florida State hurdler Cortney Jones (13.24) are headed for ideal position in the finals. Jones won the first section fairly comfortably, while Jones blew past her competitors in the final stretches.
Men's 800: Oregon recruit and Bishop Shanahan (PA) graduate Josh Hoey bowed out in the U20 semi-finals after a tough first section that saw three athletes go under 1:48. Hoey had his best outing of 2018 in this race, booking it in the final moments to close with his first sub-1:48 of the outdoor season, but just trailed off in a final time of 1:48.07, his second fastest time all-time. The first heat turned into the slower race, with Kenya's Solomon Lekuta breaking the line in 1:47.56. Lekuta's teammate, Ngeno Kipngetich, was the fastest overall in the semis with a time of 1:46.81.
Men's Javelin: Parkview Baptist (LA) graduate Tzuriel Pedigo closed out his season with the best throw of his high school career. The American launched a best of 73.76 meters (242-0) on his sixth and final throw, grabbing silver for Team USA. Australia's Nash Lowis was first with a mark of 75.31.
Men's 5K Final: Oregon's Cooper Teare closed his U20 Championship run with a 10th-place nod, clocking a final time of 14:24.30. The California native chalked up another 10-place finish on Day 3 in the 1500m. Kenya's Edward Zakayo Pingua took top honors with a winning time of 13:20.16.
Related Links: