The Diamond League's 10 Richest Athletes In 2018
The Diamond League's 10 Richest Athletes In 2018
These are the 10 highest earning athletes in the Diamond League this season.
Aug 27, 2018
by Lincoln Shryack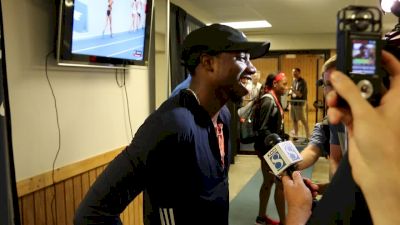 The 2018 Diamond League season will draw to a close this week after two finals in Zurich and Brussels, where the winner in each event will collect $50,000 and the title of Diamond League champion. The points accrued across the first 12 meetings on the calendar have been reset to zero for the finalists, with the winner-take-all format promising a dramatic conclusion in each discipline.
While an athlete needs only to qualify for the final to have a shot at the $50K prize, a handful of the sport's top stars have used the regular season Diamond League schedule to cash in well before the grand finale. Many athletes use a season without an outdoor global championship, commonly referred to as an "off year," to rest up and reset, yet the names below have done anything but in 2018. Instead, these 10 have been busy frequently crushing their competition.
Here are the 10 highest-earning track and field athletes in the Diamond League so far in 2018:
| | | | | |
| --- | --- | --- | --- | --- |
| Athlete | Event(s) | Wins | Total Competitions | Earnings |
| Abderrahman Samba (QAT) | 400H, 400 | 6 | 7 | $62,500 |
| Marie Josée Ta Lou (CIV) | 100, 200 | 5 | 9 | $61,000 |
| Mariya Lasitskene* (ANA) | HJ | 5 | 6 | $54,000 |
| Caster Semenya* (RSA) | 800, 1500 | 5 | 6 | $52,000 |
| Caterine Ibarguen (COL) | TJ, LJ | 4 | 6 | $50,000 |
| Shaunae Miller-Uibo* (BAH) | 200, 400 | 5 | 5 | $50,000 |
| Noah Lyles* (USA) | 100, 200 | 4 | 6 | $48,000 |
| Sam Kendricks* (USA) | PV | 4 | 6 | $46,000 |
| Salwa Eid Naser (BRN) | 400 | 4 | 5 | $46,000 |
| Francine Niyonsaba (BDI) | 800 | 2 | 6 | $42,000 |
* 2017 Diamond League champion
Winners of each regular season Diamond League competition pocket $10,000, with the top-eight finishers all receiving descending prize money. These 10 have combined to cash 46 of those $10K paychecks and their impressive earnings have included some memorable highlights.
He may have scratched the Zurich final, but Qatari hurdler Abderrahman Samba was the top earner during the Diamond League regular season. The precocious 22-year-old, who broke the Diamond League 400m hurdle record on June 30 in Paris with his No. 2 all-time 46.98 performance, went undefeated in his specialty this season. Samba is only the second man in history to break 47 seconds in the 400m hurdles.

Ivory Coast sprinter Marie Josée Ta-Lou has competed more frequently than any other name above, and it's served her well—she's the highest earning female athlete in the Diamond League so far in 2018. Ta Lou is undefeated in her four 100m races and also picked up a win in the Rome 200m.

Reigning Diamond League high jump champion Mariya Lasitskene, an authorized neutral athlete from Russia, has won five of her six competitions this season. Her 2.04m performances in Paris and London are the best in the world in 2018.

Caster Semenya hasn't lost an 800m race since 2015, and her four wins in that distance plus another in the Doha 1500m have made her one of just six athletes to earn more than $50,000 so far this year.

The ageless Catarine Ibarguen of Colombia continues to dominate the triple jump at 34, as she's a perfect 4-for-4 in Diamond League competitions in 2018. Oh, and she can long jump, too: Ibarguen finished second and third in her two DL long jump competitions, and she even set a new PR of 6.87 in June.

The 2017 200m and 400m Diamond League champion hasn't missed a beat. The versatile Shaunae Miller-Uibo is the only one of the ten above with a spotless record this season, as she has not lost a single Diamond League race. Miller-Uibo has three wins in the 200m and two in the 400m, including a 48.97 world lead in Monaco. She'll run just the 200m final in Brussels.

Twenty-one-year-old Noah Lyles is another 2017 Diamond League champion who looks primed for a repeat. Lyles hasn't lost all season in the 200m and owns the 19.65 world lead. He didn't qualify for the 100m final, but he added $8K to his pocket in that distance with two third-place finishes in Rabat and Birmingham.

Teenager Mondo Duplantis has stolen the show in the men's pole vault, but 2017 World and Diamond League champ Sam Kendricks has been his usual steady self this season, picking up four wins on the circuit while jumping 5.96m in Paris.

Bahraini sprinter Salwa Eid Naser is just 20 years old, but she's already won four Diamond League races this season and finished second in another.

It's easy to be overshadowed by Caster Semenya, but Burundi's Francine Niyonsaba has made some noise of her own by winning two Diamond League 800m races—without Semenya of course—and running 1:55.47 in Monaco.