He tried to hold back, but Morgan McDonald couldn't contain himself.
The Wisconsin senior was running his first cross country race since November of 2016 and his first serious race of any kind since April 8. His return coincided with a home meet for the Badgers—the Nuttycombe Wisconsin Invitational—a meet so jam-packed with ranked teams and postseason implications that Wisconsin head coach Mick Byrne called it "cross country on steroids."
The outsized importance made everything in Madison appear too overwrought for September and McDonald was placed squarely in the middle of it all. His presence yet another storyline packed into Friday's race.
The 22-year-old redshirted last fall and picked up an injury in the spring—virtually keeping him out of all NCAA competition during the academic year. McDonald had nothing to prove in a September race. His PRs (3:55 mile, 13:15 5000m) indicate a man capable of winning the national title, but this wasn't any September race and it certainly wasn't any September race for McDonald.
"When you haven't raced in a while you start to doubt yourself a little," McDonald said.
And if the layoff and competing at home didn't do enough to ratchet up the intensity, there was the issue of what preceded the men's race on Friday.
McDonald's teammate Alicia Monson (more on her below) pulled off a huge upset to take the women's title, beating a field that included three national champions. McDonald was among those at the finish cheering when Monson sprinted for victory.
"I don't know about you guys," McDonald told his teammates at the start line. "But I'm feeling pretty F-ing inspired right now. Let's go out and make a statement just like Alicia did."
For the first four miles of the race though McDonald showed restraint, content to let other runners take the lead. After 20 minutes of running (and itching to push the pace), McDonald moved to the front. Ninety seconds later, he accelerated up a hill and gapped the field—a moved he said was instinctual, not premeditated.
He's baaaaaack #NuttyInvite pic.twitter.com/BtdR12jKpq

— FloTrack (@FloTrack) September 28, 2018
Either way, it was effective in ending the race. McDonald was never challenged, taking the victory in 23:17.6.
"It's good to know I still got it," McDonald said after the race.
The performance placed McDonald once again atop the country. Any list of serious contenders for the individual title has to now include his name. His performance also lifted his Wisconsin team to a surprise second-place team finish.
NAU Leaves No Doubt In Men's Race
Even with all the necessary disclaimers and caveats, NAU's resounding victory reaffirmed their status as favorites to win the men's title. The Lumberjacks' first four went 3-5-7-8 on their way to scoring 46 points. And they did it without the services of last year's runner-up, Matt Baxter.
After the race, Peter Lomong joked that Baxter didn't run because he didn't make the top-seven cut (NAU coach Mike Smith said that Baxter is fine and did a workout of mile repeats on the course before the race), but they didn't need him on Friday. They won the meet (one that featured seven of the top nine teams in the nation) by 89 points.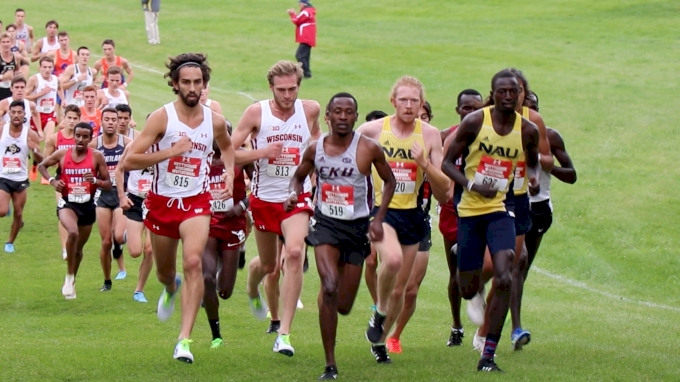 Unlock this video, live events, and more with a subscription!
Get Started
Already a subscriber? Log In
Tyler Day, who was NAU's first man in third place, looks just as good as he did last year when he placed third at nationals. Sophomores Luis Grijalva and Blaise Ferro (fifth and eighth) have taken another jump up after last season. Then there's Lomong (seventh on Friday), who has transformed back to last year's cross country form after disappointing showings in indoor and outdoor track. Add it all up and NAU is a team without any identifiable weaknesses at this point.
Colorado, Boise State Upend New Mexico
New Mexico's Ednah Kurgat, Weini Kelati, Charlotte Prouse, and Adva Cohen were all at the front of the pack from the gun of the women's race. All four had the credentials to be running in the lead group of a race of this caliber, and this looked to be an early knockout blow from New Mexico. You couldn't see their fifth runner, but with a team that deep (New Mexico sophomore Sophie Eckel won the B race earlier in the day), it was safe to assume someone would step forward.
But then Cohen fell off the pace, leaving three Lobos at the front. Kelati, Kurgat, and Prouse went 2-3-7, seemingly putting New Mexico in a commanding position to take the team title. But Cohen had drifted all the way back to 35th and New Mexico's fifth runner never materialized (Hannah Nuttall placed 83rd).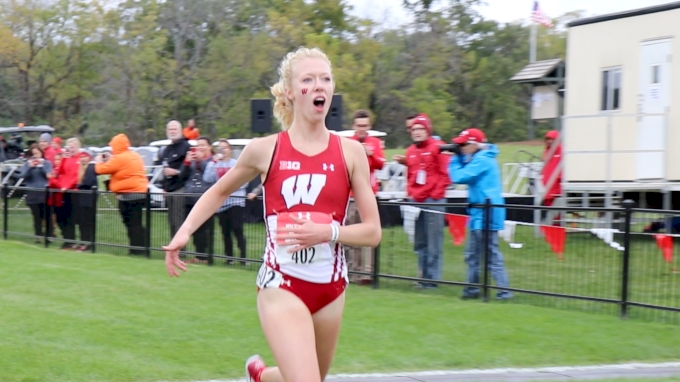 Unlock this video, live events, and more with a subscription!
Get Started
Already a subscriber? Log In
Meanwhile, Colorado was running a vintage Colorado race. The Buffaloes were eighth at the 2K split but chipped away steadily on the leaders. Dani Jones taking fourth place wasn't unexpected, but Makena Morley's sixth-place finish was a nice surprise for Colorado. The gap from Jones to the fifth-place finisher was just under 53 seconds as the Buffaloes scored 80 points ahead of Boise State's 91 and New Mexico's 130.
Women's Race More Than Just The Kurgat/Ostrander Show
The Mountain West rivals finished third (Kurgat) and fifth (Ostrander) in a race where Alicia Monson of Wisconsin shocked the field. Monson has experience in big meets, but her finishes in national championships and personal bests on the track aren't in the same league as Ostrander or Kurgat's. But that didn't matter on Friday.
After the biggest victory of her career, Monson said she still doesn't consider herself one of the best in the country—an incredibly cautious assessment even given the fact that the race took place in September.
UPSET IN WISCONSIN ‼️ Alicia Monson wins on her home course!! #NuttyInvite @BadgerTrackXC pic.twitter.com/lyMd70d9CR

— FloTrack (@FloTrack) September 28, 2018
Sure, Kurgat, Ostrander, Kelati, and the rest of the field weren't their sharpest. However, I doubt Monson was peaking for late September.
The result injects some intrigue into the women's race, one that seemed to be Kurgat's to lose after her dominating run in Louisville. Remember, Kurgat didn't lose a cross country race all season in 2017. Whether it's from her teammate, Kelati, or others like Ostrander, Monson, Jones, and Sharon Lokedi, Kurgat's second title might be harder than her first.
Alabama's Potential Still Unclear
Noel Rotich had the potential to fill in one of the two missing pieces that could put the Alabama men's team on the podium in November. His 8:52 steeplechase personal best at altitude looked like a sign that Alabama's trio of Vincent Kiprop, Gilbert Kigen, and Alfred Chelanga could turn into a big four.
Unfortunately, we have to wait to find out Rotich's potential. He dropped out after the 2K mark on Friday. All told, it was a rough day for the Crimson Tide. Only four men finished (No. 1-ranked individual Vincent Kiprop didn't race), keeping Alabama from recording a team score.
BYU Holds Serve, Stanford Sweeps Home Meet
The BYU men put five runners in the top nine to easily win the Joe Piane Notre Dame Invitational. Connor McMillan and Daniel Carney went 1-2, crossing the line less than a half-second apart to help the Cougars score 29 points. Wyoming, buoyed by Paul Roberts' third-place finish, took second with 105 points while Notre Dame was third with 119 points.
Get out your brooms— it's a sweep! Connor McMillan wins and Danny Carney in second to go 1-2 and lead the men to a victory! pic.twitter.com/691uNMSW1V

— BYU Track and Field (@BYUTFXC) September 28, 2018
The women from BYU put three in the top five and scored 37 points to make it a clean sweep for the Cougars. Erica Birk won the race in 16:19 and her BYU teammate Whittni Orton took second. Notre Dame's Anna Rohrer, third at the 2016 NCAA Cross Country Championships, placed third in her debut this fall. Furman, led by Savannah Carnahan's fourth-place finish, scored 80 points to finish second place.
Despite holding out some of their top runners, Stanford swept the men's and women's races at Stanford Invitational. Stanford senior Elise Cranny won the women's race by seven seconds while her junior teammate Fiona O'Keefe placed third to give the team a 62-69 win over Adams State. Washington's Katie Rainsberger placed second as the Huskies took third as a team. Washington's Lilli Burdon did not race.
The Stanford men put five in the first nine to easily win 26-53 over UCLA. Grant Fisher, Steven Fahy, and Thomas Ratcliffe did not compete for Stanford. Robert Brandt of UCLA, competing unattached, won the race in 23:46, 10 seconds ahead of Sydney Gidabuday of Adams State. Then, it was a flood of Cardinal with Alek Parsons taking third, Alex Ostberg in fifth, Callum Borger sixth, D.J. Principe eighth, and Tai Dinger ninth.
10,000m Stars Continue Their Winning Ways
Sharon Lokedi, the 2018 10,000m champion, opened up her season with an easy win at the Rim Rock Classic in Lawrence, Kansas. Lokedi ran 19:49 for 6K to win the race by 1:47 and lead Kansas to an easy team victory.
Running on this course today was emotional, but I made sure I had fun doing it. I will be lying if I don't say this is the best course ever. I am privileged to have this as my turf! Excited for the season ahead and go Jayhawks. pic.twitter.com/cJyEWNqrAM

— Sharon Lokedi (@shazrinee) September 30, 2018
Dorcas Wasike, who finished runner-up to Lokedi in the 10,000m, won the Louisville Cross Country Classic by almost 10 seconds. Wasike has now won all three of her races this fall. Michigan, led by Avery Evenson, won the women's team race with 46 points.
Virginia Tech junior Peter Seufer took the win at the Paul Short Run, running 24:11 to finish 18 seconds ahead of Hofstra freshman Meshack Kipchirchir. Utah State used a third-place finish from Adam Hendrickson to beat Virginia Tech 77-80 in the team competition.
The women's competition was also close with Yale beating Georgia by 9 points. Brogan MacDougall of Queen's University beat Georgia's Jessica Drop by three seconds to take the title.
In Minneapolis at the Roy Griak Invitational, Bethany and Megan Hasz went 1-2 to lead Minnesota to victory over Cal Baptist, 52 to 82. The men's race was a bit tighter with Duke (74 points) edging Minnesota (77 points) to get the win. Harvard junior Kieran Tuntivate won the race in 24:33.