Back in June, the University of Wyoming men's cross country team received an unexpected gift that immediately improved their outlook for the 2018 season.
The gift was an email from Colorado State University-Pueblo to Wyoming distance coach Scott Dahlberg, indicating that Paul Roberts, an athlete Dahlberg had recruited three years before while he was coaching at another school, was interested in transferring from CSU-Pueblo to Wyoming.
That email prompted Dahlberg to act fast in response, and not merely because he recognized the name. Paul Roberts had been the top prep distance runner in the state of Colorado in 2015, and his addition to the Wyoming squad could potentially help the Cowboys accomplish something they haven't done since 1986: qualify for the NCAA Cross Country Championships.
So Dahlberg quickly picked up the phone and called Roberts to express his own interest in coaching the mega-talented athlete that had slipped through his fingers previously.
The pair had formed a solid bond back in 2015, when Dahlberg was an assistant at Colorado State and Roberts was one the top high school recruits in the country. The Lyons, Colorado-native surprised many when he ultimately chose Division II CSU-Pueblo over Dahlberg's Colorado State, as the 2015 Foot Locker Nationals fifth-place finisher was easily accomplished enough to run for a top-flight Division I program.
Dahlberg thought he had missed his chance at coaching the superstar who attended high school just an hour away from Colorado State's campus. But then that email came across Dahlberg's desk in Wyoming this summer, some three years after he struck out on Roberts at Colorado State, and Dahlberg realized the good fortune he had received.
"At the time (back in 2015) I was a little bummed that I wouldn't be able to work with him, but a couple years later, I'm pretty happy that he made that decision (choosing CSU-Pueblo) because now I get to work with him," Dahlberg said.
It's not everyday that a coach gets a shot at signing a top-five Foot Locker finisher like Roberts, and it's virtually never that the same coach gets a second opportunity at that athlete years later at a different program.
But Roberts' dissatisfaction after his second year at Pueblo led to that rare opportunity.
Despite an All-American finish in cross country last season-- he placed 35th at DII nationals in 2017-- the sophomore expected more from himself, and that trend continued after a mediocre track season in the spring. It also didn't help that Roberts wasn't jelling with the coaching staff, and those factors precipitated his exit.
"Sophomore year I wasn't quite as happy with just because I thought I kind of had college and everything figured out," said Roberts.
"I just wasn't quite performing as well as I wanted to, a little bit because of me and probably a little bit just because of the coach-athlete communication and everything. Definitely a little disappointed with my performances last year."
Roberts back in high school, on the way to one of his four Colorado state XC titles: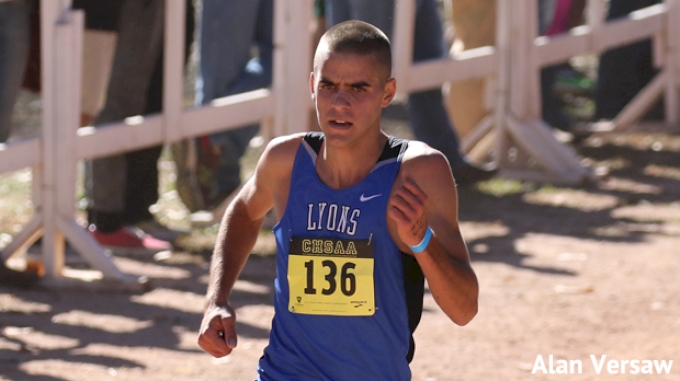 Dahlberg had no way to know that Roberts would suddenly fall in his lap, but on the few occasions he saw the former high school star run at college meets, he noticed something was off. According to Dahlberg, Roberts just didn't look like the same athlete that had won four consecutive state titles in cross country back in high school.
"I watched him run a handful of times obviously over the last couple years of being at some similar meets," said Dahlberg. "It just looked like there was maybe something missing. It just didn't look like himself from his high school form."
Once Roberts' transfer to Wyoming was official, the coach and athlete developed a more individualized training plan-- including running doubles, and a bigger focus on the long run-- that both agreed could help Roberts find his form again. There were some philosophical differences between Roberts and his previous coaches regarding his training, and so Dahlberg knew that an agreement had to be made for their relationship to work.
"Him and I had some really good conversations once we confirmed he was going to transfer. Kind of just honed in on what he thought works best," Dahlberg said.
Whether it's the subtle tweaks to his training, or simply a much-needed change of scenery, or both, Roberts has gotten results thus far in his first two races as a Cowboy.
The newcomer won his Wyoming debut on August 31 at the Wyoming Invite, beating Colorado State All-American Cole Rockhold in the process. Then a month later at the Notre Dame Invitational, Roberts finished just a second behind BYU's Connor McMillan and Daniel Carney to take third overall.
What an evening at the Little America! Check out highlights and interviews with our coaches and student-athletes #GoWyo #OneWyoming pic.twitter.com/9jIzJPzgnj

— Wyoming Track and XC (@wyo_track) September 1, 2018
With that result at Notre Dame, Roberts could feel-- and even see-- his old self returning. In the top pack, Roberts recognized athletes he had competed against in high school who had seemingly left him behind while he was struggling at Pueblo.
"It's been really exciting to kind of get back to where I'm racing a lot of these guys I was running against in high school and who have kept improving since they got to college."
His run at Notre Dame led the Cowboys to a runner-up finish in South Bend, an encouraging sign for a team that hopes to ride a rejuvenated Roberts to their first NCAA bid in more than 30 years this season. Wyoming knows that an automatic bid coming out of the brutal Mountain Region is highly unlikely, so success at regular season meets like this weekend's Wisconsin XC Pre-Nationals Invitational in Madison, Wisconsin, where at-large points are there for the taking, are critical for them to finally break through.
Watch the Wisconsin XC Pre-Nationals Live On FloTrack
For that to happen, Roberts will need to bring his "A" game, which he's hoping will be a top 10 finish for himself on Saturday in the Cardinal race against the likes of NAU, Wisconsin, and Stanford. It's a tall order for a man running just the third Division I race of this life, but Roberts feels that his unique path back to the highest level has made him better for it.
"It wasn't exactly the path I was hoping to take, but at the same time, I think it put me in the same spot and I think I learned a lot from the whole process," he said.