2018 DI NCAA XC Championships
Champion Dani Jones Leads Colorado To NCAA XC Team Title
Champion Dani Jones Leads Colorado To NCAA XC Team Title
Dani Jones captures her first NCAA XC title and leads Colorado to the overall team win in her senior year.
Nov 17, 2018
by FloTrack Staff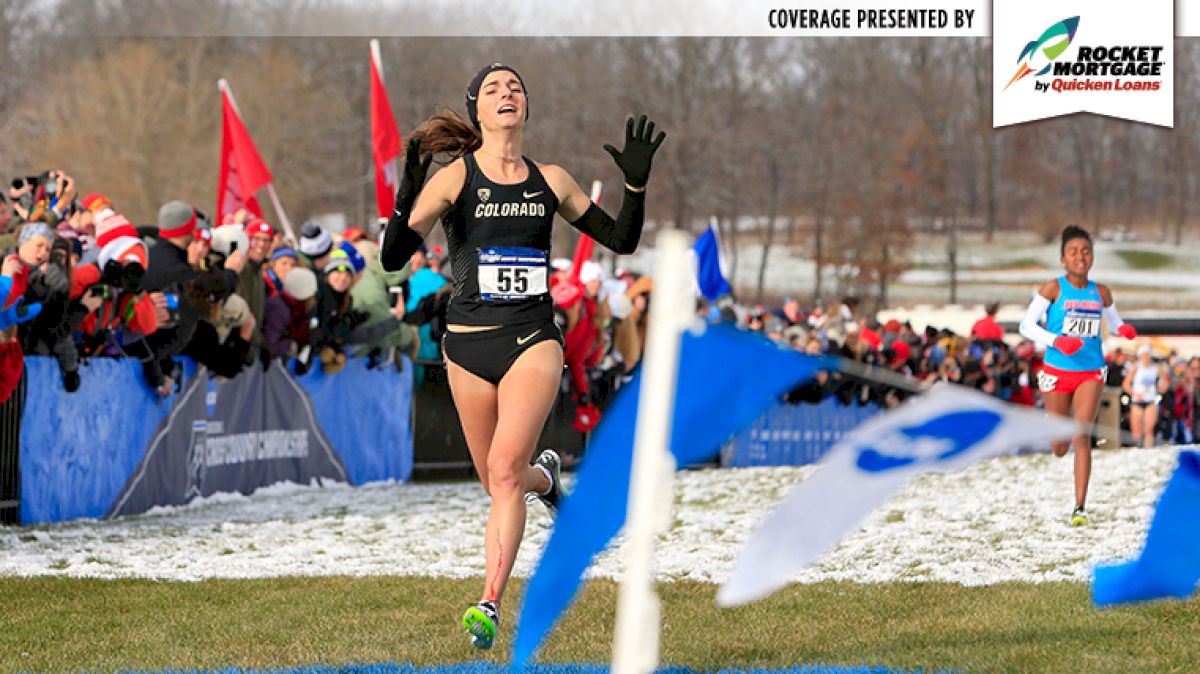 MADISON, WI. — You couldn't write a better story for Colorado senior Dani Jones, who captured her first individual cross country national title while leading the Buffs to their first team championship in 14 years.
"My goal was to just give myself a chance and stay in there and it worked out well," the Arizona native said between tears immediately after the race. "I never thought I'd win a cross title. It's just unbelievable and so special."
Dani Jones is the 2018 NATIONAL CHAMPION! pic.twitter.com/baT2LeXzlk

— FloTrack (@FloTrack) November 17, 2018
Jones kicked past New Mexico's Weini Kelati, pundits' favorite for the title, in the final straightaway at the University of Wisconsin and would end up distancing the sophomore by three seconds—19:42.8 to 19:45.3.
The Buffs, conversely, led the team race with 2K to go with a 60-point lead over two-time defending champions New Mexico, 80 to 140 points.
They would actually improve on that score in the final tally with a total of 64 points for the win. The Lobos would settle for second with 103 points, Oregon took third with 160 points and Michigan took the final podium spot with 212 points.
This is the third team title for Colorado, who previously won in 2004 and 2000. The first title also came with an individual champion in Kara Goucher (neé Grgas-Wheeler).
Colorado women win the team title!! @CUBuffsTrack pic.twitter.com/X3uUkClUmc

— FloTrack (@FloTrack) November 17, 2018
Colorado's No. 2 runner, Makena Morley, said she fell at 1K and worked her way back up to eighth place for an All-American finish.
"I got stepped on," she said, "I kicked at the end because I saw my teammate winning. I never kick!"
The Lobos were huge favorites to defend their team title thanks to the strength of their top three women in Kelati, defending champion Ednah Kurgat and Charlotte Prouse, all of whom placed in the top nine on Saturday morning. But the Buffs were able to distance them by placing all five scorers in the top 24: Jones (1), Morley (8), Tabor Scholl (15), Sage Hurta (22) and Taylor Tuttle (24).
Jones won her title by staying patient through the 6K race and moving to the front only when her signature kick would benefit her. Boise State's Allie Ostrander and Notre Dame's Anna Rohrer led the early miles (6:38 at 2K, 13:27 at 4K), with Kelati and Kurgat in tow, along with Jones and the rest of the lead pack—Jessica Hull of Oregon, Alicia Monson of Wisconsin, Erica Birk-Jarvis of BYU and Elise Cranny of Stanford.
Kelati made her move with 2K to go and looked to have the race locked up before Jones unleashed her final kick.
Hull, who was just 93rd at this meet last year but won the NCAA 1500m title in the spring, placed third in 19:50.4 and Monson, just 139th one year ago, was fourth in 19:55.2.
Kurgat, the defending champion, would finish fifth in 19:55.8.