2018 DI NCAA XC Championships
Morgan McDonald Reigns, NAU Three-Peats At NCAA XC Championships
Morgan McDonald Reigns, NAU Three-Peats At NCAA XC Championships
Fifth-year senior Morgan McDonald of Wisconsin won his first NCAA title on his home course and the NAU men won their third consecutive team title.
Nov 17, 2018
by FloTrack Staff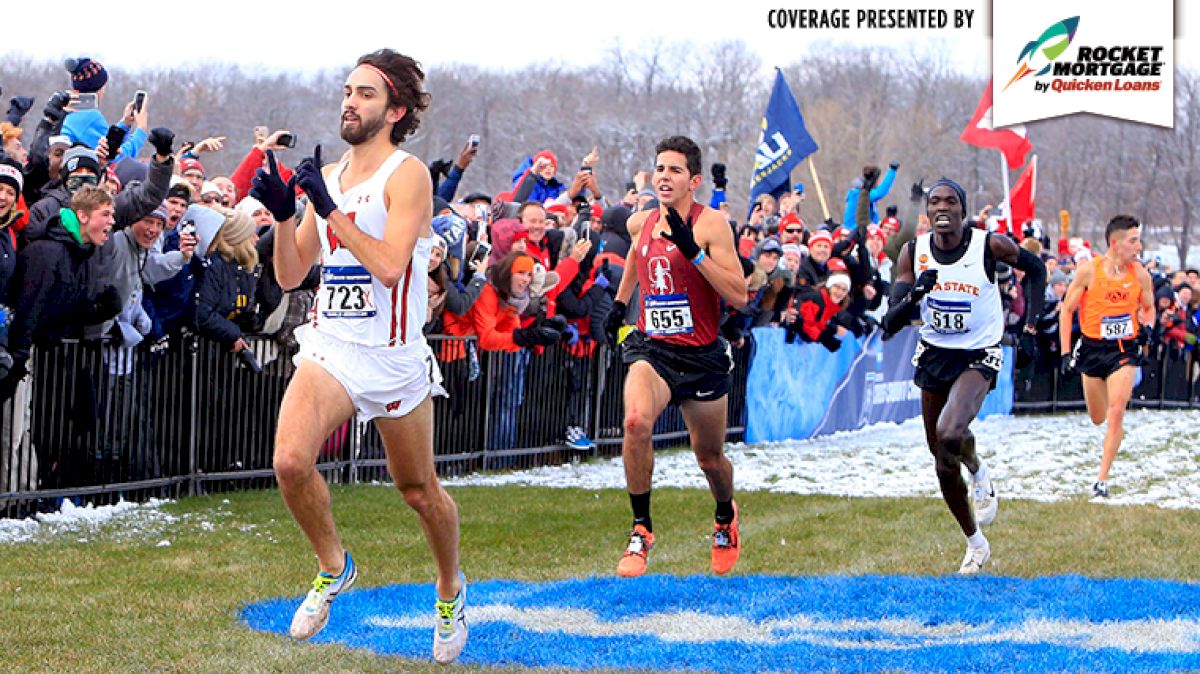 MADISON, WI. — The men's NCAA DI XC Championships made history on Saturday morning as Wisconsin senior Morgan McDonald became the first man to win the individual title on his home course since 1992, and Northern Arizona became the first team to win three consecutive team titles since 1998.
Snow on the ground and low 30-degree temperatures were par for the course for local favorite McDonald, an Australian native who returned to Madison for his fifth year in the hopes of capturing his first NCAA title.
MORGAN ● FREAKING ● MCDONALD pic.twitter.com/CsJ9UEXEeJ

— FloTrack (@FloTrack) November 17, 2018
Runners climb one last hill in the finish line straight, which is where McDonald made his decisive move over Grant Fisher of Stanford, 29:08.3 to 29:08.8. Edwin Kurgat of Iowa State was just behind in third, 29:09.0.
"It hurt really bad but I knew that in my head, I was thinking, 'I've done this so many times,'" he said after the race. "Every session, we finish by doing this straight. I was scared of the guys around me but I knew I had a good shot."
The last man to win the NCAA DI XC title on his home course was Bob Kennedy of Indiana in 1992.
NAU's team victory was perhaps the most hard-fought their three-in-a-row feat, as their point lead diminished significantly over the second half of the race, from 71 points ahead of Portland at 6K to just 33 points ahead of runners-up BYU at the finish.
The moment @NAUTrackFieldXC found out they won the national title. pic.twitter.com/OsX6UbuAUV

— FloTrack (@FloTrack) November 17, 2018
The last team to win three NCAA DI XC Championship titles in a row was Arkansas in 1998, 1999 and 2000.
Last year's victory included dream races from the likes of Matt Baxter, Tyler Day and Peter Lomong, all of whom placed within the top ten. This year, Baxter dropped from the lead pack early and gutted out a 15th-place finish. Day was the top runner in sixth and the rest of the scorers finished within the top 30: Luis Grijalva in 23rd, Blaise Ferro in 26th and Lomong in 29th.
"This was the hardest one," Lomong said of the team's three-peat. "Back-to-back-to-back, three times, mentally, it's the hardest thing ever. I'm so proud of these guys to pull this off. This goes down in history."
Baxter, whose dad traveled to the United States from New Zealand to watch him race for the first time, said he ran entirely for his team even with his individual title hopes out the window.
"It was a hard day out there but I had to stick with it, I had to get every single point for my team," he said.
Head coach Mike Smith said he wasn't worried when Baxter started to fall off the lead group.
"I'd be worried if it was anyone else besides Matt Baxter," he said. "I've coached a lot of people and there's very few like him, he could fall off like that and completely manage the situation."
Final team scores were 83 points for NAU, 116 points for BYU, 160 points for Portland and 178 points for Colorado.