The 2018 DI NCAA XC Championships are in the books, so it's time to give out report cards from the action in Madison, Wisconsin.
Here are the grades for the top 10 men's and women's teams in 2018:
MEN
1. Northern Arizona: A+
Recent history hasn't been kind to three-peat attempts, and a snow-covered Wisconsin course combined with a great day from BYU could've been the recipe for NAU's demise. Instead, they put together arguably the most impressive performance of their three titles, with six in the top 40 to secure their dynasty. It will be much tougher to win their fourth straight in 2019 as they lose Day, Baxter, and Lomong, but this team will still be a force next season.
2. BYU: A
It's always been evident that, despite their immense talent, BYU couldn't match NAU blow-for-blow if both teams ran their best. That's exactly what happened on Saturday, but the Cougars certainly atoned for their disappointing third-place finish in 2017 with four All-Americans and all five in the top 50. They threw the kitchen sink at NAU, but it just wasn't enough.
3. Portland: B+
I certainly expected Nick Hauger to finish better than 40th after his wins at the West Coast Conference and West regionals, but all in all it was a solid NCAA meet for Rob Conner's men. The Pilots had three All-Americans, highlighted by another great nationals run from Emmanuel Roudolff-Levisse in 21st, who had had a bumpy season ahead of Saturday.
4. Colorado: A-
A very impressive fourth-place finish for the Buffs could've been really special if their fifth wouldn't have been in 147th place, but three in the top 11 for a Colorado team I had completely overlooked was truly shocking. Joe Klecker, John Dressel, and Eduardo Herrera will all be back in 2019 to make CU a title contender next year.
5. Stanford: B
Grant Fisher came 0.5 seconds away from a national title, and the Cardinal had two other All-Americans, but Stanford's fifth in 125th doomed their podium designs. This team is better than fifth.
6. Washington: A-
The Huskies had a great first year under Andy Powell to finish sixth, and they return six of their top seven next season. A better day from PAC-12 runner-up Talon Hull (80th) could've resulted in a trophy, but U-Dub will be back.
7. Iowa State: C+
Edwin Kurgat finished third, but there weren't too many other highlights as the Cyclones matched their seventh-place finish from 2017. Fortunately, Iowa State returns their top three — plus Stanley Langat, Festus Lagat, and Thomas Pollard — to once again have the pieces to make a podium run.
8. Wisconsin: B+
Sure, the Badgers could've done much better than eighth running at home, but Morgan McDonald's win — a victory two years in the making after he redshirted last season — more than makes up for the team's so-so day.
9. Colorado St.: A
The Rams matched their program-best finish at NCAAs from last year, and they did it without 2017 All-American Cole Rockhold, who got injured after conference and missed the rest of the season.
10. Boise State: B-
Boise had three in the top 50, but not much after that as no other Bronco finished inside triple digits. Senior Riley Campbell's 44th-place finish was his best collegiate performance to date, as his only other NCAA XC race was a 212th-place in 2016.
WOMEN
1. Colorado: A+
Six in the top 30?! A Dani Jones national title?! What an unbelievable race for Colorado.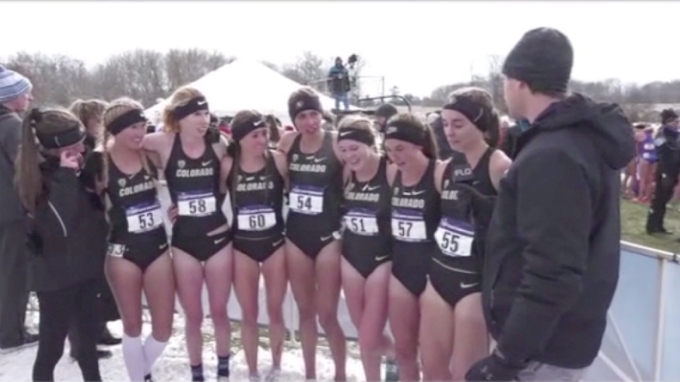 2. New Mexico: A
The Lobos had a great day in Madison as the Big Three all finished in the top 10 and Emily Martin (55th) delivered as the fifth New Mexico had been searching for all season. Unfortunately, they were doomed by a perfect day from Colorado. Kelati and Kurgat will both be back in 2019, however.
3. Oregon: B
The Ducks got excellent races out of Jessica Hull (third), Weronika Pyzik (12th), and Carmela Cardama Baez (31st), but with their fifth Susan Ejore in the 90s they were no match for Colorado and New Mexico. It's a bummer for Oregon that they only got one year of this version of Hull (she was just 93rd last year) and Pyzik together, as they propelled a revamped roster onto the podium.
4. Michigan: A
No many people gave Michigan a shot at the podium with Boise State, Arkansas, and Villanova all looking like deeper squads, but the Wolverines capitalized on their poor days with two All-Americans and all five in the top 80. Camille Davre finished as the top freshman in the country and led the team in 29th, a huge improvement from her 37th-place finish at Pre-Nats just a month earlier.
5. Stanford: B+
The Cardinal missed the podium narrowly in 2018 after finishing fourth a year ago, but Stanford has to be mostly pleased with their performance. Elise Cranny and Fiona O'Keeffe placed in the top 20, and the rest of their young team gained valuable NCAA experience.
6. Boise State: C
The Broncos were my trendy pick to win the title after beating New Mexico at Nuttycombe earlier in the season, but Boise State was doomed by a 78-second spread.
7. BYU: B
The Cougars didn't have the depth this season to contend for a title — their fourth and fifth scorers were well outside the top 100 — but their entire top seven is back next year, including seventh-place finisher Erica Birk-Jarvis.
8. Notre Dame: B+
Notre Dame lost ACCs by a point to N.C. State back in October, but they beat their conference rivals by 54 points and five places on Saturday in Madison. Anna Rohrer finished in the top 10 for the third time in three tries, while senior Jessica Harris notched an All-American honor in 37th. Harris' only other NCAA XC appearance was a 180th-place showing two years ago.
9. Washington: B
Lilli Burdon was just 31st at PAC-12s and 33rd at the West region, but somehow she pulled off an impressive 33rd-place finish in Madison despite her otherwise underwhelming season. Katie Rainsberger also had a nice race as she cracked the top 20 for the third straight year, but the Huskies' fifth didn't cross until 169th.
10. Wisconsin: B-
Three of Wisco's scorers were in the triple digits, but Alicia Monson capped off a dream 2018 season with a fourth-place finish on her home course. She was just 139th in 2017.