A wet, cold, and especially muddy day in Pittsburgh, Pennsylvania, set a dramatic stage for the 2018 NCAA DII XC Championships, and therefore it was no surprise when upsets abounded in both the men's and women's races on Saturday morning. For the first time in school history, the Grand Valley State men won the Division II XC crown with 89 points over pre-race favorite Colorado School of Mines (99 points), while the Laker women quickly followed suit with a truly dominant performance, completing the GVSU sweep with just 41 points, the lowest winning score by a women's champion since 2004.
The moment the GVSU men found out they won their first ever XC national title! #D2XC @gvsulakers pic.twitter.com/yF1DaVICrZ

— FloTrack (@FloTrack) December 1, 2018
In the individual battles, CSU-Pueblo senior Marcelo Laguera won his first NCAA title-- and his school's first-ever individual cross country crown-- with a late kick over Grand Valley State senior Zach Panning in 31:46. Panning settled for second for the second straight year in 31:53.
And in a thrilling women's race, Grand Valley State's Sarah Berger-- runner-up in 2017-- held off hard charges from Adams State's Eilish Flanagan and U-Mary's Emily Roberts to win the 6k championship in 22:07. Flanagan and Roberts were second and third in 22:12 and 22:15, respectively.
Sarah Berger wins the battle down the homestretch for the DII title! #D2XC pic.twitter.com/aYyCL8wUtt

— FloTrack (@FloTrack) December 1, 2018
In the team contests, both GVSU programs came in ranked outside of the top two in the FloXC rankings, but each were able to take advantage of a day when convention was thrown out the window and every step through the muck was harder than the one before. In short, it was a grinder's paradise, and the Lakers were better prepared than anyone for the conditions.
The challenging and winding Schenley Park course in downtown Pittsburgh was made all the more difficult with rain in the days before-- and then a heavy downpour during the women's 6k-- and the narrow and slick footing showed its teeth early in both races as the men and women were each called back to the start line amid chaos just meters into the race.
For the men, it was a preview of the madness to come.
After the initial blunder at the start, the men's 10,000m got underway and right away it was evident that big upsets were on the table. Roughly 200m into the race, No. 1-ranked Colorado School of Mines' Grant Colligan tripped and fell amongst a huge swell of competitors, somersaulting on the muddy terrain while the field zoomed around him. Colligan quickly got up, but he spent the rest of the race playing catch-up as he desperately tried to work his way into the top 10, as he had last year when he led the Orediggers with a fifth-place finish.
But despite an admirable effort from Colligan, he could only manage a 17th place finish on Saturday, a finish that ultimately made a tremendous difference in the team battle.
400m into the 10k #D2XC National Championships, @gcolligan2 gets tripped and goes down. A pre-race @FloTrack favorite, he got up and worked his way back to an All American finish, on a freshly busted ankle. Grant ran 6 miles hurt for his TEAM, what a freakin' stud. #CSMXC pic.twitter.com/25UQBYiM2n

— Colorado Mines TF/XC (@CSMtrack) December 1, 2018
Once the race finally started to get settled, Grand Valley State's Zach Panning confidently took control up front with Pueblo's Laguera right on his shoulder. Panning figured to have the advantage as a three-time top five finisher at nationals and the reigning NCAA 5k champ, and he continued to lead Laguera by a step through each split as the lead pack slowly began to dwindle to just the two seniors.
Just short of 6k, Panning and Laguera had gapped Missouri Southern's Gidieon Kimutai by four seconds, while at the same split Panning's Lakers took the lead in the team battle for the first time. It was then that it appeared that Panning had an excellent shot to take the individual and team titles in his final college cross country race, as Laguera-- who was 23rd at NCAAs in 2017-- was much less accomplished on the grass.
But while the team battle continued to go in Grand Valley's favor-- the Lakers would end up with four in the top 30-- Laguera wasn't going away, try as Panning might. The pair were stride-for-stride nearly the entire race. It wasn't until about 700 meters to go that Panning appeared to finally break loose from Laguera, a move that in hindsight was likely too late for the Grand Valley star-- Laguera quickly covered the charge to set up an epic last 400m.
Panning again stepped on the gas with about 300m until the finish line, but again Laguera was able to counter and this time he decided to make a move of his own. With just 200m left, the CSU-Pueblo senior launched into his kick and Panning-- spent from leading the race for 30-plus minutes-- couldn't respond.
Marcelo Laguera kicks to win the DII XC Championship! #D2XC pic.twitter.com/TWYUHmIKnP

— FloTrack (@FloTrack) December 1, 2018
Marcelo Laguera, who had never even won a conference XC title, let alone a national one, had won his school's first individual NCAA XC crown. It was a shocking upset, and one that floored the man himself.
"I still can't believe it to be honest with you," Laguera told FloTrack afterwards.
But for the surprise champ, the hilly course and conditions clearly worked in the favor of his rugged skill set.
"My teammates know me as the mountain guy," he said. "Every time we do hill workouts or whatever, I just thrive at that. So I was very happy that the course was so crappy. I was like, 'This is perfect, because that way we get rid of all the fast, foot speed people and it's just a grinding race.'"
Grind it was, and despite Panning falling just shy of an individual title, the senior led the way for his program's first men's NCAA XC title, as the Lakers beat Colorado School of Mines 89-99. Panning and sophomore Enael Woldemichael (sixth) both finished in the top 10, while GVSU got top-30 performances out of freshman Tanner Chada (21st) and senior Josh Steible (28th). Freshman Ben Zaremba was 45th to round out the scoring for Grand Valley State.
Behind Grand Valley State and Colorado Mines, Western Colorado scored a shocking upset of conference rival Adams State, as the Mountaineers finished third in 117 points while Adams State settled for fourth in 175 points.
For Adams State, who came in looking for their third straight DII title and 14th overall, their fourth place finish marks their worst finish at nationals since 1996, when they were 15th. The Grizzlies had a great day from senior Elias Gedyon (third), but pre-race title contender Sydney Gidabuday was just 12th-- his speed no doubt stifled by the hilly and muddy terrain-- and Adams had no other All-Americans besides those two on the day. Last year's third place finisher Kale Adams was the team's third on Saturday in 44th.
Sarah Berger Leads Four Lakers In Top 10 As Grand Valley State Scores Dominant Upset
Whatever trouble the men had navigating the Schenley Park course, it was doubly difficult for the women as a stiff downpour settled in just before their race was slated to get underway. And just as had happened in the men's contest, the field of women were called back to the start line after a hectic first 50 meters.
Once the race finally got off cleanly, Grand Valley's Sarah Berger immediately put herself right up at the front to push the pace. For someone to beat Berger, the top returner from the 2017 NCAA XC Championships, they were really going to have to earn it as she made the pace honest despite racing on a course that was in muddy tatters.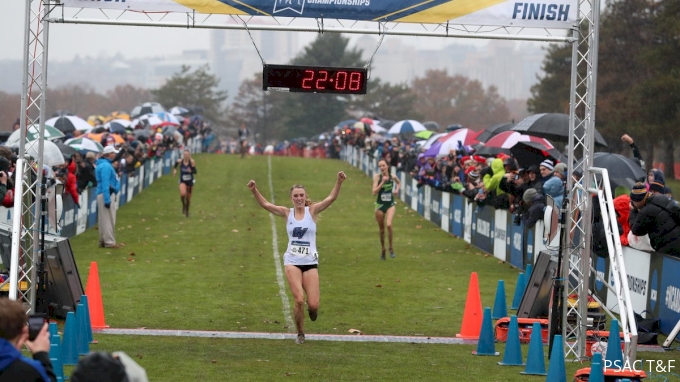 Unlock this video, live events, and more with a subscription!
Get Started
Already a subscriber? Log In
By 4k into the race, GVSU was in complete control of the team competition, as the Lakers incredibly had four in the top eight, including Berger, who was continuing to press up front. For a team that was just sixth a year ago, this development was a tremendous shock-- one of the GVSU athletes battling in the top 10, junior Hanna Groeber, hadn't even made the NCAA roster last year. This was her nationals debut and she was crushing it along with her teammates.
With her GVSU teammates close behind, Berger was battling Adams State's Eilish Flanagan and U-Mary's Emily Roberts for the individual title. Just short of 5k, Berger relinquished the lead for the first time as both Flanagan and Roberts went past her. As Berger fell a second behind Flanagan, it looked like it would be two team titles for GVSU and two close defeats in the individual races.
Flanagan, who was ninth a year, held the lead as the ascent up the final hill began, and appeared to be in control as Roberts fell off and would ultimately take third. But Berger-- the 1500m NCAA champ-- had one last gear in her, while Flanagan did not. They entered the final straightaway virtually tied, but Berger used a quick acceleration to jet past the Adams State junior with the finish line in sight.
After transferring into Grand Valley State for her final season of eligibility for this exact purpose, Berger had won the national title in 22:07, and would soon find her teammates behind her to celebrate their team crown. Juniors Allie Ludge and Hanna Groeber placed fifth and sixth, respectively for the Lakers, while senior Gina Patterson was ninth to make it four in the top 10. Sophomore Madison Goen completed the scoring for Grand Valley in 26th place. In the worst of the worst possible conditions, Grand Valley State had swept two national titles, and had done so convincingly.
"We're the f—-ing Champions!"

GVSU SWEEPS #D2XC pic.twitter.com/eLGzlyAnuY

— FloTrack (@FloTrack) December 1, 2018
For the Lakers, 2018 marks their sixth women's NCAA XC title over the last nine seasons.
Well behind the Lakers but impressive in their own right, the U-Mary Marauders-- led by Emily Roberts' valiant run-- finished second for the second year in a row with 83 points.
Adams State, led by Flanagan's runner-up finish, was a disappointing third with 90 points. And despite getting four All-Americans-- including a fourth-place from Alicja Konieczek-- Western Colorado was fourth on Saturday with 98 points.