2018 DII NCAA XC Championships
Five Upsets That Shaped DII NCAA XC
Five Upsets That Shaped DII NCAA XC
A wet and sloppy course made for a wild day and a bevy of upsets at the NCAA Division II cross country championship.
Dec 3, 2018
by Lincoln Shryack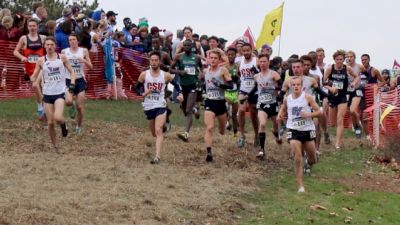 Unlock this video, live events, and more with a subscription!
Get Started
Already a subscriber? Log In
A muddy and hilly course in Pittsburgh made for a brutally tough day at NCAA DII XC on Saturday, and that chaos helped to create an avalanche of upsets that may not have been possible otherwise.
Here were the top-five most shocking upsets from DII XC:
Marcelo Laguera blows past Zach Panning to win CSU-Pueblo's first XC title
The Pueblo senior had never finished inside the top 20 at NCAA XC before Saturday, and in his four years he never even won a conference cross country title, and yet Marcelo Laguera used the treacherous Pittsburgh conditions to his advantage as he shockingly kicked past pre-race favorite Zach Panning in the final 200m on Saturday.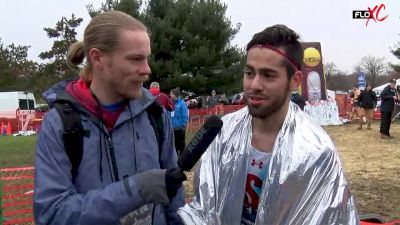 Unlock this video, live events, and more with a subscription!
Get Started
Already a subscriber? Log In
Laguera implemented a perfect strategy to capitalize on the shredded course, as he stalked Panning for 30-plus minutes, never touching the lead, and then finally striking when the finish came in sight. On terrain perfectly suited to his "mountain guy" strengths, he timed his move just right and the upset was on.
Grand Valley State women put four runners in front of every other team's top two
If anyone was going to dominate the women's race at DII XC in the way Grand Valley State ultimately did (41 points, lowest team score since 2004), you figured it would've been 17-time NCAA champion and No.1-ranked Adams State, which had dropped an impressive 23-second spread at the South Central regional.
Instead, four Lakers entrenched themselves at the front of the race from the beginning -- a smart move on a course ill-suited for making up ground -- and held on to put four in the top 10 and completely dominate a stacked field. GVSU was just sixth last year, but a combination of three crucial factors flipped the script for them in 2018: individual champion Sarah Berger's addition to the team, unheralded Hanna Groeber's sixth-place finish in her NCAA XC debut, and the wet and sloppy conditions. All three factors created a perfect storm for a Grand Valley team coming off a disappointing 2017 nationals.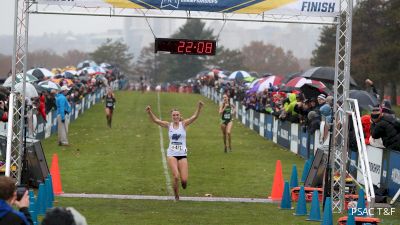 Unlock this video, live events, and more with a subscription!
Get Started
Already a subscriber? Log In


Emily Roberts finishes third in her first NCAA Championship race in two years
With all due respect to winner Sarah Berger and runner-up Eilish Flanagan, the most impressive individual finish in the women's race belongs to U-Mary senior Emily Roberts, who placed third despite struggling with injuries for the better part of two years.
Her talent has always been evident -- Roberts was fifth at NCAAs in back-to-back years in 2015 and 2016 while at Southern Indiana -- but her return to health and competitiveness was an arduous one, as Roberts was only running 18:30 for 5K as recently as February. For someone with a 16:05 PR, it looked like her All-American days were over.
But Roberts persevered, and after a steady climb in performance throughout the fall since transferring to U-Mary, everything came together in her final collegiate cross country race. Roberts hadn't finished as the Marauders No. 1 all season -- in fact, she was just the team's seventh at Roy Griak on September 29 -- but the tough course at NCAAs clearly worked in her favor as she used her 10K strength (2016 NCAA 10K runner-up) to lead a talented U-Mary squad that ended up with five All-Americans.
With a return to health and the perfect setting for her skill set, Roberts' storybook comeback was complete.
Grand Valley State men beat Adams State at nationals for the first time ever
Adams State's tough day in the men's race helped to underscore just how dominant the Grizzlies have been for more than two decades at DII NCAAs: their fourth place finish in Pittsburgh was their worst showing at nationals since 1996. Part of the difference this season was the fitness of two top-10 finishers from 2017, as Kale Adams (44th) and Joshua Joseph (119th) both struggled after placing third and ninth, respectively, at nationals last year. According to Grizzlies head coach Damon Martin, Adams dealt with injuries during the summer that delayed his training and ultimately prevented him from reaching his potential.
The poor conditions didn't help matters either, as 13:29 5K guy Sydney Gidabuday was never a factor up front. The senior Gidabuday took 12th, 56 seconds behind Marcelo Laguera, whom he beat for the RMAC title just a month earlier.
The Grizzlies rough day at Schenley Park and Grand Valley's victory also provided another dose of history: for the first time ever, the Lakers beat the 13-time NCAA champions Adams State at nationals.
Sioux Falls men finish fifth after placing a distant third at Central regional
Although they finished 39 points away from the podium, the Sioux Falls men still had a remarkable day at NCAAs, securing a fifth-place finish, their best in school history. What's even more impressive is that they did it despite placing a distant third in the Central regional two weeks prior, losing by 55 points to regional champ Missouri Southern and 40 points to Central runner-up Augustana (S.D.) on November 17. But at nationals, the Cougars turned the tables.
Led by Mason Phillips' seventh-place finish, Sioux Falls crushed Missouri Southern by 131 points and six places and Augustana by 114 points and five places. What a difference two weeks -- and a much different course than the lightning quick Missouri Southern surface -- made for the Cougars.