Which NCAA Stars Will Go Sub-4 For The First Time In 2019?
Which NCAA Stars Will Go Sub-4 For The First Time In 2019?
20 NCAA runners who could break 4:00 in the mile for the first time in 2019.
Dec 13, 2018
by Lincoln Shryack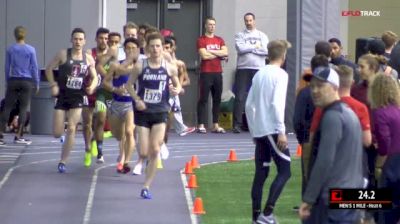 Unlock this video, live events, and more with a subscription!
Get Started
Already a subscriber? Log In
The sub-4:00 mile chase is one of the most compelling facets of the NCAA indoor season, and in 2019 there are plenty of collegiate contenders ready to punch their membership cards for the first time.
Here are 20 NCAA stars who could dip under the hallowed barrier as newcomers to the club this season:
Alex Rogers, SR, Texas
Mile PR: 4:00.00 (2018 Husky Classic)
Rogers came as heartbreakingly close to cracking the barrier as possible last season, but his 3:40 1500m PR shows he's definitely ready to run well under 4:00 in 2019.
Brodey Hasty, FR, Northern Arizona
Mile PR: 4:00.05 (2018 Millrose Games)
Hasty narrowly missed sub-4:00 as a high school senior last year, so you know he's capable. The only factor this year that might stop him is opportunity: the Lumberjacks are scheduled to race at just one sea-level indoor meet ahead of NCAAs.
Kasey Knevelbaard, JR, Southern Utah
Mile PR: 4:00.15 (2018 UW Invitational)
Knevelbaard has run an altitude-converted 3:55 (from a 4:04 raw), and even if you don't completely buy the huge flat-track/high-altitude conversion numbers, that's mighty impressive.
Steven Fahy, SR, Stanford
Mile PR: 4:00.60 (2018 UW Invitational)
Fahy missed all but one cross country meet this fall due to injury, but he's a star when healthy. The lone mile race of his college career is his 4:00.60 PR.
D.J. Principe, FR, Stanford
Mile PR: 4:00.73 (2017 Pre Classic)
He came oh-so-close on two occasions in high school, and a breakout should be coming for Principe after a solid cross country season.
Jonah Koech, SR, Texas Tech
Mile PR: 4:00.82 (2016 Texas Relays)
Koech ran a 4:01 in Albuquerque last season that converts to a 3:55, so the Kenyan is ready. The transfer from UTEP should find plenty of opportunities to crack 4:00 on the lightning quick indoor surface at Texas Tech.
Waleed Suliman, SO, Ole Miss
Mile PR: 4:00.90 (2018 Iowa State Classic)
Suliman's 3:39 1500m best converts to well under 4:00 for the mile, and after a really good cross country season he's clearly in shape for a fast one this winter.
Elias Gedyon, SR, Adams State
Mile PR: 4:01.10 (2018 Husky Classic)
The former high school phenom turned D2 star came close with a 4:01-low at the Husky Classic last season, but Gedyon should finally break through in his last collegiate season. It's been quite the journey for a guy who ran 4:02 way back in 2011.
Kigen Chemadi, JR, Middle Tennessee State
Mile PR: 4:01.13 (2018 Iowa State Classic)
He's run 4:01 twice, including in a close runner-up finish a year ago at Iowa State to Ole Miss' Suliman.
Joseph Murphy, SR, Indiana
Mile PR: 4:01.64 (2018 Iowa State Classic)
Murphy ran 3:42 in the 1500m last spring, and he'll get another crack at the 300m Iowa State indoor oval after coming close with a 4:01 mile there in 2018.
Joe Klecker, JR, Colorado
Mile PR: 4:01.72 (2017 Colorado Open)
The fact that Klecker's 4:01 PR was run at 5,300 feet (3:55 converted) tells you all you need to know about his sub-4:00 potential. He'll probably focus on the 3k and 5k, however, so his chances may be limited.
Aidan Tooker, JR, Syracuse
Mile PR: 4:02.11 (2017 John Thomas Terrier Invitational)
Tooker has run 4:02 in back-to-back years at BU, but I would expect the 8:30 steepler to be in sub-4:00 shape this season after his huge outdoor campaign.
Yared Nuguse, SO, Notre Dame
Mile PR: 4:02.44 (2018 Meyo Invitational)
The freshman's 3:56 anchor split in the 2018 NCAA DMR was a huge head-turner, and it shows that he has star potential. Sub-4:00 is coming soon for Nuguse.
Noah Affolder, SO, Syracuse
Mile PR: 4:02.46 (2018 John Thomas Terrier Invitational)
Affolder beat his teammate Tooker in the mile in their lone matchup in the distance a year ago, so it's fair to pick him as well.
Luis Grijalva, FR, Northern Arizona
Mile PR: 4:02.64 (2017 Tracktown Summer Series)
Grijalva's 3:41 1500m from last spring makes him a prime sub-4:00 candidate in 2019, but like his teammate Hasty, his sea-level opportunities will be few indoors.
Diego Zarate, JR, Virginia Tech
Mile PR: 4:02.72 (2017 ACC Championships)
Zarate's 4:03 on the 200m flat-track in Winston-Salem last year converts to a 4:00, and he also made the 1500m final at NCAA outdoor.
Cameron Griffith, JR, Arkansas
Mile PR: 4:03.11 (2018 Michigan Simmons-Harvey Quad)
Griffith was an All-American in the indoor 3k and the outdoor 1500m in 2018.
Eduardo Herrera, JR, Colorado
Mile PR: 4:04.43 (2018 MPSF Championships)
Herrera's 3:43 1500m proves he's knocking on the door. Even though CU milers don't typically have to chase fast sea-level times since they can get their qualifiers done in Boulder, I would still expect Herrera to jump in at least one fast mile at Washington this season.
Daniel Michalski, SR, Indiana
Mile PR: 4:04.66 (2018 Akron College Invitational)
I'm taking a flyer on this one as he's only run 4:04, but former D2 star turned Indiana graduate student Daniel Michalski looks primed for a big year as he takes the giant step up to the Big Ten. Michalski's 8:44 steeple best shows he's elite.
Justine Kiprotich, SR, Michigan State
Mile PR: 4:06.57 (2016 SPIRE DI Invitational)
It's a crime that Kiprotich's mile PR is only 4:06 considering that he's a two-time All-American in the 1500m. His 3:42 1500m suggests that the senior is ready to go, but Kiprotich needs to find the right race. He's never been in a mile race where anyone has broken 4:00.