Which NCAA Stars Will Go Sub-4:30 For The First Time In 2019?
Which NCAA Stars Will Go Sub-4:30 For The First Time In 2019?
Among NCAA female milers, sub-4:30 provides the ultimate designation of elite status. Who can do it in 2019?
Dec 18, 2018
by Lincoln Shryack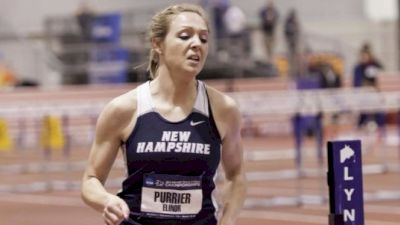 Unlock this video, live events, and more with a subscription!
Get Started
Already a subscriber? Log In
Among NCAA female milers, sub-4:30 provides the ultimate designation of elite status.
Only two women have accomplished the feat in each of the last two seasons, but plenty have come close to breaking the barrier. With such a loaded class of collegiate milers in 2019, sub-4:30 is bound to happen on multiple occasions this season, even without a single athlete in the NCAA right now who has done it.
Here are 10 candidates to break into the 4:20s for the first time:
Dani Jones, SR, Colorado
Mile PR: 4:31.82 (2018 NCAAs)
The NCAA cross country champ ran a 4:07.33 1500m last spring, which would've been good for sixth all-time except that Jones redshirted the outdoor season. She also ran a converted 4:29.32 last February in Boulder. Runner-up in the mile last winter at NCAAs, Jones seems like a lock to break 4:30 given the spectacular year she's had.
Jessica Hull, SR, Oregon
Mile PR: 4:31.76 (2018 MPSF Championships)
Hull's stardom has exploded in the last year as she won the NCAA 1500m title in June and then finished third at NCAA XC in November. After setting Oregon's school record in the mile last winter (4:31.76), the senior is ready to lower it under the magical 4:30 barrier in 2019.
Millie Paladino, SR, Providence
Mile PR: 4:31.98 (2018 BU Valentine)
Paladino was in the lightning-quick BU Valentine race last year where three women broke 4:30, and another appearance in a race of that caliber in Boston could get the job done for the Providence senior. She was sixth in the NCAA mile in 2018.
Karisa Nelson, SR, Samford
Mile PR: 4:31.24 (2017 NCAAs)
Remember her? Nelson shocked virtually everyone when she won the 2017 NCAA mile title in 4:31.24 -- more than four-seconds faster than her previous PR -- and she'll be back in 2019 after missing last season with an injury.
Danae Rivers, JR, Penn State
Mile PR: 4:32.55 (2017 Husky Classic)
With All-American finishes in the indoor 800, mile, DMR and outdoor 1500m in just two seasons in State College, Rivers has shown elite speed and incredible versatility on the track. 4:30 is a tough barrier, but Rivers ran 4:32 as a true frosh two years ago.
Lilli Burdon, SR, Washington
Mile PR: 4:32.30 (2018 MPSF Championships)
Burdon anchored Oregon to DMR gold at NCAAs in 2018, and her 4:32 speed explains how she did it. Look for the new Husky to carry the momentum of her All-American finish at NCAA XC into a big indoor season.
Rachel Pocratsky, SR, Virginia Tech
Mile PR: 4:34.01 (2018 Music City Challenge)
Pocratsky ran 4:10 for 1500m on three occasions last spring, so she has the ability if she can find the right race; however, the Hokie senior may focus on the 800m indoors, so her chances may be limited.
Christina Aragon, SO, Stanford
Mile PR: 4:34.76 (2018 MPSF Championships)
She raced just once this fall, but Christina Aragon -- who ran 4:08 for 1500m at 19 -- certainly has the talent to crack 4:30 if she's healthy. As a redshirt freshman in 2018, Aragon ran the fastest anchor split in the NCAA DMR to lead the Cardinal to a runner-up finish.
Katrina Robinson, FR, Arkansas
Mile PR: N/A (4:14.05 1500m PR)
The freshman from New Zealand has never run indoor track, but her 4:14 PR as a 17-year-old shows just how talented she is. Sub-4:30 may be a tough ask in her first season, but Robinson is preternaturally gifted: she has also run 9:03 in the 3k, a national junior record.
Nicole Hutchinson, SR, Villanova
Mile PR: 4:36.16 (2017 UCS Invitational)
Hutchinson just wrapped up a breakout cross country season with an All-American finish in Madison, and the 4:13 1500m runner will have a good crack at sub-4:30 if she runs the always-fast mile at BU Valentine. The senior's 4:36 PR is from the JDL Fast Track -- a flat, 200m surface -- and it converts to 4:33.