At the beginning of December, the distance runners of the University of New Mexico found themselves in Boston. The team has run in the season opener meet at the University of Boston the past three years with the goal of trying to post a fast time in the earliest moments of the indoor season.
Two weeks prior at the NCAA Cross Country Championships in Madison, Wisconsin, the Lobos were denied back-to-back team titles, running well by every metric, but still finishing second to a Colorado team that ran a flawless race.
"There wasn't an emotional letdown or, 'Oh let's show them' or anything like that. It was, 'Let's go to BU and try to run fast,'" said New Mexico coach, Joe Franklin.
And they did.
Ednah Kurgat, fifth at the cross country championships, ran 15:14.78 in the 5000m, the third fastest indoor mark in collegiate history. Weini Kelati, who led late into the race in Madison before finishing second, was runner-up in 15:15.24, good for fifth best all-time. Charlotte Prouse ran 15:26.01 for seventh, a massive personal best. Later in the B race, Cohen ran 15:42.82, winning the heat by more than 10 seconds.
The results weren't unexpected, New Mexico's strength in the distance is well-documented, but it did evoke a question that was hiding in plain sight:
Could New Mexico win a track title with just their distance runners?
Franklin has been thinking about their chances on the track for the past two years. His objective for this indoor season is simple--amass as many points as possible. The limitations are equally clear--do it using only a handful of athletes.
It's an interesting plot twist that New Mexico's team championship in 2018-2019 might come on the track and not the cross country course, but the combination of Kurgat, Kelati, Prouse and Cohen make it possible.
In the 36-year history of the women's competition, a team has never won the NCAA Indoor Championships with only distance runners. Since 2000, only twice has a distance-based team placed in the top four (2010 Tennessee and 2000 Arkansas).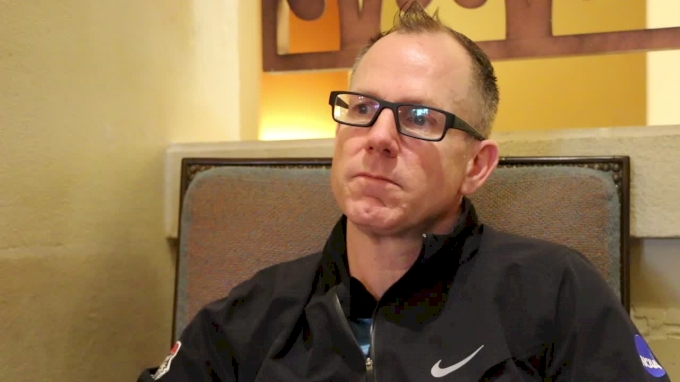 Unlock this video, live events, and more with a subscription!
Get Started
Already a subscriber? Log In
During Oregon's run of seven women's titles over eight years, they had their fair share of distance points, but they weren't solely distance. Last year's team champions, the Georgia Bulldogs, had scorers in the 60m, 60m hurdles, 200m, 400m, 5000m, long jump, triple jump and the pentathlon. When a team does skew toward one event grouping, it's typically sprints and jumps.
"It's something that people look at, "oh well you're just distance," Franklin said. "All the teams, although they are different, they are all very similar, just putting their eggs in their particular basket."
Currently, Franklin says that the plan is for Kelati and Kurgat to double in the 3000m and 5000m. Neither has won an NCAA title on the track, but their results in Boston against many of the NCAAs best have established them as the two to beat this season in the 5000m.
"They want to run times that put them in another realm of collegiate women's distance running," Franklin said.
Prouse, the only senior of the group, also has the ability to score in the 3000m and 5000m. Then, there's junior college transfer Adva Cohen. She had a solid, but not spectacular, beginning to her Division I career as the fourth woman on New Mexico's cross country team. But Franklin is optimistic the 9:29 steepler will improve this winter.
"Her 3000 and track mentality is a lot different. We saw that in the B race at Boston. To be able to push by herself in the last mile was impressive."
Total it all up and New Mexico is projected to put up 38 points, a high enough score to win (top-ranked Oregon is slated to score 42 points) in a year that is expected to be ripe with parity.
Are there some assumptions in the forecasting? Certainly. It places Kurgat, Kelati and Prouse 1-2-7 in the 5000m against a field that Franklin says has the potential to be the most competitive in NCAA history. In the 3000m, Cohen is far from a lock to finish second. With arduous doubles and such a small roster, the margin for error is small. There's a reason this has never been done.
But the 38-point projection leaves wiggle room to get above 40 points. As of now, Cohen is not slated to score in the mile, neither is Hannah Nuttall, who Franklin sees as a potential qualifier in the 3000m or the mile. Then, there is the possibility of a distance medley relay team. Outside of the distance races, high jumper Ada'Ora Chigbo, a sophomore who has high jumped 1.81m and just missed qualifying for the meet last year.
Can McDonald & Hoare Lead Wisconsin To The Podium?
While the New Mexico women will try to win an indoor title with 80% of their cross country team, the Wisconsin men's team could do something similar with an even smaller roster. Between Morgan McDonald and Oliver Hoare, sweeping the mile, 3000m and 5000m is a possibility and places Wisconsin directly in the mix for the men's team title.
A distance-dominant championship team has more precedent in the men's competition. In 2015, Oregon racked up 70 of their 74 points in the distance races and won the meet overwhelmingly. But that was spread over several runners.
Perhaps the best facsimile for what Wisconsin is attempting comes from Wisconsin themselves. In 2007, the Badgers scored 28 of their 40 points in the 3000m, 5000m and distance medley on their way to a team championships.
All this, of course, is predicated on Hoare and McDonald running multiple races at the NCAA Championships. From there, the decisions are many:
Do they race a distance medley relay? Does Hoare run the 3000m, and if so, how many points can he get at the end of a busy meet?
Unlock this video, live events, and more with a subscription!
Get Started
Already a subscriber? Log In
Wisconsin coach Mick Byrne said that no decision has been made yet on which races Hoare and McDonald will run. The truncated schedule and the quick turnaround from cross country are a challenge in a season where just qualifying for the meet can be a chore.
"You gotta go somewhere to get a DM (distance medley relay) qualifying time. And on top of that, we've got to compete at the Big Ten meet. If you look at the history and what those kids have done at that meet, Ollie last year won the 3K and won the 5K," Byrne said.
"That alone, just to do that in our conference, our conference is a pretty good conference, that's going to take a certain mental energy, physical energy. And that's going to play into our decision on what we are going to do at the national championships."
Like the 2007 team, Wisconsin does have the chance at a few non-distance points with heptathletes Trent Nytes and Zachary Lorbeck. Even if they are able to squeeze a qualifier or two in the multi-events, their championship roster will be small enough to fit inside a minivan.
McDonald and Hoare are both entered in the Millrose Games on February 9th (McDonald in the 3000m and Hoare in the mile). It's a key step in knocking out a qualifying time, but it also will illustrate how feasible this entire proposition is.
Hoare's range is unrivaled right now in the NCAA--surprise winner in the 1500m at last year NCAA Outdoor Championships and 17th over 10,000m at the NCAA Cross Country Championships. He enters the season as the favorite in the mile and is good enough to keep a McDonald-less distance medley relay in the top five.
McDonald used a strong close at the NCAA Cross Country Championships to win his first NCAA title. That victory, plus his 13:15 5000m personal best, make him a logical pick in the 5000m. A Wisconsin mile/3000/5000 sweep (in addition to points in the distance medley relay and heptathlon) is projected to put them at 41 points, just two points behind top-ranked Texas Tech. In total, the top five teams are expected to be separated by seven points.
The comparison among the top five underscores the challenge Wisconsin is facing. Texas Tech and defending champion Florida both have 12 projected or potential individual scorers. Wisconsin has just four.
"I don't think they are any different than us" Byrne said. "Sprint schools they are looking at the sprint points. We are looking at the distance. They don't like us because of our potential, we don't like them because you know that they are coming at the end of the meet with all those points. But that's fun. That's why we have the event."