First, there was this:
Bruh who runs 6.59 they first 60m 😭😂

— Marquis Dendy (@CheckTheSky) January 26, 2019
Then it was this:
LMAAOO 6.51😭😭😭

— Marquis Dendy (@CheckTheSky) January 26, 2019
That's former Florida Gator Marquis Dendy, summarizing current Gator Grant Holloway's first meet running the 60m.
Holloway, the collegiate record holder in the 60m hurdles and one of the best long jumpers in the country, was already known for his range across events. He's a mainstay on Florida's 4x100 and 4x400m teams, once splitting a 43.8 on the latter.
The 6.51 is something different entirely. It's incredible as a standalone mark, but put in with the rest of Holloway's portfolio and it's probably best described through emojis.
But, I'll give words a try here in capturing exactly what Holloway did on Saturday at the Razorback Invitational in Fayetteville, Arkansas.
6.51 is .05 seconds better than any other man in the world this year. It's tied for ninth best all-time in NCAA history. Also ninth on the list? Richard Thompson of LSU, Kendal Williams of Georgia--two men who ran the event full-time and, in Thompson's case, won an Olympic medal in the 100m. Christian Coleman, as in 60m world record holder Christian Coleman, ran faster than 6.51 in college on just two occasions.
In short, Holloway entered the realm of the best collegiate 60m runners of all-time in a race he probably entered just to get some speed work.
Grant Holloway is a cheat code.pic.twitter.com/GvaEDcunRr

— FloTrack (@FloTrack) January 26, 2019
Watching him run the 60m was a glimpse at what happens when he is unencumbered by technical restraints. There were no hurdles to clear, no long jump board to hit. It was Holloway without obstacles and without a limiting factor to contain his athleticism.
This opens up even more possibilities for Holloway (and Florida) when it comes time for the championship part of the season--he already has a packed schedule, but 6.51 causes reevaluation to even the most rigid plan. Even if he doesn't run the 60m any more, that speed makes him difficult to stop in the hurdles or long jump. Maybe he's always had this ability in the short sprints. Not only was this his first 60m at Florida, but he's never run a 100m outdoors either so there never was a time to use as a gauge.
Regardless, the actual act of running the 6.51 moved his ability in the short sprints from the theoretical to a baffling reality.
What's evident in only two indoor meets is Holloway is better than he was his prior two seasons at Florida. Because he was so good last year, it didn't seem like we were looking at only a portion of what he was capable.
But remember this--the Holloway that broke the collegiate record in 2018 and swept both high hurdle races was the same Holloway who missed fall training in 2017 while he was recovering from surgery and was working through a sports hernia since last February. This year, he had no such setbacks and we are all watching the results.
The Winter Of Kejelcha Continues
Two weeks after his 3:52 mile, Yomif Kejelcha ran a 3:51.70 at the New Balance Indoor Grand Prix. Again, it looked effortless as Kejelcha ran by himself the final 1000 meters of the race.
The Ethiopian is on the record hunt this winter and Hicham El Guerrouj's 3:48.45 indoor mile mark looks vulnerable. At the very least Kejelcha looks like a lock to become the fifth man in history to break 3:50 indoors.
The most difficult part might be finding the right setting to do it. Edward Cheserek's 3:49.44 came as a result of superb winter fitness, but also excellent pace-setting that towed him through 1200 meters. Surely, Kejelcha will have that opportunity at some point in the next six weeks, but for now, it's fun to marvel at him running so quickly under less than ideal circumstances. His 3:52 in Seattle came with a huge negative split and on Saturday he was alone for the most challenging sections of the race.
Ethiopian indoor record ✔️🇪🇹
World lead ✔️⏱️

3:51.70 for Yomif Kejelcha to take an easy win in the men's mile, and he revealed after that he has big plans for the 5000m this year.

"My dream is the world record." pic.twitter.com/4VasPsX8gS

— IAAF (@iaaforg) January 26, 2019
Speaking of Cheserek, he will face Kejelcha in two weeks at the Millrose Games. Cheserek was runner-up to Hagos Gebrhiwet in the 3000m on Saturday, running 7:42.93 to Gebrhiwet's 7:37.41. Gebrhiwet broke away around the mile mark and increased his lead with every lap.
The women's 5000m was similarly drama-free. No one followed the rabbit and then Konstanze Klosterhalfen made a race-ending move with 17 laps remaining. She ran 4:34 in her last 1600 meters to win in 15:15.80 (further evidence of how slow the first 3000m of the race was). Jenny Simpson could never counter and placed second in 15:33.38. This was the only race of the indoor season for Simpson, who raced just once indoors last year as well.
Devin Dixon Serves Notice, Rivers Keeps On Rolling
Out in Lubbock, Devin Dixon ran an indoor 800m that has been bettered by only two Americans in history. The junior from Texas A&M finished in 1:45.27, to move behind Johnny Gray and Donavan Brazier on the U.S. all-time list. In the collegiate system, just Paul Ereng and Michael Saruni have run faster. Dixon also anchored the Aggies winning 4x400m relay at the end of the meet. The result puts Dixon at the top of the NCAA and makes him the early-season NCAA favorite in the crowded men's 800m field.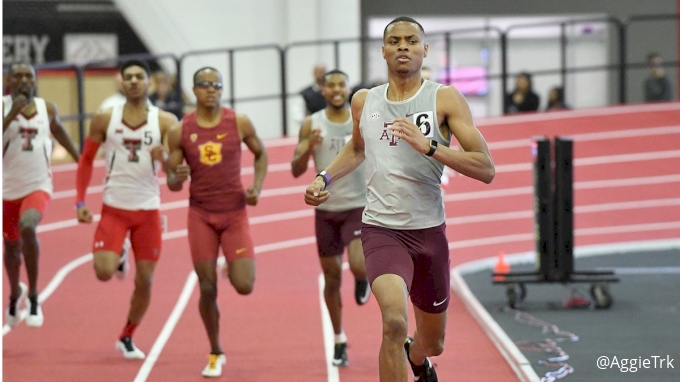 Unlock this video, live events, and more with a subscription!
Get Started
Already a subscriber? Log In
The rest of the Texas Tech Classic was dominated by sprints. Three men ran 6.56 in the 60m (Cravont Charleston, Kasaun James and Andrew Hudson). USC's Twanisha Terry won the women's 60m with a 7.15. The Trojans swept the top four places in the women's 60m hurdles, led by Chanel Brissett's 7.98. In the men's 400m, Wil London of Baylor and Texas A&M's Bryce Deadmon ran the top two times in the NCAA, 45.73 and 45.82.
Penn State's Danae Rivers continued her terrific January. She set an indoor personal best in the 800m, running 2:02.94 to win the Penn State National on Saturday.
The night before, Rivers anchored Penn State's distance medley relay team to a comfortable win in 11:09.85. In the men's 800m, Georgetown's Joseph White ran 1:46.91 to win by over a second.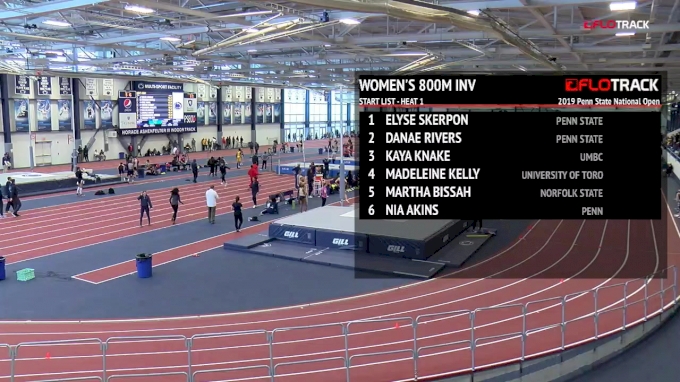 Unlock this video, live events, and more with a subscription!
Get Started
Already a subscriber? Log In
Brooks Beasts, Katelyn Tuohy Break Records In New York
It's not an event recognized by the IAAF so it doesn't get the distinction of a world record, but the Brooks Beasts ran the 4 x mile relay faster than any other team in the history of the world so I'm going to call it as such.
The quartet of David Ribich, Henry Wynne, Brannon Kidder and Izaic Yorks ran 16:03.68 to knock over nine seconds off the previous mark. Full splits from their run at the Dr. Sander Invitational Columbia Challenge in New York can be found here.
Also at the Armory on Saturday, high schooler Katelyn Tuohy ran in her first race with professionals. It went well, even by Tuohy's high standards. She broke Mary Cain's high school record in the 3000m with a time of 9:01.81 and placed third behind Amanda Eccleston and Heather Kampf.
🚨KATELYN TUOHY 9:01.81 NEW INDOOR NATIONAL RECORD 3000M🚨 pic.twitter.com/tKgPamEuMS

— MileSplit US (@milesplit) January 26, 2019
Sydney Debuts, Brazier Edges Murphy
Saturday was also the only indoor race for Sydney McLaughlin, who made her professional debut at the New Balance Indoor Grand Prix. She won the 500m in Boston, the longest distance she's ever raced on the track, in 1:09.46.
The women's mile in Boston had a big fall, a shoeless runner and an exciting finish.
Canada's Gabriela Stafford ran a Canadian national record of 4:24.80 to hold off the fast-closing Elinor Purrier. Stafford broke the national record in the 5000m earlier this year. Purrier, in her first season as a professional, set a personal best of 4:24.88. Emma Coburn fell during the race and collided with training partner Aisha Praught Leer. Hannah England, who was running in front of Coburn before Coburn fell, did not finish the race after losing her shoe on the third lap
In the men's 800m, Donavan Brazier kicked past Clayton Murphy to in, 1:45.91 to 1:45.94, a great showing for Brazier in his first 800m since last March.
Donavan Brazier kicks past Clayton Murphy to win the NB Indoor Grand Prix 800m 1:45.91 to 1:45.94.
📷 @NBIndoorGP pic.twitter.com/cSv6KDiL5M

— FloTrack (@FloTrack) January 26, 2019