Yomif Kejelcha's near miss of the world record generated all sorts of post-race speculation about how he could have cut that extra .01 from his finishing time.
There's the wide angle he took off the final curve, the lack of a significant dip at the finish line, the absence of a pacer after four laps and the ambitious first quarter mile. Any of those add up to .01 second and measures the distance between Kejelcha's 3:48.46 on Saturday and Hicham El-Guerrouj's 3:48.45 from 1997 that Kejelcha was desperately chasing at the Millrose Games
If he runs another indoor mile this year, then he could make it all moot. It speaks to his current level of fitness that all those things went wrong and he was still almost able to snatch a world record from the greatest miler of all-time.
Kejelcha was moving so quickly that he went the past the rabbit before halfway point and separated the race into two distinct groups—Kejelcha and everyone else. Unfortunately for the chasers, they didn't get any residual drafting benefits from Kejelcha because he was so far in front. Edward Cheserek, who had a Kejelcha-like indoor season in 2018, ran 3:53.29 for second, just ahead of Clayton Murphy.
Unbelievable.

Ethiopia's Yomif Kejelcha missed the new world record by 0.01 of a second in an incredible performance in the Men's Wanamaker Mile at the @MillroseGames. pic.twitter.com/3YtASyPZWe

— #TokyoOlympics (@NBCOlympics) February 9, 2019
There aren't any World Indoor Championships this year. For Konstanze Klosterhalfen, that's a tough break.
She's won all four of her races this winter—each one more impressive than the last. At the Armory, she was in complete command, devouring the rabbit before the contractually obligated pacing duties were complete.
For the last half of the race, as it's been all indoor season, Klosterhalfen was her own competition. With 400 meters remaining, she was about 3.5 second clear of second place. A final lap of 31.47 left her with a finishing time of 4:19.98, smashing her own German record. Only four women in history have run a faster indoor mile.
American records fell in both the men's and women's 800m races at Millrose. Ajee Wilson ran 1:58.60 to reclaim a mark that was voided in 2017.
Saturday's race was a textbook Wilson race, managing a fast first 400m before holding steady in the final. It was also clear that there is room to go even faster. The was some separation between her and the rabbit (Kendra Chambers the pacer was a full second ahead at 400 meters).
.@AjeeW sets a new American record!

She claims first place in the 800m at the @MillroseGames. 🙌 pic.twitter.com/oE8dyCRku0

— #TokyoOlympics (@NBCOlympics) February 9, 2019
Earlier in the meet, Donavan Brazier took a big chunk off Johnny Gray's American record running 1:44.41. Gray's 1:45.00 had stood since 1992. Michael Saruni stormed past Brazier in the final 50 meters, his 1:43.98 the third-fastest indoor time in history. After injuries shortened his 2018 season, Brazier is off to about as good a start as possible this year. This run comes on the heels of his 1:45.91 victory over Clayton Murphy at the New Balance Indoor Grand Prix.
One more American record fell this weekend. Triple jumper Tori Franklin jumped 14.57m at the Madrid IAAF World Indoor Tour. Franklin now owns both the indoor and outdoor American records in the event.
Collegians Take Down Pros/Holloway Almost Gets CR
NCAA athletes swept both the men's and women's 3000m at the Millrose Games. Grant Fisher and Morgan McDonald reversed their finish at the NCAA Cross Country Championships with Fisher running 7:42.62 to McDonald's 7:42.76 to get the win (the fourth and fifth fastest indoor marks in NCAA history).
McDonald's teammate Alicia Monson hung with the pack in the women's 3000m before dropping a 31.74 final 200m to beat Rachel Schneider and take the surprise victory. Monson's winning time of 8:45.97 is the third fastest NCAA indoor mark of all-time behind Karissa Schweizer and Jenny Simpson.
Grant Holloway narrowly missed matching his collegiate record in the 60m hurdles, running 7.43 at the Tyson Invitational on Friday. Holloway ran 7.42 this same weekend last year to break the record.
7⃣.4⃣3⃣ 🔥🔥🔥🔥🔥@Flaamingoo_ misses his own collegiate record by 0.01 seconds 😅

He now owns 3⃣ of the 5 fastest times in collegiate history #LessSaid

📹: https://t.co/fOzmKgni1T pic.twitter.com/EX2BXI0xK1

— Gators Track and Field & Cross Country (@GatorsTF) February 9, 2019
In the women's hurdles, USC's Channel Brissett ran 7.90 to better Janeek Brown of Arkansas' 7.95. Those are the two fastest times in the nation.
At the Tiger Paw Invitational at Clemson, Houston and Texas A&M combined to run the fourth and fifth fastest NCAA men's indoor 4x400s of all time. Houston got the victory and Texas A&M's Devin Dixon ran a closing split of 44.23, the quickest ever recorded.
.@UHCougarTF & @aggietrk just ran the fourth and fifth fastest indoor 4x4s in NCAA history. pic.twitter.com/z7QnARFZi1

— FloTrack (@FloTrack) February 9, 2019
Throwback Performances For Former Ducks
In her first 60m since 2017, English Gardner ripped a 7.10 at the Millrose Games, dropping .02 off her 7-year-old personal best. Injuries shortened Gardner's 2018 season. She only made two appearances, both late in the season. Although this is just one race (and a race more than five months before the USATF Outdoor Championships), it was a meaningful result for Gardner and the American women's sprint group.
Fellow Oregon alum Laura Roesler also had a quiet 2018. The 2014 NCAA 800m champion didn't break two minutes in the race and was eliminated in the semifinals at the USATF Championships. On Friday at Boston University, Roesler didn't just look like Roesler of old. She looked better.
The 27-year-old immediately went to the front of her heat at the Valentine Invitational. Without a rabbit, she reeled off a 1:59.80, a personal best indoors and her fourth-fastest time in the event. Globally, breaking two minutes in the women's 800m isn't enough to make noise at the end of the season. But if Roesler is doing this by herself, in her first 800m of the year, in February... that's enough caveats to convince me that she will be able to crack her outdoor personal best of 1:59.04 in a couple months.
Unlock this video, live events, and more with a subscription!
Get Started
Already a subscriber? Log In
Wells, Roberts Turn In Big Weekends
A few collegiate stars that you should be aware of.
Emmanuel Wells of Washington State ran 6.53 at the Don Kirby Invitational in Albuquerque. With the altitude adjustment, that marks puts him third on the NCAA list. Before Saturday's race, Wells' personal best was only 6.65. Although he graduated from high school in 2016, this appears to be Wells' first season running at the collegiate level and Saturday's run guarantees that his first NCAA season will include at a trip to the NCAA Championships.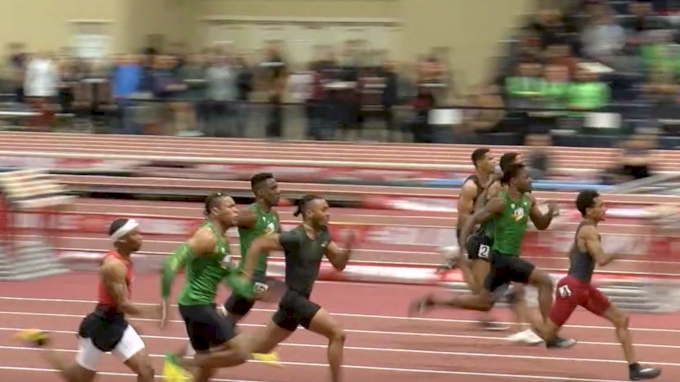 Unlock this video, live events, and more with a subscription!
Get Started
Already a subscriber? Log In
In the 60m, he will likely meet up with Cravont Charleston. The NC State junior hasn't had one breakout race, rather this season has been a series of drops in time. Prior to this season, he'd never broken 6.60. He's run under the mark three times in 2019, with the latest, and the best, coming on Friday at the Tiger Paw Invitational where he posted a 6.54. That mark puts him between Grant Holloway and Wells on the NCAA list. With Charleston, it's not just the times, but who he is beating.
At Clemson, he defeated veteran Mario Burke of Houston and Auburn's super frosh Anthony Schwartz. Two weeks ago at the Texas Tech Classic, he edged Kasaun James of Florida State and Texas Tech's Andrew Hudson. Elsewhere in the men's 60m, Texas Tech's Divine Oduduru ran 6.56 and commenced a nice three-act celebration.
After busting out a 6.56, @odudurudivine1 couldn't decide if he wanted to celebrate with push-ups, dancing, or screaming.

So he did all three. 👌#WreckEm pic.twitter.com/Trsi7SJ9EH

— Texas Tech T&F/XC (@TexasTechTF) February 9, 2019
With the way Grant Holloway has run his entire collegiate career, it's inappropriate to label anyone a true rival. That's not to say he can't be beaten. It's just that no collegian has done it in a hurdle final since he arrived on Florida's campus. A better question to ask is who is best positioned to be the second-best hurdler in the NCAA?
Daniel Roberts of Kentucky threw his name in for consideration after his 7.52 at Clemson. Before this weekend, the junior's best time was a 7.67. On Friday, Roberts beat Trey Cunningham of Florida State. Entering the weekend Cunningham occupied the second slot behind Holloway with a 7.53 season best.