Despite falling short of his goal of breaking Hicham El Guerrouj's 3:48.45 by an excruciating 0.01 seconds, Yomif Kejelcha's mile on Saturday completely lived up to the pre-race hype. Not only did he run the fastest time indoors in 22 years, but his inconsistent splits underscored a performance that could have been faster with smoother pacing. And at just 21-years-old, Kejelcha's near-miss at the Armory felt much more like a triumph than a failure.
In the wake of such an epic run, here were my takeaways from the 3:48.46:
The second lap was way too fast
If Kejelcha had run just 0.01 faster on Saturday, there would likely be no debate about how he could have cut off more time from his race. Had the 21-year-old gone 0.01 quicker to match Hicham El Guerrouj's 3:48.45 record, no one would be lamenting Kejelcha's failure to lean at the line or the fact that he swung into lane two in the final straight.
The final lap of Yomif Kejelcha's 3:48.46 mile, which was just .01s away from a World Record. pic.twitter.com/08tBCYcdfa

— FloTrack (@FloTrack) February 9, 2019
And yet, as masterful as Kejelcha's 3:48.46 was, the tiny sliver of space between his race and the greatest indoor mile of all-time leaves every small detail open to scrutiny. That conversation should start with the second lap of the race— it was far too fast.
Since the Ethiopian missed the record by so little, it's easy to point to the microscopic mistakes I highlighted earlier— not leaning at the tape and running into lane two at the end— as the primary reasons he fell short, but I believe the 26.42 second lap is what truly doomed him. For whatever reason, pacer Rob Napolitano started hammering in that second circuit, and Kejelcha— no doubt pumped full of adrenaline— made the mistake of doing the same. The 26.42 split was a huge outlier, as his next fastest split— the 27.96 third lap— was over a second and a half slower.
The negative impact of the fast start was obvious— Kejelcha's second to last lap was his slowest at 29.21. (I ignore the first lap since it's 209 meters.)
Kejelcha's splits fluctuated dramatically relative to Cheserek's metronomic 3:49.44 from 2018
Pacers are like referees— they don't receive enough credit when they do their job correctly and way too much criticism when they don't. But in comparing the splits from Edward Cheserek's 3:49.44 mile from 2018— where he was paced to 1200m— to Kejelcha's, it's clear how much of a difference a good rabbit can make. Here's the side-by-side comparison of Cheserek and Kejelcha's splits:
Cheserek's 3:49.44 splits: 30.59, 28.67, 28.47, 28.49, 28.37, 28.53, 27.98, 28.35
Kejelcha's 3:48.46 splits: 29.83, 26.42, 27.96, 28.79, 28.80, 29.16, 29.21, 28.33
Between a wild second lap and only having a pacer for 750-ish meters, Kejelcha's eight circuits around the track almost resemble a fartlek workout; Cheserek's splits on the other hand, which were led masterfully by Brannon Kidder and Drew Piazza, are about as precise as one can get. Kejelcha is a better athlete which is why he ran almost a second faster, but he would be wise to find himself pacers like the ones Cheserek had last year in his next attempt at the record.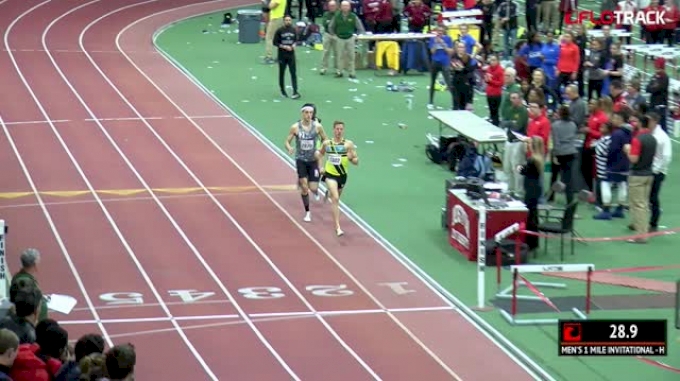 Unlock this video, live events, and more with a subscription!
Get Started
Already a subscriber? Log In
The world record is attainable because Hicham El Guerrouj ran just one career indoor mile
It's impossible to know for sure, but had the great El Guerrouj raced more than one indoor mile in his career, it's very likely that the world record would be even faster than 3:48.45.
El G's indoor 1,500m world record of 3:31.18 converts to a 3:48.01 mile, but I'm of the opinion that a man who ran 3:43.13 outdoors could have gone much quicker than 3:48 had he taken multiple cracks at it. Now, his record is by no means weak; the fact that it has lasted for 22 years shows that El Guerrouj set the bar high, but a big reason that a 3k/5k guy like Kejelcha can come close to the mile GOAT is that the Moroccan's time is modest by his own lofty standards.
Another Kejelcha record attempt is coming March 3. Will it be in the mile or 3k?
Kejelcha's next record attempt won't have the glamour of a national TV audience like the Millrose Games, but all signs point to it taking place on the slick Boston University track— the surface that produced Cheserek's 3:49.44 mile last year and Galen Rupp's 3:50.92 mile from 2013— on March 3. Given how close he came in NYC while running erratic splits, it would seem logical for Kejelcha to take another crack at the mile, however on the initial NOP hype video from Feb. 1 Alberto Salazar said that Kejelcha would possibly target the 3k world record (Daniel Komen's 7:24.90) after the mile. Then, Kejelcha-- through a translator-- said after his race that he would in fact go after the mile again this indoor season.
Well, which is it?
No one knows for sure as of yet, but we do know that the winter of Kejelcha will continue for at least a few more weeks. The mile record is clearly in reach, and I would suspect the same to be true for the 3k, an event that he is twice over a world indoor champion.