2019 USATF Indoor Championships
Drew Hunter Wins USATF Two-Mile Title From 'B' Heat
Drew Hunter Wins USATF Two-Mile Title From 'B' Heat
Drew Hunter won his first U.S. title in strange fashion on Saturday night in Staten Island.
Feb 24, 2019
by David Monti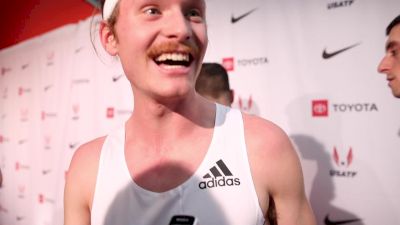 (c) 2019 Race Results Weekly, all rights reserved
STATEN ISLAND, N.Y. (23-Feb) -- In what was likely the longest three hours of his life, Drew Hunter had to wait to see if his mark of 8:25.29 in the "B" section of the men's two-mile at the Toyota USATF Indoor Championships here at the Ocean Breeze Athletic Complex would hold up. Hunter, whose mark was a world-leader and already a championships record, thought for sure that one of the 15 men running in the stronger "A" section would better his mark and take the title.
"By yourself, you're just racing your inner demon, so that's kind of hard to do by yourself," Hunter had told reporters after running his section, which was held at 4:47 p.m. (the "A" section wouldn't start until 7:48). "Wish it went a few seconds faster," he lamented. "I don't think it's going to get the job done."
Happily for Hunter, he was wrong. While the 21 year-old adidas athlete, was able to knock out his 200-meter laps in the 30 to 31-second range despite running alone, the "A" section men were inexplicably stuck in the 33's for the first two-thirds of the race. By the time Collin Leibold of Ocean State/New Balance injected a surge with seven laps to go, too much time and been lost. Hunter, who turned pro out of high school, watched gleefully from the sidelines, his reactions recorded on live television. With each lap he became more confident that the title would be his.
"That was a very, very unique experience," Hunter said of the three-hour wait still looking a little shocked. "I hope I'm not in a weird position like that again because it was quite stressful but, man, what a way to go. This is what makes track the sport it is."
Eric Avila, who put in a fast sprint to break the tape in the "A" section in 8:32.41, said the he and his coach Terrence Mahon decided that he should only race the men who were on the track with him. Avila said he was focused on the head-to-head race.
"I never looked at the clock," Avila admitted after congratulating Hunter. "My coach told me not to look at the clock."
For Hunter, a 3:56 miler, tonight's win represented his first-ever national title.
"(My) first national title," Hunter marveled. "Weird way to get one, but we got one."
Also thrilled to win her first national title tonight was Colleen Quigley of the Nike Bowerman Track Club. Quigley, a world-class steeplechaser and the 2018 NYRR Wanamaker Mile champion, won a tactical mile in 4:29.47, narrowly beating her Bowerman teammate and two-time defending champion Shelby Houlihan by 45/100ths of a second.
Quigley, who was beaten by Germany's Konstanze Klosterhalfen in the NYRR Wanamaker Mile on February 9, was content to let the pace go slowly in the 35-seconds per lap range for three quarters of the race. But with two laps to go, she moved to the front, a move immediately covered by Houlihan. Quigley, who doesn't have Houlihan's blistering kick, ran 31.1 seconds for the penultimate lap, then squeezed down to 29-flat for her closer. Houlihan just couldn't keep up and had to settle for second.
"It just feels really good to work hard, take a risk and have it pay off," said the smiling Quigley still clutching her winner's bouquet.
Houlihan, who will race again tomorrow in the two-mile where she is also the defending champion, was clearly disappointed.
"It sucks to lose," Houlihan said good-naturedly. "I mean, it's just never fun to get beat." She continued: "I knew Colleen was fast. I knew I couldn't let her get too far away from me. I think, maybe, I should have made a stronger move earlier, or something."
In the qualifying round of the 1000m for women, the cream quickly rose to the top. Ajee' Wilson of adidas handily won the first section in a championships record of 2:37.96. Ce'Aira Brown of the Hoka NJ-NY Track Club was an easy winner in the second section (2:40.32) while Laura Roesler won the third section, despite being shoved hard off of the line, in 2:42.20. That shove didn't faze her, she said.
"I honestly didn't think about it after the fest few steps," Roesler told Race Results Weekly. "It felt like a first round; the first round is always hard for me."
In the men's 1000m qualifying, Clayton Murphy of the Nike Oregon Project easily won the first section in 2:20.23, the fastest time of the day. He decided that the safest tactic was to run strong from the front and get the one guaranteed qualifying spot which was only awarded to the winner of each heat.
"It's the same goal every time, just to get through," Murphy told Race Results Weekly. "I didn't want want to leave it to chance so I just took it. Been there too many times, waiting for the little "q" to come up so I just took it."
Also advancing to Sunday's final with a chance for the podium was Brannon Kidder of the Brooks Beasts (he won the third heat), and Jesse Garn of the Hoka NJ-NY Track Club, who won the second section. Olympian Robby Andrews also advanced on time.
In the first round of the 600m --a mash-up of flat 400m runners, hurdlers and 800m runners-- American indoor 800m record holder Donavan Brazier of the Nike Oregon Project (1:15.64) and Sam Ellison of the Boston Athletic Association (1:15.97) ran the two fastest times on the men's side, while high school junior Athing Mu of Trenton, N.J. (1:26.23) and Raevyn Rogers of Nike (1:26.53) ran the top-two times on the women's side.
Mu, who is just 16 and said biology is her favorite subject, set a new USA high school record. When asked what it was like to run with professional athletes, she first smiled (showing her braces). Looking a little embarrassed she said, "I'm just as fast as they are."
Middle and long distance action continues here tomorrow at Ocean Breeze with the finals of the 600m, 1000m, men's mile and women's two-mile.