2019 Big Ten Indoor Championships
Sublime Divine, 600m Records Go Down | Weekend Recap
Sublime Divine, 600m Records Go Down | Weekend Recap
Divine Oduduru's smoking 200m and the 600m records from Athing Mu and Donavan Brazier at US Indoors highlighted a busy weekend in track and field.
Feb 25, 2019
by Kevin Sully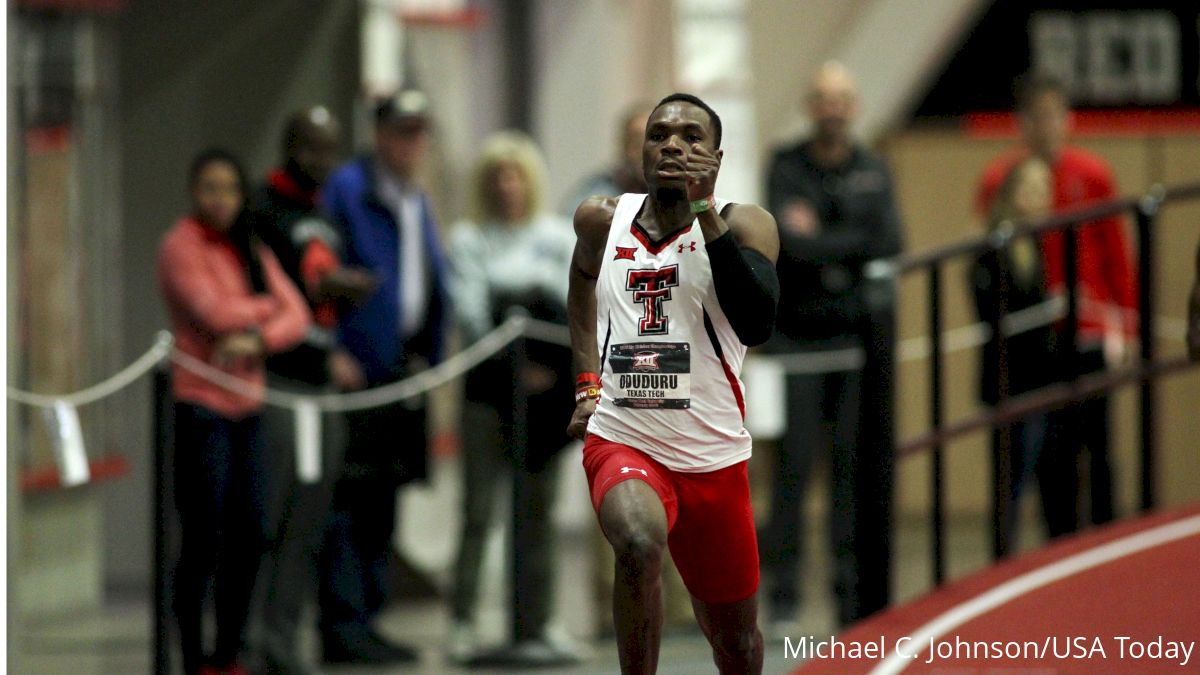 Between conference and national championships, it was a busy weekend of indoor track and field. Records fell, new stars emerged, streaks ended and some new collegiate favorites popped up. Let's sort it all out with some awards:
Event of the weekend: 600m
A world record for Donavan Brazier and an American record for 16-year-old Athing Mu made the 600m the biggest event at the USATF Indoor Championships. Mu's 1:23.57 moved her from a great high school runner into a whole new category. That mark, and her victory over Raevyn Rogers, means she's able to compete right now for a spot on a US team.
Watch Athing Mu run 1:23.57 for the second-fastest indoor 600m in World History! pic.twitter.com/4mpK7qV0MV

— FloTrack (@FloTrack) February 24, 2019
Brazier's performance was a continuation of an impressive indoor season. He looked extremely comfortable with the distance, running 1:23.77 after an opening 400m of 48.08. His last two months now include the following:
-Victory against Clayton Murphy at the New Balance Indoor Grand Prix
-American record in the 800m
-American record in the 600m and victory at USATF Indoor Championships.
Best celebration: Divine Oduduru
Oduduru's 20.08 to win the Big 12 Championship 200m is the third-fastest indoor mark ever. Of course, that's performance is good enough to stand by itself.
But his post-race choreography (that lasted longer than his actual 200m) was again spectacular.
Unlock this video, live events, and more with a subscription!
Get Started
Already a subscriber? Log In
And like any good dance craze, he's spreading it to the people.
Divine Oduduru teaching this grandpa his dance moves is the best thing you'll see all daypic.twitter.com/rocH1OduqU

— FloTrack (@FloTrack) February 24, 2019
Biggest upset: Colleen Quigley beats Shelby Houlihan in the mile
Quigley had too much for Houlihan in the final 600m of the women's mile on Saturday. Quigley's win was the first title of her career and snapped Houlihan's run of eight consecutive US titles. That's a streak that has spanned two years and included victories indoor, outdoor and on the cross country course.
That cross country title came just a few weeks ago, and transitioning back to the track after running 10K on the grass was a challenge. Still, it didn't take long for a new streak to start. On Sunday, Houlihan led the final six laps of the two-mile, winning by more than two seconds.
Colleen Quigley breaks Shelby Houlihan's US title streak! Wins the mile at USAs in 4:29pic.twitter.com/ciuc76VNRr

— FloTrack (@FloTrack) February 24, 2019
Biggest surprise: Anavia Battle
The Ohio State sophomore entered the weekend with a season-best of 23.00 in the 200m. That was good enough to be in the middle of qualifying position for the NCAA Indoor Championships in two weeks. At the Big Ten Championships, Battle shot up all the way up to the top of the NCAA. Her 22.80 is the best in the world this year and tops in the nation by .02.
It also gives her a chance to win the national title in two weeks in an event that is now wide open. Of the eight finalists from 2018, only LSU's Kortnei Johnson will be in this year's meet.
Unlock this video, live events, and more with a subscription! Get Started

Already a subscriber? Log In
Best throwback performance: Lynna Irby
The Georgia sophomore hadn't looked like the Irby of her freshman year so far this season. That all changed on Saturday at the SEC Indoor Championship. In the 400m, Irby ran 52.02 to set a national lead. It was her only 400m this year and cemented her status as the favorite in the event.
At the end of the meet, she dropped a 51.18 split to help Georgia finish second in the 4x400m.
#Dawgs complete #SECITF19 with another 2⃣ ? & the 2nd #UGA record of the weekend. Men & women each finish 7th & leave Fayetteville, Ark., with another flurry of #NCAA qualifiers.

RECAP/RESULTS ▶️ https://t.co/yCjgJt1xWB#GoDawgs #FindYourGreatness pic.twitter.com/HS1G8Rgi9V

— Georgia Track&Field (@UGATrack) February 24, 2019
Best teamwork: Alicia Monson/Amy Davis
The first 23 laps of the women's 5000m at the Big Ten Championships were a typical conference championship 5000m--a big field, a slow early pace and not much movement. The event came at the end of a long meet with many athletes, doubling or tripling. Nobody was in a hurry to make the pace quick and everyone in the race looked to be deferring to junior Alicia Monson.
The night before she won the 3000m and her running since the cross country season made her the overwhelming favorite. With two laps remaining, Monson was in front of a group of eight. Also in the pack was her Wisconsin teammate, Amy Davis. Last year at this meet, Monson finished behind Davis in both the 3000m and 5000m. But that was before Monson transformed into the one of the best in the nation--capable of running national leads and beating fields of pros.
This was Davis' last Big Ten Indoor Championships, and Monson was adamant that the two finish 1-2. How adamant?
In the final 400m, Monson made a hand gesture motioning for Davis to get behind her. Then, Monson started yelling encouragement for Davis to stay in second behind Indiana's Katherine Receveur, last year's 3000m/5000m champion. In the final 200m, Monson was turning around every couple strides to implore Davis to hold her spot.
It worked. The duo finished 1-2. Almost four years ago, those two finished in those same top two spots at the Wisconsin state high school meet, with Monson winning the 32000m and Davis the 1600m. After the race on Saturday, the two said they wanted to re-create their high school days in Davis' final Big Ten indoor meet.
Unlock this video, live events, and more with a subscription! Get Started

Already a subscriber? Log In

Best "B" Heat Performance: Drew Hunter
Hunter didn't have a seed time for this weekend's USATF Championships so he ended up in the slower of the two sections. But given the track record of conservative paces at US championships, it wasn't far fetched that Hunter could turn in the fastest time of the day.
It also helped that he had a plan. Hunter's Tinman Elite teammates pulled him through the early laps, with Hunter closing with an 8:25.29. It was a solid time that would require the faster section to keep the pace honest.
When the "A" section took off three hours later, Hunter was track-side. After two laps, it was already clear that Hunter was in a good position. The "A" heat ran 68-seconds for the first 400m, almost three seconds slower than Hunter. By the halfway mark, they were 8.5 seconds back of Hunter's pace. Eric Avila won the race, but his 8:32.41 wasn't close to Hunter's mark and the 21-year-old had his first US title.
Best Comeback: Hannah Meier
On the morning of February 9th, Hannah Meier's personal best in the mile was 4:40.48. The mark was over five years old, a testament to her stellar prep career (she ran the time as a high school senior) and also an injury-plagued time in college that has featured three stress fractures and stints at both Duke and Michigan.
Then, two weeks ago, she broke through.
With the pacing help of her twin sister Haley who graduated from Michigan last year, Meier ran 4:34.66 to smash that old PB. That mark was enough to advance her to her first NCAA track championship, but Meier wanted more. Her sister won the Big Ten mile title last winter and Hannah wanted to close out her career with an individual title as well. On Saturday, she went to the front from the gun and ran 4:32.46 to win the race. It chopped another two seconds off her personal best and was the fourth best mark in the NCAA this year.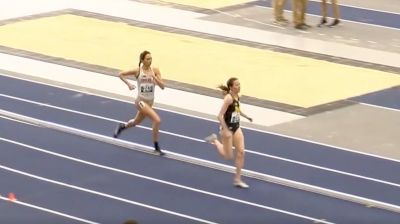 Unlock this video, live events, and more with a subscription!
Get Started
Already a subscriber? Log In
Best clutch performance: Jessica Hull/Morgan McDonald/Mar'yea Harris
Each was sensational in its own way. Hull ran a DMR anchor leg in 4:31 all by herself to ensure the Oregon women qualified for the NCAA Championships in the distance medley relay. They made it with about 2.5 seconds to spare, but when she got the baton there were legitimate possibilities that Oregon's last chance efforts at the MPSF Championships would be for naught.
McDonald had a similar focus at the Big Ten Championships. He needed to a 13:41 to qualify for the NCAA Championships and he had only one opportunity to do it. With the help of some steady pacing by his teammate Olin Hacker in the first part of the race, McDonald hit his mark. He closed quickly to run 13:37.85, ensuring his place in the 3000m and 5000m at the national championships and keeping Wisconsin's team title hopes alive.
In the next men's event in Ann Arbor, Harris received the baton for Iowa in third place in the 4x400m. The senior rallied the Hawkeyes past the individual 400m champion Izaiah Brown of Rutgers (who beat Harris in the open 400m earlier in the meet) with 100 meters to go and then chased down Ohio State's Frank Hayes at the tape.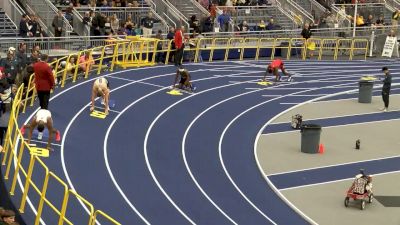 Unlock this video, live events, and more with a subscription!
Get Started
Already a subscriber? Log In