Yomif Kejelcha Blasts 3:47.01 Mile World Record, Gregorek Goes 3:49
Yomif Kejelcha Blasts 3:47.01 Mile World Record, Gregorek Goes 3:49
Yomif Kejelcha finally has his coveted indoor mile world record.
Mar 3, 2019
by Lincoln Shryack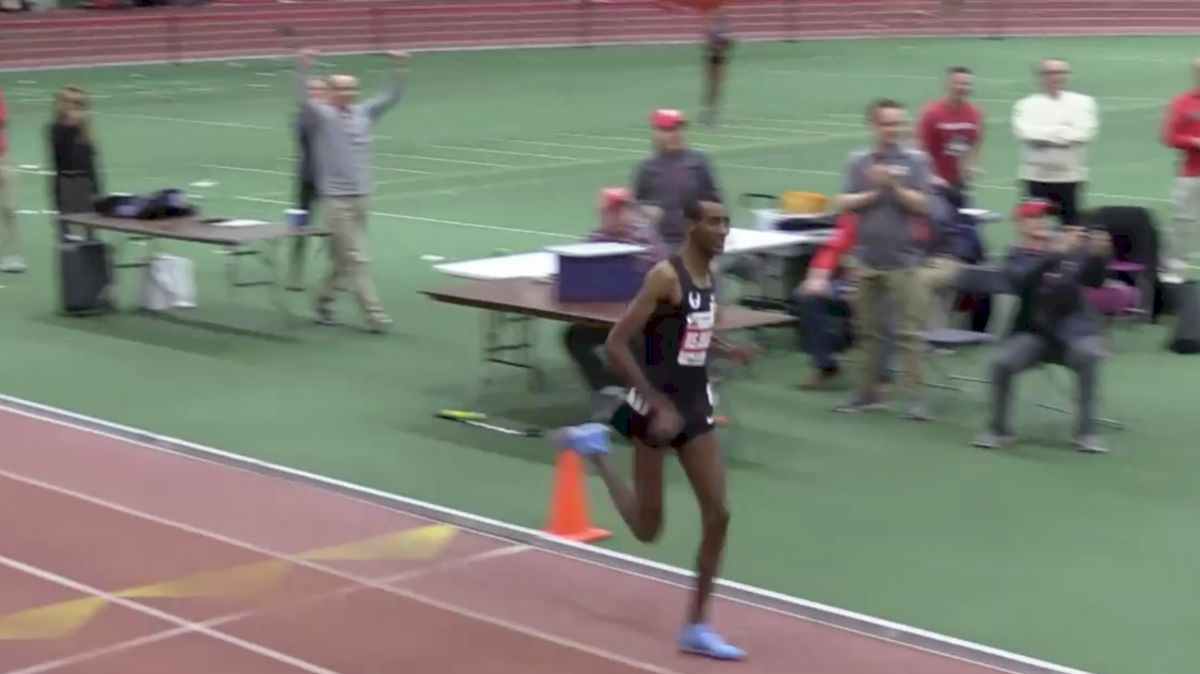 The third world record attempt in 2019 was the charm for Yomif Kejelcha, as the 21-year-old Ethiopian demolished Hicham El Guerrouj's indoor mile mark (3:48.45) by 1.44 seconds on Sunday in Boston with a 3:47.01 clocking.
Congratulations to Yomif Kejelcha who broke the WORLD RECORD in the men's indoor mile with a time of 3:47.01 at BU's Track & Tennis Center. Kejelcha broke the record of 3:48.45 set by Hicham El Guerrouj back in 1997. pic.twitter.com/mAXsDO9AGe

— BU Track and Field (@TerrierTFXC) March 3, 2019
Kejelcha sought redemption from two previous failed pursuits of El Guerrouj records earlier in the season, and with the help of consistent splits he got it and then some; not only did his time crush the indoor world record, but Kejelcha's 3:47.01 is the fastest mile period since Alan Webb's 3:46.91 outdoor American record in 2007.
While the new world record holder deservedly received most of the attention, the Ethiopian wasn't the only man to make history. Runner-up Johnny Gregorek ran 3:49.98, the sixth-fastest ever and No. 2 behind Bernard Lagat in U.S. history. Sunday also marked the first ever indoor mile to produce two sub-3:50 performances. Gregorek, whose previous best was 3:53.15, clocked the fastest last lap with a scorching 27.06.
Johnny Gregorek (@JohnnyGregorek) finishes runner up to Kejelcha in the mile to become the second American to ever go under 3:50 indoors. pic.twitter.com/mVWznWpr8Z

— FloTrack (@FloTrack) March 3, 2019
Behind Kejelcha and Gregorek, Sam Prakel (3:50.94, #5 U.S. history) and Henry Wynne (3:51.26, #7 U.S. history) both hit the IAAF standard while smashing their personal bests.
After missing the mile record by an excruciating 0.01 seconds on Feb. 9 at the Millrose Games, and then watching countryman Samuel Tefera kick past him to break El Guerrouj's indoor 1,500m world record a week later in Birmingham, Kejelcha atoned for those misfires on Sunday with pacers Erik Sowinski, Christian Harrison and Harun Abda helping him along.
This time there would be no way-too-fast second lap like there was at Millrose to zap Kejelcha early. With Sowinski leading him to 800m, the Ethiopian clicked off precise opening laps of 28.68, 28.63, 28.62, and 28.52. He hit 809m in 1:54.44 and took control of the race shortly after, dropping his fastest lap yet (28.31) to reach 1,009m in 2:22.75. That split was nearly a second slower than the same point at last month's Millrose Games, but that was by design; with three to go Kejelcha still had plenty of energy to ratchet down the tempo.
The 400m he ran from 1,009m to 1,409m allowed Kejelcha to smash the record. His 55.79 there left him plenty of room to dip under El Guerrouj's 3:48.45, as his 28.48 final lap was actually slower than his last 200m in the Wanamaker mile three weeks ago. Kejelcha did fall short of achieving both of his goals coming into the race, as he wanted to break Tefera's 3:31.04 1,500m world record en route (Kejelcha split 3:31.25, No. 3 all-time), but I doubt he cares in the least.
After crossing the line, the 21-year-old did a series of celebratory jumps that stood in stark contrast to the disappointment he couldn't hide after the Wanamaker miss. There would be no smashed flowers on Sunday. The record is his, and if El Guerrouj's 22-year reign is any indication, it may be that way for a very long time.