Unlock this article, live events, and more with a subscription!
Get Started
Already a subscriber? Log In
Michael Norman runs ahead of schedule.
In 2016, he arrived at the Olympic Trials as an ebullient high school senior, happy to compete against the best sprinters in the world. He ended making the 200m final and finishing fifth.
When he entered college, we figured an NCAA record in the 400m was a possibility before he graduated from USC, but the 43.61 during his sophomore year outperformed the most ambitious forecasts.
Now as a 21-year-old professional, Norman looked to have a chance to scare Michael Johnson's American record of 43.18 if everything went smoothly this season. At the very least, more consistent competition and a professional schedule would allow him to lower his personal best. But in April? Who runs faster than 43.61 in April?
Norman is again operating on an accelerated timeline. His run of 43.45 at Saturday's Mt. SAC Relays stands as one of the fastest times in history. Add in the fact that it was his season debut in a year where the 400m doesn't even begin at the World Championships until October 1st and you get a sense of how early we are in Norman's season.
After the race, Norman said he was looking for something between 43.9 and 44.4. However surprised you were on Saturday when you saw the result pop up on your phone, Michael Norman was equally as stunned.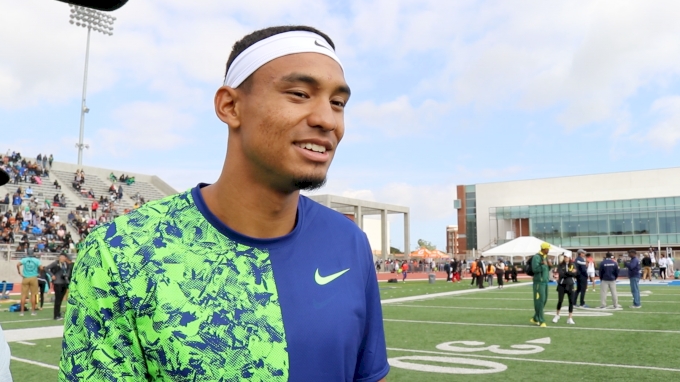 Unlock this video, live events, and more with a subscription!
Get Started
Already a subscriber? Log In
His mark tied for the sixth-best 400m of all-time. The only names ahead of him are quarter-miler royalty, Wayde Van Niekerk, Michael Johnson, Butch Reynolds and Jeremy Wariner (Wariner also ran 43.45.)
All of their marks were run in the summer, with most coming in World Championships and Olympic finals.
When you start your season with an all-time mark, who knows where you can go. The five men mentioned above never had an opener anywhere near Norman's.
| | | | |
| --- | --- | --- | --- |
| | Year | Best Mark | 400m Outdoor Opener (Finals Only) |
| Wayde Van Niekerk | 2016 | 43.03 | 44.98 |
| Michael Johnson | 1999 | 43.18 | 44.51 |
| Michael Johnson | 1995 | 43.39 | 44.25 |
| Michael Johnson | 1996 | 43.44 | 44.41 |
| Harry Reynolds | 1988 | 43.29 | 43.93 |
| Jeremy Wariner | 2007 | 43.45 | 44.66 |
Reynolds' 43-second debut, the lone time under 44 seconds, came at the Olympic Trials. In debut terms, that's late.
After a performance like that, it's hard to draw any conclusions other than:
-Michael Johnson's American record of 43.18 is vulnerable
-Wayde Van Niekerk's World record of 43.03 is vulnerable
-If Van Niekerk is healthy the 400m will be bonkers
These aren't guarantees and any projections are tempered by a natural feeling of restraint. After all, if he can break the world record then he's a lean away from cracking the 43-second barrier.
As good as he was last year, the world record still felt like a stretch for Norman in 2019. But his career has been about skipping steps—it just so happens that the next step will land him faster than anyone in history.
Crouser Goes Big, Harrison Hurdle Debut
There was another outdoor debut that crack the top 10 all-time this weekend. Ryan Crouser had consecutive throws of 22.73m and 22.74m at the Beach Classic. The latter is the seventh farthest throw in history and the best since 1990.
22.74m by Ryan Crouser is the biggest throw the world has seen in 29 years!
? @rcrouser pic.twitter.com/D2Q261YdZ3

— FloTrack (@FloTrack) April 21, 2019
Sydney McLaughlin led off in the 4x400m at Mt.SAC, her second 4x400m in as many weeks. Her split of 50.1 gave her team a comfortable lead. McLaughlin split 49.6 last week, but that was with a running start.
Keni Harrison won her first 100m hurdle race of the season in 12.63. The world record holder wasn't pleased with her start and will get another shot at a fast time this weekend at the Drake Relays. One of her top American rivals, Brianna Rollins-McNeal was at Mt.SAC, but opted to run the open 100m.
Back to the men's 400m. Rai Benjamin ran with Norman for 300 meters or so before finishing in 44.31. It's a personal best for Benjamin and bit faster than Abderrahman Samba (Benjamin's top rival in the 400m hurdles) ran in the open 400m two weeks prior. Until these two race each other, I'll continue to look for a way to compare them….
Divine Breaks Barriers, Thrilling 1500m At Bryan Clay
In a Norman-less weekend, Divine Oduduru would have been the top story. The Texas Tech sprinter ran 9.94 and 19.76 (both wind-legal) at the Michael Johnson Invitational. The latter is the second fastest time in NCAA history behind Walter Dix's 19.69. Oduduru was already the NCAA favorite in the 200m so his position in that event is further clarified. Now, he also has to be considered the man to beat in the 100m.
9.94 is .09 better than the next fastest man. Indoor 60m/60m hurdles champion Grant Holloway has that potential, but he hasn't run an open 100m this year (or ever in college for that matter).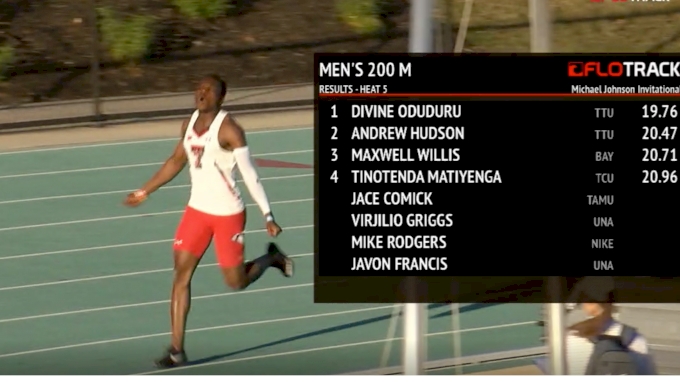 Unlock this video, live events, and more with a subscription!
Get Started
Already a subscriber? Log In
The USC women looked solid at Mt. SAC with wins in the 4x100m and 200m (Anglerne Annelus). Twanish Terry almost gave the Trojans another win in the 100m, coming up just short to Texas' Teahna Daniels, 11.20 to 11.21.
In the distance races, the men's 1500m at Bryan Clay was sensational. Oliver Hoare of Wisconsin pushed the pace after the rabbit stepped off—leading during the toughest part of the race. It looked like it was going to be for naught when kicker extraordinaire, Arizona's Carlos Villarreal, moved past him with 80 meters to go.
But Hoare held his line on the inside and didn't give in. He stayed close and when Villarreal's wheels began to come off in the final 10 meters, Hoare surged past.
Barely.
Villarreal came tumbling over the finish line, .02 seconds after Hoare. The times, 3:37.20 for Hoare and 3:37.22 for Villarreal, are both lifetime bests. In fact, the first 10 men across the line, all collegians, left with PRs in the event.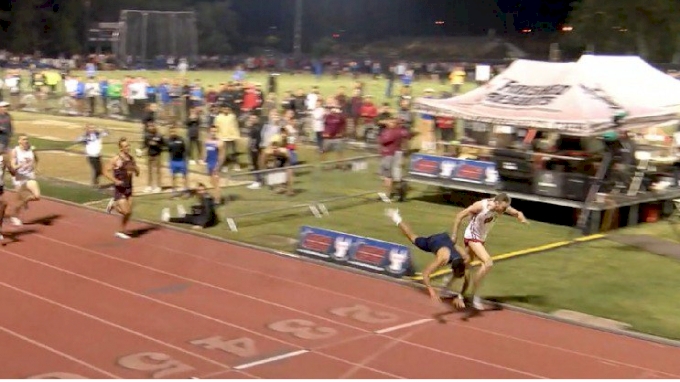 Unlock this video, live events, and more with a subscription!
Get Started
Already a subscriber? Log In
The women's 1500m was more pro-heavy with Oregon Track Club's Hanna Green out kicking Alexa Efraimson and Sage Hurta to get the win. Hurta's 4:09.33 would be an NCAA leader, but the Colorado junior (in terms of cross country eligibility) is redshirting. Hurta's weekend wasn't done in Southern California.
At Mt. SAC, she ran 2:03.46 to win the 800m. The time was also a personal best and would put her fifth on the NCAA list.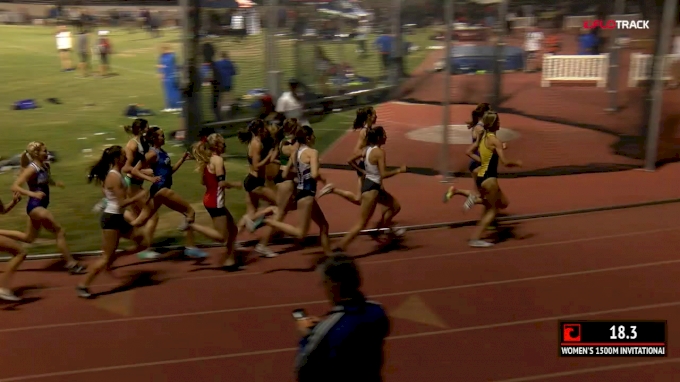 Unlock this video, live events, and more with a subscription!
Get Started
Already a subscriber? Log In
In the women's 5000m at Bryan Clay, Weini Kelati of New Mexico dominated the race. Running in front after the pacer stepped off, her time of 15:23.46 was an outdoor personal best. Her teammate, Adva Cohen, ran a nice race to get second in 15:31.01, the fastest time of her career.
The fastest men's 5000m didn't come from Bryan Clay, but from the Cardinal Classic in Palo Alto. Grant Fisher pulled away from the field to win in a personal best of 13:29:52. Six other men broke 13:40 behind him, including two of his Stanford teammates, Thomas Ratcliffe (13:32.81) and Steven Fahy (13:34.80). Cooper Teare of Oregon took second in 13:32.73.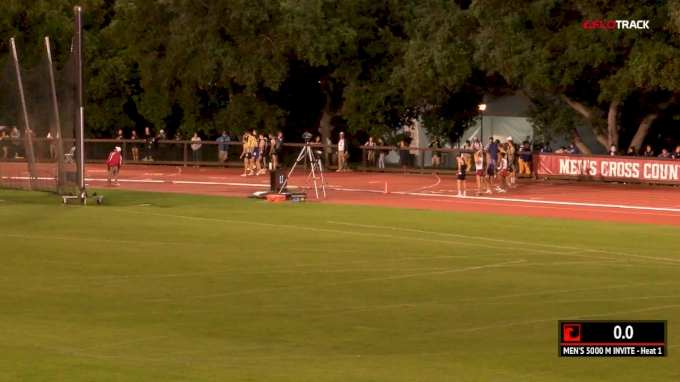 Unlock this video, live events, and more with a subscription!
Get Started
Already a subscriber? Log In