2019 IAAF World Championships
2019 Doha DL Recap: Caster Semenya Dominant In What Could Be Final 800m
2019 Doha DL Recap: Caster Semenya Dominant In What Could Be Final 800m
Caster Semenya ran 1:54.99 in the 800m in what might have been her final appearance in the women's 800m.
May 3, 2019
by Lincoln Shryack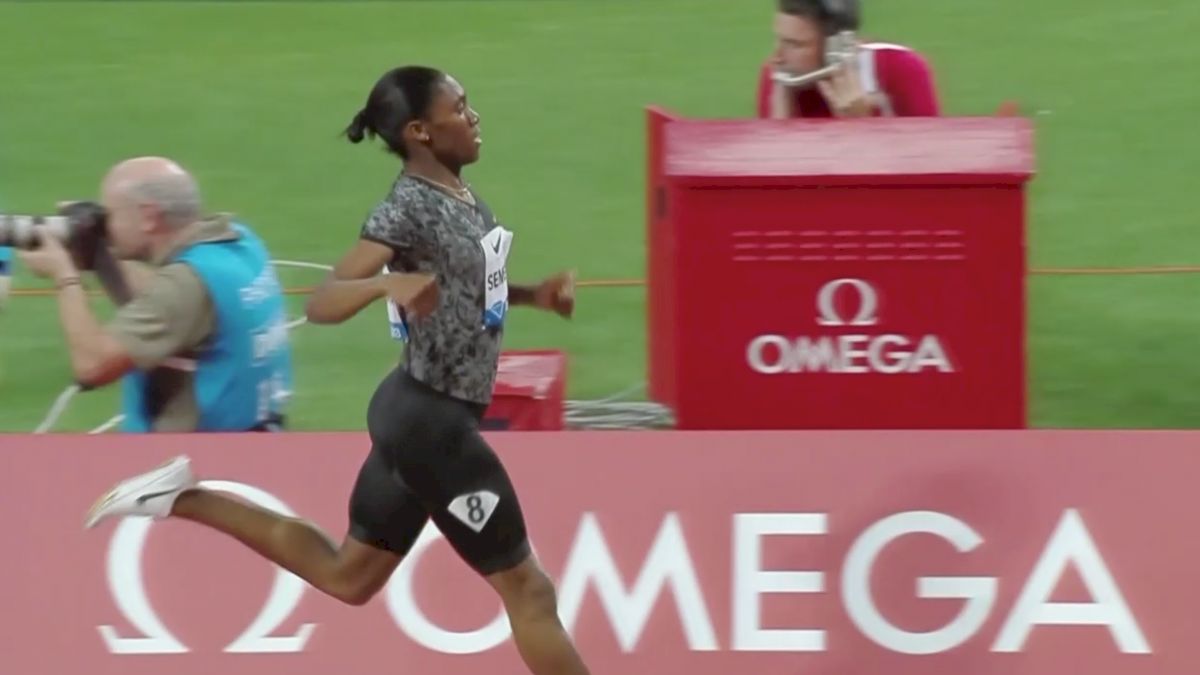 Unlock this article, live events, and more with a subscription!
Get Started
Already a subscriber? Log In
The most dominant women's 800m runner of this generation ran her final race in her specialty, at least for the foreseeable future.
South Africa's Caster Semenya won the Doha Diamond League in a scintillating 1:54.99, the fourth-fastest time of her illustrious career. With her latest commanding victory now complete, an uncertain future awaits the two-time Olympic champion as Semenya faces IAAF regulations that require her to take hormone suppressants to continue in the middle distances or compete in events outside of the 400m to mile range.
Semenya, who on Wednesday lost her landmark case against the IAAF over female testosterone limitations in the 400m through mile, won her 30th consecutive 800m race dating back to September of 2015. Her performance in Doha on Friday was her last before she must adhere to the IAAF's rules regarding testosterone in the middle distance races, which means she will either have to resume hormone therapy to lower her naturally-occurring testosterone—like she did from 2010 to 2015—or compete in other races.
But it appears that Semenya has no plans to begin a regimen to change her biology, as she told Daily Mail reporter Riath Al-Samarri quite clearly that she will not take hormone suppressants.
I asked Semenya if she would take the medication as per iaaf regulations: "Hell no."

— Riath Al-Samarrai (@riathalsam) May 3, 2019
Instead, Semenya remains stoic and determined in the face of the biggest blow yet to her livelihood.
"I know life could be difficult at times but I'm a believer and I believe there is always a way to resolve issues," Semenya told media afterwards.
"One of my firm belief is that there is always a way out for everything. So if a wall is placed in front of me, I jump it. I'm going to keep enjoying my life and live it. I will keep on training and running. To me, impossibility is nothing."
Semenya further elaborated that she will not contest the 5,000m in future meets. Many speculated that perhaps she was training for that event in order to continue to compete legally, as the IAAF's testosterone regulations only apply to events from the 400m to the mile.
Caster Semenya's response when asked whether she will take the medication as per the ruling of CAS: "Hell no"
Also says she will not run the 5,000m again, saying it was part of her base training, nothing else.

— Pippa Field (@PippaField23) May 3, 2019
When the track world returns to Doha in less than five months for the 2019 IAAF World Championships, the tremendous void of a Semenya-less women's 800m will be palpable. On Friday she won on the Doha track by nearly three seconds, and her sudden removal is either a victory for fairness in women's sport or a human rights injustice depending on your viewpoint on the controversial issue.
But there's no debate that the women's 800m is now going to be much different as Caster Semenya leaves a legacy of greatness that, for better or worse, may never be fully appreciated.
Nijel Amos Gets Past Emmanuel Korir
Nijel Amos of Botswana drew first blood in a deep men's 800m as he kicked past Kenya's Emmanuel Korir in the final 100m to win in a world-leading 1:44.29. Korir, the defending Diamond League champion whose only loss last year was to Amos, was second in 1:44.50. For both men, it was their first 800m race of 2019.
American Donavan Brazier passed two men in the last 100m to finish third in 1:44.70 in his outdoor debut. In an unusually packed race which included 13 finishers, Brazier had to run much of the last lap on the outside of lane one as he found himself out of position when the kicking started.
Dina Asher-Smith Posts Strong Opener In 200m
Dina Asher-Smith looked in mid-season form, dominating the women's 200m in 22.26. The race was never close. Asher-Smith flew around the curve and had a sizeable lead entering the homestretch. Her final margin of victory was .64 over Jamile Samuel (22.90). Blessing Okagbare took third in 23.14.
Hillary Bor Finishes Runner-up In 3000m Steeplechase
Soufiane El Bakkali kept a low profile throughout the men's 3000m steeplechase--often drifting off the lead pack. But in the final lap, the Moroccan with a 7:58 lifetime best had plenty left to kick past American Hillary Bor after the last barrier. Bor ran a personal best of 8:08.41, moving him to third on the U.S all-time list behind only Evan Jager and Stanley Kebenei.
Bor made a big push to the lead with 300m to go, moving past Chala Beyo of Ethiopia and remained in front over the water barrier. El Bakkali started to rally as Bor tried to hang on for a huge Diamond League upset. The American didn't quite have enough when El Bakkali rushed passed. Leonard Bett took third in 8:08.61, a PR.
Rivalry Renewed In Men's 1500m
Elijah Manangoi and Timonthy Cheruiyot renewed their rivalry in the men's 1500m. Manangoi held off Cheruiyot in the homestretch winning in 3:32.21 to 3:32.47. After an opening lap of 54.60 for the rabbit, the pace slowed with consecutive laps of 58 seconds.
Manangoi was in front at the 1200 meter mark, leading a large group of challengers that bunched up with the manageable pace. Cheruiyot looked committed to moving past in the last 100 meters, but couldn't overtake Manangoi. Bethwell Birgen took third in 3:33.12.
Guess Who's Back?
Ramil Guliyev was victorious in his first race of 2019. The 2017 world champion ran 19.99 in the 200m and was never challenged. Alex Quinonez took second in 20.19, .01 ahead of Aaron Brown.
Dalilah Muhammad Blitzes 400m Hurdles Field, Danielle Williams Stomps A 12.66 Win
Dalilah Muhammad ran away with the women's 400m hurdles in 53.61. Ashley Spencer ran 54.72 for second, improving on her showing last week at the Drake Relays.
Danielle Williams of Jamaica won the women's 100m hurdles with a time of 12.66, followed by Tobi Amusan (12.73) and Sharika Nelvis (12.78). Olympic champion Brianna McNeal placed seventh in 12.94.
Americans Continue Field Event Hot Streak
Ryan Crouser and Tomas Walsh locked horns in the shot put, both throwing over 22 meters. Crouser prevailed with a second-round throw of 22.13m. Walsh countered in the next round in 22.06m. Those throws held up throughout the competition and Crouser notched his fourth victory in four competitions in 2019.
Elsewhere in the field events, Sam Kendricks won the pole vault with a 5.80m clearance. Caterine Ibarguen took the long jump in 6.76m.