Sub-Two, Part Two: Kipchoge To Take Another Shot At History
Sub-Two, Part Two: Kipchoge To Take Another Shot At History
Eliud Kipchoge will try to break two hours in the marathon as part of the INEOS 1:59 Challenge this fall.
May 6, 2019
by Kevin Sully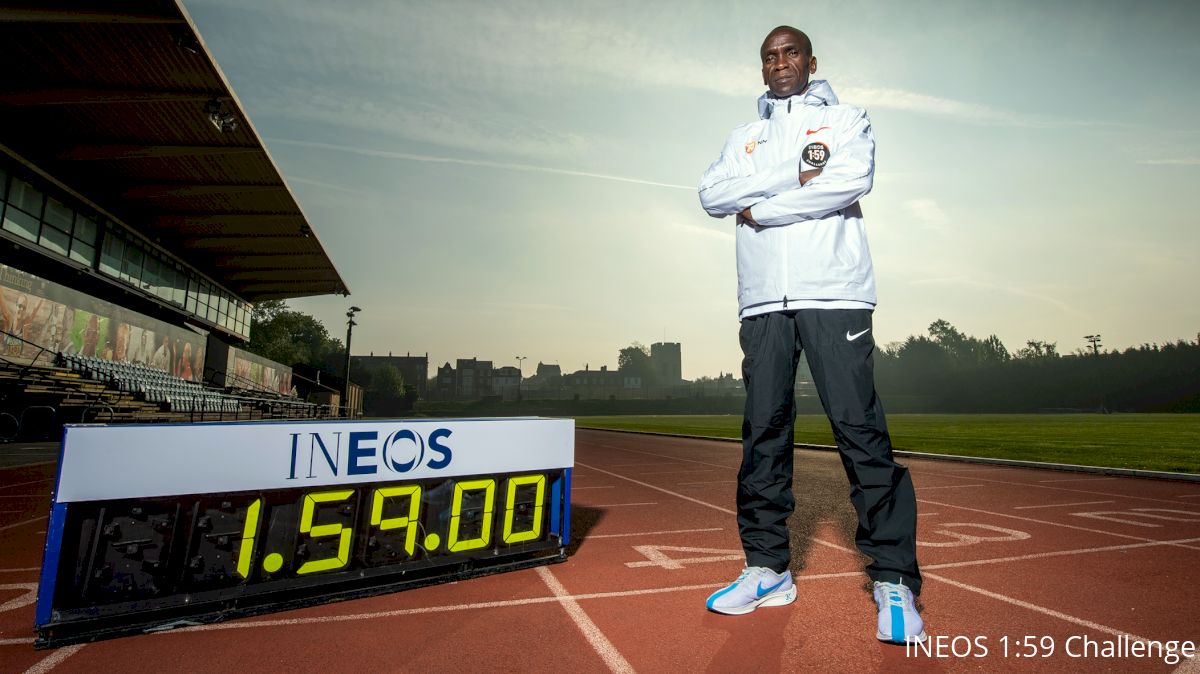 Competing against this era of marathoners has always seemed a bit limiting for Eliud Kipchoge. His rule over the event has been unrelenting and thorough. 10 consecutive victories, a gold medal, a world record and a level of performance that put him well in front of any marathoner we've ever seen.
As the event continues to evolve, Kipchoge has stayed in front. Content with dominating the past and present, Kipchoge will once again look to the future. The target again is breaking two hours--a barrier that most thought was decades away, if not more, until Kipchoge entered the event.
The answer to where Eliud Kipchoge would run his next marathon arrived on Sunday night. The world record holder, and winner of 10 consecutive marathons, will indeed make another attempt at running 1:59 this fall.
The announcement video for the project, called the INEOS 1:59 Challenge, drew parallels between the two-hour mark and the four-minute mile. The 65th anniversary of Roger Bannister's sub-four in the mile is on Monday.
The last great barrier in modern athletics, and the greatest marathon runner of all time.

Eliud Kipchoge will attempt to break the two-hour barrier in the INEOS 1:59 Challenge later this year.

No human is limited.#INEOS159https://t.co/VwMG785yfK pic.twitter.com/ERZTQuKdMb

— INEOS 1:59 Challenge (@INEOS159) May 5, 2019
In 2017, Kipchoge ran 2:00:25 on a Formula 1 racetrack in Monza, Italy. The time was the fastest ever run at the distance, but was not record-eligible.
It's not yet clear if this latest race will satisfy all the stipulations for an IAAF world record. The event website says that event organizers are exploring "a number of options that offer a flat looped circuit being investigated for the event which is planned for late September or early October 2019."
The project is being funded by the richest man in Britain, Jim Ratcliffe. Ratcliffe is the CEO of the chemical company, INEOS. He's funded cycling and sailing teams previously and is reportedly interested in buying the football club Chelsea of the English Premier League.
Since his 2:00:25, Kipchoge has seemingly only gotten better. He's added four more marathons victories to his career total and smashed the world record, running 2:01:39 last September in Berlin.
Three weeks ago, he won the London Marathon in 2:02:37, the second fastest time in history. After that race, there were plenty of questions about where Kipchoge would run his next race.
His place in history guaranteed, there wasn't a logical next-step to take. At 34-years-old, there also didn't appear to be any reason to stop. After London, he said he wanted to run all the World Marathon Majors. That meant, appearances in New York and Boston. But for now, those plans are on hold--the idea of cutting those 26 seconds too hard to resist.