2019 DI NCAA West Preliminary Round
Kelati, Oduduru & The 10 Biggest Stars At NCAA West Prelims
Kelati, Oduduru & The 10 Biggest Stars At NCAA West Prelims
At the NCAA West Prelim meet, Weini Kelati looks to stay on track for a 5K/10K double and Divine Oduduru tries to remain the favorite in the men's sprints.
May 22, 2019
by Kevin Sully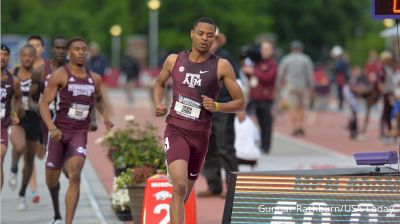 Yesterday, Lincoln took a look at the top athletes to watch in the NCAA East Preliminary Round. Today, I'll do the same with the West Prelim, which begins this Thursday, May 23, in Sacramento.
Watch The 2019 NCAA West Preliminary Round LIVE On FloTrack
Janeek Brown, Arkansas: 110m Hurdles
Brown ran 12.57 at the National Relay Championships and then followed it up with a 12.55 at the SEC Championships. That 12.55, the second-fastest mark of 2019, made her the fifth-fastest woman in NCAA history. Keni Harrison's 12.50 and Ginnie Powell's 12.48 are the next targets for Brown.
The high hurdles are a pivotal event for the women's team competition. Arkansas must get big points from Brown and Payton Chadwick, while USC will look to advance their quartet of Dior Hall, Chanel Brissett, Anna Cockrell and Mecca McGlaston to Austin.
Adva Cohen, New Mexico: 3000m Steeplechase, 5000m
Cohen's 9:29 puts her well ahead of the rest of her heat and her race in Sacramento should serve as a mere tune-up. Her last steeplechase, at Payton Jordan against two-time NCAA steeple champion Allie Ostrander of Boise State, went down to the last stride. Cohen came up short, but it had to lift her confidence that she was so close to beating the woman who has dominated the event at the collegiate level for the past two seasons.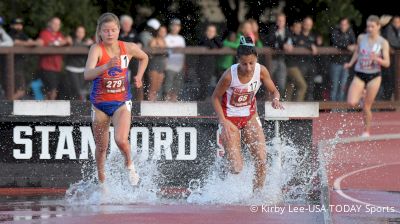 Unlock this video, live events, and more with a subscription!
Get Started
Already a subscriber? Log In
The 5000m is an icing-on-the-cake event for Cohen; however, she has the potential to be a scorer at the NCAA meet (along with her teammates, Weini Kelati, Edna Kurgat and Charlotte Prouse) who propels the Lobos up the women's leaderboard.
Allie Ostrander, Boise State: 3000m Steeplechase, 5000m
She won't be in the same steeplechase heat as Cohen, but she deserves a separate mention here. Ostrander showed championship mettle at Payton Jordan when she refused to let Cohen pass her on the final straightaway. Cohen has a better personal best, though Ostrander is capable of dropping a fast time if the conditions allow. After running a fast 10,000m at the start of the season, she's opted for her traditional steeple/5000m double.
It's worked the last two years—no reason to change things up now.
Weini Kelati, New Mexico: 5000m, 10,000m
Kelati has the fastest 5000m time in the nation and the third-best mark in the 10,000m. The latter might be more impressive--a 32:09 at the Mountain West Conference Championships where she had no competition. She ran every lap by herself, and yet was only three seconds away from the top time of the season.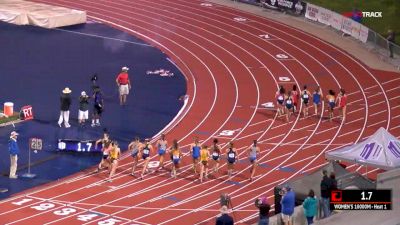 Unlock this video, live events, and more with a subscription!
Get Started
Already a subscriber? Log In
Last year at this meet, the weather was ideal for distance-running, and the athletes responded with honest races and fast times. Kelati will no doubt assert herself at some point with tag-team partner Ednah Kurgat to run with her in the 10,000m.
Things are breaking perfectly for Kelati to win her first individual title this season. She looks sharper than ever, and no clear challengers have emerged. Wisconsin's Alicia Monson won the indoor 5000m, but scratched from the prelims. Ostrander has the fastest time in the 10,000m, but isn't running the event. Sharon Lokedi, last year's champion, is out of eligibility.
Kelati's best competition might come from Colorado's Dani Jones. Most assumed Jones was going to run the 1500m, this year, but in a year where she has only finished two races, she opted for the 5000m. Her personal best isn't near Kelati's (Jones has only run two 5000s in her career), but her closing speed is a proven commodity.
Jessica Hull, Oregon: 1500m
With Jones in the 5000m, Hull's odds of repeating in the 1500m increase dramatically. She hasn't dipped under her personal best of 4:08 this season, but it's hard to find fault with her results. Hull just wins 1500m races.
She won the Payton Jordan 1500m against a professional field and she won the Pac 12 Championship. She's good in time trials and sit-and-kick settings. This weekend shouldn't be a problem for her as she continues her march for her third NCAA individual title.
Twanisha Terry, USC: 100m, 200m, 4x100m
Terry was third in the NCAA 100m last spring in Eugene, then got her first individual title during the indoor season in the 60m. The women's sprint field is crowded with at least a handful of women who could lay claim to the title. Terry is in that group. Her personal best still sits at the 10.99 she ran at last year's Mt. SAC Relays, but she equaled that mark this year in a slightly wind-aided race at the USC/UCLA dual meet.
Teahna Daniels of Texas, Arkansas' Kiara Parker and Anglerne Annelus of USC are the next three fastest seeds.
Divine Oduduru, Texas Tech: 100m, 200m, 4x100m, 4x400m
The West features the three fastest seed times in the 100m in Oduduru, Oregon's Cravon Gillespie and Houston's Mario Burke. Oduduru has to be considered the favorite in both of his individual events. He's broken 10 seconds in the 100m twice this year; most recently, a 9.99 to win the Big 12 Championship. His season (and lifetime) best comes from April, when he ran 9.94 as one half of a spectacular double (less than an hour later, he ran 19.76 in the 200m, the fastest time in the world).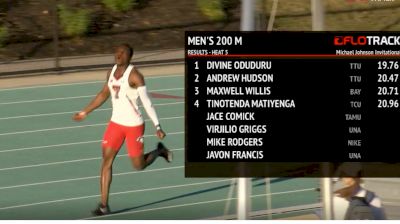 Unlock this video, live events, and more with a subscription!
Get Started
Already a subscriber? Log In
His eminence in the 200m is clear. Burke and Gillespie could make it interesting in the 100m, though. Burke is a veteran and, as has become a habit for Houston's sprinters, peaks at the right time. Gillespie is on a hot streak, and his 9.97 at the Pac-12 Championships stands as the best race of his career. All will hope to avoid any drama in Sacramento and advance smoothly to Austin where they will face each other once again.
Devin Dixon, Texas A&M: 800m, 4x400m
Dixon ran 1:44.76 to win the SEC Championships, the best time in the NCAA of 2019. He's been in this position before.
Indoors, he had the fastest seed time in the field by a healthy margin, but faltered in the final. This weekend will be about preparing for what's to come in Austin. Extra work in the rounds should be welcomed by a runner who clearly has the ability to win an NCAA title.
Dixon's loss was Bryce Hoppel's gain during the indoor season, as the Kansas junior was the surprise champion. Since then, he hasn't lost an 800m race (his win streak currently sits at 10, dating back to last year's NCAA Outdoor Championships). He's a savvy runner and is well-suited to breeze through Sacramento.
Grant Fisher (Stanford)/Morgan McDonald (Wisconsin): 5000m
The two stars are in the same 5000m heat, making it extra tough on the others who hope to advance to the finals in Austin. Both Fisher and McDonald had subdued conference meets. Fisher was runner-up in the 1500m and 5000m, while McDonald won the 10,000m in a mark that put him just outside NCAA qualifying. Both men seem content to treat outdoors like a cross country season, biding their time to launch one giant effort at the end.
Fisher has had the more active outdoor season. He ran personal bests in the 5000m (13:29) and 1500m (3:29) over the span of two weeks. McDonald has only run two individual races, the aforementioned Big Ten Championships 10,000m and a comfortable 5000m at Bryan Clay, done solely for the purposes of qualifying. It hasn't been splashy, but I expect that's the point. The last three times these two have met, there's been a thrilling finish. In what will be the last NCAA outdoor championship for both men, it looks like we could get another classic.
Amere Lattin, Houston: 110m Hurdles, 400m Hurdles, 4x400m
Lattin is the top seed in the high hurdles and it is a key non-sprint piece for Houston's team title aspirations. Last year, Lattin tumbled across the line at this meet in the 110m hurdles, saving his season with a half-dive, half-crawl to the finish. He's hoping for less drama this year.
He's also among the best in the nation in the 400m hurdles--an event with no clear favorite nationally. That event is something Houston will need to exploit if they want to be in the mix for a team championship title.