2019 Music City Distance Carnival
Weekend Recap: The NCAA's Fastest 800m Runner Won't Be At NCAAs
Weekend Recap: The NCAA's Fastest 800m Runner Won't Be At NCAAs
Ranking the 10 best performances from the weekend of track and field, including Sage Hurta's breakout 800m performance.
Jun 3, 2019
by Lincoln Shryack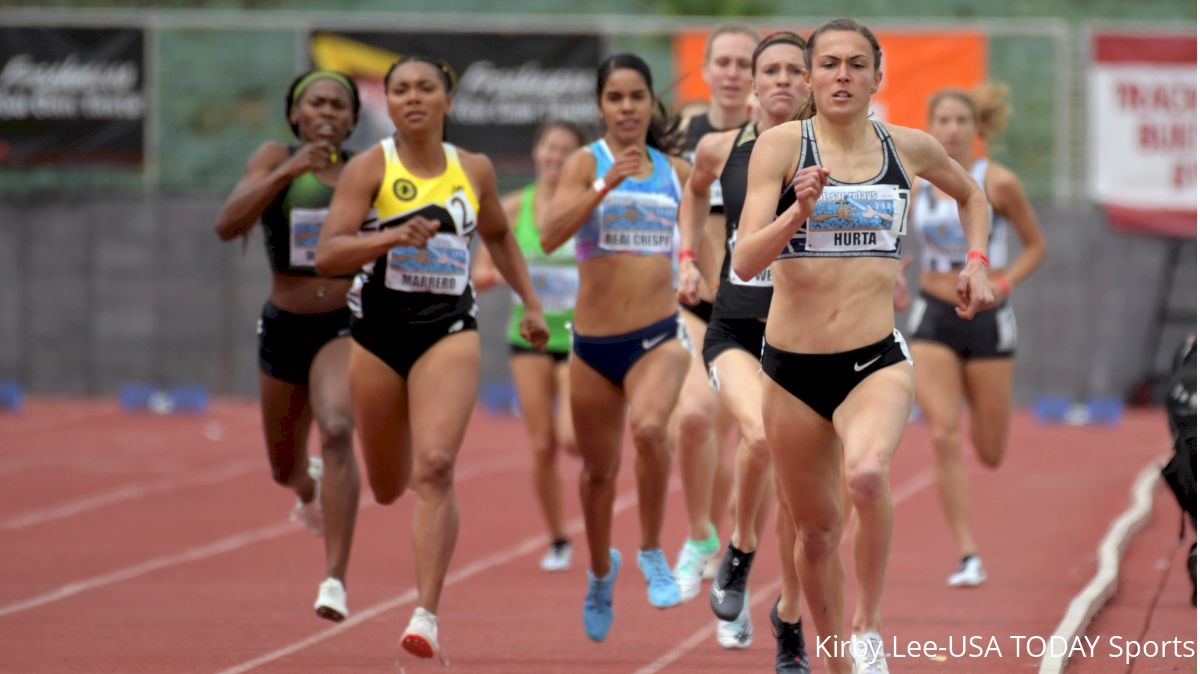 Unlock this article, live events, and more with a subscription!
Get Started
Already a subscriber? Log In
NCAA Outdoor Championships week has arrived, but before I turn all my attention toward Austin, here were the 10 best performances from the past weekend:
10. Michael Norman
It was no 43.45, but Michael Norman did well to run 44.53 in his Diamond League 400m debut in adverse conditions at Stockholm.
The temperature hovered around 50 degrees in the Swedish capital with a steady wind on the backstretch, so time was never going to be important in the race. But Norman closed well after yielding some ground to training partner/roommate Rai Benjamin over the first 200m, and he ended up winning by a comfortable 0.6-second margin that only seemed close because of his dynamic season opener on April 20 at Mt. SAC.
This race was a nice reminder that even when an athlete drops a huge time at the beginning of the season, it still takes a perfect set of circumstances to run an all-time mark at any point in the year. Just because a 21-year-old runs the sixth-fastest 400m ever in April doesn't mean he's going to keep getting faster in every race throughout the summer.
9. Wesley Vázquez
Only two nations have had three men break 1:45 in the 800m so far this outdoor season: Kenya and…. Puerto Rico. That's right, the tiny Caribbean island with just over three million people currently has three men with top-10 times in the world: Wesley Vázquez (1:44.68), Ryan Sanchez (1:44.82) and Andrés Arroyo (1:44.96). Vázquez came close to his national record (1:44.64) on Friday at the Music City Distance Carnival, winning the two-heat event (Brandon McBride ran 1:45.04 in a separate heat.):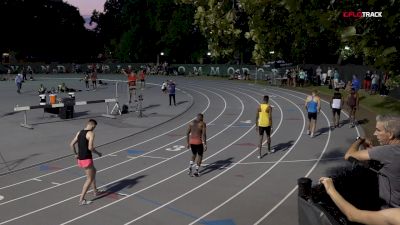 Unlock this video, live events, and more with a subscription!
Get Started
Already a subscriber? Log In
Arroyo's name should be familiar to U.S. fans as he ran collegiately at the University of Florida, while the 20-year-old Sanchez very nearly won the 800m at the Stockholm Diamond League on Thursday, albeit in a non-Diamond League race. Whether or not this trio has staying power on the global stage is unclear, but at just 25, Vázquez is the oldest of the bunch.
8. Cole Sprout
The high school junior from Colorado has been on a tear this outdoor season. First, Sprout finished second at the prestigious Arcadia 3200m on April 6—behind only fellow stud junior Nico Young—in 8:40.73. Two weeks later, he became the first prep ever to run sub-9:00 on Colorado soil. He continued that run over the weekend by winning the Music City Distance Carnival high school mile in 4:04.19, the top time in the country this year: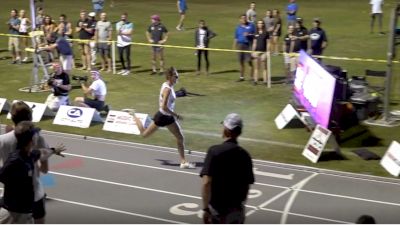 Unlock this video, live events, and more with a subscription!
Get Started
Already a subscriber? Log In
Yet another junior from Colorado finished right behind Sprout as Cruz Culpepper ran 4:04.82. Cruz is the son of former U.S. Olympians Alan and Shayne Culpepper.
7. Emma Coburn
Coburn opened her outdoor season in Nashville by almost PR'ing in the 1500m (4:05.24, PB is 4:05.10), and in the process helped five women finish below the 4:06.50 2019 world standard: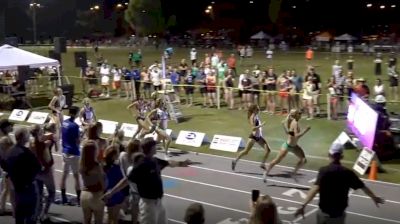 Unlock this video, live events, and more with a subscription!
Get Started
Already a subscriber? Log In
With her World Championships bye this year, Coburn has the advantage of being able to hone in entirely on Doha, but her race on Saturday made it clear she's ready to run fast in the steeplechase now. The world champ will make her 2019 steeple debut on June 13 in Oslo.
6. Karsten Warholm
Despite winning a Samba and Benjamin-less Diamond League 400m hurdles in Stockholm, Karsten Warholm's 47.85 victory in Sweden was mighty impressive given the cool conditions.
In a contest where no one else broke 49 seconds, the Norwegian was just .21 away from his lifetime best. It's going to be really fun when he, Samba and Benjamin do eventually race.
5. Rhonex Kipruto
The 10,000m void left by Mo Farah's track departure won't easily be filled, but Kenyan teen Rhonex Kipruto took a big step toward replacing the Brit as the best 10k runner in the world on Thursday in Stockholm. Kipruto's 26:50.16 was not only the fastest 25-lapper since the 2017 World Championships, but it was done with such an ease in unideal conditions that it suggests the 19-year-old has so much more in him.
With a 26:46 road 10k under his belt and a sixth place finish in March at World Cross, Kipruto is quickly ascending as a versatile distance star. He's the favorite for Doha until further notice.
4. Dina Asher-Smith
With big question marks surrounding both Elaine Thompson and Tori Bowie, and with Shaunae Miller-Uibo likely to choose the 400m as her World Champs focus, Great Britain's Dina Asher-Smith has grabbed the 2019 200m favorite mantle. Asher-Smith once again was in another league entirely with her win in Stockholm on Thursday, running a 22.18 season's best in a race where second place (Thompson) was 22.66.
The Brit will open up her 100m season on Thursday in Rome against Aleia Hobbs, Marie-Josée Ta Lou and English Gardner, among others. Even this early in the year, that race should say a lot about Asher-Smith's chances for 100m-200m gold in Doha.
3. Athing Mu
It's been a while since we heard from 16-year-old Athing Mu, who became a sensation indoors by breaking the 600m American record (1:23.57) at USAs, but Mu returned in a big way in the 800m over the weekend with a 2:01.38 runner-up finish in Nashville. With it she cut more than three seconds off her previous outdoor 800m PB and 2.5 seconds off her overall best.
That time slots the New Jersey prep—who just completed her junior year of high school—to sixth on the all-time U.S. list, behind only Main Cain, Kim Gallagher, Sammy Watson, Caitlyn Collier and Ajee' Wilson.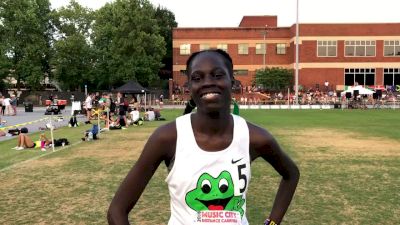 Unlock this video, live events, and more with a subscription!
Get Started
Already a subscriber? Log In
Mu didn't open up her outdoor season until May, as she doesn't compete for her high school in Trenton. But the teen has a busy summer ahead. Mu will head to New Balance Nationals Outdoor in two weeks to defend her 800m crown, and then will compete a week later at the USATF U20 Outdoor Championships with the goal of qualifying for the U20 Pan Am Games (July 19-21) in Costa Rica.
Mu said she hasn't decided if she will compete at USAs yet, but it will be a tough task if she does since it begins just days after Pan Ams ends.
2. Brad Barton
I'll admit that I had never heard of 53-year-old Brad Barton before he ran his masters M50 mile world record of 4:19.59 on Friday in Nashville. I'm not one to usually pay attention to the periphery of the track and field world, but Barton's sub-4:20 was a spectacular display of longevity and commitment to a craft that really caught my attention. Former Irish Olympian Shane Healy, 50, also deserves a shout for running under the old 4:25.04 record as well with his 4:22.96.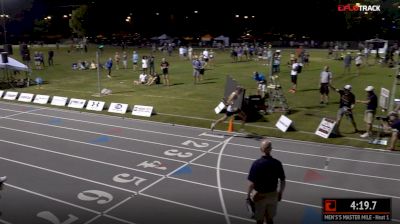 Unlock this video, live events, and more with a subscription!
Get Started
Already a subscriber? Log In
Even if you're new to Barton's highlight reel like I was, it should come as no surprise that he has racked up many other masters honors in recent years.
Here he is running a since-broken M45 indoor mile world record in 2013, 4:16.84:
And here is a 48-year-old Barton in 2014 running 4:17.54, which at the time made him the oldest to ever break 4:20 before he did it again on Friday:
Barton's latest record may not last long, however, as he'll race the mile again this upcoming weekend at the Portland Track Festival.
1. Sage Hurta
The 20-year-old University of Colorado runner redshirted the 2019 track season, but if she was competing within the NCAA system right now her 2:00.99 800m at Music City would be the fastest time in the country by over a second. The crazy thing is that Hurta has never really been known as a half-miler as her PB before this weekend was 2:03, a time she just ran in April. Hurta won the PAC-12 steeple title in 2018 and has only ever competed in that distance at NCAAs.
Her breakout in Nashville was significant enough that she admitted that picking between 800m and 1500m, the latter seemingly being her better distance before this weekend, will be a tough choice going forward.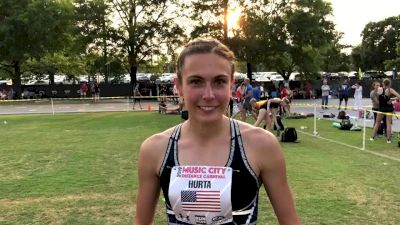 Unlock this video, live events, and more with a subscription!
Get Started
Already a subscriber? Log In
But she won't have to make that choice now as Hurta said she is ending her season to get ready for Colorado's NCAA cross country title defense this fall.