Unlock this article, live events, and more with a subscription!
Get Started
Already a subscriber? Log In
What no one, not even the defending NCAA pole vault champion, thought possible became reality on Wednesday at Mike A. Myers Stadium in Austin, Texas: Mondo Duplantis was defeated in a collegiate pole vault competition, a loss that before today seemed inconceivable for one of the greatest ever in the event.
BIG upset for Mondo Duplantis as Chris Nilsen takes the win😯 pic.twitter.com/NkpMnOY5gd

— FloTrack (@FloTrack) June 6, 2019
The man who topped him, South Dakota's Chris Nilsen, didn't consider Mondo beatable heading into the competition. Nilsen had won two titles before, but they had come in a pre-Mondo era; Mondo arrived in college in 2019 as an established global star and his 6.05m PR stood over a half foot higher than Nilsen's. Even as a stud in his own right, Nilsen belonged in the "everybody else" category behind the huge shadow cast by the top vaulter in the world last year.
"No," Nilsen answered bluntly on whether he thought he could score the upset. "All of his past success, a collegiate record and all of that…coming in here I definitely wasn't like, 'Oh, I have to beat Mondo.' I kind of focused more on I wanted to jump high. I wanted to jump 5.90m or higher and I completed my goal."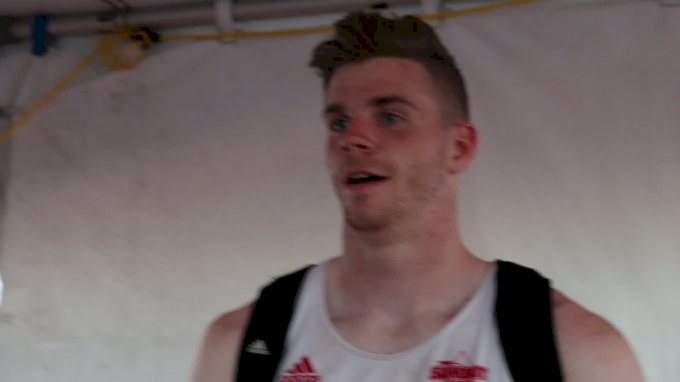 Unlock this video, live events, and more with a subscription!
Get Started
Already a subscriber? Log In
The exact recipe that Nilsen needed to slay the 19-year-old giant was cooked up at the steamy 2019 NCAA Outdoor Championships. Nilsen, who won last year in Eugene, had the meet of his life as he cleared PRs of 5.90m and then, stunningly, 5.95m on his first attempt. That clearance reset the championship record that he broke last year, and improved his PB by over three inches. Meanwhile, the LSU freshman-- who had just this final box to tick on an otherwise perfect season— couldn't get right all evening.
The collegiate record holder cleared 5.80m on his first try, but then shockingly missed at 5.90m only to bow out after two more failures at 5.95m. Afterwards, a dejected Mondo gave credit to Nilsen and said he simply couldn't make the necessary technical adjustments with Nilsen putting the bar so high so quickly.
"I just have to tip my hat to Chris because he had an outstanding day," said Mondo, who finished runner-up at 5.80m, his lowest bar at a championship since the 2017 World Championships. "5.95m first attempt, you don't beat that that much. That wins every world championships, he just had a remarkable day. He was just better than me today."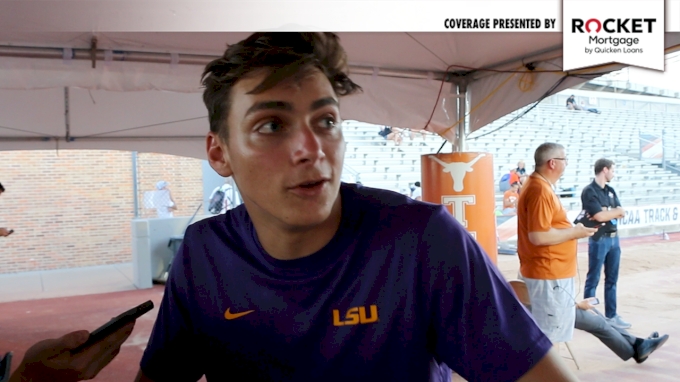 Unlock this video, live events, and more with a subscription!
Get Started
Already a subscriber? Log In
The 2018 European champion, who leapt to second-best in history last summer with his 6.05m in Berlin, said that Nilsen's early high bars threw off his whole approach. The junior's clearing of 5.95m forced Mondo out of his usual progression through a competition, and swapping in new poles so quickly left him uncomfortable.
"It was just constant adjusting the standards, going to different poles which it's just usually kind of tough," he said.
"That's why I couldn't get in that first attempt rhythm like I would have liked. But I took some good jumps. I'm excited for the future, getting on these new poles that I know I can jump really high on."
The result was Mondo's first loss of his collegiate career, and Nilsen's first defeat of his rival since the two matched up in high school. Nilsen ended his competition by taking three unsuccessful cracks to better Mondo's collegiate record at 6.01m.
"It was really just cool to take attempts at six meters. Regardless if it was a collegiate record or not, it's a dream," said Nilsen.
Now the question becomes whether or not this unexpected result will mark the end of Mondo's collegiate career. He already has a full summer and fall ahead with the Diamond League slate and then World Championships in October, and there have been hints that he would go one-and-done after this season. With the Olympic Games coming next year, another rigorous collegiate campaign would seem to work counter to his mission of winning gold in Tokyo.
But if this is the end to Mondo's brief appearance in the NCAA, there's no doubt that it ended on a bitter note. He came into his freshman season with a checklist of four to-dos— win both NCAAs titles and set two collegiate records— and missing the fourth and final of those goals seems like a cruel ending for someone who, literally and figuratively, set the bar so high.
"This freshman year has been a blast," he said. "I didn't want to end it with a second place, but I guess I just got to live with it. All-in-all I had a great year. I did some great things in the purple and gold."