While many of the NCAA men's sprint and hurdle races lived up to the pre-championship hype by being shockingly fast on Friday night— or the fastest ever in the case of the 110m hurdles and 4x100m relay— the distance races countered that excitement with a series of spectacular finishes.
The winners themselves weren't necessarily surprising— steeplechase victor Steven Fahy was the only first-time champion in races 800m and above— but dramatic final sprints all around made for unbelievable results nonetheless.
Here's what went down from 800m to 5k on Friday night in Austin:
Men's 1,500m - Yared Nuguse Out-Kicks And Out-Leans Justine Kiprotich
With 400m to go in the men's 1500m, the entire field was within a half second of the lead. Defending champion Oliver Hoare found himself right on the shoulder of a man who beat him at Big Tens, Michigan State's Justine Kiprotich, and the pair maintained their front positions with 200m to go. Notre Dame sophomore Yared Nuguse was lurking behind, but with 100m to go Kiprotich had left Hoare and had a jump on the field.
Kiprotich looked well on his way to victory with 50 meters to go, but as Hoare began to fade Nuguse suddenly had room to run on the inside. Nuguse found himself in second and started exploding into his last gear in a desperate attempt to catch Kiprotich. But 40 meters to go and then 30 meters to go, Kiprotich— who was second in this event two years ago— still had a two step advantage with the finish rapidly approaching. That's when the Spartan made the mistake that ultimately cost him the national title.
Kiprotich ever-so-slightly drifted to the outside of his lane, providing Nuguse with just the room to pass him. The two men crossed the line simultaneously— they both ran 3:41.39— but crucially Nuguse leaned at the tape while Kiprotich maintained his posture. It was those tactical mistakes by Kiprotich and Nuguse's tactical wizardry that swung the men's 1500m. The difference between the two men wound up being three-thousandths of a second.
WHAT A FINISH!!!!!

pic.twitter.com/244AWZiYWI

— FloTrack (@FloTrack) June 8, 2019
Kiprotich said he was "heartbroken" to lose such a close race, and he lamented his inability to seal off the rail afterwards.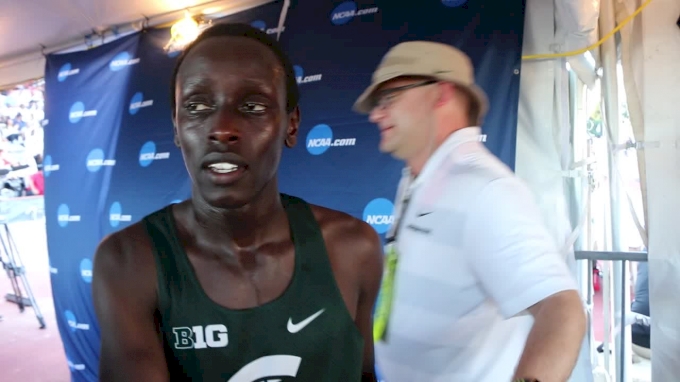 Unlock this video, live events, and more with a subscription!
Get Started
Already a subscriber? Log In
When asked if he felt Nuguse charging on his inside, Kiprotich came to a stunned realization.
"He was coming on the inside, I just realized that!" the senior said as he threw his hands over his head in disbelief. "I could've blocked him off…I didn't know he was coming on the inside until the last minute."
Even with the gift provided by Kiprotich, Nuguse, whose kick was already famous after mowing down Stanford's Grant Fisher in the DMR indoors, didn't know if he could escape trouble to win the race.
"I was definitely a little worried getting into the last 100m," said Nuguse. I usually have a pretty strong kick, but once it (the lead) gets that wide you kind of get a little nervous."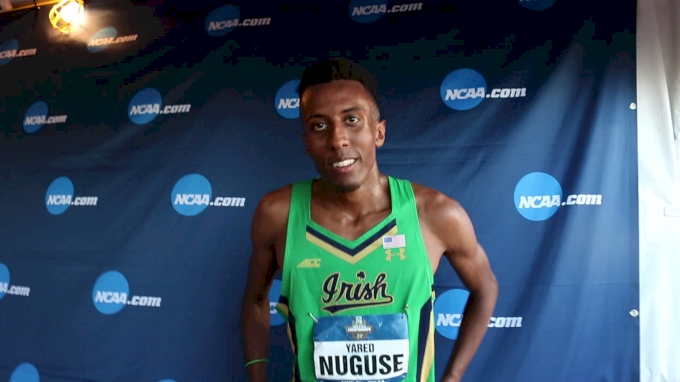 Unlock this video, live events, and more with a subscription!
Get Started
Already a subscriber? Log In
Nuguse didn't know he had won until he heard his supporters cheering the results on the Jumbotron.
"Not with 100, not even at the end, I was a little unsure. Once everyone was cheering and I saw the board, I just haven't stopped smiling."
Men's Steeplechase - Steven Fahy Wins Steeple Despite Final Barrier Fall
The steeplechase saw the wild finish in the men's 1500m and said, hold my beer.
An event that is by design chaotic has seen two critical falls in consecutive championships derail a potential winner-- Houston's Brian Barraza fell early in the last lap in 2018— and the steeple took another victim on Friday night. In fact, it tried to take two.
Indiana's Daniel Michalski, a former D2 champion at Cedarville, held the lead into the final lap after making a strong push to the front ahead of the bell. Michalski maintained his slight advantage over Stanford's Steven Fahy as the last water barrier approached, looking strong and in position to win D2 and DI steeple titles in consecutive years. That's when disaster struck.
Michalski's trail leg clipped the barrier and threw him off balance, causing the grad student to tumble down and hit the track. He picked himself right up and continued on, but by then Fahy was well past him. The Hoosier said afterwards that he "freaked out" going into the jump and got a little over-aggressive as he tried to pad his lead. He lost all his momentum and had to settle for seventh.
Unlock this video, live events, and more with a subscription!
Get Started
Already a subscriber? Log In
"I was just like, 'alright, I'm a little far out here, let's try to long step it and still hit it,'" Michalski said afterwards. "I just ran up on it a little and I guess my trail leg hit the top of it or something. Whatever happened, it was ugly."
Meanwhile, Fahy looked golden. With Michalski out of the picture, just one final dry barrier stood between him and his first national title. But the steeple had one last bite in it. The Stanford senior stutter-stepped in front of the hurdle and awkwardly attempted to clear it. He almost had it, but his trailing shin dragged the barrier and he himself crashed to the track. Suddenly a sure win became anything but as defending champion Obsa Ali of Minnesota and 2019 NCAA leader Ryan Smeeton, who moments before were fighting for second, each saw their opportunity to take the seemingly cursed race.
Steven Fahy shows us exactly why you NEVER give up after taking a fall👏👏👏👏👏👏👏👏

pic.twitter.com/Epvx0UhRfn

— FloTrack (@FloTrack) June 8, 2019
But Fahy wasn't done. Fortunately for him, his lead was enough to where he still had room to pick himself up, restart, and sprint away to victory. Even with the jarring fall, Fahy's 66.95 final lap was second-best in the field, with just the runner-up Smeeton covering the last 400m faster. Fahy won in 8:38.46 with the Oklahoma State sophomore behind in 8:39.10. Middle Tennessee State's Kigen Chemadi caught Ali at the line to nab third in 8:40.22.
While Fahy was stunned by the fall, he saw the scenario that unfolded as fitting given the ups and downs he's endured while returning from injury this season. Fahy, third in the event last year, missed the cross country season with an injury and had to claw his way back to fitness slowly this spring.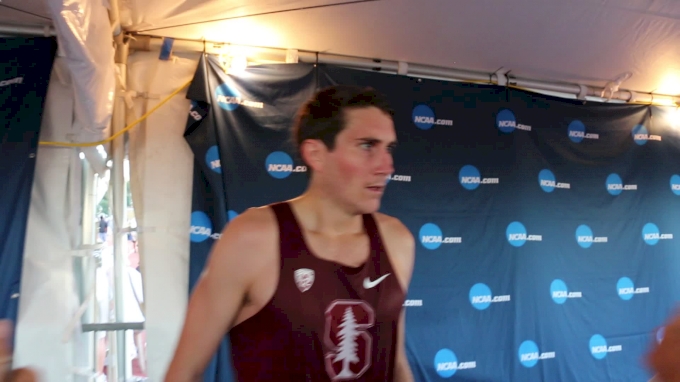 Unlock this video, live events, and more with a subscription!
Get Started
Already a subscriber? Log In
"I think it just perfectly encapsulates everything that we've done this year, working through adversities knowing that nothing is going to roll for me my way," he said. "That's kind of how this turned out, this whole season. Right down to the very last minute I had to fight to go win this race."
For a moment the eventual champion thought he had blown his lucky break given to him by Michalski's crash, but fortunately, he saw no one around when he picked himself off the track.
"I think the first thing that I thought as soon as I bounced back up was, 'I'm still going to win this thing,'" he said. "I felt really strong still… I don't think I fell out of exhaustion, it was just a technical error."
Men's 800m - Mental Mistakes Doom Dixon Again As Hoppel Completes Perfect Season
The men's 800m was virtually guaranteed to come down to a sprint between the NCAA leader, Texas A&M's Devin Dixon, and the undefeated indoor champion, Kansas' Bryce Hoppel, and that's exactly what happened on Friday.
Dixon shot out of gate like a bullet, covering the first lap in a scorching 50.00 while attempting to take the sting out of Hoppel's now-famous kick. It was well-publicized coming in that Hoppel had not lost an 800m competition at all in 2019— including prelims he was 18-0 this season— a number he had tallied with his consistently strong finish.
While Hoppel was trying to keep his streak alive, Dixon was trying to end his run of lackluster performances at NCAAs. The junior held the top time going into the indoor championships only to fade to fourth, a disappointment that followed a fifth place finish at 2018 NCAA outdoors that the A&M runner called "trash" at the time. Going into this week's meet, Dixon once again had the top seed time by virtue of his 1:44.76 at SECs, but there were lingering questions about whether he could ride his talent to victory when it mattered most.
With 200m to go Dixon was still holding onto a slim lead over a hard-charging Hoppel, but then he made a tactical error to move off the rail rounding the curve into the final straight that allowed the Kansas star room to operate in lane one. With that, the fastest kicker in the NCAA had a clear path to the finish line.
Unlock this video, live events, and more with a subscription!
Get Started
Already a subscriber? Log In
Dixon tried to rally back on Hoppel— he had to to stave off a late charge from Iowa State's Festus Lagat— but the man who could not lose this year would not be denied. Hoppel won in a 1:44.41 PB, with Dixon second in 1:44.84. Lagat took third in 1:45.05.
Making it look easy👏👏💯💯

pic.twitter.com/87qDqTYvXI

— FloTrack (@FloTrack) June 8, 2019
Dixon was beside himself in the post-race interview for the mistake that cost him.
"I just let him get on the inside. That was a rookie mistake," a frustrated Dixon said afterwards. "He (Hoppel) came around and he was on my inside. I just didn't know where he was."
Asked why he thought his results at NCAA Championships continue to underwhelm, Dixon didn't hesitate. "Mental. Mental. Honestly, I've just got to tell myself I'm able to run 1:44, big times, I should be able to do big things," said Dixon.
For Hoppel, he executed his race plan to perfection: follow the leader and then kick past when it was time to go for blood. He's done it so many times now that he trusts his finish completely, against anyone.
"I don't think anyone can beat me in the last 100m if they're right there with me," said Hoppel.
It wasn't all sour for Dixon on Friday, however, as he anchored A&M to the 4x400m title in the second-fastest NCAA time in history, 2:59.05. Dixon split 44.12 to outlast Grant Holloway's 43.75 carry.
Men's 5k - McDonald Out-Sprints Fisher Again With 52.91 Close
Like the men's 800m, there was strong evidence that the 5,000m would come down to a sprint duel between Wisconsin's Morgan McDonald and Grant Fisher of Stanford. The two seniors battled to the line in cross country last fall, only to do so again five months later in the indoor 3k. Both of those races had gone to McDonald, the senior from Australia whose finishing speed seemed to be improving on a race-by-race basis in his final collegiate season.
That trend continued on Friday as McDonald closed his Badger career in style with a 52.91 last lap split to win in 14:06.01. Fisher made him work for every tick of that speedy final circuit, as the Stanford senior, the 2017 NCAA 5,000m champion, took the lead before the bell in an attempt to de-clog a congested field and make it a 400m sprint, instead of lingering behind McDonald and hoping to pass in the final stretch as was his tactic in the indoor 3k in March.
Unfortunately for Fisher, his counterpart proved once again that his kick is superior, no matter how it is tested.
"I thought my best shot at it would be to be in the lead with a lap to go and string things out," said Fisher. "I wanted to take it and squeeze the whole way over the last lap… That last 100m was tough. Morgan had a lot more than me in the tank at the end. He ran a great race."
Very clear that there was no other option for Morgan McDonald other than 1st place💨🥇

pic.twitter.com/leVdF5JQ6N

— FloTrack (@FloTrack) June 8, 2019
McDonald won his fourth straight NCAA championship race between this one, cross country, and the indoor 3k and 5k. He didn't pull even with Fisher until 100m to go in the last lap, but make no mistake, the Australian was in control the entire way.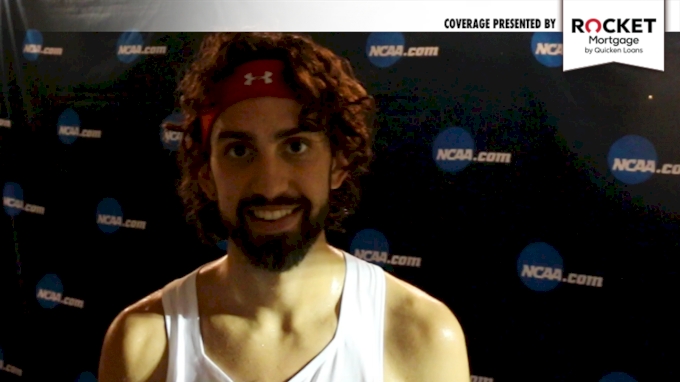 Unlock this video, live events, and more with a subscription!
Get Started
Already a subscriber? Log In
The pace was predictably slow in the warm Austin air, and McDonald found himself at the front for the majority of the race. It wasn't a designed plan to do so, but when you have such a strong finish like he does, there's no harm in leading when the pace dawdles. He knew that the field would fear his finishing ability and not try to pass him early.
"I didn't make a decision before to say I'll go to the front at a certain time," said McDonald.
"I was just trying to position myself well and just the way it played out, I felt good and I ended up at the front. I knew that for someone like me, once I'm at the front, no one wants to pass me until the very end."
He did eventually relinquish the lead to his chief rival, but McDonald was fine to let Fisher go around entering the final lap. He even expected it.
"I've raced Grant so many times, I thought he might fight pretty hard for the lead before the last 100m because at Millrose that's how he beat me," said McDonald.