Create a free account to unlock this article!
Get Started
Already a subscriber? Log In
The fastest women's 1500m in NCAA Championship history— in 97 degree heat no less— started the final day of action in Austin on Saturday with a bang as Oklahoma State junior Sinclaire Johnson upset defending champion Jessica Hull of Oregon 4:05.98 to 4:06.27, the second and fourth-best collegiate times ever.
Even with sweltering temperatures nearing the triple digits threatening to turn the distance races into predictable sit and kick affairs, Johnson and Hull defied convention and collaborated on the greatest women's NCAA 1500m race in history.
Johnson's winning time slots behind only Jenny Simpson (3:59.90) on the all-time performance list. The junior on Saturday eclipsed the previous championship record of 4:06.19 held by Hannah England of Florida State since 2008.
The pace was strong from the gun as BYU's Whittni Orton went immediately to the front with Hull and Johnson in tow. Notre Dame's Jessica Harris took over in the second lap with a 66.55 split from 300m to 700m, and the tempo only increased from there to the bell as Hull grabbed control of the lead with a 65.72 circuit.
The 2018 champion had a step on Johnson, who was running in her first NCAA individual final, 3:03.12 to 3:03.30, but 200 meters later Hull hadn't stretched the lead. Johnson was in perfect position to strike.
Hull was the big favorite coming into the race having not lost a track final 1500m and above in over a year. But Johnson gradually emerged as a worthy challenger this season, and her 4:09.50 was the fastest in the nation coming in. But still, the junior was a wildcard entering the meet; a year ago she ran 4:11 in the West prelim and then finished dead last in the 1500m prelims in Eugene. From 24th to first would be a tough mountain to climb, especially with Hull looking unbeatable of late.
Last year, Johnson watched the NCAA final from the stands at Hayward Field as Hull sprinted to victory with a thunderous roar of Oregon supporters behind her, but a season later Johnson was right next to the reigning champ with a half lap remaining. Johnson figured that she only had one move to pass the strong-kicking Hull and hold her off, and that move came with 75 to go as the Cowgirl powered past Hull on the outside.
We don't want to just compete, we want a TITLE today???

pic.twitter.com/zeqTnhvnnE

— FloTrack (@FloTrack) June 8, 2019
Hull, no doubt spent from trying her best to stave off Johnson, who was clipping at her heels for 350 of the final 400 meters, had run out of gears by the time Johnson went around. She was defeated despite a heroic attempt at a title-defense. But the runner-up was still thrilled with her performance and the time it produced.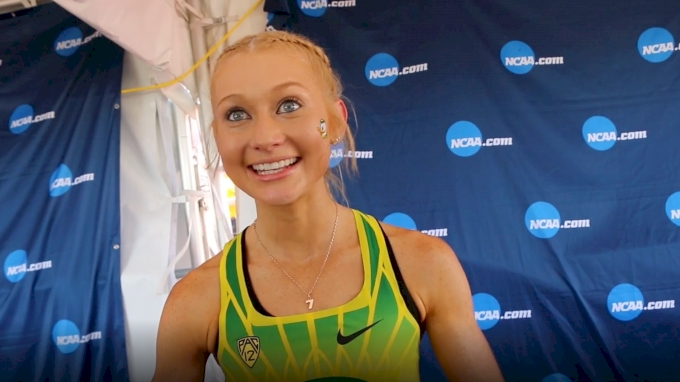 Unlock this video, live events, and more with a subscription!
Get Started
Already a subscriber? Log In
"I couldn't have asked for anything more than that," said the Australian. "That's the world standard, it just opens up so many doors."
The Oregon star wanted to make it fast, and she executed her race plan to take the lead before the final sprint. Johnson just had the last little oomph that Hull didn't, and afterwards the pair reveled in their massive times.
"As soon as I finished, Jess came up to me and was like, 'Dude, we just ran the world standard," said Johnson. "I'm shocked. I'm really shocked."