The 2019 NCAA season may be over, but a thrilling four days in Austin reaffirmed the stardom of some top collegiate stars on the global level and introduced others to that upper echelon as well.
Here were the top 10 winners from the 2019 NCAA Outdoor Championships:
10. Allie Ostrander
Not only did Boise State distance phenom Allie Ostrander become the first woman to win three straight steeple titles, but she also provided arguably the soundbite of the entire meet in her hilarious post-race interview:
"I feel so hot right now, and not in the attractive way, I feel like I'm really low on the scale in that department."@allie_ostrander wins her third NCAA steeplechase title in 9:37.73. The heat hasn't taken a toll on her humor. pic.twitter.com/D7MqgPh8iU

— Chris Chavez (@ChrisChavez) June 8, 2019
9. Daniel Roberts
Sure, he didn't win, but there's no denying the huge role that Kentucky's Daniel Roberts played in pushing Grant Holloway to GOAT NCAA high hurdler status. His 13.00 tied the former collegiate record that had stood for 40 years, and the new pro should have plenty of opportunities to challenge Holloway over the next decade.
Unlock this video, live events, and more with a subscription!
Get Started
Already a subscriber? Log In


8. Chris Nilsen
South Dakota's Chris Nilsen beat the top pole vaulter in NCAA history in what was the biggest upset of the 2019 outdoor championships. Nilsen picked a great day to have the best jumps of his career, as he hit 5.90m and 5.95m on his first attempts, both personal bests. His raising of the bar so quickly got Mondo out of his rhythm, and bitterly ended what had been a perfect first, and last, collegiate season for the European champion.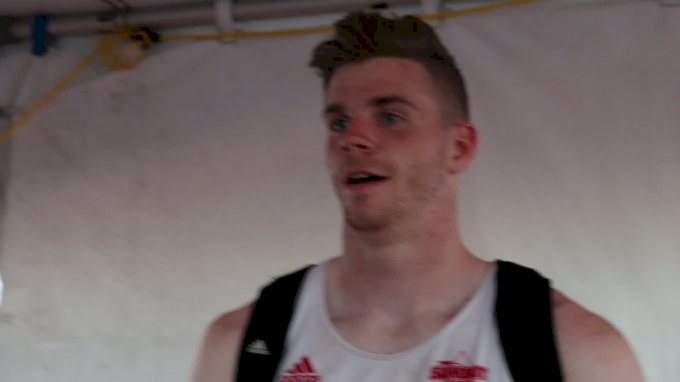 Unlock this video, live events, and more with a subscription!
Get Started
Already a subscriber? Log In
7. Anglerne Annelus
Repeating any national title is a difficult thing to do, and that was particularly true for USC's Angie Annelus as she had to run the fourth-fastest 200m in NCAA history (22.16) to do so. Sha'Carri Richardson had all the momentum after her electric 100m run, but Annelus was able to remain calm when the star freshman drew even with her and rode her strength to a second-straight crown.
It's all about the lean!

Angie Annelus goes 🔙2️⃣🔙 as the #ncaaTF 200m Champion with a WORLD LEADING 2️⃣2️⃣:1️⃣7️⃣

No. 4️⃣ ALL-TIME COLLEGIATE pic.twitter.com/xDC7VYv9gD

— NCAA Track & Field (@NCAATrackField) June 9, 2019
6. Bryce Hoppel
Kansas junior Bryce Hoppel capped a 19-0 2019 season in the 800m on Friday by following the same script he's been using all year: smoking everyone in the final 100m. After mowing down Texas A&M's Devin Dixon in Austin in a 1:44.41 PB, Hoppel said what has become abundantly clear throughout his incredible tear: "I don't think anyone can beat me in the last 100m if they're right there with me."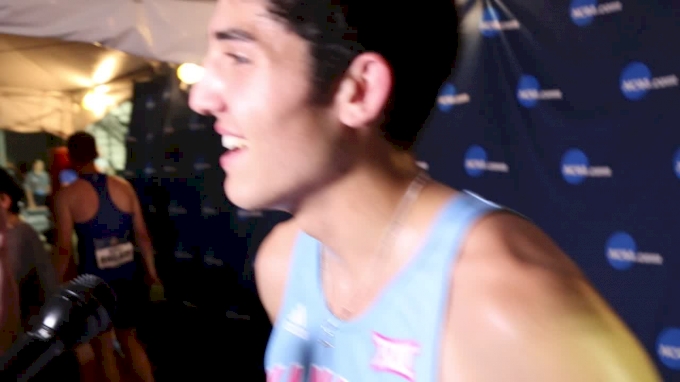 Unlock this video, live events, and more with a subscription!
Get Started
Already a subscriber? Log In
The next "anyones" to try to combat Hoppel's thus-far unbeatable kick will be Clayton Murphy and Donavan Brazier at USAs.
5. Sinclaire Johnson
Defeating Jessica Hull is no easy matter— no woman had topped the Oregon star in races 1500m and above in over a year, after all— and doing so in record-breaking fashion in oppressive heat was a remarkable star turn for Oklahoma State junior Sinclaire Johnson. Johnson made all the right tactical choices, never touching the lead until the last moment, and flashed world-class strength and speed en route to a 4:05.98 NCAA Championships record.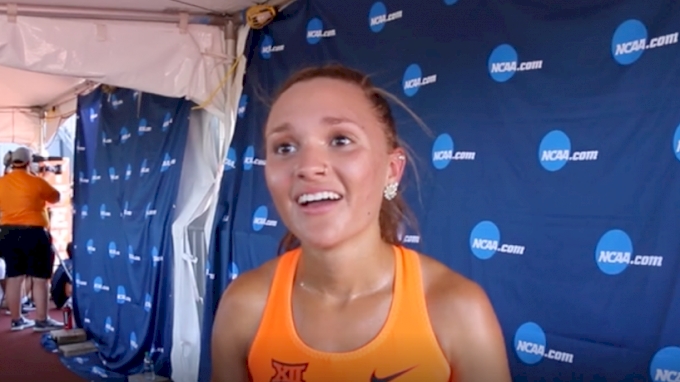 Unlock this video, live events, and more with a subscription!
Get Started
Already a subscriber? Log In
4. Janeek Brown
Her's was somewhat lost in the avalanche of records and breakthrough victories in Austin, but Janeek Brown's 12.40 victory in the 100m hurdles was not only a world lead and the second-fastest in NCAA history, but also a national record for the 21-year-old Jamaican. Over the last three seasons, 12.40 has only been eclipsed by world record holder Keni Harrison and reigning Olympic champion Brianna McNeal, who also happens to own the 12.39 collegiate record that Brown just missed.
No. 1️⃣ in the world....JANEEK BROWN!
pic.twitter.com/NjsA1SStSp

— FloTrack (@FloTrack) June 8, 2019
3. Divine Oduduru
The Texas Tech star didn't break the 19.69 200m collegiate record like I thought he would, but the second-fastest 100m in NCAA history (9.86) plus an improvement on his No. 2 all-time 200m (19.73) firmly established Divine Oduduru as the best 100-200 two-way star in collegiate history. And if he returns to the Red Raiders next season, there's little doubt that he'll break both sprint NCAA marks based on the remarkable weekend he had in Austin.
COLLEGIATE LEADER ✅
WORLD LEADER ✅#ncaaTF Champion ✅

9️⃣.8️⃣6️⃣ pic.twitter.com/nXDx3vWDiQ

— NCAA Track & Field (@NCAATrackField) June 8, 2019
2. Grant Holloway
Holloway's legacy at the highest level of NCAA track and field extends much further than what he did in the hurdles. Yes, his collegiate career will primarily be remembered for finally ending Renaldo Nehemiah's 40-year reign atop the 110s with his 12.98 in Austin, and before that, for setting the 7.35 60m hurdles American record indoors. But Holloway's contributions outside of his specialty were transformative, too.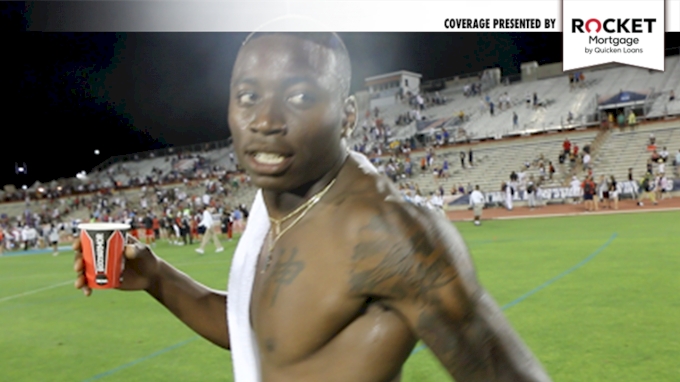 He picked up a new event indoors in 2019, the 60m, and proceeded to win a national title. Then he closed his Florida career with a 43.75 anchor leg on the 4x4, a race he didn't have to run but one he managed to use to further highlight his otherworldly range and commitment to his team. Before that, Holloway ran third on the Gators' 37.97 4x100m collegiate record. It was the last ride for an all-time great before he turned pro, and Holloway somehow elevated his game further as he departed the NCAA.
1. Sha'Carri Richardson
There was a moment in the pre-championship press conference where I asked North Carolina A&T's Kayla White and Texas' Teahna Daniels what sort of time they thought it would take to win the women's 100m final. They both quickly agreed that a world lead was a sure thing— White had it at 10.96 heading in— before White took it a step further.
"I definitely think 10.8, 10.7," the A&T senior said. I'll admit that I kind of rolled my eyes at that comment by White. A world lead, sure, that's a safe bet with four sub-11.00 women on the same start line, but 10.7? Only one woman, Dawn Sowell, had run that fast in collegiate history, an altitude-assisted 10.78 that had stood for 30 years. No chance in hell somebody comes close to that in Austin, I was thinking.
I was wrong, and credit to White for her expert prognostication. Little did I know that LSU freshman Sha'Carri Richardson was prepared to launch into the stratosphere of track and field stardom with a 10.75— a collegiate and world junior record— on Saturday that could have been faster if she had run through the line. I'm so glad she didn't, however, as the time plus the celebration will be seared into my memory forever.
SHA'CARRI RICHARDSON!!!!! 1️⃣0️⃣:7️⃣5️⃣

WORLD JUNIOR RECORD ✅
WORLD LEADER ✅
COLLEGIATE RECORD ✅
SCHOOL RECORD ✅ pic.twitter.com/n91WHBdCty

— NCAA Track & Field (@NCAATrackField) June 8, 2019
Her scorching 100m received most of the attention, but the 200m was not a bad encore. Richardson's 22.17 runner-up finish broke another world junior record, this one an Allyson Felix-held mark that had stood since 2004.
Sha'Carri Richardson was on the cusp of stardom before this weekend, but in the span of two races the 19-year-old showed she just may become an all-time great.