2019 DI NCAA Outdoor Championships
Why Allie Ostrander Is Taking A Stand Against Body-Focused Commentary
Why Allie Ostrander Is Taking A Stand Against Body-Focused Commentary
"You look at Allie and all the things she's done and all her stats, and her weight should not be one of those stats."
Jun 24, 2019
by Johanna Gretschel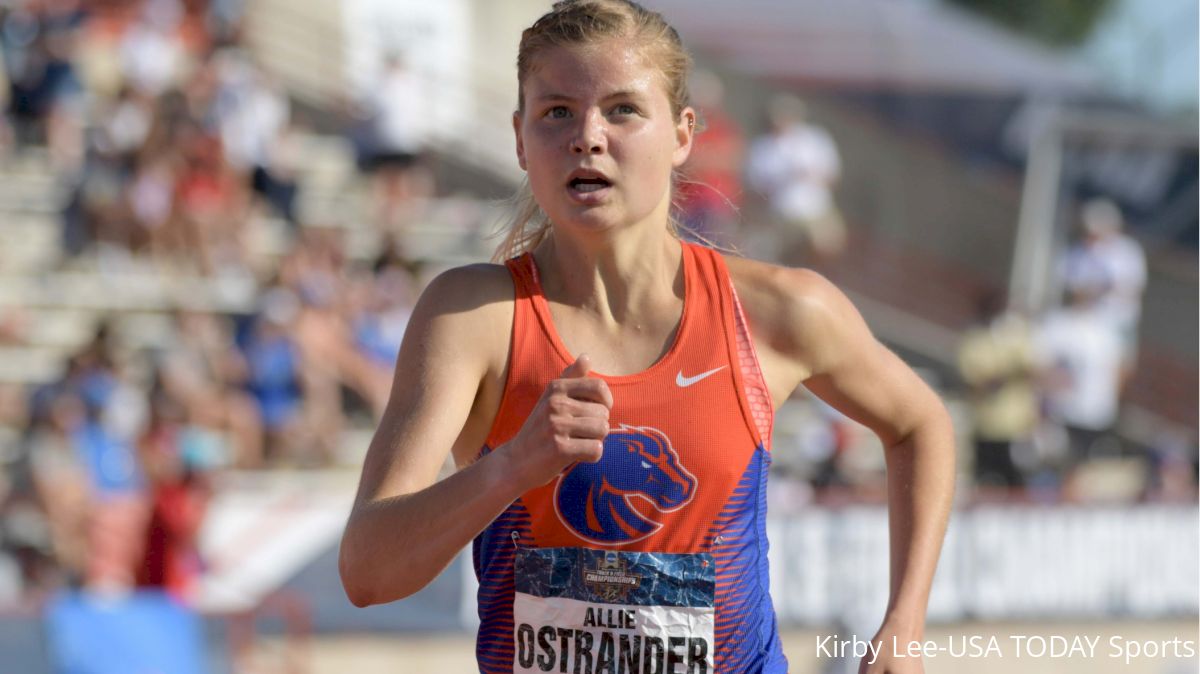 With two laps to go in the NCAA Division I women's steeplechase final at the University of Texas' Mike A. Myers Stadium earlier this month, Boise State's Allie Ostrander surged to what would be a winning lead, and her third straight national title in the event—a streak no other collegiate woman can claim.
But during that surge, in the most critical moment of her race, the redshirt junior was briefly taken out of her zone when she heard in-stadium announcer Mike Jay broadcasting her height and weight ("incorrectly," she'd say later) to the crowd of track and field fans gathered in Austin, Texas.
"I had a moment where I was like, 'that's a little strange,' but obviously, the race was more important than me milling over the comments," she said over the phone this week from Idaho, where she's training to compete against the world's best steeplers at the Prefontaine Classic next week. "Later that night, I was ranting to my teammates and my sister [Taylor] about it and I was just frustrated that it seemed like a recurring thing every year."
Last year, Ostrander was the subject of body-focused commentary from ESPN pundit Dwight Stones, who called her the "baby-faced assassin" and said she looked like she was just playing with her Barbies.
She was still thinking about Jay's comments the morning after the race. After sharing a draft with her sister, Taylor, a former Williamette University steeplechaser, ("she said, 'that's awesome, you'll have a positive response,' and that gave me the confidence to post it"), Ostrander hit "share" on instagram to publish her frustrations with an audience of more than 20,000 followers.
Because it's the internet, a few naysayers showed up in the comments and Ostrander's direct messages, including one user who called the national champion "a cancer for the sport."
"Some people commented that height and weight is a huge part of athletics and I don't disagree—obviously, body composition is a big part of the sport, but they weren't saying it in a scientific way," Ostrander said.
But, overall, the comments were overwhelmingly supportive. The post went viral in the track and field world, racking up more than 12,000 likes and garnering supportive comments from several elite collegiate and professional female runners about their own experiences with inappropriate and sometimes just plain weird commentary.
World champion steeplechaser Emma Coburn wrote, "One time a commentator said that I was '120 pounds tall.' Not sure what that even means," to which 2013 U.S. steeplechase champion Nicole Bush responded, "We obviously need more women behind the mic."
Olympian Kara Goucher also chimed in: "So good Allie!! You are a beast on the track/cross course and a champion for women everywhere!"
Colorado Buff Dani Jones, whose 5K win in Austin marked her fourth NCAA title, wrote, "THANK YOU for voicing this. All I ever hear anymore is 'the pretty girls get the contract' and it drives me insane. Judge my performance!!"
BYU's Erica Birk-Jarvis, who placed fifth in the steeple final, wrote, "During the Steeplechase final I heard the announcer stating your weight... all I could think of for several laps was why in the heck he said that!! It was not his place to talk about that. I was upset by his commentary."
Charlotte Prouse of New Mexico, a two-time NCAA runner-up to Ostrander in the steeplechase, wrote, "LOUDER FOR THE TERRIBLE ANNOUNCERS IN THE BACK."
Prouse said she doesn't always notice the public address when she's racing, but she did at NCAAs.
"I definitely remember hearing that, being like, 'that is not the first thing you should say,'" Prouse said from Albuquerque, where she's training in the hopes of qualifying for the IAAF World Championships later this year. "Maybe because it was one of those comments that was really weird, or at a time in the race when I wasn't zoned in [as much] as I should be. I remember being really taken aback.
"You look at Allie and all the things that she's done and all her stats and her weight should not be one of those stats. [You should talk about how] she has one of the biggest ranges in the NCAA, not how much she weighs. You never know who's going to be in the audience and who might take that to heart and allow that to eat away at them."
Jay did one better than Stones ("... Lighten up. We're fans of hers!") and apologized for the comments on Twitter.
I am the guilty party and I feel absolutely terrible. I have been a fan of Allie O & have known the @BroncoSportsTF staff for many years. But that is no excuse. I meant my comment as a compliment, meaning she was tough & strong regardless of stature. I am sick about this. https://t.co/BSkSGoQccN

— Mike Jay/Next Level (@MikeJaytrackxc) June 14, 2019
Jay and Stones aren't bad guys. But their choice of language in the past two years reveals the inherent sexism of dialogue around women's athletics, a larger trend that's somehow still the focus of global sporting events like the World Cup. Body-focused discourse becomes dangerous in a sport like long-distance running, where, as Ostrander and Prouse confirm, eating disorders and body dysmorphia are major issues.
"Being in the NCAA as long as I have and meeting a ton of people [in athletics], it's something that everyone deals with and not just in running," said Prouse, who has written several blogs about mental health and distance running since transferring from the University of Washington to New Mexico.
"Body size and this mindset of an ideal way of looking for distance running is not only something that's brought up by commentators and spectators and coaches—it becomes part of your own mindset. It becomes something that everyone expects."
Ostrander cultivated a large following among track and field fans since winning Nike Cross Nationals in 2014 as an admittedly petite high schooler hailing from Alaska, a seemingly exotic locale that doesn't produce a ton of standout distance runners. She's long fielded insensitive remarks about her short stature; she's just stayed quiet about it until now.
"There have always been comments," she said, "and it's not always from commentators. Any spectator can make a comment like that. It's always bothered me. I think a lot of the time, people are pretty unaware of the impact comments like that can have on a person and I don't mean to say that I'm emotionally traumatized from it, but people are unaware and just negligent. The comments about Barbies seemed really unprofessional to me. I don't think the commentators are trying to be mean, but that one hurt."
At the time, she shrugged it off with what fans have come to know as her signature humor. She captioned an instagram photo of her 2018 NCAA steeplechase win with "Smiling because @espn thinks I still play with barbies, but I actually prefer G.I. Joes #jokesonthem #nicetry."
This year, she felt compelled to use her platform to take a stand.
"I think that joking in commentary is great, and if it helps more people watch track and field, it's awesome, but I don't think the joke should be at the athlete's expense," Ostrander said. "I think a lot of it is just awareness and education. If commentators are aware of what sorts of comments can harm an athlete emotionally and have more background in the sport, they'll have other things to talk about that have more to do with ability or history of the event."
Based on Ostrander's career trajectory—in addition to the NCAA titles, she was eighth at the 2016 Olympic Trials as a college freshman—commentators should have plenty of opportunities to make it up to her in the coming years.