2019 Prefontaine Classic
The Pre Classic Will Reshape The Stanford Record Book
The Pre Classic Will Reshape The Stanford Record Book
How many stadium records could be broken at Sunday's Pre Classic? How about all of them.
Jun 27, 2019
by Kevin Sully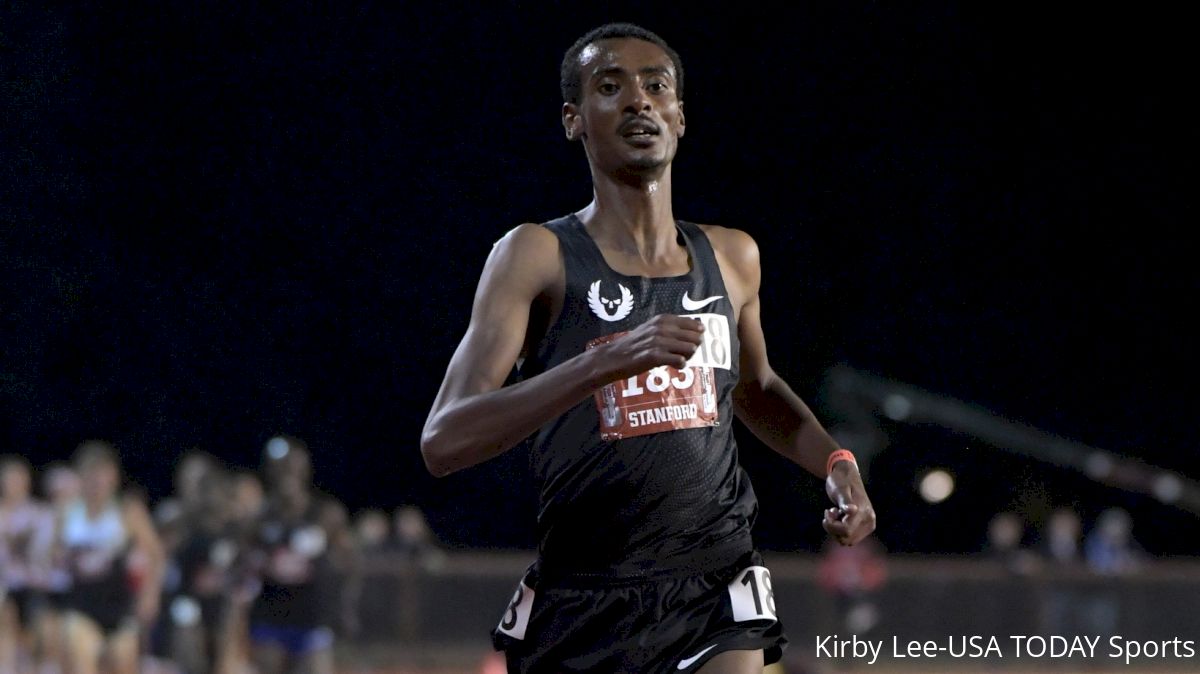 As you watch the Prefontaine Classic this weekend, spare a moment for the Cobb Track record book. The facility at Stanford University has hosted top-flight meets in the past and its yearly Payton Jordan Invitational churns out quick distance marks. But it's nothing like the Prefontaine Classic. This year's meet, relocated due to the demolition/reconstruction at Hayward Field, will permanently reshape the stadium record book.
And since the meet, or anything like it, isn't coming back to Stanford any time soon, these marks will stay for a while.
Yes, this is probably the eighth or ninth most interesting storyline in the Pre Classic. Still, I was curious if one meet could go 17 for 17 in stadium records. Turns out, there's a chance.
Below, I ranked the records from most to least vulnerable.
Tier 1: Just Need To Stay Upright
1) Men's 2 Mile: Jeff Fishback 9:06.8, 1962
This is the oldest of all the records (Fishback made the 1964 Olympic team) in play on Sunday and unless the entire men's 2 mile field falls down at least twice, then it's gone. Last year's 2 mile at Pre was considered slow and they still ran 8:20.
2) Women's 3000m: Kara Goucher 8:54.82, 2000
Based on the names in the field (Genzebe Dibaba, Sifan Hassan, Hellen Obiri) the winning time will be in the 8:20s.
3) Women's 3000m Steeplechase: Emma Coburn 9:28.26, 2013
Coburn (before she was a world champion) has this record. She's in this race and will be one of the 10 women in this field that go under 9:28.
4) Women's 800m: Nicole Teter 1:58.76, 2002
Caster Semenya is a consistent bet for a sub 1:58. During her win streak, she was typically between 1:54 and 1:57 in Diamond Leagues. She'll add another record to her collection on Sunday.
Tier 2: Weather Permitting
5) Men's 100m: Maurice Greene 9.99, 2002
Unless there's a stiff headwind, or a cold snap comes through the Bay area, Christian Coleman is going under 9.99. A better question is how many more go under 10 seconds.
6) Women's 100m: Chryste Gaines 10.96, 2002
After Sha'Carri Richardson and Shelly-Ann Fraser-Pryce dropped 10.7s, this event took on new life. In a deep field that includes Richardson, Fraser-Pryce, Tori Bowie and four other women who have run under 10.90 in their career, it's going to take at least a 10.8 to win.
7) Women's 200m: Marion Jones 22.35, 2002
With Tori Bowie moving to the 100m, this event isn't as deep. But Elaine Thompson just ran 22.00 and Dina Asher-Smith has a season-best of 22.18, so it's not looking good for Marion.
8) Men's 400m: Tyree Washington 44.33, 2003
Michael Norman has run 400s this year in 43.45 and 44.53. The latter came in the cold of Stockholm, the former was in California. He's back in California, and thus, will be back in the 43s.
Tier 3: Pacer Permitting
9) Men's Mile: William Chirchir 3:52.86, 2001
3:52 is a solid mark, but the Bowerman Mile has such a strong field that I'm confident it will take something under 3:50 to win. Pacing in the Diamond League has been erratic at best this season, but even if the tempo is uneven there's too much talent to let the pace lag.
9) Men's 1500m: Rashid Ramzi 3:34.74, 2005
I'm assuming they will have splits at the 1500m mark of the mile (and I'm also assuming that those times can be used as stadium records). 3:34 converts to just quicker than a 3:52 mile and the fact that it's an en route mark means it might be a tad harder to get than the mile.
11) Women's 1500m: Regina Jacobs 4:01.63, 2003
Laura Muir has run 3:56 and has a predilection for pushing the pace. Just as with the men, nothing is for certain in mid-distance rabbiting and there is a chance for a slow lap that puts them behind schedule. That said, six women in total in this field have broken four minutes during their career.
Tier 4: Still Very Likely
12) Women's High Jump: Amy Acuff/Karol Rovelto 1.97m, 2003
Mariya Lasistkene jumped 2.06 meters last week in Ostrava. At this point, she's more likely to get the world record (2.09m) than not get to 1.97m.
13) Men's 400m hurdles: James Carter 48.12, 2002
This one would be near the top of the list if Abderrahman Samba hadn't scratched. Without him, only one man in this field has run under 48.12 in 2019. However, that man (Rai Benjamin) has done it twice and has a lifetime best of 47.02. He will go under 48 seconds on Sunday.
Tier 5: No Guarantees
14) Men's 110m hurdles: Allen Johnson 13.08, 2002
Every Allen Johnson record is legit and this is no exception. This will be the hardest of all the events on the track. Daniel Roberts ran 13.00 at the NCAA Championships and has also run 13.06 and 13.07 this year. If the break from NCAAs didn't stunt his momentum, then he should have another low 13 in store. Omar McLeod and Sergey Shubenkov are also capable of going under 13.08.
15) Men's Pole Vault: Toby Stevenson 5.85m, 2004
There's plenty of men with 6-meter capabilities, but the pole vault is fickle. I'm not confident enough in my knowledge of the Palo Alto wind patterns to put this any higher on the list, but it's still more likely than not that someone will go over 5.85m.
16) Women's Shot Put: Jill Camarena-Williams 19.54, 2012
Michelle Carter, Christina Schwanitz and Lijiao Gong all have lifetime bests over 20 meters. Gong and Chase Ealey are tops in the world this year.
17) Men's Shot Put: Adam Nelson 22.22m, 2002
Nelson's throw is legit--the third best of his storied career. The only reason it's vulnerable is Ryan Crouser and Tomasz Walsh have been throwing over 22 meters with regularity. Crouser's 22.74m throw from April was the seventh best throw in history and the farthest toss since 1990.