2019 Sunset Tour
Coming Out Made Nikki Hiltz The Runner She Is Today
Coming Out Made Nikki Hiltz The Runner She Is Today
"You know how athletes say, 'thank you to my haters, you're the ones who motivate me'? I never got that. And now, oh shit, I get it. I'm so fired up."
Jun 28, 2019
by Johanna Gretschel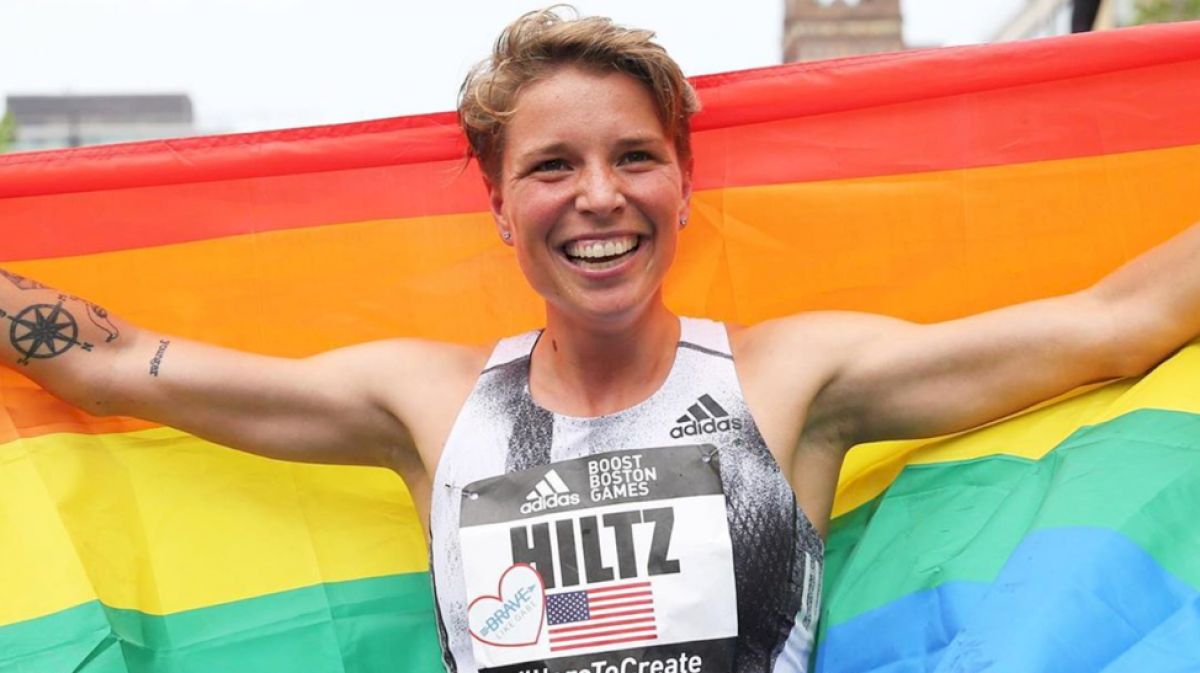 Nikki Hiltz's instagram feed is filled with running photos, rainbows, her girlfriend Therese Haiss, glamour shots of the gorgeous San Diego beaches where they live, and, recently—playing on a loop in her story—screenshots of homophobic comments and direct messages.
The former All-American at the University of Arkansas is a first-year professional runner for adidas and she's also gay, two facts of her life that didn't necessarily have anything to do with each other in the public eye until earlier this month when Hiltz won the mile at the adidas Boost Boston Games.
After the victory, which improved her season record to an impressive 6-1, an adidas brand rep draped a rainbow flag over her for the post-race photos. An image of the celebration on adidas' main instagram account in honor of Pride Month garnered nearly 150,000 likes. And then the negative comments started flooding in.
"I was like, 'Uh oh, here we go,'" Hiltz said.
The truth is, Hiltz said, she's been lucky enough to this point to avoid any overt homophobia in real life.
"My parents were so supportive when I came out to them, my teammates and coaches at Arkansas were so supportive," she said. "I know the world is divided and there are people out there who, for whatever reason, don't support LGBTQ people, but it was definitely the first time it was in my face.
"As soon as I saw [the comments], I thought, 'I have to post these.' We can get so caught up in our liberal bubbles of San Diego or Boulder that we think it's solved, everyone loves everyone, it's fine, it doesn't matter. People need to see that homophobia is still very much a thing and put them on blast."
Haiss, a fellow pro runner for The Mission Athletics Club and Razorbacks alum, noticed the comments first and told Hiltz not to read them ("of course, I read every single one"). They decided to brainstorm snarky comebacks, which Hiltz then posted in her stories—inadvertently turning the insta haters into racing inspo.
"My phone just blew up," she said. "[People] sent comments and DMs, like, 'dude, you're an inspiration to me,' 'because of you I came out to my parents,' 'don't let the haters stop you.' It was kind of a therapeutic thing to put these negative comments out there and get this positive feedback.
"You know how basketball players or other athletes always say, 'thank you to my haters, you're the ones who motivate me'? I never got that. And now, oh shit, I get it. I'm so fired up. 'Stop rubbing it in my face, you're gay,' like, 'oh, you think that's rubbing it in your face?' I feel like I'm on a whole new level of motivation to change the world."
If you haven't met Hiltz before, this is probably a good time to mention that yes, she most definitely radiates BDE. You basically have to if you want to be an elite athlete, and especially an elite track and field athlete, where so few people have a chance to succeed at the professional level. Hiltz has proven herself to be one of those few so far with a nearly flawless freshman pro season. In addition to that 6-1 season record (6-0 vs. Americans), the California native dropped her personal records in the 800m and 1500m to 2:01.37 and 4:05.56, respectively, earning the IAAF World Championships standard in the latter event. She's only one second away from the Olympic standard.
Watch Nikki Hiltz run her 1500m PR at the 2019 Portland Track Festival: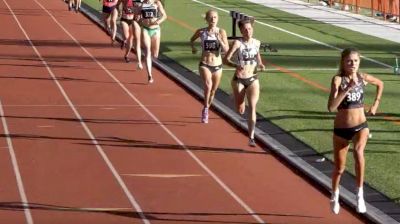 Unlock this video, live events, and more with a subscription!
Get Started
Already a subscriber? Log In
She placed fifth in the mile at USATF Indoor Nationals and, up until a few weeks ago, her main goal was to repeat that placement at the outdoor championship.
'I really hope your goals have shifted,' Mission AC coach Terrence Mahon said to Hiltz at their most recent one-on-one meeting.
"With this momentum, all of a sudden you have more belief in yourself and abilities," she says. "I've seen a huge change in my mindset in addition to physically getting fitter. I'm not afraid to say my goal is to be top three at USAs."
It's certainly a worthy goal for the woman who was the NCAA runner-up for 1500m the past two years in a row, with last year's silver medal coming on the heels of a gruesome knee injury. Hiltz has always been a standout runner—she was a California state champion and Foot Locker finalist in high school, and an NCAA finalist as a redshirt freshman at the University of Oregon. But she dealt with her share of injuries and plateaued during her first year at Arkansas, where she transferred after her athletic scholarship at Oregon was reduced.
At the same time, she was struggling with her sexuality.
"When I was younger, I started to realize I was bisexual and really didn't like that part of me. So I buried it super deep down, never went there. When it came to relationships, I just dated guys," she says. "It wasn't until college—you're finally away from your family, you're living alone for the first time, I was in liberal Eugene, Oregon, with these LGBTQ classmates—that this piece of me that was buried started to resurface."
Haiss was actually the first person Hiltz came out to, when both women were student-athletes at Oregon. A few teammates and close friends knew, but Hiltz wasn't publicly out. Her parents still didn't know, and she didn't post about it on social media.
"So I was half out of the closet, and then I transferred to Arkansas and went fully back in the closet. The fact that it was a red state, I wasn't sure where everyone stood on everything—that's what it was more than anything," she said. "Obviously, Therese knew. After my second year at Arkansas, I was like, 'no, I need to tell my parents.' I had started dating and, like everyone else, I want to post a picture and have people comment 'you guys are so cute' or 'couple goals.' I was done hiding. I'm proud of my girlfriend and I want to post about it."
That was June of 2017—just two years ago, both a lifetime and no time at all—and that's when Hiltz started to get fast enough to consider a professional career in the sport.
"That's when my running took off," she said. "That season I got second at NCAAs and sixth at USAs. It was this weight… this huge weight was lifted."
Now, when she looks at those photos of herself in Boston—fresh from a hard-fought victory, draped in a rainbow flag—she thinks of what it would have meant to see someone like her, out and proud and one of the fastest women in the world, while she was in high school. Maybe she would have taken a girl to her senior prom.
"That shame or embarrassment I felt when I was younger is completely gone. I'm the opposite of ashamed," she said. "I'm proud. That's what pride is all about for me."
Watch Nikki Hiltz run the 1500m at the 2019 Sunset Tour LIVE on FloTrack on Tuesday, July 9!