2019 Prefontaine Classic
Pre Classic Recap: Coleman Goes 9.81, Hassan Scorches 8:18 3k
Pre Classic Recap: Coleman Goes 9.81, Hassan Scorches 8:18 3k
Dramatic distance races, two huge women's sprint upsets and several fast times made the day in Palo Alto at the 2019 Prefontaine Classic.
Jun 30, 2019
by Lincoln Shryack
The 2019 Prefontaine Classic, the seventh Diamond League meeting this season, went down on Sunday at Stanford. Dramatic distance races, two huge women's sprint upsets and several fast times made the day in Palo Alto, with the world's top track stars making their annual pit stop in the United States.
Here were the highlights at Pre:
Men's 100m: Coleman Handles Gatlin Challenge, Lowers World Lead To 9.81
If I had to award a hypothetical 2019 Pre Classic MVP award, it would no doubt go to Christian Coleman, who won the men's 100m and lowered his world lead to 9.81 at Stanford.
9️⃣.8️⃣1️⃣ by Christian Coleman?
pic.twitter.com/hrrPfeQaL4

— FloTrack (@FloTrack) June 30, 2019
The 60m world record holder shot out of the blocks like a rocket per usual, but as opposed to his dominant Oslo race which he ran virtually alone, Coleman had to work hard to keep his advantage as reigning world champion Justin Gatlin had a great day himself. The 23-year-old kept his composure and never allowed the 37-year-old to draw even, running the second-fastest time of his career.
Gatlin may have taken the loss, but 9.87 was a huge performance that suggests he can still win a medal this season despite his age.
Women's 3,000m: Hassan Blasts Fastest Outdoor 3k Since 1993
Sifan Hassan toppled an all-star field in the women's 3k that included world champions Genzebe Dibaba and Hellen Obiri, and in the process put down a time the likes of which haven't been seen since the shady, drug-rumored days of the Chinese female distance runners in the early 1990s.
Sifan Hassan absolutely BODIES the 3k and calls it a "nice time"??????

pic.twitter.com/ur5PdxAlME

— FloTrack (@FloTrack) June 30, 2019
The Nike Oregon Project athlete from the Netherlands used a blistering final 1600m of 4:22.71 to win in 8:18.49, the fastest non-Chinese outdoor time in history and the best overall since 1993. The 26-year-old moved to fourth all-time outdoors and broke the European record.
Hassan's 63.38 last lap was more than a second faster than the rest of the field, as she was able to track down Ethiopia's Letesenbet Gidey with 250 meters to go. Gidey wrestled the lead from her countrywoman Dibaba after the pacer stepped off at 1800m, but both were gassed by the time the bell hit and each managed just 66-second final circuits. Gidey was third in 8:20.27, with Dibaba a disappointing fourth in 8:21.29.
Hassan's NOP teammate Konstanze Klosterhalfen also kicked down the Ethiopian pair in the final lap and wound up an impressive second in 8:20.07 to become the sixth-best performer in history.
Men's 2-Mile: Chelimo Comes Up Just Short To Cheptegei
Paul Chelimo very nearly pulled off a stunning comeback in a men's two-mile ultimately won by Uganda's Joshua Cheptegei in 8:07.54.
Chelimo was second in 8:07.59 as he rallied from over two seconds back with 400m to go to come within a breath of a victory. The time left him close as well to Matt Tegenkamp's 8:07.07 American record from 2007, as he moved to second all-time U.S. outdoors.
Chelimo's 56.12 last lap allowed him to blow past Ethiopian Selemon Barega, who led much of the race, but the 28-year-old American couldn't quite get past Cheptegei before the finish line.
For Cheptegei, the 2019 World Cross Country champion, his victory in Palo Alto atoned for his late loss to Barega in the Oslo 3k on June 13.
Men's 400m Hurdles: Benjamin Solos Top-10 All-Time 47.16
With no Abderrahman Samba or Karsten Warholm—the two fastest 400m hurdlers in 2019—in the field at Pre, American Rai Benjamin was expected to dominate the event on Sunday. Dominate he did, but without the aforementioned men in the race to push him, the 21-year-old's 47.16 world-leading time was a mighty impressive and surprising solo run: he ran a top-10 all-time mark in a contest he won by an enormous 1.78 seconds.
What a day for Rai Benjamin?
pic.twitter.com/nqFmSb57X5

— FloTrack (@FloTrack) June 30, 2019
47.16 is also the second-best of Benjamin's young career and a meet record at the Prefontaine Classic.
Kyron McMaster was a distant second in 48.94.
Women's 3,000m Steeplechase: Chepkoech Back To Winning Ways
After briefly losing her spot atop the women's steeplechase with a shocking loss in Oslo, world record holder Beatrice Chepkoech didn't shy away from her aggressive M.O. by blasting from the gun on Sunday and leading wire-to-wire en route to an 8:55.58 victory at Stanford. The time was well short of the Kenyan's 8:44.32 record from 2018, but Chepkoech reaffirmed her position as the woman to beat this season and was never truly tested against a loaded field.
The pace was scorching early on, so much so that American Emma Coburn was well under U.S.-record pace as she clocked a 2:56 opening kilometer. It wasn't a perfect effort from the 28-year-old—she fell over a barrier with just under three laps to go, and might've run quicker with better pacing—but she still ended up with a solid runner-up finish in 9:04.90, the second-fastest time of her career.
Imagine STILL catching second after a tumble????

pic.twitter.com/ek1n11u0Gz

— FloTrack (@FloTrack) June 30, 2019
Behind Coburn, two Kenyans, Hyvin Kiyeng and Daisy Jepkemei, were third and fourth in 9:05.81 and 9:08.45, respectively.
Coburn's fellow Americans, Courtney Frerichs (fifth, 9:09.75) and Colleen Quigley (7th, 9:11.41), ran very well in their season debuts.
Women's 1500m: Faith Kipyegon Returns To The Top, Houlihan Closes Hard For Third
For a moment in the final 200m of the women's 1500m, it looked like defending champion Shelby Houlihan was going to complete her injury return in an exact replica of her 2018 win: a monstrous comeback fueled by a furious late kick.
Despite a stress reaction that postponed her debut until Sunday, Houlihan found herself in a similar position to the one from a year ago at Hayward Field, where she launched a massive attack with a lap to go to win. The scenario played out much the same way at Stanford as the 26-year-old American came out of nowhere—she was more than a second down with a lap to go—but this time Houlihan may have mistimed her move by just a hair as reigning world champion Faith Kipyegon and Laura Muir were able to hold off her charge.
Kipyegon, herself making a comeback after a pregnancy in 2018, won in 3:59.04, with Muir (3:59.47) and Houlihan (3:59.64) second and third, respectively. Sunday was Kipyegon's first race since Sep. 1, 2017.
The Brit Muir, who was beaten by Houlihan by a place at Pre last year, held the lead at the bell but recorded the slowest last lap of the trio. Houlihan's 60.54 was the fastest closer in the race.
Behind the top three, the fast pace netted PBs and Olympic standards for Aussie and 2018 NCAA 1500m winner Jessica Hull (4:02.62) as well as American Kate Grace (4:02.99).
Men's Mile: Cheruiyot Wins Second Straight Bowerman Mile
A solid early pace in the stacked men's Bowerman mile gave way to a tactical affair midway through that left 10 athletes within a second of the lead with just 400m to go. A sub-3:50 clocking was lost with back-to-back laps of 58 and 59 from 400m to 1200m, but Timothy Cheruiyot successfully defended his 2018 victory with a 55.11 last lap to win in 3:50.49.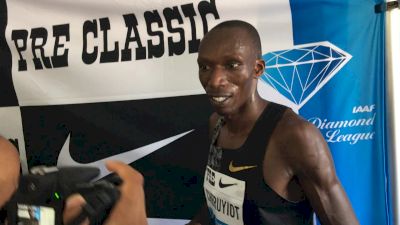 The Kenyan was never seriously challenged as Ayanleh Souleiman was second in 3:51.22.
Sunday was a terrible day for two men who figured to factor prominently at the front, reigning 1500m world champion Elijah Manangoi and indoor mile world record holder Yomif Kejelcha—the pair were 12th and 13th, respectively. Manangoi, the only man to beat Cheruiyot this season by virtue of his world-leading 3:32.21 1500m win in Doha, struggled mightily for the second straight race. 10th in the Stockholm 1500m on May 30, the Kenyan was nearly as awful on Sunday as he ran his last lap in 61.85. He finished in 3:57.48.
Kejelcha, who ran 3:47.01 in March to set the indoor record, found himself on the shoulder of Cheruiyot with two laps to go in 1:56.15. From there, however, the Ethiopian only went backwards as his final 800m was a disastrous 2:02.09. He finished in 3:58.24.
Third and fourth went to the Ingebrigtsen brothers of Norway as Filip held off 18-year-old Jakob 3:51.28 to 3:51.30.
Craig Engels led the U.S. effort in fifth in 3:51.60—a nice victory for him over former Oregon Project teammate and Olympic champion Matthew Centrowitz, who took sixth in 3:52.26. Centro was making his Bowerman Track Club and 2019 debut on Sunday, and he finished well despite starting the race slowly. Only last place finisher Nick Willis (14th, 3:59.55) was slower through the first lap than Centrowitz.
Hear from Centrowitz after his Bowerman Track Club debut at Pre: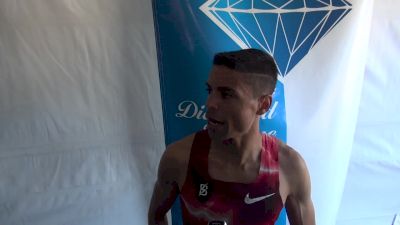 Ben Blankenship was seventh in 3:52.51, and like Centro, notched a 2019 IAAF world standard.
Women's 100m: Much-Anticipated Race Falls Flat
What a strange race this was. Two of the fastest women in the world, Jamaica's Shelly-Ann Fraser-Pryce (10.73 SB) and NCAA champ Sha'Carri Richardson (10.75 SB), both flopped in a women's 100m at Pre that could best be described as a dud. Marie-Josée Ta Lou of Ivory Coast mercifully won in 11.02, a time that would've taken fifth in the NCAA final on June 8.
Aleia Hobbs and Teahna Daniels were second and third in 11.04 and 11.13, respectively.
Richardson was fourth in 11.15, while Fraser-Pryce, who ran 10.73 just over a week ago in Jamaica, finished way back in eighth in 11.39. An odd result to be sure.
With the 32-year-old double Olympic champion Fraser-Pryce and the upstart 19-year-old Richardson, who broke a 30-year-old collegiate record in Austin, facing off for the first time ever, a quick time seemed imminent. But after two perplexing runs from two of the sport's biggest stars in 2019, question marks will follow these women to their next competitions.
Women's 800m: Semenya Wins 31st Straight
When Caster Semenya is allowed to compete in her preferred event, the 800m, the Olympic and World champion always puts on a show. That was the case on Sunday as she won her 31st consecutive race at the distance in 1:55.70.
For Semenya, Pre marked her first 800m since May 4 in Doha, a date that was thought to be her last before the IAAF's testosterone rules forced her to either compete in other distances or take hormone suppressants. However, the 28-year-old won a temporary injunction earlier this month in a Swiss court that allowed her to compete without restriction in whatever event she wanted to, which paved the way for her late entry into the race on Sunday.
Semenya spoke with us after her win at Pre: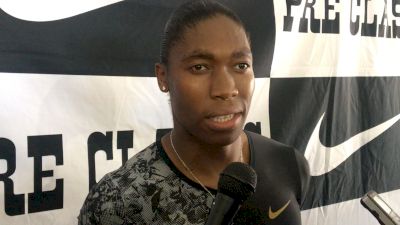 Despite the win, nothing is guaranteed for Semenya in the 800m. The Swiss court will soon rule on the IAAF's response, and that will likely determine whether the reigning world champion will get to defend her title in Doha this October or continue to be in this strange limbo.
But the story wasn't all about the South African, as three Americans performed admirably behind her. Ajee' Wilson, Raevyn Rogers and Hanna Green finished second, third and fourth, each in 1:58. The 24-year-old Green completely skipped the 1:59s, as her PB before Sunday was 2:00.09.
Men's 400m: Michael Norman Wins In 44.62
The time was disappointing, but Michael Norman was victorious nonetheless in the men's 400m in 44.62 at Pre. It was nowhere close to his 43.45 world lead from April, but windy conditions at Stanford likely ruined any chance at a fast time for the 21-year-old.
Michael Norman always comes through with the speed.
pic.twitter.com/vwqdDfH3Ez

— FloTrack (@FloTrack) June 30, 2019
2019 NCAA champion Kahmari Montgomery was second in 45.12 with another American, Fred Kerley, third in 45.33.
For Norman, he is now three-for-three in Diamond League races this season, as he won the Stockholm 400m on May 30 and then beat Noah Lyles with a 19.70 200m world lead on June 6 in Rome.
Men's 110m Hurdles: Underwhelming Race Goes To Spain's Ortega
The men's high hurdles outside of Grant Holloway and Daniel Roberts continues to underwhelm, as Spain's Orlando Ortega won the Pre 110m hurdles in a mediocre 13.24.
While Holloway (12.98) and Daniels (13.00) made the men's 110m hurdles the event to watch in the NCAA in 2019, their more-experienced counterparts have yet to get going this season. Defending world champion Omar McLeod could only manage 13.29 for third, as he was beaten in a photo finish by journeyman hurdler Wilhem Belocian of France.
American Devon Allen was fifth in 13.33 in his outdoor season debut.
Roberts was originally in the Pre field, but scratched earlier in the week.
Women's 200m: Another Stunner As Okagbare Beats Thompson And Asher-Smith
Just like the women's 100m earlier in the afternoon, a surprising winner stole a victory from two of the fastest women in the world.
Nigerian Blessing Okagbare ran just .01 off her personal best to upset Elaine Thompson and Dina Asher-Smith and win the women's Pre 200m in 22.05 out of lane eight. The 30-year-old never relinquished her advantage on the stagger as she held off Thompson (22.21).
The Jamaican Thompson, the 2016 200m Olympic champion, set the 22.00 world lead last week at her national championships, but she couldn't get anything going on the straightaway to rally at Stanford. Asher-Smith, meanwhile, was never in it and was a distant third in 22.42.
The 2018 European champion from Britain, Asher-Smith had won the first two Diamond League 200m this season in Doha and Stockholm.
Men's Pole Vault: Mondo Wins First Pro Competition
19-year-old Mondo Duplantis beat world champion Sam Kendricks and NCAA champion Chris Nilsen with a 5.93m jump:
Mondo Duplantis takes the win at Pre?

pic.twitter.com/lVuR94Z3eu

— FloTrack (@FloTrack) June 30, 2019