Regardless of what happens the rest of her career, whether Sifan Hassan can ever secure that elusive outdoor gold medal or not, her 4:12.33 mile world record on Friday in Monaco was a career-defining performance that cements her spot among the best distance runners in world history.
4:12.33. NEW WORLD RECORD. SIFAN HASSAN🙌🙌🙌🙌 #MonacoDL

📸: @Diamond_League pic.twitter.com/GkxeepEktH

— FloTrack (@FloTrack) July 12, 2019
The Nike Oregon Project athlete by way of the Netherlands toppled Svetlana Masterkova's 4:12.56 mark that had stood since 1996. Outdoors, no one had ever come within a second of the Russian's record before Hassan beat it with a stellar last 809 meters of 2:04.13.
Hassan is now the second NOP runner to break a mile world record in 2019 after Yomif Kejelcha set the men's indoor mark in March (3:47.01).
Modest early pacing allowed Hassan to finish strong as rabbit Olha Lyakhova brought the field through 800 meters in a relatively conservative 2:08.20. Hassan was able to sit on the rail and follow Lyakhova until she dropped out at around 950 meters, at which point the Dutch star had just Ethiopian Gudaf Tsegay and the clock to worry about. Her 61.93 penultimate lap took care of both— Tsegay was fried once they hit the bell, while Hassan still looked spry. She had 4:12 in her grasp if she could just hang on.
With her signature arm-flail exacerbated as she launched into a full-on sprint, Hassan ate up the track frantically as the clock neared her target. She needed every ounce of her world-class speed and strength as she strained across the line just .23 seconds under the old record. Her final lap was clocked unofficially in 61 seconds.
Hassan saw the clock and erupted in celebration, raising her arms to the sky in disbelief before laying on the track with a smile spread across her face.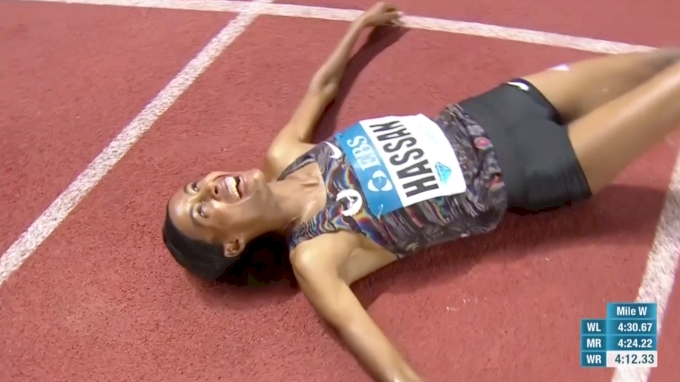 A hug for coach Alberto Salazar afterwards: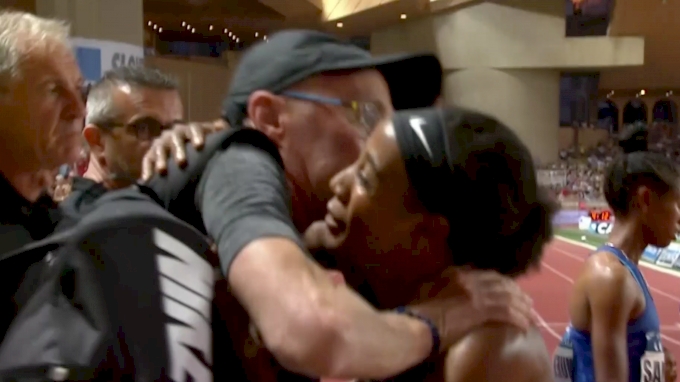 In the past Hassan has been somewhat of a victim of her own skill set, as she's world-class in every distance from 800m (1:56.81 PB) to the half marathon (65:15 PB), but has never quite elevated herself to be the very best in one discipline. Hassan finished fifth in the 1500m at the 2016 Olympic Games and the 2017 World Championships, frustrating results that surely prompted her declaration earlier this season that she would attack the 5k/10k double in Doha at the World Championships.
But those plans are surely fluid now that Hassan has become the greatest miler of all-time. A world record doesn't change the fact that her tactics are still questionable, but avoiding the 1500m now will be a much tougher decision.
(Hassan said afterwards that she now plans on attacking a 1500m/5k double at Worlds, but that's not a reasonable task this season— the finals of both events are separated by just 30 minutes on October 5.)
We caught up with NOP head coach Alberto Salazar after the race, where he shed some light on the toughness that helps make Hassan so relentless in training.
"She will routinely throw up after half a hard workout. But, she'll throw up four or five times and then she'll say, 'All right, I want to keep going, next interval.' She's very tough," Salazar said.
"She'll be laying on the track and people wonder, 'Why aren't you going over to help her?' And I go, 'She's fine!' She'll be up in a second and ready for the next interval."
Alberto Salazar reacts to Hassan's world record: