2019 USATF Outdoor Championships
Elinor Purrier Makes The Jump
Elinor Purrier Makes The Jump
The most decorated athlete in University of New Hampshire history has transitioned smoothly into the professional ranks.
Jul 19, 2019
by Johanna Gretschel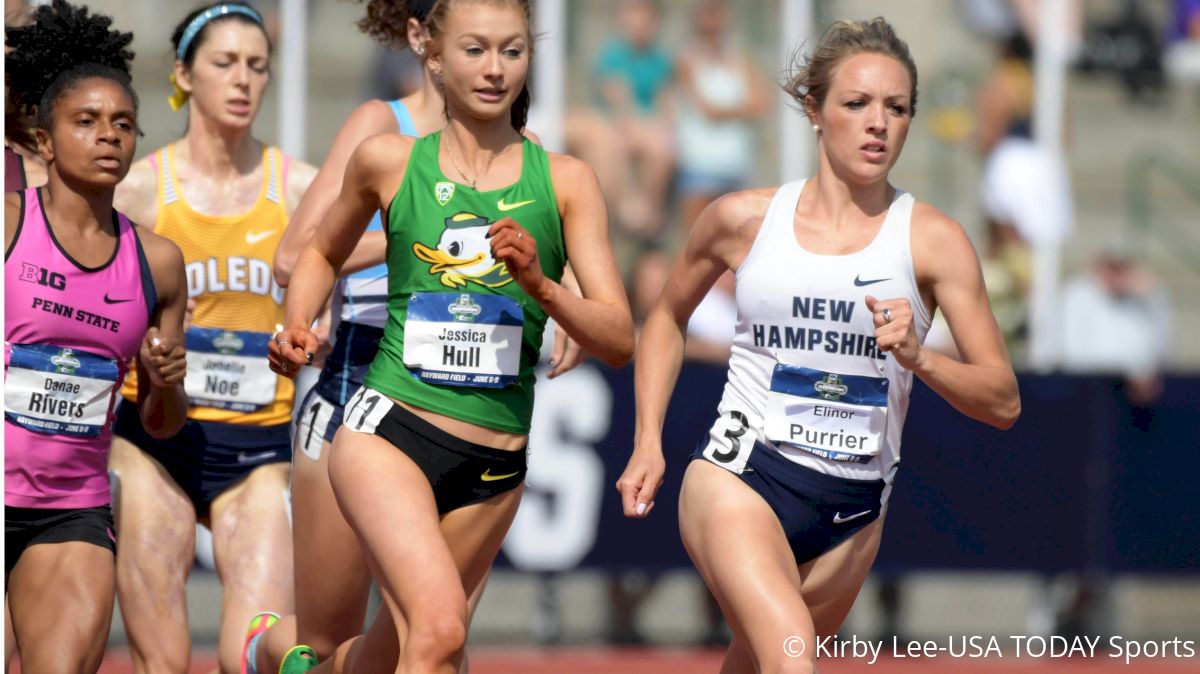 The most decorated athlete in University of New Hampshire history transitioned smoothly into the professional ranks since graduating last year.
The road from successful collegiate runner to solid pro athlete isn't always a smooth or linear one, but Elinor (Elle) Purrier—an 11-time All-American—is already etching her name alongside the sport's superstars. In a wild one-week span in June, the Vermont native unexpectedly achieved the Olympic standard in not just one, but two events, the 1500m (4:02.34) and the 5K (15:08.61), making her the fourth-fastest American this year in the former event and the sixth-fastest in the latter. Rachel Schneider is the only other athlete to run the standard in both the 1500m and the 5K.
We recently talked to Purrier on the phone about adjusting to pro runner life with New Balance Boston and hitting the Olympic standard in multiple events, and her first Diamond League appearance.
Note: Purrier will race just the 5K at the USATF Outdoor Championships next week, but at the time of this interview, she was undecided.
How would you reflect on your first year as a pro?
It's been good. I just passed my one-year anniversary a couple weeks ago and it helped me reflect a little bit on how far I've come in a year. I didn't know what to expect as a pro, and there were a lot of unknowns in the transition—not knowing who my teammates would be, where I was going to be [living], who I was going to sign with, things like that. Even what pro life would be like.
How did you decide on joining the New Balance Boston group?
I'm an east coast girl, for sure. That was a big part of it. I did look other places—on the west coast—but I knew I would be happiest and most true to myself on the east coast. I started researching more and looking more closely at the Boston groups. I thought the dynamic worked well. Mark Coogan, my coach, was actually good friends with Hop, my college coach, and that gave me confidence choosing him.
The dynamic [on the team] works so well. All of the girls are so supportive of each other and down to earth. We're all really tough and can relate to each other really well.
Did you train by yourself in college? What's different about training with the New Balance group?
I did do quite a few workouts by myself [in college], but regular runs, I hardly ever ran by myself. Other people on the team were incorporated into my workouts, so I still had help in those tough workouts. The training now is quite a bit different; definitely have amped it up a little bit.
A little bit higher mileage, that's mostly it. I knew I was ready for that this year. In college, [my mileage] was pretty low—I would increase every year by 10 miles per week. I started at 30 mpw freshman year and got up to, in cross country, in the 60s sometimes. Now, we try to consistently be around the high 60s, low 70s.
I was able to get in more base this fall [not doing cross country], which has really helped.
Watch Purrier's Workout Wednesday from 2018: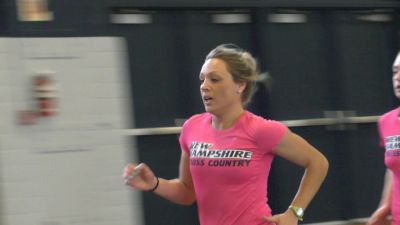 Unlock this video, live events, and more with a subscription!
Get Started
Already a subscriber? Log In
Did it surprise you to get the Olympic standard in both the 1500m and the 5k?
Honestly, it did. The Olympic standard seemed like a serious goal—obviously—I knew it was going to be hard and I was really happy with myself for being able to do that so quickly, back to back.
Editor's note: Elle ran the 1500m standard on June 6 at the Diamond League race in Rome, then ran the 5k standard seven days later on June 13 at the Adrian Martinez meet in Massachusetts.
I honestly did shock myself a little bit, but I knew I was ready for it. I was really happy.
That was just your second-ever 5k race, right?
The [5k] in California [15:23 at Payton Jordan] was my first 5k. I was disappointed in the way it played out. It was not what I was hoping for. I knew there was a lot left in the tank. Everyone who ran that day could run at lot faster than we did. It was at least good to feel what it was like to run a 5k. [Purrier placed fifth, two seconds behind winner Jenny Simpson].
Originally, I was in the 5k at Prefontaine, but they changed that to a 3k, so we decided to race Adrian Martinez to get a standard. It was [kind of a bummer], but it ended up being better because I didn't have to fly all the way to California. I did the races right together and was able to get in a good training block after that.
The conditions weren't optimal in Boston, either. It was a little cold and rainy, but I was definitely happy to get the standard there. I wasn't sure it would happen until towards the end. [Purrier won the race by two seconds in 15:08]. The last lap I was definitely going for the world standard. I could hear my coach yelling and I just sprinted and was able to get it by a couple seconds. Definitely had to push for that.
I led a majority of that race and that takes a lot of energy to do. I definitely feel I could run a lot faster in that event, especially since it was only my second time. I feel like I have a lot more.
What was it like to be race in Rome at your first Diamond League event?
It was really cool. I studied abroad there for a summer in college, so Italy has a special place in my heart. I was super excited to be back there in Rome and competing in the Olympic Stadium. I was pretty nervous for it and being my first Diamond League, I didn't know what to expect.
I knew the race was going to be fast and that's pretty much it. I followed Jenny [Simpson] a little bit in the race. I guess it just gives me a glimpse of what the future looks like. I feel I belong in that field and I ran 4:02, obviously, I still have a lot of work to get up there but I will keep building off that in the years to come. It was really amazing to be racing against those girls anyway. It was an honor to learn from them.
What are some of the challenges of competing abroad and what are your strategies?
When I'm over there, I'm out of my comfort zone so I lose any expectations of being comfortable. I just focus on the race. I was only there for two days before so I didn't even try to get on the time zone. I would sleep in the afternoon, so a night time race was really an afternoon race for me.
It's challenging with different cultures, you never know what's going to be at the hotel [for food]. With night races, I try to eat a big lunch. It's always helpful to bring packets of oatmeal and I ate that maybe three or four hours before the race.
Do you want to pursue the steeplechase again at some point?
[Purrier is a three-time All-American and 2016 Olympic Trials qualifier in the steeplechase].
I'm probably not going to. I feel like I always had more fun in the 15 and mile in college. Steeple was something I tried. My third-ever steeple was Junior Nationals and I ended up having success so then I got known as a steeplechaser but it was never really where my heart was. It's pretty rough on my body, sometimes I would struggle with the barriers, with form and everything. I was burnt out of it.
What's a typical day look like for you?
I usually get up around 8 am and have a cup of coffee -- I make it the night before and just push a button in the morning. I almost always have oatmeal with maple syrup.
Usually, we'll meet around 9 or 10 am and usually run on trails a little out of the city on Battle Road. We'll do 8 to 10 miles in the morning, sometimes less, then some days we go to the gym right afterward. Then I call it lunch, but it's really breakfast, I eat a lot of eggs and toast. I'll have a snack before I go out for my double. We'll double maybe two to three times a week. My day revolves around eating, sleeping and running. I live with one of my teammates, Heather McLean, so we make dinner together a lot or we'll all go out as a group. I have a lot of friends who live around here so they'll come over and hang out on my down time.
Is there anything about the pro athlete lifestyle that took some time to get used to?
Probably taking my rest and sleep more seriously. It's part of my job to take naps and sleep and make sure I get to bed on time. I feel like the culture of me growing up and in college, you didn't necessarily get a lot of sleep and if you did, maybe you were considered lazy. For a pro, it's essential and responsible and what you're supposed to be doing, so that was a big transition, I guess.
What are your long-term goals?
Definitely to make the 2020 team. That's the ultimate goal, just keep PRing and staying healthy and being in this good rhythm. It's a lifestyle, so having all the factors come together to be able to stay in shape for a long time and stay healthy and do well is my ultimate goal.
Would you rather break four minutes in the 1500m or 15 minutes in the 5k?
I think I'd rather break four because breaking 15 is gonna be a little bit easier.