2019 USATF Outdoor Championships
Craig Engels Out-Duels Friend And Mentor Matthew Centrowitz In U.S. 1500m
Craig Engels Out-Duels Friend And Mentor Matthew Centrowitz In U.S. 1500m
Engels joined the Oregon Project in 2017 because he wanted to train with Matt Centrowitz. At USAs, he beat the man who he idolized for years in the 1500m.
Jul 29, 2019
by Lincoln Shryack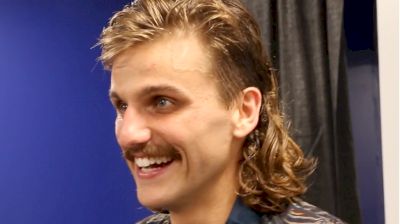 When Craig Engels was weighing his professional options coming out of college in 2017, his biggest focus was joining a group that would allow him to train with the best runners in the world.
Fortunately for him, the Nike Oregon Project had an athlete at the time that happened to compete in the 1500m as well: 2016 Olympic champion Matthew Centrowitz. The chance to train with the Rio gold medalist made the decision easy for Engels.
"I joined because of him," the 25-year-old said three weeks ago at the Sunset Tour meet in California. "I joined because I wanted to train with the best people in the world in my event and he was the best person in the world in my event."
On Sunday at the 2019 USATF Outdoor Championships in Des Moines, Engels upstaged Centrowitz to win his first U.S. 1500m title.
Engels, mullet flowing and his confidence bursting from a spectacular 2019 campaign, held off Centrowitz by four one-hundredths of a second, 3:44.93 to 3:44.97. His last lap, an epic duel that came down to the last five meters between him and his former teammate, was clocked at 51.92.
Beating Centrowitz, who has been the standard-bearer of excellence in the U.S. 1500m for nearly a decade, was extra special for Engels because of the close connection the two shared in their days as training partners. Centrowitz left the group late last year and is now a member of the Bowerman Track Club, but the pair built a whimsical friendship that has persisted.
When told in an interview, three weeks back, that Engels' said he missed his friend since he left the Oregon Project, Centro joked, "Absolutely not. I don't miss him."
Jokes aside, Engels knew that Centrowitz would be the toughest man to beat on Sunday. There's not a better tactician in the world than the three-time outdoor global medalist, so Engels zeroed in on the 29-year-old in his preparation for these championships. For him, that meant obsessing over race footage of Centrowitz, both of his losses, and notably, a win six years ago on the same Drake track as today's race.
"I watched Leo [Manzano], especially Leo, but then I watched his 2013 [U.S. Championships] here because it was the most relevant," Engels said.
Manzano beat Centrowitz at the 2012 Olympic Trials and the Olympic Games, defeats that the young miler analyzed with especially close attention this week. Centrowitz's 2013 victory was also on repeat because of the identical setting.
For the new U.S. champion, watching the man to beat on loop gave him a firm grasp on Centrowitz's tendencies. He exploited them with a combination of technical know-how, increased fitness and sky-high confidence.
"He goes at similar times every time, and I knew I had to go early this time and I did. He was coming that last 50m, though," said Engels.
Going early for Engels wound up meaning that he had the lead with a full 800 meters to go, but crucially, the aggressive move afforded him a position tucked on the rail. He didn't relinquish the spot nor the advantage all the way to the finish.
Holding Centrowitz off in the last 400m— historically money-time for the man who won the Olympic title three years ago by closing in 50.5— became possible for Engels this year as his fitness and belief in himself both exploded.
Up until this year, Engels was primarily known as the fun-loving, mullet and mustache-wearing runner who liked to have a good time outside of the grind of training. His owning of a retro RV replete with shag carpeting complemented that image nicely.
This fan gave Craig Engels a beer after that finish??? pic.twitter.com/Yg4mJxnVv9

— FloTrack (@FloTrack) July 29, 2019
But the Ole Miss grad, who finished fourth and fifth in the 800m and 1500m, respectively, at the 2016 Olympic Trials while still competing collegiately, turned a huge corner this season that has pushed his reputation well beyond that. Now that reputation includes his status as one of the very best 1500m runners on the planet.
Engels avoided altitude training entirely this season after four months last year spent toiling in the mountains with lackluster results.
After placing 10th in the 2018 1500m final, a change was in order. His improvement this season supported that switch up-- he finished as top American at the Pre Classic mile on June 30 in 3:51.60 before running a 1:44.68 800m 10 days later. Both races were big personal bests, and they came while beating Centrowitz twice.
Each time, Engels' confidence grew.
"I'm so much more confident this season. It's a huge thing in running to be confident. At Pre getting fifth was just such a huge thing," he said on July 9 after his 1:44 800m.
Perhaps a Centrowitz without any interruptions in training this season would've had enough to better Engels on Sunday, as the five-time U.S. champion, facing a hamstring ailment for months leading up to the season as well as a recurring shin problem, only raced three times before USAs. His abbreviated prep combined with Engels' breakout season led him to concede that the up-and-coming star was truly the man to beat coming into their battle.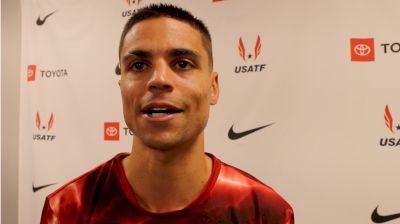 "I would probably put him as the favorite coming into this meet just with how his outdoor season compared to mine," he said.
In the last lap, Centro tried to make his patented move to secure the inside rail, but Engels prevented it.
"I tried to get the pole position right after the quarter [to go], we were kind of arm-checking a little bit. Obviously, I knew it wasn't going to be easy just to go around him, he's a 1:44 guy right now," said Centrowitz.
"I don't know really when I did that if I was actually going to think it was going to be that easy to get it, but I did know that it was going to be pivotal. That could've been the deciding factor right there."
While the man who has kept this event under lock and key for a generation was disappointed to lose, a fifth straight World Championship team was certainly a fine consolation. Plus, as Centrowitz knows, perhaps more than anyone, Engels is a welcome presence at the top of the craft.
"Craig's a fun guy…obviously with his appearance, it's not your typical middle distance, distance running personality," said Centrowitz. "I think it's great. He brings a different spin to the event and to the sport."