2019 USATF Outdoor Championships
Dalilah Muhammad Leads 400m Hurdles Into New Era
Dalilah Muhammad Leads 400m Hurdles Into New Era
Dalilah Muhammad's world record of 52.20 has her reassessing what is possible in the event.
Jul 29, 2019
by Kevin Sully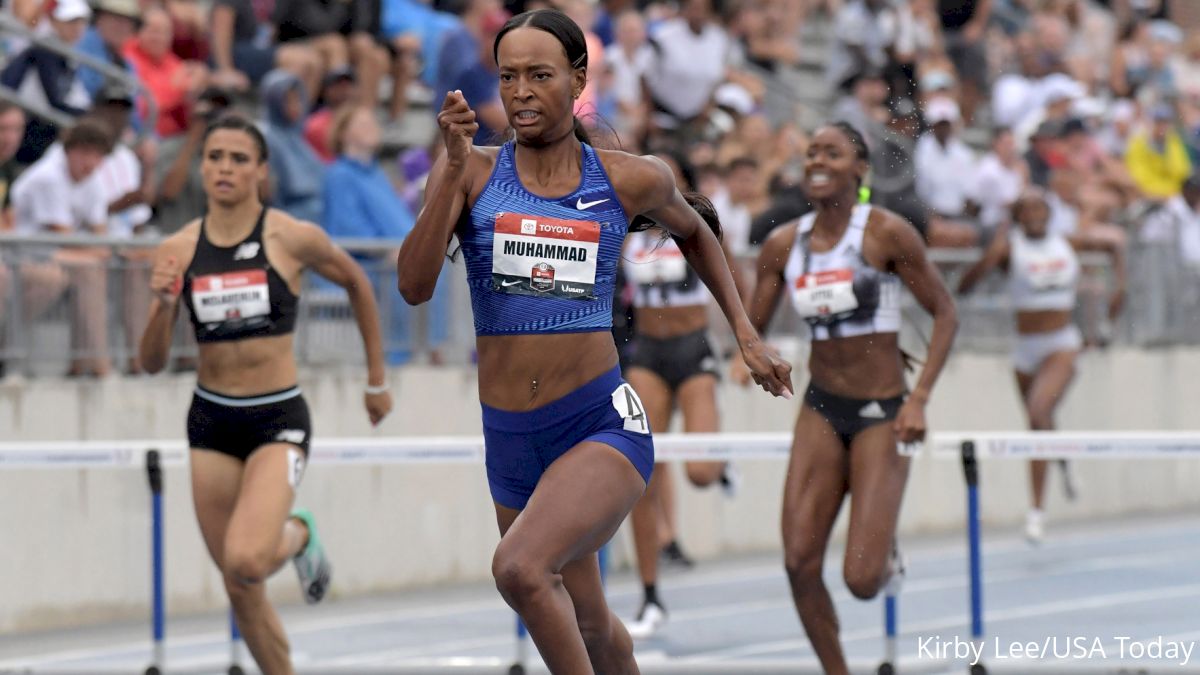 As Dalilah Muhammad settled into the blocks for the women's 400m hurdles, her coach Lawrence "Boogie" Johnson watched on a monitor in the warm-up track. Out of the stadium is where Johnson watches all his athletes compete, free from the fanfare of the crowd and the ability to observe the clear angles that television provides.
Both athlete and coach knew a world record was possible. Muhammad saw it in practice when she was running at, or near, world record pace through eight or nine hurdles.
"I knew that kind of race was there," Johnson said. "You never know if it's going to be the right time."
The field was stout--the three fastest women in the world this year were on the start line--but the weather wasn't ideal. By the time the gun went off, the rain had stopped, but puddles remained.
Still, it turned out to be the right time. Muhammad ran 52.20, beating one of the best 400m hurdle fields ever assembled and breaking Yuliya Pechonkina's world record of 52.34 from 2003.
After the race, Muhammad took a detour to the practice track to find Johnson before she went to drug testing. "I had to come back and see you to make sure it was real," Johnson remembers Muhammad saying.
"It's a hundred percent real," he replied.
The prologue to Sunday's race took place two years ago.
On a hot day in Sacramento at the 2017 USATF Championships, six women broke 54 seconds in the 400m hurdles. Three went under 53. It was the best women's 400m hurdle race in history. Ashley Spencer ran 53.11 and didn't make the team.
"Those ladies, they ran their ass off," runner-up Shamier Little said in Sacramento that day.
Muhammad, the 2016 Olympic champion, won the race in 52.64, tied for the seventh-best mark all-time. It was then that she began thinking the world record was possible.
"Oh wow that's pretty close," Muhammad said when saw the 52.6.
Four of the six from Sacramento were back on Sunday. Because Kori Carter (third in Sacramento) is the reigning 2017 world champion she didn't need to run in Des Moines. Moline didn't enter the meet because of injury.
But that still left the unfortunate math of four women for three spots.
Only McLaughlin had improved her personal best since that race in Sacramento, the other three had not. But they were better in other ways than 2017—more experienced, more consistent— and ready to re-create Sacramento.
But McLaughlin entered as the favorite. In part because she beat Muhammad in Oslo in June and also because McLaughlin's youth indicated a still limitless potential.
"I felt like the underdog in the race," Muhammad.
In Oslo, Muhammad went out hard, aiming for the world record. McLaughlin hit the first hurdle before rallying late to pass Muhammad on the home stretch.
"I took a risk. I wanted to push the backstretch and see what I could do coming home and it wasn't there. I learned from it," Muhammad said.
On Sunday, Muhammad wasn't the first from the blocks. She was in good position down the backstrech, but behind Shamier Little. After 200 meters, Muhammad asserted herself. She made up the stagger on Little to her outside as they came off the final curve. McLaughlin, who was to Little's outside in lane six, was in third, trailing Muhammad like she had in Oslo.
"I could feel the pace being pushed," McLaughlin said.
Muhammad's lead grew in the final 100 meters. She continued to push.
"Sydney has an amazing finish and that's always in the back of your mind," Muhammad said.
Off the final hurdle, she remembered Johnson's instructions to drop her arms in the last 40 meters. "I just was trying to hold on," Muhammad said.
52.19 popped up on the screen before it was quickly corrected to 52.20. McLaughlin came across in second in 52.88. Spencer passed Little off the last hurdle and took third in 53.11, the exact time she ran in Sacramento.
"I'm just really happy to be part of a world record race," McLaughlin said. "I'm shocked."
The 400m hurdles is a multifaceted monster. It's a combination of speed, strength, timing and technique that is a complex puzzle to master
"Dalilah is so doggone smart. She can tell you anything you want to know about her event and her competitors. She is an amazing student of the game. That's what separates her," Johnson said.
"She can make the proper adjustment without having to think about it too long. She's smart enough to recognize what's going on and make a move and make an adjustment on the fly that she has an eye to gauge things very well."
There are still eight weeks until the World Championships in Doha. That means more opportunities to run fast times and a chance for McLaughlin to reassert herself, though she admits there are limits to what you can make up in two months. The collective strength of this group is enough to drop the world record even further.
"I think it's definitely just beginning. If not by me, then the other women," Muhammad said.
After the race, Johnson went back to his notebook to record some fixes. Even the fastest race in history could be improved upon. There was Muhammad's start--she had the slowest reaction in the field--a stutter step at hurdle eight and a clearance on ten that could be tightened up. Could all that add up to a run under 52 seconds?
"Absolutely. 100% without any doubt. And that's the goal," Johnson said.