2019 USATF Outdoor Championships
Houlihan, Lomong Complete Distance Doubles At USAs
Houlihan, Lomong Complete Distance Doubles At USAs
Bowerman Track Club's Shelby Houlihan and Lopez Lomong polished off distance doubles on Sunday by winning 5,000m titles.
Jul 29, 2019
by David Monti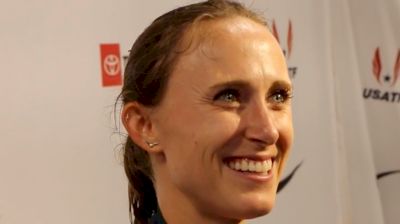 (c) 2019 Race Results Weekly, all rights reserved
DES MOINES (28-Jul) -- On an rain-soaked, action-packed fourth and final day at the Toyota USATF Championships at Drake Stadium here, Shelby Houlihan and Lopez Lomong of the Nike Bowerman Track Club stood out by each capturing their second distance titles of these championships. Houlihan duplicated her 1500m/5000m double from here last year, sprinting to victory in the 5000m, while Lomong rebounded from his fast 10,000m win on Thursday night to capture the 5000m this afternoon. There were also exciting finals in the men's and women's 800m, won by Donavan Brazier and Ajee' Wilson; the women's steeplechase, won by Emma Coburn; and the men's 1500m, won by Craig Engels.
HOULIHAN RACES INTO HISTORY BOOKS
With her victory here today, Houlihan became the first American woman in history win the national titles in cross country, the indoor two-mile (or 3000m), 1500m, and 5000m in the same year. And just like her victories in those other disciplines, it was Houlihan's powerful closing speed which got her to the finish line first.
Houlihan's race here tonight couldn't have set up better. While the rain pelted the 23 women who had taken to the track, it was Houlihan's Bowerman teammates Karissa Schweizer and Marielle Hall who controlled the early pace, running at or near the front of the pack, for the first 3000 meters of the race. The pace was solid, hovering in the 74-second per lap range. Houlihan stayed tucked in the pack and was feeling confident.
"I was less nervous coming into the 5-K," Houlihan told reporters, clutching her winner's bouquet. "I had punched my ticket yesterday (in the 1500m), so a little less stress, but I did want to come out here and also win this one and defend my title. I wanted to take it with a mile to go; that was kind of the plan."
With four laps to go, Houlihan was sitting in second place behind marathoner Steph Bruce of Hoka Northern Arizona Elite. She quickly dropped the pace to 72.8 seconds for the next lap, then down to 71.4 for the one after that. That left Houlihan, Schweizer, Hall, Elinor Purrier of Team New Balance, and Rachel Schneider of Under Armour left to fight it out for the podium and the three team spots for the IAAF World Championships. The penultimate lap went down in 68.5 seconds, and all five women managed to stay together.
"I felt really good; I felt calm and relaxed," Houlihan continued. "It was starting to hurt near the end, but I was trying to save one more gear for that last 100 meters."
Hall --whose better event is the 10,000m where she had already qualified for Doha on Thursday-- couldn't hold the hot pace for the final circuit, and would finish fifth. Coming around the final bend, Houlihan shot ahead while Schweizer, Schneider and Purrier battled for the two remaining podium spots behind her. Houlihan turned a 63.6-second final lap to put the race away in 15:15.50, about 16 seconds faster than her victory here last year. Schweizer was a clear second in 15:17.03, while Purrier passed the tiring Schneider inside of the final 30 meters to take third in 15:17.46, making her first national team. Schneider was fourth in 15:17.91, yet probably made the team for Doha because Houlihan said she only planned to run the 1500m at the World Championships.
"That's what I'm leaning towards," Houlihan told reporters.
For Purrier, a former steeplechaser from the University of New Hampshire who had changed her focus to the mile during her professional career, the third-place finish was particularly satisfying. Despite running 4:02.34 for 1500m this season, she decided to do only the 5000m at these championships, gambling that she'd have a better chance of making the national team in the longer event.
"I'm very excited," said Purrier, her hair braided in pigtails. "I was definitely like I was kind of jumping for a leap of faith, but the 1500 gets a little tactical and stuff, and I thought the 5-K was my best option."
LOMONG SPRINTS FOR SECOND TITLE
For Lomong, it was no surprise that the battle for the win came down to him and 2016 Olympic 5000m silver medalist Paul Chelimo of Nike. But how they got to that point was totally unexpected.
Chelimo, the defending champion, decided to take the race out fast. Really fast. He ran the first full lap in 58.0 seconds jolting the field and leaving everyone behind except Lomong and his Bowerman teammate Woody Kincaid. Chelimo wasn't fooling around. He ran 63.1 and 64.1 for the next two laps, putting a 50-meter gap between the top-3 men and the rest of the field.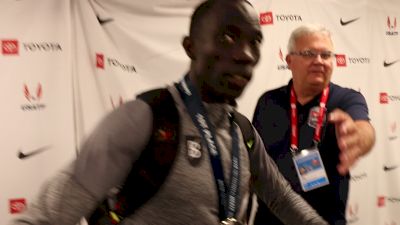 "The goal was just to make it honest at the beginning, and make sure I took the sting out of the guys because in a kicker's race you don't know who's going to take the day," said Chelimo after the race.
Kincaid and Lomong were content to let Chelimo tow them around the stadium's blue oval, but that didn't sit well with the former U.S. Army soldier. Chelimo turned around and motioned for Kincaid to lead, but former University of Portland Pilot shook his head and refused. Then, at the 2600m point, Chelimo abruptly stepped to the outside, hit the brakes, and forced Kincaid to pass him.
"I can't explain it," Kincaid said of the incident. "I think he was trying to break us."
Kincaid then led for the next five laps, but the pace slowed and that allowed the bulk of the field to catch up. The 50-meter lead was long gone, and with two laps to go there were eight men still in contention: Chelimo, Lomong, Kincaid, Hassan Mead (Nike Oregon Track Club Elite), Drew Hunter (adidas/Tinman), Riley Masters (Nike), Ben True (Saucony) and Hillary Bor (U.S. Army) these championships' steeplechase winner. The pace went to sub-63 for the penultimate lap, but that did little to whittle down the field. But the final lap was a barn burner and came down to a flat-out sprint between Chelimo, who had a slight lead, and Lomong. Chelimo faded a little to his right making it harder for Lomong to pass and even bumped him, but two-time Olympian got past Chelimo on the strength of a scorching 53.4-second final circuit.
"I have been chasing for this 5000m title for a while, and I have a title for 1500-meters, a title for 10,000-meters, and this was a thing that I really, really wanted," said Lomong who was clocked in 13:25.53 to Chelimo's 13:25.80. "It came out to be really good, and I'm proud I chose wisely. It's a great double."
The last man to win national titles at both 5000m and 10,000m was Galen Rupp of the Nike Oregon Project in 2012.
Kincaid finished third in a personal best 13:26.84, but unfortunately doesn't have the World Championships qualifying standard of 13:22.50 so he will not be going to Doha. Lomong also doesn't have the standard, so will only compete in the 10,000m at Worlds. As such, fourth place Mead (13:28.04) and fifth place Hunter (13:29.19) will represent the USA in Doha in this discipline because they had the standard prior to the race.
BRAZIER AND WILSON DOMINATE 800M
In the 800-meter finals, the pre-race favorites Donavan Brazier and Ajee' Wilson scored convincing victories in 1:45.62 and 1:57.72, respectively. Brazier won in a sprint finish where he outlegged his Nike Oregon Project training partner and defending champion Clayton Murphy (1:46.01), while Wilson led from gun to tape with a fast 57.85 for the first 400m. That gave Wilson her fourth outdoor title and her third in a row.
"I was thinking just maintain at 115 (meters to go) and save a little burst for the last 60," said Wilson when asked about her final 200 meters. "Just run to win."
Brazier, who had also won the USA indoor title at 600m last February, was thrilled to take back his 800m title after Murphy had won it last year (Brazier was the 2017 champion).
"I expected the final to kind of go out slow, because there were really no guys who would take it out," Brazier explained. "I had no need to take it out, because I had the world standard already." He continued: "Fortunately, once I got that rail I didn't get anybody who really tested me that last 200. I was just able to bring it home nice and smooth."
Also making Team USATF for Doha for the two-lap event was third place Bryce Hoppel from the University of Kansas who clocked 1:46.31, and on the women's side Hanna Green of Nike Oregon Track Club Elite (1:58.19 PB) and Raevyn Rogers of Nike (1:58.84). Teenager Athing Mu finished fifth in a personal best 2:01.17.
COBURN WINS EIGHTH STEEPLE TITLE
The four best steeplechase women in the United States took the top four places here tonight led by defending world champion Emma Coburn of Team New Balance who won her eighth title, and her sixth in a row in 9:25.63. Courtney Frerichs, the 2017 World Championships silver medalist of the Nike Bowerman Track Club, took second in 9:26.61 followed by Frerich's Bowerman teammate Colleen Quigley in 9:30.97, and the Brooks Beasts' Allie Ostrander in 9:38.52. Because Coburn has a "bye" into the World Championships as reigning champion, Ostrander will also make the team with Frerichs and Quigley.
Coburn ran in her typical style, getting out at a reasonable pace and staying in the pack, before ratcheting the pace down in the final laps. She said the race went as planned.
"The race played out as I had hoped," said Coburn. "I paused on the starting line for a second because I wanted to be in last and really pick my place; I didn't want to get stuck leading early on." She continued: "I knew with a few laps to go I was going to have to get going, and Courtney accelerated with about three laps to go, kind of broke it up."
Coburn said that she launched her bid for victory on the second to last water barrier, with 950 meters to go, and Frerichs simply couldn't catch her. Frerichs has been second at these championships for the last four years.
"I wish I had been a little more confident when I took the lead, and pressed a little harder," Frerichs said. She continued: "I need to be a little more aggressive next time.
ENGELS BEATS CENTROWITZ FOR 1500M TITLE
In one of the most anticipated races of the evening Craig Engels of the Nike Oregon Project won his first national 1500m title, dethroning five-time champion and reigning Olympic gold medalist Matthew Centrowitz of the Nike Bowerman Track Club, 3:44.93 to 3:44.97. Josh Thompson, Centrowitz's Bowerman teammate, took third in 3:45.25, but since he doesn't have the World Championships qualifying standard, fourth place Ben Blankenship will get the third team spot.
Engels and Centrowitz were side by side at the bell, and Engels said he had watched dozens of videos of Centrowitz's races trying to develop the best strategy to defeat his former Oregon Project training partner. He knew he had to be right on Centrowitz at the bell.
"I watched every single one of his race videos to try to beat him," said Engels. He added: "Especially this week, I watched the ones where he lost."
Remarkably, both men ran 52-flat final laps (Thompson ran 51.9), but Engels's early lead on the lap was enough to give him the smallest of cushions before the finish line.
"I knew he was coming," Engels recalled of his homestretch run. "I was trying to listen for the announcer because there was no big (video) board. I knew someone was coming."
Centrowitz was satisfied with his second place finish, pointing out that he had gotten a late start this year.
"Craig was the favorite coming into this meet, just with how his outdoor was going season comparing to mine," Centrowitz said. "I'm definitely happy to be on another team. I'm more excited with where I am right now, and give myself another two months to really prepare and know that I was so far behind to start the season."
Johnny Gregorek, who made the World Championships semi-finals in 2017 and broke 3:50 for the mile indoors this year, faded in the final lap and only finished tenth.
NEXT YEAR, BACK TO EUGENE
These championships will return next year to Eugene, Oregon, after a two-year absence where they will take on the traditional "Olympic Team Trials" name at the new, yet-to-be finished, Hayward Field at the University of Oregon from June 19 - 28.