2019 USATF Outdoor Championships
Winners And Losers At The 2019 USATF Outdoor Championships
Winners And Losers At The 2019 USATF Outdoor Championships
Recapping the best and not best from the 2019 USATF Outdoor Championships.
Jul 31, 2019
by Lincoln Shryack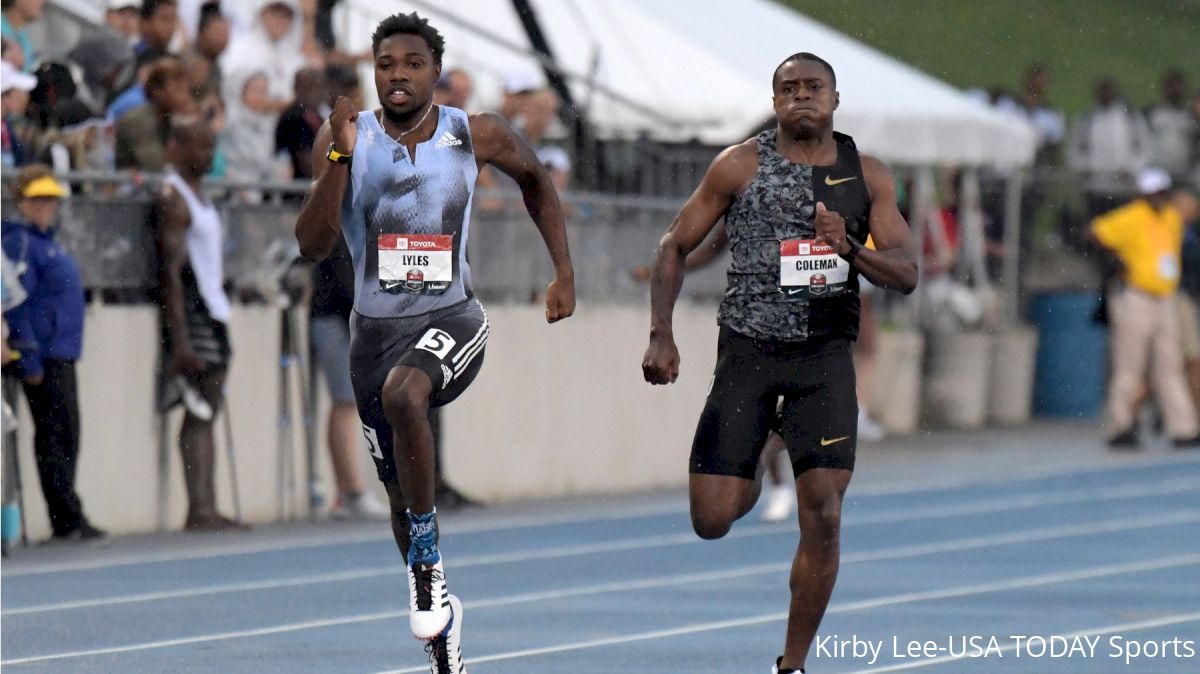 Unlock this article, live events, and more with a subscription!
Get Started
Already a subscriber? Log In
What a week it was in Des Moines at the 2019 USATF Outdoor Championships. It's time for some winners and losers.
Winners
The Noah Lyles Experience
From his silver hair-- representing Goku's final form, of course-- to his Kevin Durant dance moves and flat out dominant 19.78 win in the 200m final, Noah Lyles delivered the full Noah Lyles' experience in Des Moines. With every pre-planned dance move and blowout victory, the 22-year-old extends his already massive lead in the race to be track and field's most exciting performer. This is the crossover content that can popularize even a niche sport like professional basketball:
Who did it better?
pic.twitter.com/iyih1HWcj6

— FloTrack (@FloTrack) July 30, 2019
Craig Engels' Brand
Beating the Olympic 1500m champion while rocking a dirty (in a good way) mullet and thick 'stache was always going to be a flex, but Craig Engels managed to double down on his good ole boy vibes with a victory Bud Light and some incredible T-Shirts.
This fan gave Craig Engels a beer after that finish??? pic.twitter.com/Yg4mJxnVv9

— FloTrack (@FloTrack) July 29, 2019
Petition to have these @craigathor shirts made available worldwide pic.twitter.com/JrwNynFYet

— FloTrack (@FloTrack) July 30, 2019
Holding off Matthew Centrowitz after taking the lead with 800 meters to go would've been enough to endear him to mainstream running fans, but Engels' extracurriculars give him cult-hero status.
Pole Vault Dog Piles
When Sam Kendricks took his first attempt at the 6.06m pole vault American record on Saturday, for a brief moment it looked like the bar was going to stay up. His competitors, anticipating a record, started moving en masse to celebrate with him. Then the bar fell. A pole vault party was on hold.
But on Kendricks' next attempt, the pesky bar stayed put. The reigning world champion quickly looked up to make sure that it wasn't going to fall again before motioning for his competitors. The dog pile was on:
? AMERICAN RECORD ? @samkendricks
6.06m/19-10.50
Swipe ? to watch#ToyotaUSATFOutdoors pic.twitter.com/QqViQ71LVl

— USATF (@usatf) July 27, 2019
Here for it.
The previous record holder, Mondo Duplantis, who set the 6.05m bar last summer despite competing internationally for Sweden, was happy that Kendricks ended his strange tenure atop the U.S. record books.
Thank you @samkendricks !! Now everyone can get off my tail about it?

— Mondo Duplantis (@mondohoss600) July 27, 2019
Dalilah Muhammad's Fearlessness
Well before Dalilah Muhammad smashed the 400m hurdles world record with her impeccable 52.20 in the U.S. final, the 29-year-old had made a previous go at Yuliya Pechonkina's 52.34 mark on June 13 in Oslo. It did not go well. There, Muhammad wanted to test what setting off at record pace would feel like, and she ended up relinquishing her lead to Sydney McLaughlin and fading to a 54.35 time.
That disappointment didn't portend to a day like she had in Des Moines, or even a defeat of the pre-race favorite McLaughlin, but behind the scenes, Muhammad was running workouts that showed a world record could be imminent. Through eight and nine hurdles in practice, the 2016 Olympic champion was ahead of pace. On Sunday, the perfect combination of elite competition-- not far off the level of the 2017 U.S. final that was the deepest of all-time-- and execution made for the highlight of the championships:
DALILAH MUHAMMAD BREAKS THE WORLD RECORD IN THE 400MH AT USAS!
pic.twitter.com/0J9OlnOEGa

— FloTrack (@FloTrack) July 29, 2019
Muhammad's gutsiness to chase the record-- when a blowup could've left her off the team entirely in such a loaded field-- deserves endless applause. She also recently suffered a mild concussion as a result of a fall in practice-- not over hurdles, just while running-- which adds a twist of a phoenix rising from the ashes to her epic performance.
Losers
Athletes Not Familiar With The Rules
Time and time again this past weekend in Des Moines, professional athletes whose job it is to qualify for global championships seemed either confused or unaware of the intricacies of Doha qualification.
Several athletes did not know that USATF, unlike previous years, was not permitting a standard chase period for top three finishers after USA's. Although he wound up placing outside of the top three anyway, sprinter Ronnie Baker, who didn't race before Des Moines due to injury, said he was unconcerned heading into the final that he didn't have the 10.10 100m mark. He should've been, however, as persistent headwinds wreaked havoc on the sprints all week. Baker would not have made the team even if he had placed second or third, as those spots were hit in 10.12.
Athletes Who Needed The Standard
16 U.S. athletes who finished top three in Des Moines will not be going to Worlds because they did not have their respective standard. To me, Ameer Webb's miss in the 200m was particularly brutal. He ran 20.45 into a -0.7m/s headwind to finish third in the final, missing the 20.40 mark by a breath. He would've easily hit it in normal conditions, but the wind plus the wet track kept him from Doha in the cruelest way.
Elsewhere, Bowerman teammates Lopez Lomong and Woody Kincaid, first and third in the men's 5k, were just over three and four seconds shy of the standard, respectively. (Lomong won the 10k, so he will go to Doha in that event.) Kincaid's case was perplexing as the 26-year-old said afterwards that he was 100-percent healthy this season, and yet he ran a grand total of one 5,000m race before USAs.
The Biggest Sprint Star At NCAAs
100m collegiate record holder Sha'Carri Richardson's tough week at USAs-- she was eighth in the 100m final and was bounced in the 200m first round-- highlights just how difficult it can be to reach beyond exhaustion after a long NCAA season. The 19-year-old's 10.75 on June 8 seemed to foreshadow a deep run at the World Championships and potentially a medal in Doha, but hindsight suggests that Richardson had a perfect day in Austin that was never going to be replicated in a season that started in January.
Now, the former LSU sprinter should not be let totally off the hook. Teahna Daniels also ran a long season and she just won the U.S. title in the 100m. In the future, Richardson will need to be better prepared mentally for such a big stage, as her 11.72 in the 100m final and missing of the 200m semis was indicative of an athlete struggling with more than just her fitness.