2019 AAU Junior Olympic Games
Jameesia Ford Wins By Just Thousandths Of A Second | Day 7 Recap
Jameesia Ford Wins By Just Thousandths Of A Second | Day 7 Recap
A well-timed lean from Jameesia Ford edged out her fellow competitor--24.348 to Cynteria James' 24.350.
Aug 3, 2019
by FloTrack Staff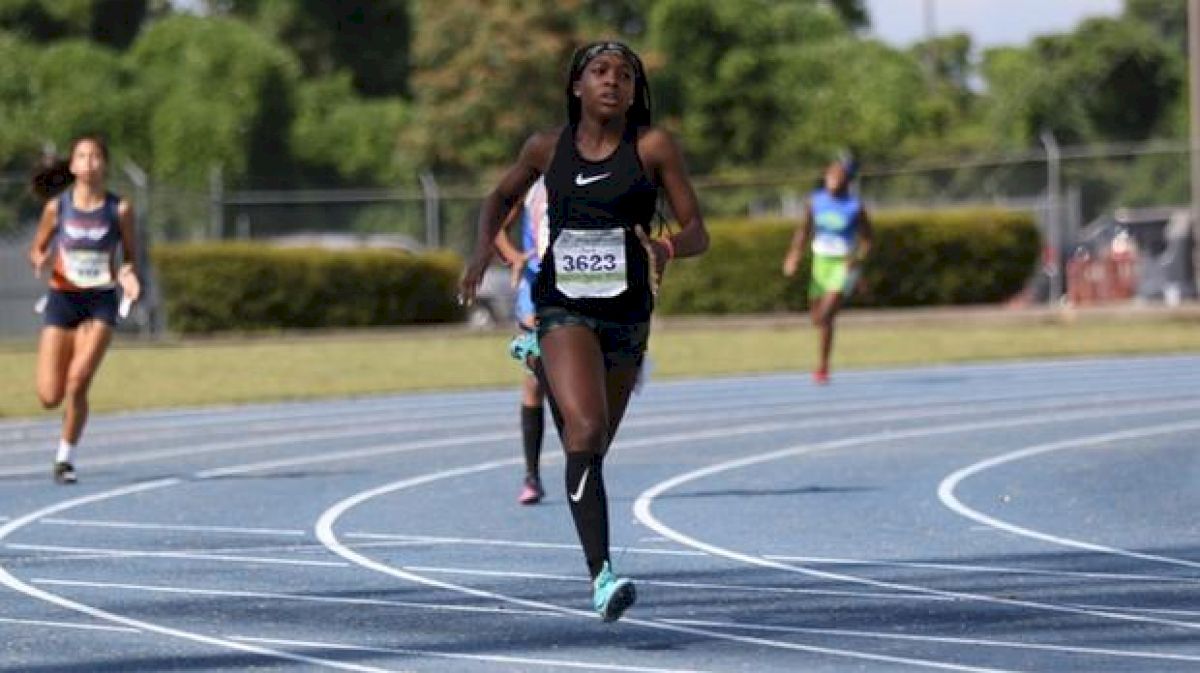 GREENSBORO, NORTH CAROLINA -- Jameesia Ford had no clue what to expect when she made the routine turn to the scoreboard.
"I didn't think I would win because it was very close," she said of her 14-year-old 200m championship race.
But when Ford saw her name squarely in the top position, in first place, she couldn't believe her eyes.
"I see my name up there and I was like 'oh my gosh,'" she said. "I was so excited."
Just two-thousandths of a second separated the Fayetteville Flyers Track Club teenager and Down South Extreme's Cynteria James on Friday, and it was Ford who won the upper hand to clinch the girls title on Day 7 of the AAU Junior Olympic Games.
A well-timed lean from Ford edged out her fellow competitor--24.348 to James' 24.350. It was a moment Ford took careful consideration preparing for.
In the day between the preliminary rounds and the finals, she made sure to fuel herself with healthy meals and even took a chilly ice bath--something she absolutely despises.
With a solid foundation, she stepped into the blocks on Friday ready to compete.
"All I could do was work hard and then just push," she said.
If dedication is of any evidence, Ford should have similar showings as her youth career continues to progress. She said she studies the game and looks up to distinguished American sprint star Allyson Felix as a model of the future athlete she wishes to mold into.
Next year, she'll look to enter the next phase of her career as she moves up to high school competition.
With the experience of a tightly-contested race under her belt, Ford will surely use her win at the AAU Junior Olympic Games to help her navigate the next level.
"I want to experience some new things."
- - -
Girls 12yo 4x800m: In a tight race to kick off the day on the track, Jeuness Track Club finished just ahead of Five Star General Athletics to take the win behind a 2:22 last leg from Julia Grant. Jeuness ran 9:54.32 to Five Star General's 9:58.47. Greater Houston Track Club put together a strong team to finish third in 10:27.
Boys 12yo 4x800m: Athletes Academy ran a time of 9:36.20 in a competitive race to win the event over Miami Gardens Xpress. Both teams put forward confident last legs, but Athletes Academy's final 800m split of 2:12 beat the 2:15 800m time ran by Miami Gardens Xpress' anchor leg.
Girls 14yo 4x800m: Jeuness Track Club followed up their girls 12yo win with a title in the next oldest age group. The relay's time of 9:39.06 dominated the rest of the field by 30 seconds to win easily. Wildcat Youth Sports finished second in 10:06.73.
Boys 14yo 4x800m: In a foot-race to the finish, Camden Pal and Miami Gardens Xpress sprinted side-by-side to the line, but it was the team from Florida that stole the win in 8:32.97. Mekhi Gammon's 2:00 final 800 meters -- he decided not to run the open 800m at AAU and just in the relay -- would be enough to take the win down the homestretch in an entertaining competition. 8:42.60 from Jacobs Sports Academy was enough for third place.
Girls 15-16yo 4x800m: 9:32.75 for Chester Cheetahs won the event for the team from Pennsylvania--and the its anchor made up a 30-meter deficit in the final leg to achieve that feat. But the battle for second was a close one, Hurricanes Youth Track Club edged out Blues Track Club by less than a second--9:47.61 to Blues' 9:48.53.
Boys 15-16yo 4x800m: A stellar 1:53.61 anchor leg for Jacobs Sports Academy led to a dominant win in the event with an overall time of 8:03.56. The team's performance fell a little short of the national record of 7:55.91 set just three years ago. A talented team from Charlotte Panthers earned the slight edge over Xtreme Force Track Club for second place.
Girls 17-18yo 4x800m: Track Minnesota Elite went from third place to first on the third leg and held on after a challenge from Texas Cyclones on the final curve to take the title in 9:40.12. Behind a strong anchor leg, Xtreme Force Track Club managed to pass the Cyclones over the course of the final 100 meters to finish second in 9:42.19
Boys 17-18yo 4x800m: Prime Time Athletics had two sub-two minutes 800m legs as they led from start to finish to dip under eight minutes for the win. The team's time of 7:57.77 was just a second faster than Hartford County Track Club in second.
Girls 8-under 200m: Carrington Harris (Jackrabbit Track and Field) took the win impressively in the first sprint final of the day in 30.43. Not too far behind Harris was Alaiyah Choice(Legion of Zoom Track Club) for second in 30.55.
Boys 8-under 200m: Zz'Iyon Alvis (Alabama Heat Track Club) went out quickly in the middle of the track en route to a win in a time of 29.00. In-state athlete Kameron Edmonson(Charlotte Panthers) had an impressive race as well, running 29.29 for the silver medal.
Girls 9yo 200m: It was a one-man race for Bella-Marie Black of Charlotte Heat Track Club as she confidently ran 28.34 to beat out the rest of the field. It was a fight to the finish for second place as Mar'Kaila Holloway of Perseverance Track Club out-leaned Greater Houston's Track Club's Madison Brooks.
Boys 9yo 200m: Aiden Opore (Jackrabbit Track and Field) had a field day and took first place without much of a challenge in 27.31. Jonathan Newton (Stallions Youth Track Club) held on for third over fellow competitor Khalil Hurd (Desoto Swift Track Club).
Girls 10yo 200m: Demi Dunbar looked impressive as she sprinted to the line to win with a time of 26.34. Fellow Floridian Juliah Bolden of Miami Gardens Xpress crossed in 26.57.
Boys 10yo 200m: Greater Houston Track Club's Maddox Pitre beat the other seven finalists convincingly in a winning mark of 26.12. Kameron Bethea of Jackrabbit Track and Field also went sub-27 seconds to earn silver, and Virginia Golden Army's Camir Croom stole third place by a few thousandths of a second.
Girls 11yo 200m: It came down to the line to determine the winner, but Mekenzie Rogers of St. Louis Express Track Club edged out Camden Track Club's Sianni Wynn in 25.65 for the Junior Olympic title.
Boys 11yo 200m: A back-and-forth race between Young Runners' Kendrick Jones Jr and hurdle winner Zacchaeus Brocks of Motor City Track Club made for a classic, and it was Jones that grabbed the win by one hundredth of a second. Jones ran 25.20 to Brocks' 25.21 to pull off the upset.
Girls 12yo 200m: Easy to spot with her bright pink hair, Five Star General Athletics' Skyler Franklin hit 25.22 to narrowly run away with the title. Closely behind was Owing Mills Track Club's Elise Cooper in 25.26 for second and Sabree Brooks of ALN Sports Organization ran 25.31 to earn bronze.
Boys 12yo 200m: Jonathan Simms (Impact Track) set the national record in the 800m earlier in the week, and then dropped down to take a shot at the 200m. It sure worked out and he came away with the win in the 200m for his second national title of the meet in 24.43. Dakorien Moore (Desoto Swift Track Club) crossed just about a tenth of a second after Simms in 24.55 for second.
Girls 13yo 200m: Adaejah Hodge 's (Legacy Athletics) 24.22 looked easy as she led from start to finish to earn the gold on Friday morning. Janai Jones (Jackrabbit Track and Field) ran a new PR of 24.56 to place second, and Brianna Selby (757 Colts Track and Field) fought for third place in the close contest.
Boys 13yo 200m: Tavares Duckett II (Texas Rollas Track Club) looked like he had the win in the bag, but it was Durian Moss (Down South Xtreme Sports) right next to Duckett who caught him in the final meters to win in a new national record time of 22.34. Third-place finisher Taariq Miles (Hope Hill Elite) joined Duckett and Moss as the only three athletes in the race to run under 23 seconds.
Girls 14yo 200m: A strong field resulted in a tight race, and it was Jameesia Ford (Fayetteville Flyers Track Club) on the outside that ran 24.348 to just cross the line ahead of Cynteria James (Down South Xtreme Sports). James ran 23.350, just two thousandths-of-a-second out of first place. Third place also came down to fractions of second as Angel Imani-Wilson(The Sprint Club) finished eight thousandths of a second ahead of Zaya Akins (Sprinters Elite) for bronze.
Boys 14yo 200m: Mekhi Gammons' (Miami Gardens Xpress) late push over the last half of the race helped him run 21.81 to secure the title. The 400m specialist tested his speed at the shorter distance, and it paid off as he was the only boy to go under 22 seconds. Deandra Burns (Team Elite Track Club) and Shamar Heard (16ways Track) ran 22.13 and 22.16 to finish 1-2.
Girls 15-16yo 200m: Her time of 23.45 just missed the national record, but Indiana Storm Track Club's Ramiah Elliott was plenty fast to take first place. Elliott, a four-time state champion this spring for North Central, certainly looked impressive as she led for most of the race. Jassani Carter of West Pembroke Pines, last year's champion--who beat Athing Mu--pushed down the straightaway to run 23.61 for second.
Boys 15-16yo 200m: It came down to thousands-of-a-second to determine the winner as Erriyon Knighton (My Brother's Keeper) clocked 21.141 over Connor Washington's (Jacobs Sports Academy) 21.143. Udodi Onwuzurike (Prime Time Performance) took a commanding third place in 21.36.
Girls 17-18yo 200m: A late push from Track Dynamite's Mariah Ayers helped her pass Jackrabbit Track and Field's Lashanti Williams right before the finish, winning in 23.67. Brooke Givens also had a solid race to finish third in 23.79.
Boys 17-18yo 200m: Elijha Johnson (Milwaukee Mustangs Track Club) looked determined from the gun, and that determination paid dividends with a 21.08 championship win--just five thousands of a second off his personal best time. The rest of the field ran together stride-for-stride to vie for the other top places; Noah Stallworth (Grand Rapids Track Club) crossed in second and Ashton O'Conner (The Wings Track Club) grabbed third.
Girls 8-under Turbo Javelin: By over a foot, Country Mills Eagles' Arianna Mills won the event with a throw of 59-5. Magdalena Kandt of Magsig-Pallett Throwing Club also had a strong day in the field with a third round best throw of 58-5.25 for the silver.
Girls 10yo Long Jump: Jackrabbitt Track and Field produced yet another champion on Friday, this time being Summerlyn Smith in the long jump. Smith jumped 15-1.25 for first, followed by Track Dynamite's Sydney Smith in second and Zion Bullard of Lane 4 Track Club in third place.
Boys 10yo Long Jump: Kevin Jackson II's (Pearland Track Xpress) first jump of 15-5 proved the best as he took the win in the long jump. Cayden Gates (Stride Ryte Track Club) also surpassed 15 feet with his clearance of 15-2.25 for second.
Girls 11yo High Jump: A slight margin of about three inches was all VA Blaze Athletics' Nhandi Logan needed to finish at the top of the podium. Logan's mark of 13-8.75 beat the distance of 13-5.25 jumped by Sandhills Track Club's Miracle White to earn second.
Girls 11yo Long Jump: A late round jump of 15-7.75 bumped Ehi Aigbomian (Eda Flyers Youth Track Team) ahead of leader Jade Beckman (Hays Striders Track Club) to steal the win on Friday morning. Beckman's best jump of 15-5.5 held up for second place, and Kira Jones(Rocky Mount Parks and Rec) placed third.
Boys 11yo Turbo Javelin: In a contest that saw plenty of strong first round throws, Bryson Jacobs had the best first throw that earned him the turbo javelin title. Jacobs threw 114-10, a few feet ahead of Durham Striders Track Club's Carlos Green in second and Atascocita Titans Track Club's Robert Scarbrough in third.
Boys 11yo Long Jump: Rodney Thomas II of Pearland Track Xpress came within about half-a-foot of the national record to win the event with his stellar jump of 17-6.75. It was a close call for second place, and Shawn Church Jr. of Global Transitions Academy came out on top over West Texas Express' Brayden Henry thanks to a 17-0 last jump.
Girls 13yo Discus: In a close competition, Ja'Myah Williams of Eagles Wings Track and Field Club came out on top with a throw of 104-5. Williams fouled on three of her six throws, but that was all she needed to win the event. Averie Barefield of Sho Up & Sho Out finished slightly behind Williams with a mark of 103-7, and Rodz Throw Crew's Janey Campbell placed third.
Boys 14yo High Jump: Ian Hodge was the sole athlete to clear the bar over six-feet, jumping 6-0.75 in title-winning fashion. Michael Downing of Rolesville Lightning Track Club won second place over Firestorm Elite's Robert Steward based on a crucial tie-breaker.
Girls 15-16yo Discus: Shot put champion Valadian Pallett of Magsig-Pallett Throwing Club added another AAU Junior Olympic Games title to her name, this time in the discus with a winning distance of 138-1. No other athlete even came within ten feet of the star thrower. Rodz Throw Crew teammates Amarachukwu Oguchi and Arianna Stegall both threw the shot out 128 feet, but Oguchi was awarded second based on number of fouls.
Boys 15-16yo High Jump: Braxton Plisko (Havelock Heat Track Club) and Tyler Morris(Aurora Flyers) each cleared a height of 6-6.75, but since Plisko had the least amount of missed attempts, he took the win over Morris. A similar situation occurred in determining third place, as Donsten Brown (Reaching Every Child) beat Dante Cox using the same tie-breaker.
Girls 17-18yo Javelin: Meghan Owens commanded the event from the get-go with her second round throw of 134-9, a throw that ended up winning her the national title. It came less than two months after a hip injury derailed her spring season. Raeli Howerton of Big Beefer Throws Club was the only other competitor to throw farther than 130 feet, hitting 130-2 to finish second on the podium.
Girls 17-18yo Pole Vault: Yet another tie-breaker had to be used to determine a field event winner on Friday. In the pole vault, it was Rachel Maciejeski who won the tie-breaker to win over Elite Performance XL's Sarah Griffin with a height of 12-4.75. Chloe Taylor of Texas Express Track Club placed third--also determined by number of missed attempts.
Boys 17-18yo Javelin: A final throw of 182-1 launched Quann Shears (Fast Finish First) into gold medal position ahead of Zachary Godbold, who threw 178-6 to earn him second place. Tyler Schulte (Jefferson County Jets Track Club) threw a PR of 167-7 to win the bronze.
- - -
TOP PERFORMER OF THE DAY
It took a big push over the final 50 meters. And as he put it, it took fight. But Durian Moss' national-record performance in the 13yo boys 200m stood out as one of the best of the day. He took down established competitor Tavares Duckett II, thanks to a gutsy move towards the finish.
Durian Moss, 13, Miami, FL
Highlight:
200m: 22.34
New national record
- - -
INTERVIEW OF THE DAY
Hartford County, Boys 17-18yo 4x800m Relay
- - -
QUOTE OF THE DAY
On how competing at the AAU Junior Olympic Games as a youth athlete will help him as he looks forward to his collegiate career
"Anytime you get to compete on a high level, it's always good practice because if you want to get there again, you've got to experience it."
- - -
WHAT'S NEXT?
The final day of action at the AAU Junior Olympic Games will include finals across all disciplines--from sprints to long distance. A series of 3,000m races will get the meet rolling at 8:00 AM, and then look for kids to whiz around the track in the 4x100m, 400m, and 100m finals. The turbo javelin will command attention among the field events, events which also include the long jump, triple jump, discus, high jump, and pole vault. The event will then conclude with the always dramatic 4x400m, a fitting way to end this year's event full of fast finishes and national records. Fans will also pay particular attention to this year's meet award winners; the AAU will recognize deserving individuals with the Coach of the Year Award, Joel Ferrell Award (Most Valuable performer), and Special Recognition Award.
- - -
Related Links: