2019 AAU Junior Olympic Games
Day 8 Recap: Thrilling Finals End AAU Junior Olympic Games
Day 8 Recap: Thrilling Finals End AAU Junior Olympic Games
Check out all the highlights from the final day of action at the AAU Junior Olympic Games.
Aug 4, 2019
by Ashley Tysiac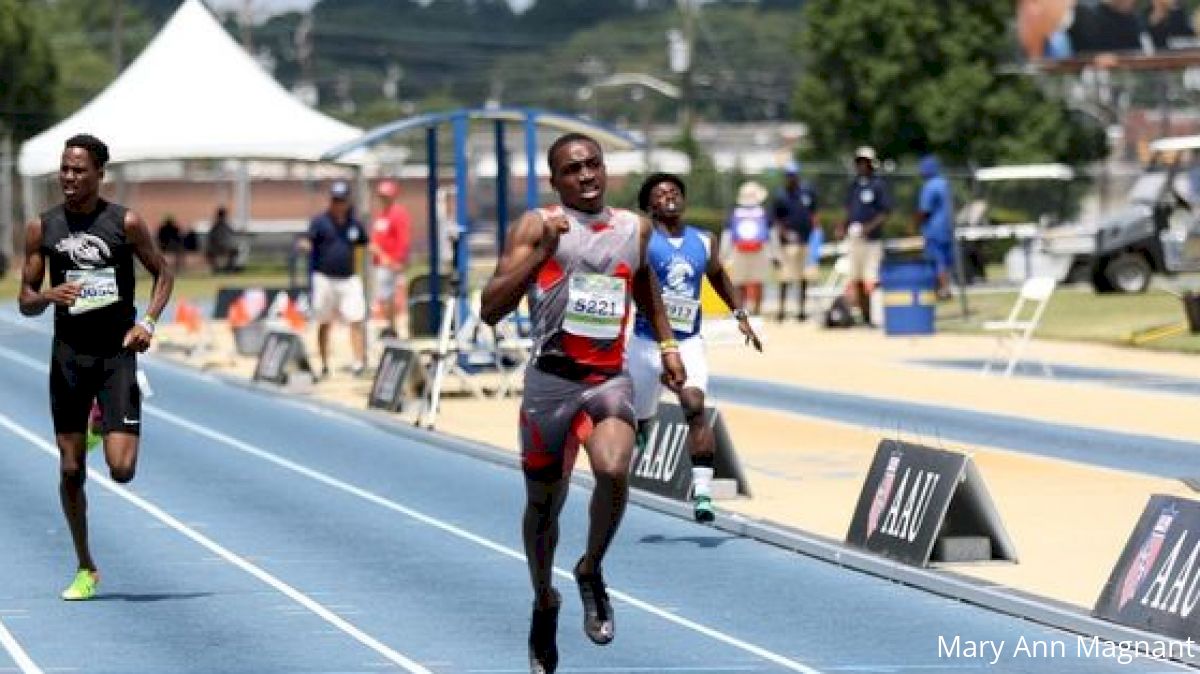 GREENSBORO, NORTH CAROLINA -- On the third lap of his 3,000 meter final on Saturday, Noah Haileab turned to Maddon Muhammad and made a bold proclamation.
Let's go get this record.
"We just went for that record pace time," Muhammad said.
Going for the national record wasn't originally part of Muhammad's or Haileab's race plan, but they decided that they may as well give it a shot.
The two high schoolers ran stride-for-stride as fans cheered them on, but it was Muhammad who had more left in the tank over the final meters to take the 15-16yo division on the eighth and final day of competition at the AAU Junior Olympic Games.
Muhammad clocked a time of 8:47.41 to Haileab's 8:47.69, just four seconds away from the hand-timed national record set all the way back in 1983.
"We didn't quite make it, but we made for a heck of a race," Haileab said.
And after crossing the finish, the two couldn't help but celebrate the competitive race. Muhammad and Haileab embraced out on the track, and then Haileab even did a little shimmy by the water tent in the infield.
It was an entertaining race that Muhammad, a Charlotte Panther athlete, came away from feeling proud.
"Initially not going for [the record], I'm really proud of myself for pushing myself to a limit that I didn't think that I could," Muhammad said. "It just made me satisfied with the race I had."
- - -
Girls 13yo 3,000m: It was a two girl foot race to the finish, but it was Kylee Turner (Str8 Smokin Track Club) who had the higher cadence and stronger kick to take the win in the first race of the day. Turner's time of 10:17.39 beat out challenger Micaela Villarreal's (San Antonio Swift Track Club) second-place time of 10:23.46.
Boys 13yo 3,000m: TX Big Country Blaze's Andruw Villa took off like a rocket at the start and never looked back--it was obvious he was eyeing the national record. Although Villa ended up just short of the record, he left it all on the track running 9:16.55 for the win. The 1,500m champion from earlier in the week recorded a time of 1:13 for the last lap for an impressive performance. Dylan Schieffelin of 620 Running also had a solid finish to earn the silver medal in 9:33.55.
Girls 14yo 3,000m: Krianne McBride of Texas Thunder Track Club strategically took the race out fast and never looked back en route to a win the 3,000m in a time of 10:21.38. McBride earned her first win of the meet after finishing second in the 800m and 1,500m earlier in the week. Wolf Pack Track Club's Marissa Magana ran a strong race as well, including a solid push over the last 400 meters to place second in 10:33.16
Boys 14yo 3,000m: It was a tactical battle between Reese Vannerson (High Velocity Youth Track) and Nathan Lopez (Haverhill Elite Track Club), and with 120 meters to go, Lopez unleashed a perfectly-timed kick to beat out the 1,500m winner in 9:09.32. Vannerson ran 9:11.33 for silver and Micah Blomker (Hot Feet Track Club) clocked a time of 9:26.05 for a third-place performance.
Girls 15-16yo 3,000m: Isabella Edwards of Texas Independent LoneStars ran 10:28.02, a little faster than her seed time, to take the win in the 3,000m. Valley Speedsters' Corinn Brewer , who won the steeplechase and finished eighth in the pole vault, placed second in 10:36.27 in a stellar performance.
Boys 15-16yo 3,000m: It one of the most exciting races of the day, 1,500m champion Maddon Muhammad (Charlotte Panthers) and 2,000m steeplechase champion and national record holder Noah Haileab (Pearland Track Xpress) ran stride-for-stride the entire race. Fans sat on the edges of their seats as the two sprinted down the homestretch, and it was Muhammad who slighted pulled ahead to win in 8:47.41. Haileab finished just fractions of a section behind him in 8:47.69 as both him and Muhammad put on a near record-breaking show.
Girls 17-18yo 3,000m: Lake Cities XC's Tatum Castillo gutted out a very quick fast last to win convincingly in the 3,000m in 10:31.73. Jennifer Ohlsson, who won the 2,000m steeplechase a few days ago, ran a pretty evenly split race to grab the silver in 10:37.34.
Boys 17-18yo 3,000m: It got physical out on the track and the three leaders jostled for position over the last 800 meters, but it was all Elijah Bennett over the last half lap to add a 3,000m title to his 1,500m championship from a couple days ago. Bennett's 52 second last lap helped him shake Polk's Michael Collins and Kyle Bell, who crossed the line in second and third.
Girls 8-under 4x100m: Track Club of Fort Lauderdale had everyone in front of them to chase, but the young girls surged late to take the win from lane one in 59.71, a new national record. Greater Houston Track Club also dipped under the previous national record for second place in 59.96
Boys 8-under 4x100m: Dragons Youth Track and Field looked strong as they had a clean race to take the win in 56.31. Jackrabbitt Track and Field wasn't too far behind in the lane besides Dragons in 57.11.
Girls 10yo 4x100m: In a come-from-behind effort on the anchor leg, Jackrabbitt Track and Field stole the win in a time of 55.56. Just hundredths of a second separated second place finisher Baltimore City and bronze medalist Cedar Hill Blaze Track Club.
Boys 10yo 4x100m: Desoto Swift managed to hold off Track Xplosion down the homestretch to win in 52.24; Track Xplosion ran 52.42 for second place.
Girls 12yo 4x100m: Virginia Elite put together two strong legs in the latter part of the race to win and break the national record in 48.92. Dragons Youth Track and Field wasn't too far behind in second, running 49.04 to win the silver.
Boys 12yo 4x100m: Desoto Swift's anchor leg looked like a varsity runner out on the track as he stood head and shoulders above the rest of the anchor legs to help lead his team to a 48.26 relay win. Greater Houston Track Club finished slightly behind Desoto in second in 48.26.
Girls 14yo 4x100m: Owing Mill ran a time of 46.93 to dominate the rest of the field and grab the championship. Blues Track Club ran a good time of 47.15 to secure silver.
Boys 14yo 4x100m: Nyckoles Harbor made a huge heroic comeback on the final leg and dove across the finish to secure the win in 44.20 for Full Speed. Greater Houston and DV Ducks finished closely behind the leaders in 44.24 and 44.30.
Girls 15-16yo 4x100m: 45.41 for Atl Zoom Athletics earned them the new national record and the big title win. The relay team had a very strong anchor leg to grab the win out of lane four. Track Life University was only two-tenths of a second behind in 45.61 for second, and Leander Spartans Track Club ran well for third.
Boys 15-16yo 4x100m: Thanks to a lightning-quick start and clean exchanges, Jacobs Sports Academy held on to win by four-hundredths of a second in 41.62 over Greater Houston in 41.66. Kudos to Greater Houston's final leg who helped his team back into the race, but it wasn't quite enough to beat Jacobs Sports Academy.
Girls 17-18yo 4x100m: Jackrabbitt Track and Field looked smooth through the course of the entire race to win in a fast time of 45.56, dominating the entire field by about a second.
Boys 17-18yo 4x100m: Greater Houston had smooth exchanges on every leg en route to a title win in a time of 40.56. Tri-City Relays also came in under 41 seconds in 40.97, and The Wings Track Club solidly earned third place in 41.10.
Girls 8-under 400m: Long jump winner Alaiyah Choice (Legion of Zoom Track Club) came back to double in the sprint event, and she made it look easy as she won in 1:07.22 to become a double winner. It came down to a photo finish for second place as Zhoe Holt(Charlotte Heat Track Club) outleaned Kiyomi Cotson (Charles County Elite) by one-hundredth of a second for second.
Boys 8-under 400m: 1:03.91 for Omar Thomas Jr. (Track Club of Fort Lauderdale) just missed the national record but it did win him the elusive championship title. Thomas beat out 200m champ Zz'Iyon Alvis (Alabama Heat Track Club) who ran 1:04.71 for the silver medal.
Girls 9yo 400m: Jada Harper of Awesome Athletics managed to fight off Charlotte Heat Track Club's Bella-Marie Black--1:02.48 to Black's 1:02.68--to win the top podium finish. Black's strong finish out in lane eight helped her earn second place after winning the 200m yesterday.
Boys 9yo 400m: Camron Chandler of Golden Elite Track Club finished just north of one minute to take the championship title in 1:00.20. Stallions Youth Track Club's Jonathan Newton dipped just under 1:02 to grab second in 1:01.86.
Girls 10yo 400m: It was a battle under the middle of the track between Tiana Welbon(Firebirds Track Club) in lane four and Chizaram Stephens (The Wings Track Club) in five, and Welbon earned the edge to run a new national record time of 59.37 for the win. Welbon sure redeemed herself after her seventh-place finish in the 200m on Friday with her stellar performance on Saturday. Stephens also broke the elusive one-minute barrier, running 59.83.
Boys 10yo 400m: Camir Croom of Virginia Golden Army surged over the final 50 meters to cross the finish line first in 59.18.
Girls 11yo 400m: 200m champion Mekenzie Rogers (St. Louis Express Track Club) stole the show as she crushed her fellow competitors to win confidently in 57.22. Sianni Wynn(Camden Track Club) finished just above 58 seconds to earn second place in 58.08.
Boys 11yo 400m: Defending champion Quincy Wilson of Virginia Elite Sports League was able to successfully continue his winning streak as he ran 57.30 to clinch the title. Wilson's teammate Naye'Ron Hudson-McGlown also had a strong race to finish second in 58.25.
Girls 12yo 400m: It's wasn't too hard for fans to spot Skyler Franklin (Five Star General Athletics) with her pink hair as she rounded the track and crossed the line in winning fashion in 56.32.
Boys 12yo 400m: Jonathan Simms (Impact Track) sprinted around the track so smoothly, and it didn't even look like he was trying. The star athlete won in 53.17, adding another title and national record to his belt. Simms won the 800m in record-breaking fashion, as well as a 200m title earlier in the week.
Girls 13yo 400m: Christin Facey (Alpha Elite Track Club) absolutely crushed the previous national record, running 54.00 to win the event after leading from wire-to-wire.
Boys 13yo 400m: Durian Moss (Down South Extreme) recovered well after his 200m win on Friday, coming back to win the 400m out in lane seven in 51.24.
Girls 14yo 400m: Cha'iel Johnson (Miami Gardens Xpress) successfully completed the incredible AAU Junior Olympic middle-distance triple, winning the 400m in 54.28 to come away with titles in the 400m, 800m, and 1,500m. Sydney Harris (Jackrabbitt Track and Field) closed well to finish in second right behind Johnson in 54.63.
Boys 14yo 400m: Miami Gardens Xpress' Mekhi Gammons ran strong over the final 100 meters, finishing just one-hundredth of a second off of the national record to win in 48.27. Gammons just held off Jaren Hamilton of Peak Performance Track and Field who won silver in 48.62.
Girls 15-16yo 400m: Ramiah Elliott of Indiana Storm Track Club ran 52.89, an extremely quick time, to earn the title on Saturday afternoon. Purpose Driven NC Elite's Kaylyn Brown came just short of breaking 53 seconds, clocking 53.14 for second.
Boys 15-16yo 400m: Ohio Heat Track Club's Justin Braun out of lane eight pulled off the upset to win the Junior Olympic title in 47.22. It came down to the finish line in the fight for second and third, with I-Train University Elite's Khamari Terrell slightly beating Erriyon Knighton of My Brother's Keeper to earn silver.
Girls 17-18yo 400m: Milan Ming made a strong move down the final straightaway with pain written all over her face as came back to win in 54.64. Chermariea Hardy of Hurricanes Youth Track Club hit 55.05 to earn second over Empire Athletics' Kennaria Gadson in third.
Boys 17-18yo 400m: In a very close race, Ryan Willie (I5 Elite) surged past his fellow racers with just meters to go to cross the line in 46.71 for the win. Jenoah McKiver (Carolina Flash Track Club) came close to breaking 47 seconds in 47.24 for silver.
Girls 8-under 100m: Londyn Davis of GP Striders stole the win in 14.44 in a four-girl race to the finish. Jackrabbit Track and Field's Carrington Harris only finished a fraction of a second behind Davis, running 14.45 for second.
Boys 8-under 100m: All eight racers sat pretty much dead even with one another across the finish, but it was Jeremiah Reece of Dragons Youth Track and Field who grabbed the title in 13.84. Gabriel Ruffin of St. Louis Express Track Club managed to win second place in a time of 13.91.
Girls 9yo 100m: It was a quick turn-around for Charlotte Heat Track Club's Bella-Marie Black, but she was able to come back from her 400m runner-up finish just 45 minutes early and win the 100m. Black clocked 13.54 and gets to go home with national titles in both short sprint events to go along with her 400m silver medal.
Boys 9yo 100m: A margin of only one-hundredth of a second separated the gold and silver medalists as Khalil Hurd ran 13.16 to Aiden Opore's 13.17 to win the Junior Olympic championship.
Girls 10yo 100m: Defending champion Juliah Bolden of Miami Gardens Xpress ran 12.80 to run near the national age group record and come away with the championship. 478 Elite's Jazmyn Ezell dipped just below 13 seconds to clinch second in 12.98.
Boys 10yo 100m: In an exciting finish, Kameron Bethea of Jackrabbitt Track and Fieldcaught Greater Houston Track Club's Maddox Pitre at the line to win in 12.92, four-hundredths of a second ahead of Pitre.
Girls 11yo 100m: St. Louis Express' Mekenzie Rogers completed the sprint triple, winning the 100m in 12.72 to add to her 200m and 400m titles. In a tight competition for second, Noelle Allen of Beastmode Hardin County ran 12.80 to beat the time of 12.84 ran by Camden Track Club's Sianni Wynn.
Boys 11yo 100m: Brayden Robinson (Desoto Swift Track Club) shot out of the blocks and kept building his momentum, surging across the finish in first in 12.01. Zacchaeus Brocksalso ran well to clock a time of 12.18 to add to his 200m runner-up finish and 80m hurdles title.
Girls 12yo 100m: It was Elise Cooper of Owing Mills Track Club in lane four that crossed first in 12.28 to be crowned champion.
Boys 12yo 100m: Cunningham Racing's Josiah Rainey ran 12.10 to very confidently win the 100m race. Preston Johnson of Dragons Youth Track and Field closed well to finish only inches behind Rainey in 12.12.
Girls 13yo 100m: Legacy Athletics' Adaejah Hodge can now be nicknamed the 13-year-old queen of the short sprints after grabbing the 100m title in 11.91 to go along with her 200m title from earlier in the week.
Boys 13yo 100m: Tavares Duckett II (Texas Rollas Track Club) looked determined and confident as he soared to the finish in a new national record time of 11.12. Down South Extreme's Durian Moss came back from his 400m win just about an hour earlier to finish second in 11.40.
Girls 14yo 100m: Down South Extreme's Cynteria James made 11.98 look easy as she crossed the line in first to win the championship. Angel Imani-Wilson of The Sprint Club just missed running under 12 seconds, hitting 12.09 for second.
Boys 14yo 100m: Just as he did in the 4x100m earlier in the day, Nyckoles Harbor of Full Speed Athletics found another gear in the latter stages of the race to come back and win in a time of 10.94. Second and third place were hard fought for, and Jeremiah Smith of Topeka Blazers beat out Team Elite Track Club's Deandra Burns in 11.02.
Girls 15-16yo 100m: Kaila Jackson of Track Life University made a strong comeback to catch the girls that went out quickly beside her to win the championship in 11.70. Jassani Carter of West Pembroke Pines finished so close to Jackson, running 11.72 to earn the silver medal.
Boys 15-16yo 100m: It was Connor Washington of Jacobs Sports Academy who took the win at the line in 10.55 in a very tight race between the athletes in the middle lanes.
Girls 17-18yo 100m: 11.55 for Lashanti Williams (Jackrabbitt Track and Field) missed the national record by one-hundredth of a second, but it did earn her an impressive national title. Jazmine Hobson (D-4 Fire Training Group) also ran with confidence as she secured second place in 11.67.
Boys 17-18yo 100m: In a race that was too close to call, The Wings Track Club's Tre'Vion McCalla narrowly grabbed the win in 10.53 over second-place finisher Elijha Johnson of Milwaukee Mustangs Track Club in 10.55. McCalla and Johnson produced an exciting race in the last individual track event of the AAU Junior Olympics.
Girls 10yo 4x400m: Greater Houston surged ahead on the anchor leg to steal the win in 4:26.87, just six seconds off of the national record. Track Life University and Motor City Track Club fought hard for second and third, with Track Life earning silver in 4:28.56 and Motor City finishing third in 4:28.60.
Boys 10yo 4x400m: The Mark Trail Flying Eagles easily won the 4x400m title in a winning time of 4:14.21. Southern Sprinters Elite also ran below the 4:20 mark to place second in 4:17.40
Girls 12yo 4x400m: In the first sub-four minute relay performance of the day, Five Star General Athletics ran 3:59.65 thanks to a 57 second anchor leg to win. Fayetteville Flyers also had a sub-one minute anchor that helped them cross the line in second place.
Boys 12yo 4x400m: A 55.75 last leg from Dakorien Moore helped lead Desoto Swift to the championship in 3:54.74. H-Town Track Club also broke four minutes as they ran 3:58.49 for second ahead of the team from Virginia Elite.
Girls 14yo 4x400m: Owing Mills took over on the third leg and never looked back as they ran to a win in 3:49.67. Motor City Track Club also ran a strong time of 3:52.51 to place second, followed by Jackrabbitt Track and Field in third.
Boys 14yo 4x400m: Superstar Mekhi Gammons anchored Miami Gardens Xpress to a new national record of 3:21.29 in a dominant win for the team from Florida.
Girls 15-16yo 4x400m: In the final heat, Michaela Rose anchored in 54 seconds to lead Virginia Elite to a win in 3:43.62. Virginia Elite managed to hold off Motor City Track Club in second in 3:43.99. MVP league all the way from heat four ended up grabbing third in 3:45.96.
Boys 15-16yo 4x400m: 3:13.54 won Jacobs Sports Academy the relay title in the last heat of the event. Greater Houston also ran under 3:20 to finish in silver position in 3:18.73.
Girls 17-18yo 4x400m: MVP League went under 3:44 to run 3:43.97 for the exciting win. Hurricanes Youth Track Club also put on a strong showing to run 3:46.35 for silver.
Boys 17-18yo 4x400m: In a thrilling finish to the AAU Junior Olympic Games, Athletes Academy ran 3:14.27 behind a 46 second anchor leg to secure the last title of the meet. Dallas Mustangs can in hot
Girls 8-under Long Jump: Alaiyah Choice's (Legion of Zoom Track Club) final jump of 12-2.75 proved to be her best, earning her the top spot on the podium in the long jump. Golden Williams (Legacy Athletics) scratched on the last jump, but her fifth round jump was still enough to grab second place.
Boys 8-under Turbo Javelin: Only a couple of inches decided first and second place, and the gold was won by Outlaws Track Club's Lonnie Buggs IV with a mark of 89-1, just ahead of Daelin Randolph of Flash Elite Track Club in second at 88-9.
Boys 8-under Long Jump: After a rough start scratching his first two jumps, Julian Smith finished strong to win the event with a jump of 13-8.75. Braylon Shepard's (Round Rock Stars Track Club) mark of 13-6 solidly earned him the second place finish.
Boys 9yo High Jump: Both Tate Hutchins (Tri-Star Elite Track and Field) and Caleb Rast sat at a height of 4-3.25 at the end of the contest, but Hutchins won the event on the basis of missed attempts. A tie-breaker was also needed to name the bronze medalist, and Javon Johnston earned the advantage over Jayden Barr (Team Quest).
Girls 10yo Turbo Javelin: Katelyn Hartman of Running Tigers Track Club threw 79-6 on her third attempt and never looked back as she fought for and earned the youth title. Elite Youth Maryland's Saniya Carter was able to move up into second on her fourth throw of 76-4.5, ahead of Michigan Mustangs Track Club's Layla Sharif in third.
Boys 10yo Turbo Javelin: By two feet, Leighton Little of Carolina Eagles Track and Field secured the Junior Olympic title, throwing the turbo javelin 107-0. Right behind Little was Greater Houston Track Club's Ty White with a mark of 105-2 for second, the only other young athlete to eclipse 100 feet.
Girls 11yo Turbo Javelin: Jera Salters soared the javelin out over 100 feet to earn herself a title with a throw of 100-8. Jada Lubin of Morris Estate Track Club had a solid throw in the third round to grab second in 92-5.
Boys 11yo Discus: New Life Gliders' K'Lyn Curtis surpassed 100 feet on his last throw to bump to the lead and take the win. Jackson Cantwell of Blue Thunder Track Club finished right behind Curtis' winning throw of 105-0 with a mark of 102-11 for second, and Waza Track Club's Torran Simmons earned the bronze medal.
Girls 13yo Triple Jump: Chelsi Williams (Incredibles) jumped over 36 feet to win over Aliyah Johnson (Speed Legion) with a jump of 36-3.5. Johnson jumped a distance of 35-9.25 on her fourth jump to move up to second place.
Boys 13yo Triple Jump: A big jump of 41-7.75 on his final attempt won Kendred Walker (Greenville Jets) a Junior Olympic championship. Also with a strong last jump, Elijah Kellum (Severn Highsteppers Track Club) hit 39-9.25 for the silver.
Boys 17-18yo Pole Vault: The only athlete to clear a height over 15 feet, Kameron Aime of Louisiana Pole Vault Compound jumped 15-3 to win the Junior Olympic championship.
Top Performer Of The Day
He added yet another national title and national record to his name on the final day of AAU Junior Olympic Games competition. Jonathan Simms won the 400m with ease in what was easily the best performance of the day. Simms' overall performance at the meet even earned him the AAU Male Outstanding Athlete of the meet in what may go down as one of the best showings among young athletes in AAU Junior Olympic Games history.
Interview Of The Day
Noah Haileab, Pearland Track Xpress
- - -
Quote Of The Day
"I'm ready. No matter what age group, no matter how tall, I'll always compete against any type, any age."
-- Cha'iel Johnson, 14, Miami, FL on moving up to the 15-16yo age division next year
- - -
Final Takeaways
25 national records? That certainly made for another impressive year at the AAU Junior Olympic Games. Spectators were treated to many tight competitions and at Aggie Stadium in Greensboro, N.C.
Athletes of all ages shined, from 8-year-old Victor Jaimez-Solorio winning the boys 8-under 800m and 1,500m in perfect form, to Morgan Smalls winning gold in the girls 17-18yo triple and high jump and silver in the long jump. Some even came away as double and triple winners, included Miami Gardens Xpress sensation Cha'iel Johnson. And in some cases, the difference between gold and runner-up came down to slivers of a second, like Jameesia Ford's narrow win in an exciting girls 14yo 100m.
Over 13,000 made the trip to Greensboro to compete against the best. We'll hope to see even more stellar performances on the track and in the field in 2020 in Norfolk, VA.