2019 IAAF World Championships
Brussels Recap: Norman Avenges Loss To Kerley, Lyles Completes Sprint Sweep
Brussels Recap: Norman Avenges Loss To Kerley, Lyles Completes Sprint Sweep
Michael Norman got revenge on Fred Kerley in the men's 400m and other highlights from the final Diamond League meeting of 2019.
Sep 6, 2019
by Lincoln Shryack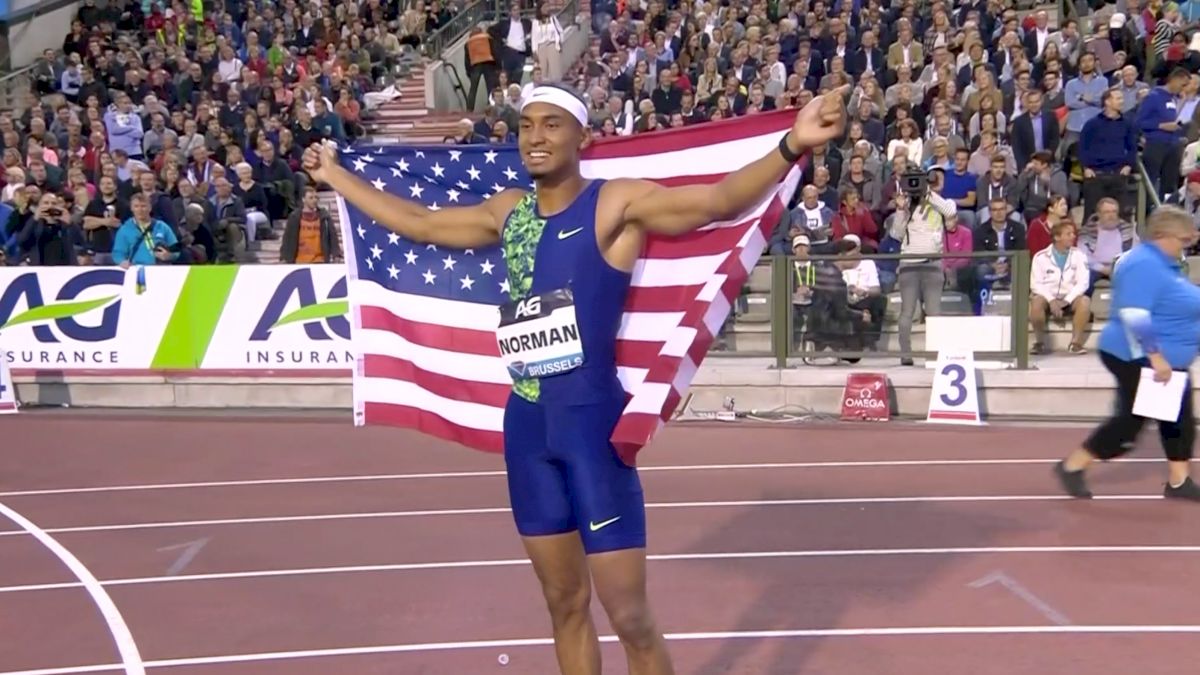 The 14th and final Diamond League meeting of the 2019 season went down on Friday in Brussels, Belgium, as 16 more Diamond trophies were awarded in the second of two final events. The results in the Belgian capital affirmed much of what we already knew heading into the final major competition before the World Championships, including more dominance from Noah Lyles, Timothy Cheruiyot and Sifan Hassan.
Here were the highlights from Brussels:
Men's 400m - Michael Norman Gets Revenge Over Fred Kerley
The time wasn't fast, but for 400m world leader Michael Norman in Brussels it was mission accomplished as he beat Fred Kerley to avenge his U.S. Championships defeat and win the Diamond League title 44.26. The 21-year-old, who ran 43.45 in April, rallied on Kerley and Jamaican Akeem Bloomfield in the last 100m with a final gear that was missing in Des Moines on July 27.
Michael Norman 4️⃣4️⃣.2️⃣6️⃣
Fred Kerley 4️⃣4️⃣.4️⃣6️⃣
Akeem Bloomfield 4️⃣4️⃣.6️⃣7️⃣#BrusselsDL ? pic.twitter.com/1iozgXsneu

— FloTrack (@FloTrack) September 6, 2019
Kerley, the 2018 Diamond League champion, was second in 44.46 with Bloomfield third in 44.67. Kerley ran a personal best of 43.64 in the U.S. final to stun Norman, who up to that point was undefeated over 400m since the beginning of 2018. Norman, second that day in 43.79, indicated then that he had been dealing with an unspecified strain in the lead up to USAs.
With Norman back on top in Brussels, there is no question who the favorite is for Doha. There were definitely hints of rust in his first 200m as he trailed Kerley and Bloomfield, but his signature strong finish, which was absent at USAs, was back in full force in Brussels.
With Norman winning the Diamond League, U.S. fourth place finisher Vernon Norwood will be granted entry to the World Championships.
Men's 200m - Lyles Wins Third Consecutive 200m Diamond League Crown
It wasn't his most exciting result of his so-far brilliant 2019 campaign, but for Noah Lyles a 19.74 win in the Brussels 200m will do just fine for the 22-year-old as he next looks to claim gold in Doha. Lyles trailed reigning world champion Ramil Guliyev and Canadian Andre de Grasse off the curve, but the American calmly pulled away in the final 50 meters to collect his second Diamond League title in as many weeks following his win in the Zurich 100m last Thursday. He is the first man to sweep both Diamond crowns in the same season.
Here's what an effortless 19.74 looks like:

pic.twitter.com/dm9amF7uq9

— FloTrack (@FloTrack) September 6, 2019
The victory marked Lyles' third consecutive 200m Diamond League title. Afterwards, the sprinter said he was dealing with numerous annoyances before and during the race, including a need to visit the facilities.
"What a chaotic race it was," he told the IAAF. "Nearly everything that could happen, happened."
"When the official called: Gentlemen on your marks it just starts raining. Also two pins to fix my race number were not fixed well and lost while I was sitting down and to be honest I had to go to the toilet."
No lie I was clenching my butt the whole time ?

— Noah Lyles (@LylesNoah) September 6, 2019
Despite his many issues on Friday, nothing has changed with his status as the overwhelming favorite for the world championships. Guliyev and De Grasse did each show that they could at least push the American if they run like they did on Friday, but if Lyles drops anything close to his 19.50 world lead in Doha, no one will come close.
The 29-year-old Guliyev from Turkey ran 19.86 for second, the second-fastest result of his life and his best this year. De Grasse was close behind in 19.87, his best since 2016.
With Lyles getting the win, American Kenny Bednarek will get the extra spot in the 200m for Doha.
Women's 5,000m - Hassan Completes 1500m/5k Sweep
Sifan Hassan's recent reign over the women's distance events in the Diamond League seems to be foreshadowing a gold, if not multiple golds, in Doha. In which events is not yet clear, but on Friday the 26-year-old from the Netherlands collected her second Diamond League title of 2019 with her 14:26.26 win in the 5,000m. Her 5k crown in Brussels followed the 1500m Diamond triumph in Zurich on Aug. 29, making her the first woman in Diamond League history to win both distances.
A slow early pace— the field split 8:52 at 3,000m, 14:46 5k pace— gave way to an electric finish as Hassan took control of the race from teammate Konstanze Klosterhalfen, Ethiopian Letesenbet Gidey and reigning world and Diamond League champion Hellen Obiri with 300 meters to go. Hassan had to work to bridge a gap that had formed between her and the lead pack with a little over two laps to go, but she showed no signs of fatigue from that move as she closed her final lap in under 60 seconds.
Gidey held of Klosterhalfen for second, 14:29.54 to 14:29.89.
Now attention will turn to which events Hassan will contest in Doha. After breaking the mile world record on July 12 in Monaco (4:12.33) and then winning the 1,500m in Zurich, her entry in that event seems logical. But she can't run that event and the 5,000m, as the schedule simply won't allow it. In that regard the double that makes the most sense, even despite it being quite unorthodox, is the 1500m-10,000m pursuit. Not many could successfully pull it off, but if anyone can, it's Sifan Hassan in 2019.
Women's 100m - Dina Asher-Smith Upsets Shelly-Ann Fraser-Pryce With Fast Start
For just the third time in 2019, two-time Olympic champion Shelly-Ann Fraser-Pryce was defeated over 100m as Brit Dina Asher-Smith scored an upset victory against the Jamaican, 10.88 to 10.95. Fraser-Pryce briefly caught up to the fast-starting Asher-Smith mid-way through the race, but she was unable to surpass the European champion, who picked the perfect time to run her fastest race of the year.
The 32-year-old Fraser-Pryce has run in the 10.7s on three occasions this season, including her co-world lead of 10.73 back in June. Asher-Smith's defeat of such a stud puts her in the mix to win 100m gold in Doha despite her 10.85 paling in comparison to the PBs of women like Fraser-Pryce and Elaine Thompson.
Women's 800m - Ajee' Wilson Wins 800m Diamond Crown in 2:00.24
A day of mediocre times continued in the final track event, as American Ajee' Wilson won her first 800m Diamond League crown in 2:00.24. Wilson has owned the event since Caster Semenya was last allowed to race in late June, as the 25-year-old was victorious in each of her last three Diamond League contests in 2019.
Even despite the predictable result, the win wasn't an entirely easy one as she had to fight off training partner Raevyn Rogers and Uganda's Winnie Nanyondo in the final 100 meters. Rogers passed the Ugandan just before the finish line to nab second in 2:00.67.
With Wilson's victory, a fourth American will get a spot in the world championships. That spot will go to Ce'Aira Brown, who, despite missing the U.S. final, was the next woman in line with the 2019 standard.
Men's 3,000m Steeplechase - Getnet Wale Claims First Diamond League Steeple Title By Non-Kenyan
A brilliant final lap in the men's steeplechase came down to the last few meters between Ethiopian Getnet Wale and Moroccan Soufiane El Bakkali, as the 19-year-old Wale won in 8:06.92 to become the first non-Kenyan to win the Diamond League steeplechase title. El Bakkali, the 2019 world leader and the only man in the field with a sub-8:00 personal best, tried his best to sprint past the Ethiopian on the outside, but Wale blocked his move by drifting out ever-so-slightly. El Bakkali was second in 8:07.08.
A thrilling last lap was clocked at a scorching 58.99 seconds for Wale. He will next seek to claim the ultimate prize in Doha, as he and El Bakkali are looking to end the three decades of dominance that Kenyan-born athletes have had over the event. 1987 was last time a man born outside of Kenya won steeple gold at the World Championships.
Men's 110m - Roberts' Scratch Puts Damper On Race Ultimately Won By Orlando Ortega
The men's 110m Diamond League final was more notable for who wasn't on the start line, as pre-race favorite and 2019 U.S. champion Daniel Roberts was a late scratch. No reason was immediately provided for why Roberts did not compete in the Brussels final.
In what was left of the race, Spain Orlando Ortega won a sleeper of a contest in 13.22. Roberts beat Ortega in Paris on Aug. 24 13.08 to 13.14.
Men's 1500m - Timothy Cheruiyot Dominates Again With Third Straight 1500 Diamond Title
Not even a wildly fast early pace could break up the standard hierarchy that has emerged in the men's 1500m, as Kenyan Timothy Cheruiyot won his fifth consecutive Diamond League 1500m/mile in 3:30.22 while Norwegian teen Jakob Ingebrigtsen finished second behind him for the third time in 2019 in 3:31.62.
The 23-year-old Cheruiyot sprinted away in the last lap with a 55.81 closer to win his third straight Diamond League 1500m title. He managed this despite the pacer coming through 400m at 53.78 and 800m at 1:51.48.
Anything short of gold for Cheruiyot in Doha would be a massive disappointment, as the only man to beat him this season— reigning world champion Elijah Manangoi—has been uneven since that race on May 3. For Ingebrigtsen, silver seems like a safe pick given the strong year he's had. His time was his fourth under 3:32 in 2019.
U.S. champion Craig Engels had another superb race to place fifth in a 3:34.04 personal best. With it, the 25-year-old notched a 2020 Olympic standard.
Women's 100m Hurdles - Danielle Williams Crushes Keni Harrison Once Again
For the second straight race, Jamaican high hurdler Danielle Williams has emphatically shown that she is the gold medal favorite in the 100m hurdles this season. The 26-year-old world leader got off to another strong start in Brussels on Friday that her primary foe, world record holder Keni Harrison, could not counter as Williams cruised to victory in 12.46. Harrison was a distant and disappointing second in 12.73.
Since she ran the 12.32 world lead on July 20 in London, Williams has not relinquished her hold over the event. Friday's result was nearly identical to her defeat of Harrison on Aug. 18 in Birmingham, as Williams beat Harrison 12.46 to 12.66 on that day.