Unlock this article, live events, and more with a subscription!
Get Started
Already a subscriber? Log In
In sweeping the 1500m and 5,000m Diamond League titles in 2019, the Netherlands' Sifan Hassan, the queen of range, is finally starting to reap the rewards of her one-of-a-kind skill set.
Winning twin Diamond League crowns at those distances had never been done by a man or woman — not just in one season, but ever — before Hassan crushed her competition in Zurich (1500m) and Brussels (5,000m) in the last two weeks, leaving no doubt that she'll be the gold medal favorite in whichever events she chooses for the World Championships.
The Nike Oregon Project athlete has been a phenom for years with world-class times from 800m to the half marathon, but 2019 has seen her elevate from "good at everything" to "one of the best ever at two distances simultaneously." A mile world record and the fastest 3K in 26 years were side effects of that growth.
Hassan's coach, Alberto Salazar, details his athlete's work ethic after her mile world record on July 12: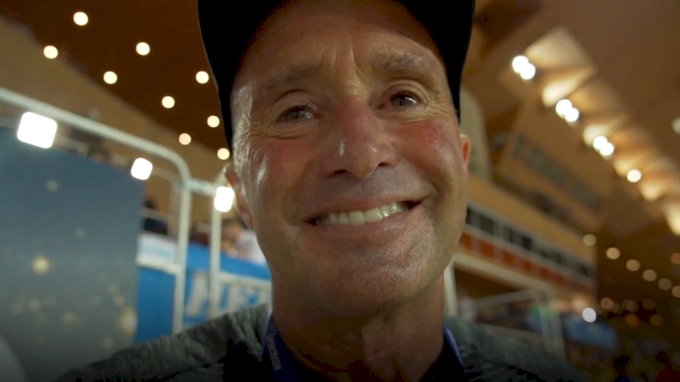 Create a free account to unlock this video!
Get Started
Already a subscriber? Log In
But Hassan's greatness this year has created track and field's equivalent of a first world problem: The 26-year-old cannot run the 1500m-5,000m double in Doha — the finals are separated by 30 minutes for some reason — so by default she will have to spurn one of her best events as she seeks her first outdoor global championship gold.
If she elects to go the 5,000m-10,000m route as she stated at the beginning of the season, Hassan will pass on a 1500m that is weaker at the top than any other championship season in recent memory.
Three medal contenders have big question marks entering Doha: Reigning Olympic and World champion Faith Kipyegon has raced just once in 2019, 3:55 performer Laura Muir is dealing with a calf injury that has kept her out of competition since July, and world record holder Genzebe Dibaba missed over a month and looked shaky in her return in Zurich. Hassan would still have her hands full with the American duo of Shelby Houlihan and Jenny Simpson, to name a couple, but the vulnerability of the 1500m must have her reconsidering her plans.
Of course, the flip side of that is the unorthodox 1500m-10,000m double, a pairing in which only Hassan could be reasonably expected to excel and one that has no precedent. No one has ever medaled in both disciplines at the World Championships, if even such an attempt has ever been made.
The speed required to be competitive over three and three-quarters laps and the strength to do so over 25 are skills that rarely overlap at the top of the sport. But Hassan is equipped with the perfect tools: She has run top-20 all-time marks in the 1500m (3:55) and the half marathon (65:15).
While the health status of 10,000m world record holder Almaz Ayana is uncertain, a win for Hassan in this event won't be easy by any means. She has run just one 10K in her life and anything can happen over 25 laps in the Doha heat. If Hassan does, in fact, attempt the 1500m and 10,000m, she'll do so with the knowledge that any mistake in the longer race could come at the peril of three rounds in the metric mile. (The 10,000m final is Sept. 28, with the 1500m first round on Oct. 2.) How she fares in her most unfamiliar discipline could determine the overall success of her championships, and, by extension, her season.
Whichever lineup of races Hassan ultimately chooses, anything short of at least one gold medal would have to be considered a failure that would undermine the career year she's had. The double Diamond League champion has received no favors by the schedule, but a glass-half-full view is that the quirkiness provides Hassan the opportunity to show off the full scope of her greatness by entering the 1500m and 10,000m. There is, of course, more risk in that pursuit than the traditional 5,000m-10,000m attempt: For one, it's one more race, and two, it's never been done.
But for how exciting of a talent Hassan is, picking the traditional route is too boring and way too limiting. She may never have this unique opportunity again, and based on how well things have gone this season, she should take it.