2019 IAAF World Championships
2019 IAAF World Championships Women's Hurdles Preview
2019 IAAF World Championships Women's Hurdles Preview
Muhammad vs. McLaughlin vs. 52.20 headlines the women's 400m hurdles, and a DEEP Team USA will try to slow Danielle Williams' roll in the 100m hurdles.
Sep 25, 2019
by Jennifer Zahn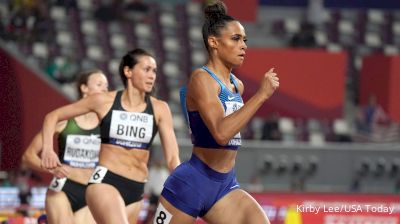 Unlock this video, live events, and more with a subscription!
Get Started
Already a subscriber? Log In
Unlock this article, live events, and more with a subscription!
Get Started
Already a subscriber? Log In
Our next installment of event previews for the 2019 IAAF World Championships in Doha, Qatar, focuses on the women's hurdles races.
Syd, No Longer The Kid, Spells Trouble For Olympic Champion In Women's 400m Hurdles
Reigning Champion: Kori Carter
2019 Diamond League Champion: Sydney McLaughlin
Event Schedule: Oct. 1 (Round 1); Oct. 2 (Semifinal); Oct. 4 (Final)
Analysis:
When Dalilah Muhammad stopped the clock at 52.20 at the 2019 USATF Outdoor Championships, she stopped the hearts of everyone at Drake Stadium and ended Russia's Yulia Pechonkina's reign as the world record-holder (52.34) for the past 16 years.
It was almost enough to also stop people from thinking about the ascendant Sydney McLaughlin's chances at winning her first senior gold medal this year.
Almost.
McLaughlin, who finished runner-up in the rain on that world record-setting day in Des Moines in 52.88 (the only 400m hurdles race she lost this year), went on to emphatically win the Diamond League title in Zurich with the second-fastest mark of her career, 52.85, over Shamier Little (53.86) and Muhammad (54.13) in third—their last meeting prior to facing off again in Doha.
Zurich echoed the 2016 Olympic champion's loss earlier this season to McLaughlin in Oslo—another 54-second result, though it apparently stemmed from an early draft of a world record-setting race plan. If there's anything to glean from how starkly her Diamond League performances contrasted her 52.20, it's that Muhammad benefits from running championship rounds.
And so, if everything unfolds as expected through qualifying, Muhammad vs. McLaughlin vs. 52.20 will headline the final. But it's important to note that, despite 2019's appearances, sub-53 is anything but a walk in the park—both McLaughlin and Muhammad have only run below that mark three times each.
That still puts them a stratosphere above the rest of the field—the only other qualifier to venture below that vaunted milestone, Zuzana Hejnova of the Czech Republic, ran her PR (52.83) more than six years ago.
That's why everyone should keep their third eye on the United States' Ashley Spencer, the 2016 Olympic bronze medalist, through the rounds. She closed in on a 53.11 PR this year in that ridiculously fast USATF Outdoor Championships final.
I'd be remiss not to mention defending global champion Kori Carter. Although she looked phenomenal in London's 2017 final, where she set her 53.07 PR, she hasn't cracked 55 seconds all season. It could be a bit of rust from focusing on the short hurdles throughout 2018, but she will have another two months of 400m hurdles training under her belt by the time she reaches Doha, and after all… #FloKnows
But since I'm going off the progress I've seen so far this season, I'm calling another global sweep for Team USA in the hurdles this year: Muhammad, McLaughlin, Spencer—in that order.
Which brings us to our next event…
Can Insane U.S. Depth Stymie Danielle Williams' Furious Momentum?
Reigning Champion: Sally Pearson
2019 Diamond League Champion: Danielle Williams
Event Schedule: Oct. 5 (Round 1); Oct. 6 (Semifinal); Oct. 6 (Final)
Analysis:
Just three years after the United States' historic sweep of the Olympic women's 100m hurdles final, the red, white and blue will have another opportunity to fully occupy the podium in Doha—but not if Danielle Williams has anything to say about it.
The Jamaican, who shocked so many in 2015 by claiming the world title as a 23-year-old in Beijing, once again leapfrogged expectations this season with lightning-quick PRs that kept world record-holder Keni Harrison (12.20) from reaching the top spot in the 100m hurdles world performance-order list since July. Williams ran the fastest four races of her life—12.41, 12.32, 12.46, 12.46—this year, and her PR set the Jamaican national record and world lead at the London Diamond League meeting.
Compared to Harrison's 12.43 season's best, Williams' 12.32 might seem like it's in a league of its own. But averages tell a different story.
In 2019, Williams averaged 12.59 across 11 races, while Harrison trails closely behind with a 12.61 average across 13 races—the first 10 of which she won, including two against Williams. And, despite lapses on the global stage in 2015, 2016 and 2017, Harrison has the all-time edge with her world-record PR and a recent world medal from the indoor championships in 2018.
Harrison might also have a team advantage. Once again, four of the top eight entrants are all American: Harrison; 2016 Olympic silver medalist Nia Ali, who ran the third-fastest mark of her career (12.55) this season; 2016 Olympic champion and 12.26 PR-owner Brianna McNeal (nee Rollins); and American 60m hurdles record-holder Sharika Nelvis.
Of course, Williams will have company in her countrywoman Janeek Brown, who ran the second-fastest time in NCAA history (and the second-fastest time in the world this year) at the Division I championships before going pro with Puma. She hasn't run faster than that in the five races she's contested since, but she also hasn't raced since the Birmingham Diamond League meeting, marking her first break from competition in eight months.
Tobi Amusan of Nigeria will also contend for a shot at the podium. She's enjoyed a breakthrough season with highlights that include a 12.49 PR from July and enters Doha with a win from the Berlin ISTAF meet… though that's because her final competition prior to Worlds, the Brussels Diamond League, ended with a DQ.
Unfortunately, the reigning world champion won't make an appearance in Doha. Australia's Sally Pearson retired unexpectedly this year due to persistent injuries.