2019 IAAF World Championships
Team USA Gains Five Medals On Day Four At IAAF World Championships
Team USA Gains Five Medals On Day Four At IAAF World Championships
Emma Coburn, Raevyn Rogers, Ajee Wilson, Rai Benjamin and Vashti Cunningham all earned medals for the United States today in Doha.
Sep 30, 2019
by Jennifer Zahn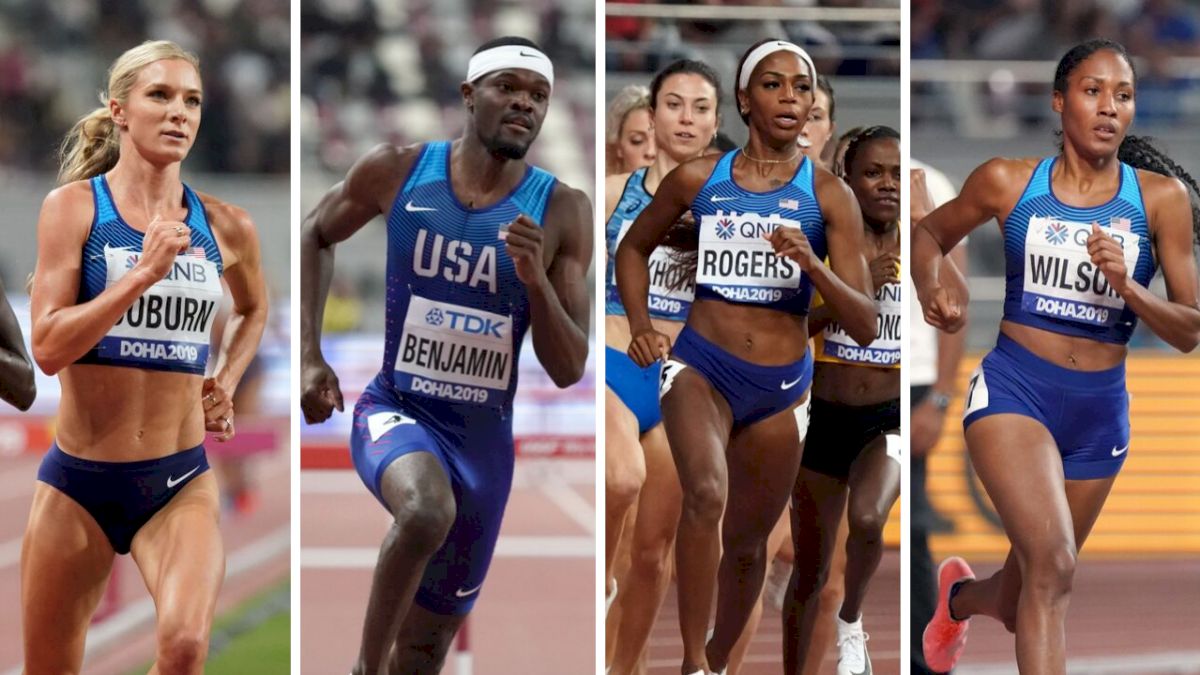 Unlock this article, live events, and more with a subscription!
Get Started
Already a subscriber? Log In
The fourth day of the 2019 IAAF World Outdoor Track & Field Championships is going down today in Doha, Qatar, where we'll see finals in the women's high jump, men's discus, men's 5000m, women's steeplechase, women's 800m, and men's 400m hurdles—follow along with our live updates below by refreshing this page frequently!
All times below are Central.
9:05 a.m. | Women's 200m Heats
FIRST 3 IN EACH HEAT (Q) AND THE NEXT 6 FASTEST (Q)
Just like she did in the 100m yesterday, defending world champion and 2016 Olympic gold medalist Dafne Schippers (NED) withdrew from the 200m heats—presumably due to injury. In addition, yesterday's 100m bronze medalist, Marie-Josee Ta Lou (CIV) also scratched, as she's already medaled in her marquee event.
Heat one's automatic qualifiers: Anthonique Strachan (BAH), 22.86; Kamaria Durant (TTO), 23.08; Shashalee Forbes (JAM), 23.15.
Heat two's big Qs: Ivet Lalova-Collio (BUL), 22.79; Jodie Williams (GBR), 22.80; Mujinga Kambundji (SUI), 22.81.
Brittany Brown, the 2019 U.S. indoor champion, took heat three rather impressively in a 22.33 PR over 2016 Olympic 100m and 200m champion, Jamaica's Elaine Thompson (22.61). Third-placer Lisa Marie Kwayie of Germany got the third auto spot in a 22.77 PR.
Last night's 100m silver medalist, Dina Asher-Smith, takes top billing in heat four, runs the fastest qualifying time of the day in 22.32—and looked smooth AF while doing it. 2019 U.S. 200m champion and Milwaukee Bradley Tech alum Dezerea Bryant finished runner-up in a comfortable 22.56; Tynia Gaither (BAH) took third in a season's-best 22.57.
Niger's Aminatou Seyni looks like a name to watch after blasting the final 50 meters of heat five to clinch first in a national record-setting PR of 22.58—especially after Blessing Okagbare of Nigeria, one of the top contenders with a PR of 22.04, finished poorly and then was disqualified for a lane infraction. Tatjana Pinto of Germany finished right behind Seyni with another PR in the heat, 22.63, and Gambia's Gina Bass was third (22.67).
2018 and 2019 NCAA 200m champion Anglerne Annelus stormed away from the field almost immediately to claim the sixth and final heat in 22.56. Carolle Zahi (FRA) finished second in 22.99, and Beth Dobbin third in 23.14.
10:20 a.m. | Women's 400m Heats
FIRST 3 IN EACH HEAT (Q) AND THE NEXT 6 FASTEST (Q)
Defending champion Phyllis Francis kicked off heat one with a statement as she threw down a major gap between herself and the rest of the field and dropped a 50.77. Sada Williams (BAR) and Lada Vondrova (CZE) grabbed the next two automatic spots in 52.14 and 52.23, respectively.
In heat two, 2019 NCAA champion Wadeline Jonathas wouldn't be outdone by her countrywoman, Francis—she glided to a 50.57, beating the rest of the field by a half a second, looking far more mature than her 21 years of age would indicate. Jamaica's Shericka Jackson, the 2016 Olympic bronze medalist, finished runner-up in 51.13, while third went to Bendere Oboya (AUS) in a PR 51.21.
The Americans are flexing all over these heats—2019 U.S. champion Shakima Wimbley took the third prelim in 51.17. Wimbley is initially disqualified for lane infringement, but has been reinstated.
In her stead, Poland's Iga Baumgart-Witan will take the top qualifying spot rom heat three in 51.34; then Great Britain's Laviai Nielsen (51.52); then Tiffani Silva Marinho (51.96).
Bad luck struck again in heat four for Team USA.
After three heat wins for the first three Americans to compete in this event, U.S. Championships runner-up Kendall Ellis unfortunately couldn't find the sub-50 speed she's capable of at her best and she finishes outside of automatically or time-qualifying in fifth in 51.82. Heat four's sending the following to the semifinals: Galefele Moroko (BOT, 50.59 PR), Stephenie Ann McPherson (JAM, 51.21), and Favour Ofili (NGR, 51.51 PR).
In heat five, 2016 Olympic champion Shaunae Miller-Uibo looked downright superhuman as she wasted no time in blasting out to a 50-meter lead and then proceeded to jog into the finish line at the 350-meter mark without any need to worry as the rest of the field struggled for placing behind her. The Bahamian ran 51.30, a pedestrian effort compared to the 49.05 PR she ran in April.
12:05 p.m. | Men's 110m Hurdles Heats
FIRST 3 IN EACH HEAT (Q) AND THE NEXT 6 FASTEST (Q)
Reigning Olympic champion and defending world champion Omar McLeod (JAM) gets out well and holds on to his lead to win heat 1 in 13.17, a fine effort and a step ahead of the other big Qs from Milan Trajkovic (CYP), Antonio Alkana (RSA) and Devon Allen (USA), who run 13.37, 13.41 and 13.46, respectively.
Sergey Shubenkov, the authorized neutral athlete, shows he is the class of heat 2 with a convincing 13.27 victory over Wenjun Xie of China in 13.38, Jason Joseph of Switzerland in 13.39 (a new national record) and Shane Brathwaite of Barbados in 13.51. Shubenkov has medaled at each of the last three world championships, earning gold in 2015, silver in 2017 and bronze in 2013.
This just in: American Daniel Roberts has been disqualified according to the broadcasters, reportedly for illegally knocking over a competitor's hurdle in the lane next to him. Jeffrey Julmis of Haiti is another DQ casualty in this section, while France's Pascal Martinot-Lagarde is awarded the heat win in 13.45. Speaking of DQs, American Shakina Wimbley has been reinstated in the 400m after being initially disqualified for stepping on the line in the prelims.
Grant Holloway of the U.S. shows why he's become a mega-star in such a short time period by storming to the front of heat 4 and winning the section in 13.22. Shunya Takayama of Japan may have had the most impressive finish in the field, though, leaning at the line to get within a tenth of a second of Holloway in 13.32.
Going out with a bang! Spain's Orlando Ortega wins heat 5 going away in 13.15, by far the fastest time of the day. His 13.05 season's best is the third-fastest time in the world this year and with world No. 2 Roberts out, Ortega's medal chances just got a lot better.
12:50 p.m. | Men's 200m Semifinals
FIRST 2 IN EACH HEAT (Q) AND THE NEXT 2 FASTEST (Q)
Adam Gemili of Great Britain shows that yesterday's prelim victory was no fluke in thoroughly torching reigning world champion Ramil Guliyev of Turkey. Gemili flew from the start and crossed in a season's best of 20.03, as Guliyev narrowly outran Canada's Aaron Brown for the second big Q, 20.16 to 20.20.
So, Noah's hair is no longer silver! Bummer, as I think we were all enjoying the Dragon Ball Z-inspired (I think?!) look. I'm sure he's got something wild planned for the final. He kept his racing pretty safe in the prelims, will he give us something to watch today?.... Much faster today, 19.86, but the young star still looked exceedingly comfortable. Ecuador's Alex Quinonez put pressure on him late and deservedly gains a big Q in 19.95. China's Zhenye Xie was also close to Lyles during the first half of the race, but couldn't quite hang and finishes in 20.03. He'll have to wait and see if that's fast enough for the final.
The Andre De Grasse comeback show continues! The Canadian, who earned bronze in the 100m just a few days ago, earned the final section win with a late surge in 20.08. Kyle Greaux (TTO) takes second in 20.24.
1:20 p.m. | Men's 5000m Final
Here we go, the first men's distance final of these championships! Reigning world champion Muktar Edris goes straight to the front with two of his countrymen, plus Americans Paul Chelimo and Hassan Mead. The three Ingebrigtsen brothers, who are making history tonight with their triple-threat appearance in the final, are running mid-pack.
At the 1k, Haile Bekele (ETH) leads the field in 2:39.07, with Chelimo, Barega (ETH), Edris, Mohammed Ahmed (CAN), Birhanu Balew (BRN), Mead and Kenyans Jacob Krop and Nicholas Kimeli in tow. There's a slight gap back to the Ingebrigtsens and the rest of the field.
4:13 for the 1600m split and 4:16 for the first mile for our top pack.
2k in and the Ethiopian duo of Barega and Bekele continue to control things up front (5:14 split), with Chelimo, Balew, Ahmed, Edris, Krop, Kimeli and Australia's Stewart McSweyn maintaining contact. They pass 3K in 7:53.04, and now Chelimo is ready to take charge. The American, who has medaled in the past two global championships, takes the lead with Filip and Jakob Ingebrigtsen finally making a move to go with him up front.
The anticipation is mounting in this race, as everyone is still in it with three laps to go. It's definitely going to come down to a kick—a tactic that may favor the young Ingebrigtsen.
700 to go, it's Ahmed at the front with Chelimo and J. Ingebrigtsen. Jakob gets his heels clipped by Barega but he's still in it—then he clips Ahmed, as the Wisconsin alum nearly falls but regains his composure. We're on the bell lap now and Jakob goes for it! The youngster looks extremely strong, putting a few strides on the field but the Ethiopians are not to be defeated just yet. Round the bend, Edris and Barega fly by and will finish 1-2 in 12:58.85 and 12:59.70. Ahmed, who trains with the Bowerman Track Club in Portland, Oregon, shows up with a big performance for North American fans to take third in 13:01.11, his first medal at the global championship.
Bekele takes fourth to cap a nearly flawless team effort by the Ethiopian contingent, as Jakob just doesn't have it in the homestretch and finishes fifth in 13:02.93. Chelimo's legs weren't there in the final lap and goes home medal-less at a global outdoor championship for the first time in his career, placing seventh in a season's-best of 13:04.60, surely a hollow consolation prize.
Filip Ingebrigtsen dropped out of the race with 500 meters to go, leading the broadcasters to muse that the elder Ingebrigtsens' main role was to set Jakob up for the best chance possible to medal. The 19-year-old Norwegian was laid out on the track after the race, an inconsolable look in his eye, but this experience certainly sets him up to do great things in the future.
1:50 p.m. | Women's Steeplechase Final
The American women have set almost impossible expectations in this event after their unlikely 1-2 finish in 2017. Still, either Emma Coburn or Courtney Frerichs has a good chance to land on the podium vs. a fierce field of Kenyan women.
Beatrice Chepkoech, the world record holder and overwhelming favorite, is off to a blazing, take-no-prisoners start. Kenyan countrywoman Hyvin Kiyeng leads the chase pack with reigning world champion Coburn right behind her in perfect position. Chepkoech's opening 1k split is 2:52.95, which is an astounding 10 seconds faster than this race was two years ago, when Coburn won.
Three laps to go, Chepkoech is leading by 50 meters and doesn't look like she's going anywhere (5:55 at 2k). Kiyeng still leads the chase pack with Coburn slightly on her inside, with Yavi and Chemutai a stride behind. Frerichs is gradually making her way to that chase pack.
With 500 meters to go, Coburn makes a big move to take over second position in wild pursuit of Chepkoech. Behind Coburn, Germany's Gesa Krause is making a big run to move into medal position. Can they hold on?
Chepkoech's insane lead shrinks considerably, but it's more than enough for her first world title in 8:57.84, a new championship record. Coburn captures her third straight global championship medal with a silver with a personal best of 9:02.35, as Germany's Krause is the surprise bronze medalist in 9:03.30, a new national record.
This race remarkably marks Chepkoech's first global medal of any kind; she was fourth at the Rio Olympic Games and fourth at the 2017 World Championships, where she entered as a huge favorite and lost an insurmountable amount of time after mistakenly missing the first water jump. The other Kenyans don't fare so well, despite their top ranking heading into these championships, as Kiyeng places eighth overall and Chespol DNFs.
Frerichs, the American record holder, places a measured sixth in 9:11.27.
2:10 p.m. | Women's 800m Final
Could Ajee' Wilson become the first American woman to win world championships gold in the 800m? She takes the field out fast, as usual, splitting 26.93 for the opening 200m and 57.94 for 400m, closely followed by Natoya Goule 1:28 for 600m.
No way—huge, huge upset in the final stretch as Uganda's Halimah Nikaayi surpasses Wilson, who slows and falters as her training partner Raevyn Rogers closes hard to surpass her for the silver with a reportedly 13.86 final 100-meter split.
The times are not blazing fast—Wilson's run 1:55 before, against Caster Semenya—Nakaayi's winning time is a national record of 1:58.04, Rogers finishes in 1:58.18 and Wilson runs 1:58.84. It's been literally years since a non-DSD athlete defeated Wilson and I think there was a big element of surprise when Nakaayi kept pushing the pace, causing Wilson to just crumble in the final meters.
Two teammates are on the podium—but it must be very bittersweet. Rogers likely hoped for silver today, but behind Wilson.
2:40 p.m. | Men's 400m Hurdles Final
Defending champion Karsten Warholm gets out brilliantly and makes up the curve immediately from lane four. As the athletes round the final bend, Warholm emerges as the leader with Benajmin closely in pursuit. Had Warholm gone too hard, too soon? He strains in the final 100m and looks vulnerable to the American Benjamin, whose long limbs effortlessly eat up the track, but the 23-year-old Norwegian still has just enough left.
Warholm misses the world record, a stat on many pundits' minds, but successfully defended his world title in 47.42. Benjamin earns his first world medal with a silver in 47.66, and Abderrahman Samba, the hometown favorite from Qatar, earns bronze in 48.03.
Some of Warholm's slowdown can be attributed to increasing his steps from 13 to 15 ahead of the final hurdle. He's been hitting 13 lately in competition and the shift to 15 steps slowed him up in the straight. (h/t to FloTrack editor Jenny Zahn for the hurdler eagle-eye).
Women's High Jump Final
Mariya Lasitskene, an authorized neutral athlete by way of Russia, becomes the first athlete to win three straight world high jump titles, thanks to a nearly perfect slate.
The 26-year-old did not miss a jump during competition itself; she bailed out only after the entire field had retired and after three attempts at 2.08m, which would tie for the second-highest jump in world history. She did not clear the height, but was happy to settle for gold.
The competition was a slow needling-out of talent, with 19-year-old Yaroslava Mahuchikh of Ukraine earning both the silver medal and a new world U20 record with her top clearance of 2.04m.
America's Vashti Cunningham earned her first medal at an outdoor global championships with a 2.00m top height today, tying her personal best. The 21-year-old star had previously earned gold and silver medals at the world indoor championships in 2016 and 2018, respectively.
Tynita Butts of the United States set a personal best of 1.93m, good for eighth place in the field.
Men's Discus Final
World leader Daniel Stahl of Sweden topped his stellar 2019 with his first world championships gold, a welcome upgrade after earning the silver medal in 2017. His winning mark of 67.59m came on his third throw and he also topped 67 meters in two other attempts. No other competitor threw 67 meters.
Fedrick Dacres of Jamaica, fourth at worlds in 2017, earned his first world medal with a 66.94m throw—good for silver. Lukas Weisshaidinger of Austria also earned his first-ever world medal with a 66.82m effort.
The only American to make the final was Sam Mattis, who placed 11th in the field with a mark of 63.42m.