2019 IAAF World Championships
Brazier Gets First U.S. 800m Gold, Lyles Cruises To Title | Day 5 Recap
Brazier Gets First U.S. 800m Gold, Lyles Cruises To Title | Day 5 Recap
Catch up on our updates from the world championships in Doha, where we saw finals in the men's pole vault, women's javelin, men's 800m, and the men's 200m.
Oct 1, 2019
by Johanna Gretschel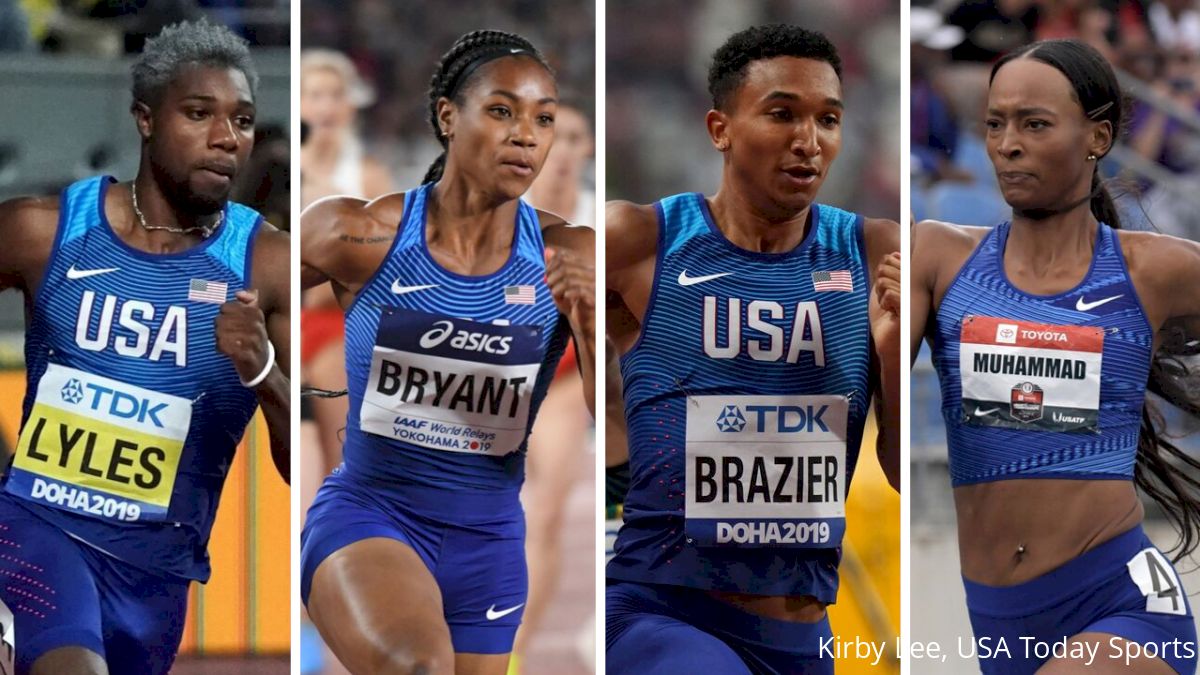 Unlock this article, live events, and more with a subscription!
Get Started
Already a subscriber? Log In
The fifth day of the 2019 IAAF World Outdoor Track & Field Championships is going down today in Doha, Qatar, where we'll see finals in the men's pole vault, women's javelin, men's 800m, and the men's 200m—follow along with our live updates below by refreshing this page frequently!
All times below are Central.
8:35 a.m. | Men's 400m Heats
FIRST 3 IN EACH HEAT (Q) AND THE NEXT 6 FASTEST (Q)
The American men advanced with ease through the first round of the 400 meters. Michael Norman, the fastest man in the world this year at 43.45, won section 4 with a relaxed effort of 45.00; Fred Kerley, world No. 2 this year, cruised to a runner-up placement in section 3 in 45.19; and Vernon Norwood took the final auto qualifier in section 2 with a mark of 45.59 as Granada's Kirani James won the heat in 44.94, the fastest time of the day.
Also of note: Kenya's Emmanuel Korir, typically one of the top 800m runners in the world, won section 5 in 45.08. The 400m is a contingency plan for the UTEP alumnus, who did not make the 800m final. He was involved in a car accident earlier this summer that significantly affected his fitness.
10 a.m. | Women's 400m Hurdles Heats
FIRST 3 IN EACH HEAT (Q) AND THE NEXT 6 FASTEST (Q)
Syd the Kid and Dalilah Muhammad are setting up for what should be a fabulous 400m hurdle final. The Americans proved they're here to play with a competition-leading 54.45 in heat 1 for McLaughlin, and a 54.87 heat 3 win for Muhammad, the reigning Olympic champion and American record holder. The big question mark of these championships was whether reigning world champion Kori Carter, also of the United States, was fit enough to contend with her countrywomen after skipping USAs and much of the summer season. The answer is "no," as the Coach Floreal student dropped out of section 2.
Also of note: USC alum Amalie Iuel set a national record for Norway in 54.72 to win heat 2, the second-fastest time of the day behind McLaughlin.
10:15 a.m. | Men's Steeplechase Heats
FIRST 3 IN EACH HEAT (Q) AND THE NEXT 6 FASTEST (Q)
All three Americans qualify through to the final, though it's only U.S. champion Hillary Bor who earns an automatic qualifier by placing third in section 3 with a time of 8:20.67. In a nice turn of fate, the U.S. Army athlete was the lone American not to qualify for the world steeplechase final in 2017.
Fellow American Stanley Kebenei, fifth at the world champs in 2017, placed sixth in heat 1 in 8:19.02, while Andy Bayer, appearing here in his first global championship, will also advance to the final on time after placing fourth in heat 2 in 8:18.66, less than a second away from the auto qualifier.
Kenya's Conseslus Kipruto, the reigning world and Olympic champion, has hardly raced this year but always shows up when titles are on the line. He wins section 3 in 8:19.20. No major casualties.
12:50 p.m. | Women's 400m Semifinal
FIRST 2 IN EACH HEAT (Q) AND THE NEXT 2 FASTEST (Q)
Huge run from Salwa Eid Naser of Bahrain in section 1, who runs 49.79 to absolutely torch the field—including reigning world champion Phyllis Francis of the United States, who plays a bit of catch-up to run a season's-best of 50.22. No one else is within a second of Naser, as third place goes to Iga Baumgart-Witan in a comparatively pedestrian 51.02, a personal best.
With just two auto spots to the final, Jamaica's Shericka Jackson chooses not to take any chances and leaves Shaunae Miller-Uibo in the dust at the halfway mark. The long-limbed Bahamian, the fastest woman in the world this year, swallows her up in the final 100m to prove why the final will likely be a two-woman race with Naser, as she crosses the line in a quick 49.66. Jackson pays for her boldness, as American Wadeline Johnathas, still a student at South Carolina, passes her for second in a personal best of 50.07 to Jackson's 50.10.
U.S. champion Shakima Wimbley, whose long-legged stride recalls Miller-Uibo, gets out well but at halfway, is overtaken by Jamaica's Stephenie Ann McPherson, who holds on to win heat 3 in 50.70. Wimbley drops out a few strides into the homestretch, a shame to see after a whirlwind prelim round in which she was disqualified and reinstated. Poland's Justyna Swiety-Ersetic takes second in 50.96, while fellow American Kendall Ellis places third in 51.58, finishing half a second outside of advancement.
1:35 p.m | Women's 200m Semifinal
FIRST 2 IN EACH HEAT (Q) AND THE NEXT 2 FASTEST (Q)
A bit of breaking news: Olympic champion Elaine Thompson has dropped out of the race. The Jamaican has not been as dominant since the Olympic year and missed the podium in the 100m this past weekend with a fourth-place finish in the final.
In section 1, American Anglerne Annelus, the two-time NCAA champion from USC, narrowly beats out Mujinga Kambundji of Switzerland, as both women run 22.49.
Another American, Brittany Brown, overtakes Bahamian Tynia Gaither in heat 2, 22.46 to 22.57 for the win and auto qualifier.
Dina Asher-Smith of Great Britain, the 100m silver medalist, proves she is the absolute favorite in this event in the absence of either Thompson or world leader Shaunae Miller-Uibo. She crushes heat 3 in 22.16, though U.S. champion Dezerea Bryant finishes well to take second in 22.56.
2:10 p.m. | Men's 800m Final
We're breaking away from a thrilling men's pole vault final to start the men's 800m about five minutes late. Can Donavan Brazier seal his season with his first global championship medal? There must be some stress within the Nike Oregon Project camp over the past 12 hours, given Coach Alberto Salazar's doping ban, though Salazar actually coaches Clayton Murphy, not Brazier. Will the pressure affect them in any way?
Vazquez of PR took things out insanely fast during the semifinal and looks to be using the same tactics now. Brazier is the only one sticking to him, as they go through 400m in a blazing 48.99—the fastest split in world champs history!
Brazier cruises past Vazquez on the backstretch and is now up front all by himself, he's going to win the gold! No one is even close! 1:42.34, American record and World Championships record! Brazier is the first gold medalist over 800 meters in American history. What a way to rise above the drama and perform when it matters.
Amel Tuka of Bosnia takes silver in 1:43.47 and Ferguson Rotich of Kenya earns bronze in 1:43.82, while youngster Bryce Hoppel of the United States closes out his impressive year with a 1:44.25 personal best performance for fourth overall. Imagine—just a year ago, he was racing NCAA cross country!
Vazquez fades to fifth in 1:44.48 and Murphy, the Salazar protege who earned bronze in the Rio Games, is eighth—last in the field—in 1:47.84, surely a disappointing end to a stressful 24 hours in Doha.
2:40 p.m. | Men's 200m Final
Noah Lyles, crowned with a head of silver hair, left it until the final 30 meters to make his move and decisively deliver on the outsized expectations placed upon the American star to win a world title. He was even with the field until the very end, when he stretched out a lead to cross the line first in 19.83.
Andre De Grasse of Canada, the 100m bronze medalist, added a silver to his resume with a time of 19.95, and Ecuador's Alex Quinonez took bronze in 19.98. Adam Gemili of Great Britain, who ran brilliantly through the rounds and appeared to challenge Lyles early on, had to settle for fourth in 20.03, a season's-best.
Men's Pole Vault Final
The men's pole vault final was top-notch to match the energy of the women's competition yesterday in Doha—even without world record holder Renaud Lavillenie in the field. Once again, it came down to a few elite athletes: reigning world champion Sam Kendricks of the United States, young prodigy Mondo Duplantis of Sweden and formerly of LSU, and Poland's Piotr Lisek, the 2017 silver medalist.
The rest of the field was eliminated at 5.80m and the trio moved to 5.87m. All three men missed their first attempt, but Duplantis and Lisek cleared their second attempt while Kendricks—who has rarely faltered this season—missed a second time before recovering and clearing the third attempt.
At 5.92m, Kendricks cleared right away and found himself at advantage again, while Duplantis missed twice, and Lisek missed once, then moved up to 5.97m and missed twice. Duplantis willed himself over the bar on his third attempt and it was on to 5.97m—where both men missed twice, then cleared on the third try. Neither man could clear 6.02m and Kendricks won on less misses, thus successfully defending his world title while Duplantis earned his first senior-level global championship medal with a silver.
Kendricks' American countryman Cole Walsh placed tenth in 5.55m.
Women's Javelin Final
Kelsey-Lee Barber made history by becoming Australia's first world champion in the javelin, thanks to a monster final throw of 66.56m which ricocheted her into the lead ahead of Chinese duo Shiying Liu (65.88m) and Huihui Lyu (65.49m).
Kara Winger was the lone American in the final and she came up just short of the podium with a competition-best throw of 63.23m, good for fifth overall.