2019 IAAF World Championships
Holloway's Gold Buoys Team USA After Norman Misses Final | Day 6 Recap
Holloway's Gold Buoys Team USA After Norman Misses Final | Day 6 Recap
The sixth day of the 2019 IAAF World Championships is going down—follow along with our live updates below by refreshing this page frequently!
Oct 2, 2019
by Johanna Gretschel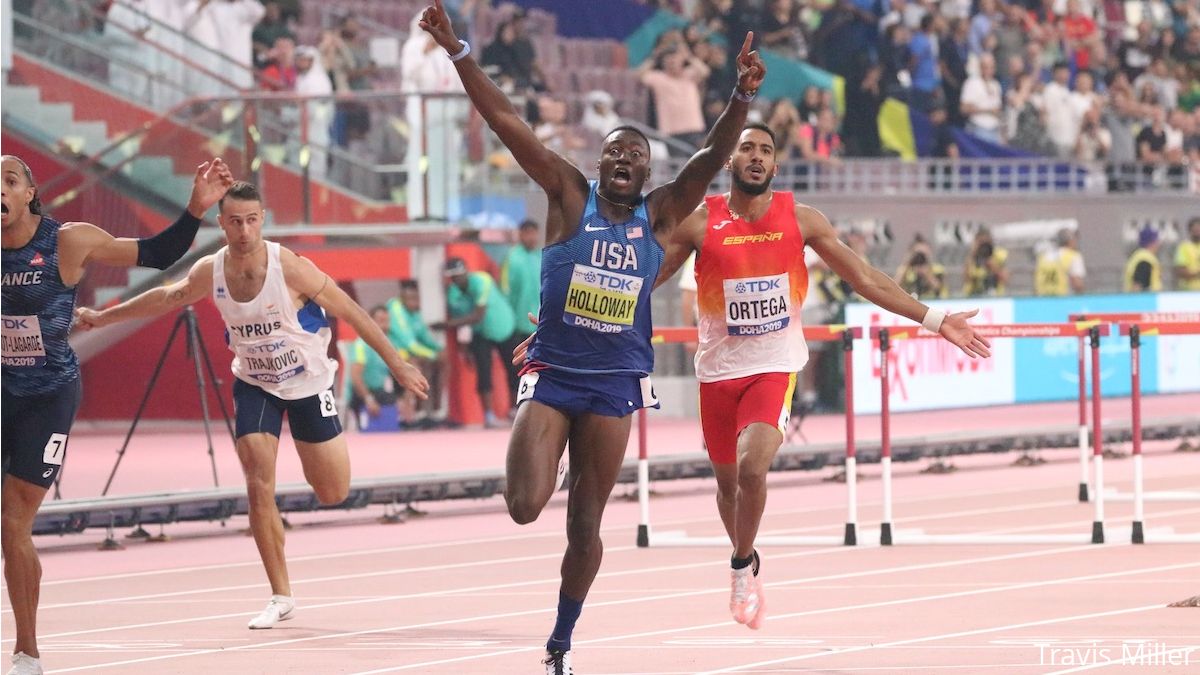 Unlock this article, live events, and more with a subscription!
Get Started
Already a subscriber? Log In
The sixth day of the 2019 IAAF World Outdoor Track & Field Championships is going down today in Doha, Qatar, where we'll see a ton of action in the multis and finals in the men's hammer throw, women's 200m, and the men's 110m hurdles—follow along with our live updates below by refreshing this page frequently!
All times below are Central.
9:35 a.m. | Women's 1500m Heats
FIRST 6 IN EACH HEAT (Q) AND THE NEXT 6 FASTEST (q)
Remember when Sifan Hassan ran 3:59 at the end of a 10K? Yeah, us, too. It's hard to fathom anything short of a broken leg stopping Hassan from capturing what would be a historic double gold in the 10K and 1500m this week, even if her coach, Alberto Salazar, got thrown out of the stadium and banned from coaching due to doping charges. Rough week.
Still, she looks her normal, perky self in effortlessly shifting gears from last place at halfway in heat 1 to win in 4:03.88 ahead of Olympic champion Faith Kipyegon of Kenya. Nikki Hiltz of the United States places third in 4:04.00.
U.S. champion Shelby Houlihan and perrenial medal contender Jenny Simpson also advance, as does Oregon alum Jessica Hull, here representing Australia and Great Britain's Laura Muir. No major casualties.
10:25 a.m. | Women's 5,000m Heats
FIRST 5 IN EACH HEAT (Q) AND THE NEXT 5 FASTEST (q)
Rookie pro Karissa Schweizer of the United States has a huge, huge run to take second place in the first second behind reigning world champion Hellen Obiri in 14:52.41, her first time under the 15-minute barrier that makes her the seventh-fastest American in history. Obiri finishes less than a second ahead in 14:52.13.
Fellow American Elinor Purrier finishes in ninth place in 15:08.82, but will advance on time, as will South Africa's Dominique Scott, a former Arkansas athlete.
An exciting heat 2 sees Ethiopia's Tsehay Gemechu gain the edge over Germany's Konstanze Klosterhalfen, another Nike Oregon Project athlete, as both women run 15:01.57. American Rachel Schneider places eighth in 15:30.00 and will not advance to the final.
12:05 p.m. | Men's 110m Hurdles Semifinals
FIRST 2 IN EACH HEAT (Q) AND THE NEXT 2 FASTEST (q)
American Grant Holloway eats up the hurdles en route to a 13.10 victory, his fastest time this year since winning NCAAs, though Sergey Shubenkov, an authorized neutral athlete, gains ground on him late but runs out of track. The 2017 silver medalist earns the big Q in 13.18.
Reigning world and Olympic champion Omar McLeod gets out well and clocks a blazing 13.08 for the section 2 win, but he's challenged midway through by the hulking Pascal Martinot-Lagarde of France, who runs 13.12. American Devon Allen is fourth in 13.36 and will have to wait and see if that's fast enough for a small q to the final.
Training partners Orlando Ortega of Spain and Milan Trajkovic of Cypress go 1-2 to make the final in 13.16 and 13.29. Japan's Shunya Takayama has the best start but struggles to recover and slows to sixth in 13.58.
Allen's time stands as the sixth-fastest of the semis and he will advance to the final.
12:35 p.m. | Men's 400m Semifinals
FIRST 2 IN EACH HEAT (Q) AND THE NEXT 2 FASTEST (q)
American Fred Kerley gets things going with an aggressive effort, crossing the line with the heat 1 win in 44.25. He makes up the curve quickly and no one comes close to the Texas A&M product until the final 30 or so meters, when Emmanuel Korir of Kenya exhibits an impressive closer for 44.37. Korir's lanky figure coupled with his head-bob cuts an amusing figure, and he's only here because he failed to make the 800m final. Consider him an underdog medal threat.
The long-limbed Steven Gardiner of the Bahamas battles with Grenada's Kirani James down the homestretch and is just able to him off, 44.13 to 44.23, season-best marks for both men. Both men look to be in phenomenal shape. The Bahamas have the chance to win double gold in this event thanks to Gardiner and Shaunae Miller-Uibo in the women's race.
Huge shock in heat 3 as Michael Norman fails to qualify for the final. The reigning Diamond League champion is a complete non-factor in the race and though his stride looked normal, he must be going through illness or lack of fitness as he is typically very consistent. With world favorite out of contention, Machel Cedenio (TTO) wins the section in 44.41 as Anthony Jose Zambrano of Colombia runs a national record of 44.55 for the other auto qualifier. Jamaican Akeem Bloomfield also looks slightly off, but manages to sneak in with a time qualifier thanks to his 44.77. Norman's final time is 45.94 in one of the biggest upsets of these championships.
1:05 p.m. | Women's 400m Hurdles Semifinals
FIRST 2 IN EACH HEAT (Q) AND THE NEXT 2 FASTEST (q)
Easy win for world record holder Dalilah Muhammad, who runs 53.91. All in a day's work for the American champion, but behind her it's a banner day for Canada's Sage Watson, an Arizona product, who is ecstatic to set a new national record in 54.32.
Heat 2 sees Jamaican Rushell Clayton score the victory in 54.17 as two-time world champion Zuzana Hejnova of the Czech Republic out-duals American Ashley Spencer for the final auto qualifier, 54.17 to 54.41. Spencer will have to play the waiting game now.
Sydney McLaughlin eases through the final section in 53.81, the fastest time of the day and more than half a second ahead of runner-up Lea Sprunger of Switzerland, herself no slouch as the reigning European champion.
This is setting up to firework final between the two Americans, Muhammad and McLaughlin. They'll be joined by Spencer, who advances on time.
2:35 p.m. | Women's 200m Final
Dina Asher-Smith delivers the first-ever sprint gold medal for Great Britain with a dominant 21.88, a new national record. The 23-year-old was a major favorite after Elaine Thompson dropped out and she did not falter one step of the way. She earned silver in the 100m final over the weekend, and now looks to lead Team GB to the podium in the 4x100m relay.
Brittany Brown of the United States was the only woman able to stay within a few strides of Asher-Smith, and earns a silver medal and a new PB of 22.22. Huge performance for the 25-year-old, who did not even make the finals at NCAAs last year.
Mujinga Kambundji of Switzerland earns bronze in 22.51. Americans Anglerne Annelus and Dezerea Bryant place fourth and fifth in 22.59 and 22.63, respectively.
3 p.m. | Men's 110m Hurdles Final
In a shocking turn of events, Grant Holloway held off reigning Olympic and world champion Omar McLeod—who tripped on a hurdle and fell on the ground, impeding Orlando Ortega—to win his first world title in 13.10.
Sergrey Shubenkov, authorized neutral athlete, takes silver in 13.15 and France's Pascal Martinot-Lagarde earns bronze in 13.18.
American Devon Allen places seventh.
Men's Hammer Throw Final
30-year-old Pawel Fajdek of Poland wins his fourth consecutive world title in the hammer throw with a top mark of 80.5m, as no other athlete came within two meters of the European throwing legend. But behind Fajdek, there was a heated battle to make the podium as France's Quentin Bigot edged Bence Halasz of Hungary, 78.19m to 78.18m, with a big fourth-round throw.
Rudy Winkler, the sole American in the final, placed 11th with a mark of 75.20m.