2019 IAAF World Championships
Semi-Final Shocker: Michael Norman Fails To Advance in 400m
Semi-Final Shocker: Michael Norman Fails To Advance in 400m
U.S. champion Michael Norman is a non-factor in the 400m semi-finals at the IAAF World Championships.
Oct 2, 2019
by Johanna Gretschel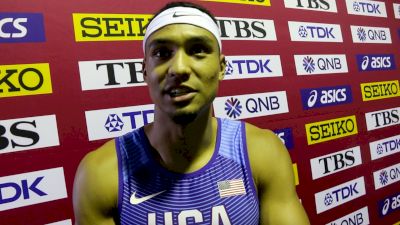 In a shocking turn of events on Day 6 in Doha, Diamond League champion Michael Norman of the United States failed to make the 400m final at the IAAF World Championships.
The 21-year-old USC product was a non-factor in the semi-final round, running 45.94 for last place in section 3 as Machel of Trinidad & Tobago captured a surprise victory in 44.41. His stride looked normal and he seemed to be purposely running a slower pace. After the race, he told media in the mixed zone that "it just wasn't my day."
"It just wasn't my day."

Michael Norman runs 45.94 in the men's 400m semi final; will not advance. #WorldAthleticsChamps

— USATF (@usatf) October 2, 2019
According to NBC OlympicTalk, Norman said the same injury which almost kept him out of the USATF Championships has nagged him in the past few weeks.
"My body was telling me stuff, giving me signs," Norman said. "Trying to push myself to an area I'm not capable of running right now. Body's telling me to slow down to keep something tragic from happening."
The result is a shocking one for the world leader, who set a blazing personal best of 43.45 to become the fifth-fastest man in world history back in April. An injury nearly hampered his build-up to the USATF Championships, but he still managed to place second there to Fred Kerley and went on to win the IAAF Diamond League final in addition to three other Diamond League wins earlier in the season.
This season marks Norman's first full year as a pro after breaking the collegiate record in the 400m with a 43.61 run at the NCAA Championships in 2018.
We'll have more from the mixed zone soon.