2019 IAAF World Championships
For Better Or Worse, Salazar Suspension Has Consumed World Championships
For Better Or Worse, Salazar Suspension Has Consumed World Championships
Jenny Simpson and Craig Engels' back-and-forth yesterday highlighted the main story of these World Championships.
Oct 4, 2019
by Kevin Sully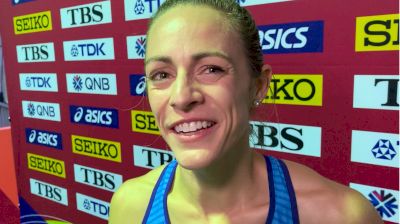 It's become a ritual at these championships — as dependable as the air conditioning inside Khalifa Stadium (which is actually quite good).
Ever since the news broke on Tuesday about Alberto Salazar's four-year coaching ban, a middle-distance runner (particularly ones associated with the Nike Oregon Project) will enter the mixed zone after their race. Then, they will get asked a generic question about their race. Reporters listen, but they are waiting for the Salazar question.
Inevitably, it arrives. In the first 24 hours, the responses were toned down, particularly for a story that involves the most famous coach of the most famous group for the biggest shoe company in the world. There were a few no-comments, but mostly they talked.
Donavan Brazier and Clayton Murphy had the unfortunate task of going first, the news breaking in the early morning hours of their 800m final.
Brazier, after he set the American record and won gold, reiterated that the Salazar investigation came before he joined the group and that he was coached by Pete Julian. Those have been the reliable responses. For athletes who were coached by Salazar, like Murphy, they emphasized the timeline: a 2015 report into allegations that occurred long before they joined the group.
Sifan Hassan hasn't joined in this daily exercise of speaking to the media, but in a statement, she said as much.
"I like to state that this investigation is focused on the period before I joined the Oregon Project and therefore has no relation to me. I was aware of the ongoing investigations when I joined the team and have always had a clean conscience, knowing we are being monitored to the absolute fullest by USADA and WADA," Hassan said.
They also talk about blocking out the news mentally. This is, after all, the most important meet of the year, which seems a feat more challenging than winning gold on such a high-pressure stage.
Outside of the group, the reaction was critical and direct, both online and in-person,
It broke open on Thursday. Craig Engels, who, to his credit, has never met a question he hasn't answered, cruised through his 1500m prelim, his first appearance of the meet. A day before, Jenny Simpson offered the most forceful rebuke of Salazar and the group.
"Get him out. That's my reaction. If you cheat, you get banned," Simpson said. "I don't think you can be that closely affiliated with anyone and not have people point fingers. I don't feel sorry for you if you're closely affiliated with someone that has a four-year ban and you're there but I'm not going to be the judge and jury of which athletes are cheating and which aren't, I'll let USADA and WADA do that job."
Engels, after a token question about his race, was asked about the investigation and then Simpson's comments directly.
"That morning (before Simpson's comments) I had breakfast with Jenny Simpson and we were talking about what animals we think, if we encountered in the wild, we could kill," Engels said.
It's hard to think something serious could arrive after that preface, but Engels managed to do it.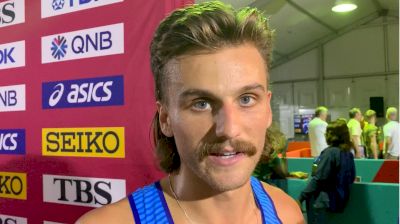 "When she gets in front of the cameras she gets on her high horse. I love Jenny as a person and she's a great role model, but she needs to chill in front of the cameras whenever she's trying to get herself into the spotlight," Engels said. "She's trashing every single person and it hurts. I think the thing that Jenny doesn't understand is that people have a moral compass beside her."
Over a nine-minute interview, Engels explained that he knew in January, or a bit earlier, about Alberto "going to court," and that Julian said the investigation would rule in their favor. He discussed that the defense about the experiments with testosterone gel to prevent sabotage, "sounds sketchy to me too, but Alberto is cutting-edge."
An hour later, Simpson came through the mixed zone after her semifinal heat. She was asked about Engels' comments. We were now at the point where she was responding to Engels' response to Simpson's response to the suspension.
"I have no hard feelings, but I personally wouldn't take back anything I said," she said.
And there we were. Two of America's most popular and beloved mid-distance stars, friends even, serving as a proxy for weighty topics like guilt by association, trust, and benefit of the doubt. Most will come down on one side or the other, but the correct conversation is being had, even if it's conducted via the media on the sport's biggest stage.
This is likely the last word from these two on this topic at these championships — both have been so exhaustive in their responses it's hard to ask, or expect, for more. Their back-and-forth came across not as sensational, but authentic and candid.
"It's kind of nice that it's getting cleared. I don't know what's going to happen with the Oregon Project. I don't know what's going to happen with my career or Donavan's career and everything, but it's good that something is finally happening so that people can stop blaming and whatever," Engels said. "Instead, it's causing more uprising in the short-term."