2019 IAAF World Championships
Muhammad Breaks WR AGAIN, McLaughlin Earns First Senior Medal | Day 8 Recap
Muhammad Breaks WR AGAIN, McLaughlin Earns First Senior Medal | Day 8 Recap
Day eight delivered the fireworks as Dalilah Muhammad broke the world record AGAIN and Sydney McLaughlin won her first global senior medal.
Oct 4, 2019
by Johanna Gretschel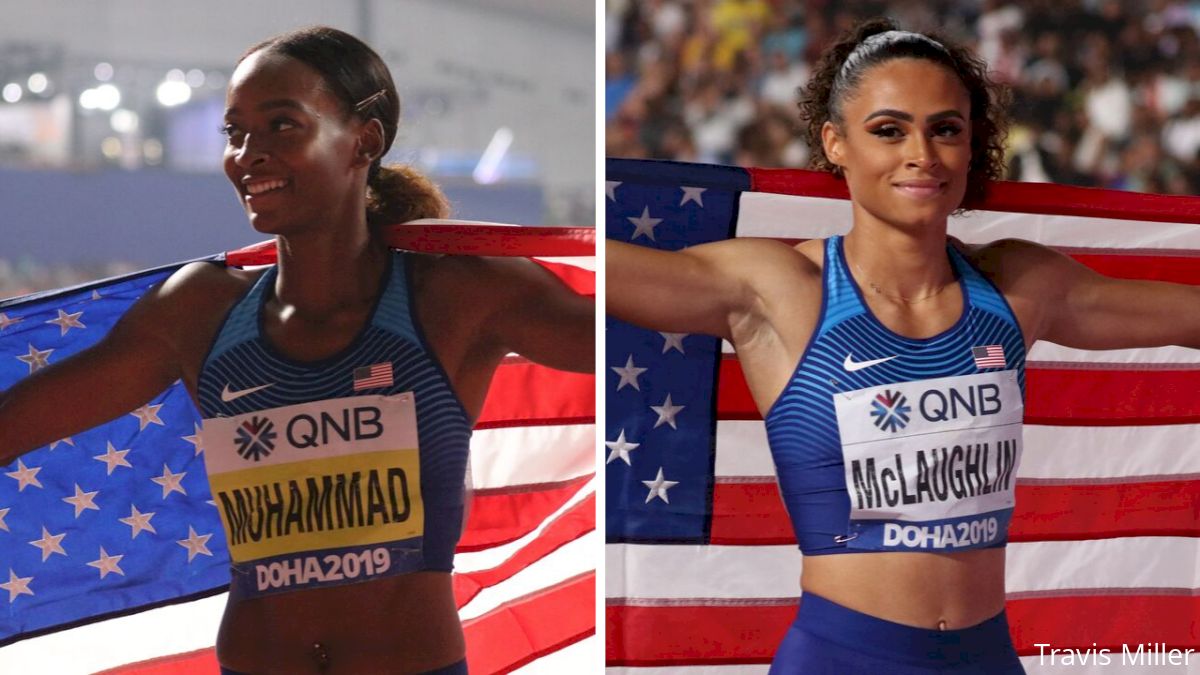 Unlock this article, live events, and more with a subscription!
Get Started
Already a subscriber? Log In
The eighth day of the 2019 IAAF World Outdoor Track & Field Championships is going down today in Doha, Qatar, where we'll see a conclusion to the men's high jump, women's discus, women's 400m hurdles, men's steeplechase, and men's 400m—follow along with our live updates below by refreshing this page frequently!
All times below are Central.
12:10 p.m. | Men's 1500m Semifinals
FIRST 5 IN EACH HEAT (Q) AND THE NEXT 2 FASTEST (Q)
HEAT 1: Timothy Cheruiyot of Kenya is the overwhelming favorite for gold in Doha and he dictates the pace from the get-go, churning through easy splits of 59.14, 1:59.96 and 2:56.74, finishing first in 3:36.53. 2012 Olympic champion Taofik Makhloufi of Algeria, who hasn't competed since 2016, holds on for second position in 3:36.69.
The smart racers in heat 1 are Great Britain's Neil Gourley and the United States' Craig Engels, who moved up well in the final 200m to take third and fourth. Kalle Berglund of Sweden takes the final auto spot in 3:36.72. Bad news for USA's Ben Blankenship, who takes sixth place, and Filip Ingebrigtsen of Norway, both of whom will have to wait and see if the other sections somehow run slower and they get in on time.
HEAT 2: There's a few big names for American fans in heat 2: reigning Olympic champion Matthew Centrowitz of the United States, Norwegian wunderkind Jakob Ingebrigtsen and former NCAA star Josh Kerr of Great Britain. Kenya's Ronald Kwemoi takes the field through in 59.06, 1:59.23 and 2:56.52.
It's another barn-burner at the bell, as the field spreads six men wide on the backstretch. Poland's Lewandowski surpasses Kwemoi for the win, 3:36.50 to 3:36.53, as Ingebrigtsen takes third on Kwemoi's inside. Kerr is fourth, and Youssouf Hiss Bachir of Djibouti takes the final auto qualifer, as Centrowitz looks completely gassed in the final meters.
Centro finishes in a season's-best of 3:36.77, which perhaps shows that he is simply not in top form compared to his competitors. Still, it's just enough to qualify to the final based on time, along with the UK's Jake Wightman. Blankenship will not advance.
12:40 p.m. | Women's 4x100m Relay Heats
FIRST 4 IN EACH HEAT (Q) AND THE NEXT 4 FASTEST (Q)
HEAT 1: The United States has a tumultuous history with the 4x100m relay, but everything goes smoothly in the qualifying round as Dezerea Bryant, Teahna Daniels, Morolake Akinosun and Kiara Parker combine for the win in 42.46. Trinidad and Tobago and Switzerland are the other auto qualifiers.
Usually, Team USA saves the big dogs for the relay final so it's interesting to see the U.S. champion in Daniels and runner-up Akinosun race today. May be due to injury, as there's at least two athletes with unknown or injured status in English Gardner and Tori Bowie.
HEAT 2: Jamaica and Great Britain (and even China) prove they'll be worthy competitors for the defending world champion Americans, crossing the line in 42.11 and 42.25. GB will add in double medalist Dina Asher-Smith for the final, while it will certainly hurt Jamrock not to have Elaine Thompson due to injury.
1:05 p.m. | Men's 4x100m Relay Heats
FIRST 4 IN EACH HEAT (Q) AND THE NEXT 4 FASTEST (Q)
HEAT 1: Adam Gemili, who narrowly missed out on a medal in the 200m, gets revenge with Team GB with a world-leading 37.56 win. Brazil takes second in 37.90, as the United States languishes in third despite an all-star lineup. They mustered just 38.03 today and will have to be much better than that to even think about winning gold, or making the podium. Astonishingly, Jamaica only finishes fifth. It's cleary the post-Bolt era.
HEAT 2: Akani Simbine anchors South Africa to an impressive section 2 win in 37.65, a new area record, as Hakim Sani-Brown leads Japan to second place in 37.78. The United States will certainly have their hands full in the final.
USA is only the ninth-fastest team today, which does not bode well for their medal chances, although it's one better than the Jamaicans, who fail to qualify for the final at all. In the words of Usain Bolt, "sigh."
1:30 p.m. | Women's 400m Hurdles Final
Both McLaughlin and Muhammad get out well and it's clear this is the two-woman race we came to expect. Mhammad has the lead at the homestretch. McLaughlin gains on her but Muhammad keeps the advantage and crosses in first, breaking her own world record in 52.16!
McLaughlin's second-place finish in 52.23 is a new personal best and is the fastest time in world history by anyone not named Dalilah Muhammad.
Rushell Clayton of Jamaica earns the bronze medal in 53.74, while Ashley Spencer of the United States places sixth in 54.45.
1:45 p.m. | Men's Steeplechase Final
Getnet Wale and Lamecha Girma continued to deploy the Ethiopian team tactics that we saw in the 5K by working together to set the pace in the early stages, beginning in 2:39 for 1K. Conseslus Kipruto of Kenya and Soufiane El Bakkali of Morocco lay in wait, though, and the entire field is still in contention as they near the bell lap—including Hillary Bor of the United States.
Never bet against Kipruto in a championship race. Despite his meager racing schedule this summer, the oft-injured athlete was the most fit when it counted, just barely squeaking by Girma, 8:01.35 to 8:01.36 in a wild final sprint over the homestretch. That's got to be one of the most exciting finishes of the entire championships.
El Bakkali earns the world bronze, while Wale, the Diamond League champion, takes fourth.
American Hillary Bor earns eighth place in 8:09.33 and Andy Bayer places 12th in 8:12.47, a new personal best.
2:20 p.m. | Men's 400m Final
Wow! The 6-foot-5 giant Steven Gardiner of the Bahamas simply ate up the track on the homestretch, effortlessly striding to his first world title in 43.48, the sixth-fastest time in world history. He is the first Bahamian champion since 2001.
Anthony Jose Zambranocol earns silver in 44.15, an area record, while American Fred Kerley holds on for bronze in 44.17, his first individual medal at a major championship.
It's hard not think about what Michael Norman may have done in this race in full health, as he ran even faster—43.45—in April of this year. Fingers crossed that everyone peaks at the right time next year and we get a matchup between these two in their prime in Tokyo.
Men's High Jump Final
Mutaz Essa Barshim lived up to his billing as the hometown favorite tonight in Doha, as the 28-year-old reigning world champion successfully defended his title with a world-leading mark of 2.37m. No man had ever won two consecutive world high jump titles before tonight.
Authorized neutral athletes Mikhail Akimenko and Ilyal Vanyuk were the only other competitiors able to successfully clear 2.35m, but neither could clear 2.37m.
Barshim had a scare at 2.33m, as it took him three attempts to successfully make it over the bar and stay in the competition.
Women's Discus Final
Two Cubans, Yaime Perez and Denia Caballero, dominated the women's discus final as they threw nearly two meters further than anyone else in the field. Perez's first throw of 68.10m led most of the competition, until Caballero's fourth attempt—68.44m—which briefly put her in the lead until Perez countered with 69.17m on her next try. That mark would stand as the best of the day and clinched the gold.
Croatia's Sandra Perkovic claimed bronze with a top mark of 66.72m.
American Valarie Allman placed seventh with 61.82m, while Laulauga Tausaga did not record a mark.